This page contains archived information and may not display perfectly
F1 - 2016 British Grand Prix - Saturday Post Qualifying Press Conference
Transcript of the Saturday Post Qualifying Press Conference organised by the FIA for the 2016 British Grand Prix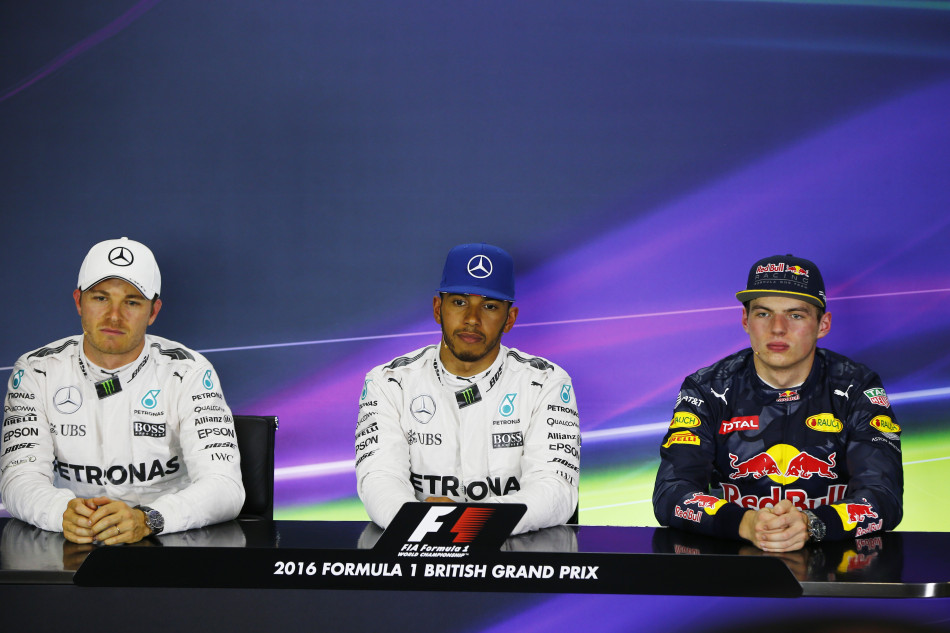 DRIVERS
1 – Lewis HAMILTON (Mercedes)
2 – Nico ROSBERG (Mercedes)
3 – Max VERSTAPPEN (Red Bull Racing)
TV UNILATERAL
Lewis, great lap, you were just watching it on the screens before you took your seat, so tell us about how you felt about it, as I say your fourth British pole? But a little bit of pressure there for that final run having had your previous time deleted, so how do you feel about that?
Lewis HAMILTON: Well firstly I want to say how amazing and grateful I am for all the fans that are here this weekend. From Thursday until today, just the biggest crowd that I think I've ever seen. The energy and the wave that they send is just mesmerising. So big thank you to everyone that is out there for the positive energy. Not the cleanest qualifying session. I think we had really good pace… Q1 I ran wide a bit wide at Turn Three and lost about four tenths there. And then after that I had really good pace. The penultimate lap was a very good lap but unfortunately it was taken away. I touched the kerb but it pulled me further. It didn't feel like I was going to be running wide but the car bottomed and kind of bounced just outside the line. A lot of pressure for that last lap. I was just sitting in the garage and I knew that I couldn't let the guys down as on the first lap I had. The second lap wasn't as good but I was obviously making sure I was cautious, making sure I got that lap in. I'm grateful that I did and really again thank you to my team who have done an amazing job to have the performance we have this weekend, it's outstanding
I have to ask you this after Austria and the discussions among the team. All clear between you going into the race – at the start and for the rest of the race?
LH: Yeah, I didn't think there was anything that needed to be cleared up anyway. We just get on with our job, there's a long way to go and I will try to not to be in that position again and I can't speak for him, but I'm sure Nico will do the same.
Nico, just picking up on that, all clear for you in terms of the rules of engagement, shall we say?
Nico ROSBERG: Very clear.
OK. Just looking at both of your cars on the overhead shots on the qualifying laps, particularly on the high-speed change of direction, it looks absolutely, incredibly stuck to the ground. Tell us what it's like to drive, from the cockpit, and also where do you feel that couple of tenths got away from you today relative to Lewis?
NR: For sure, yes, they've given us an incredible car out there today. It's just a pleasure to drive that, especially, as you say, through the high-speed. It's like on rails, it's just feels awesome and that's like the most spectacular area for us racing drivers is the high-speed corners with the F1 cars. That felt very special out there today. Then, just wasn't the best day out there for me. Congrats to Lewis who did a good job here and that's it. But you know, tomorrow still all to play for and definitely still pushing.
Thank you. Coming to you Max, first time you've out-qualified your team-mate at Red Bull, Daniel Ricciardo. Your race performances this season we know all about, but qualifying has been that bit you just needed to find. Today you found it, right?
Max VERSTAPPEN: Yeah, I think in general I have been a bit unlucky the last two qualifyings but in the end the race pace was always very promising and it all went well, so I wasn't too worried. Today I think was especially a very good qualifying, I really enjoyed it. The car was performing as it should be. I think we were very strong compared to other competitors behind us, so I can be very happy with P3, because those guys [Mercedes] in qualifying seemed like they had a turbo button or something, but I think P3 was definitely the best possible result for us today.
Very well done. Coming back to our pole sitter, Lewis, you won here the last couple of years, tomorrow you go for a hat-trick of British Grand Prix victories. I know that you're not that interested in the stats and the history but the last time that was done was by Jim Clark back in the 1960s. As you say, huge crowd here tomorrow to cheer you on, so a little added motivation there if you needed, not that you do really.
LH: Fortunately the fans give me more than enough motivation. Tomorrow, as always, is going to be a very tough race and it's important that we do our due diligence tonight and tomorrow morning and understand the strategy, the tyres. Yeah, I'm going to give it everything I've got. My long run pace yesterday was really strong. I think I've got the car in a real nice place, you know balance for both qualifying and the race. So, we shall see, but we've obviously started on the right foot and I can't wait to see everyone tomorrow.
PRESS CONFERENCE
Q: Lewis, you mentioned track limits in your first answer in the unilateral there. During the qualifying session as yourself and a number of drivers had times deleted, Nigel Mansell who is one of the stewards tweeted 'zero tolerance on this. We spelled it out to the drivers in the drivers' briefing.' Clearly it's very fine margins here. I wonder, Copse, was that a particularly difficult one to keep it within the white lines?
LH: Copse and Stowe are difficult ones, being that one of the great characteristics of this circuit is that it's gusty and it's constantly shifting. One lap you go into Copse and you've got a massive headwind, another time it's a crosswind. And so each time you go in, you don't know until you get mid-corner, so you try to approach it the same each time. I ran… going in it was looking quite good, I noticed that when I got on power it was going to be on the edge and then it bottomed on the actual kerb and jumped over the other side of the line. I knew it was the case. I was expecting it. Obvioiusly when you don't have a banker it puts a lot of pressure on that next lap but fortunately I had a pretty good margin at the time to Nico and I knew that I could improve… well I felt that I could improve, so going out and doing another lap, at some points I was up – I think in the first sector I was up a tenth maybe and then I lost it. Towards the end of the lap, trying to make sure I stayed within the lines, being a little bit cautious whilst being quick, I was able to do it. I think the stewards did a great job so that's not an issue for me.
Q: Nico, obviously one of your opportunities tomorrow is the start. It's a slightly unusual start here isn't it, at Silverstone, with a very fast first curve and then a series of corners that sort things out. Just tell us a little about your thoughts on this particular start at Silverstone.
NR: Yeah, it's good. Going through those flat out corners right at the start – because they're not flat-out with the heavy fuel and on cold tyres after the start. It's quite a mission and it's good fun and a good opportunity into Turn Three to attack. So, we'll see.
Q: Max, one of the things from practice yesterday from practice was that, again, your long run performance looked quite promising. After the way you managed to get the tyres to last in Austria and in Barcelona as well, do you feel like you have a few aces up your sleeve going into tomorrow's grand prix?
MV: I think it I can keep position I will be very happy because I think Mercedes is a bit too strong for us – but we'll try to keep up. Like you said, long run was good so hopefully we can do the same or even better tomorrow in the race and score some good points for the team and catch up with Ferrari in the championship.
QUESTIONS FROM THE FLOOR
Q: (Silvia Arias – Parabrisas) Nico, I would like to know if the problems you have yesterday, did it affect in any way the qualifying today?
NR: No, no. No.
Q: (Livio Oricchio – GloboEsporte.com) To Lewis and Nico. Lewis, after everything what happened with you and Nico and also what Toto Wolff told us, are you going to the race with a different approach? Will you keep it in mind before the start?
LH: Tomorrow we're going to race. We're going to race as we always do. Of course what we have been told before this weekend we are aware of and conscious of, so it will be at the back of our minds for sure – but that does not mean that we can't continue to drive hard as we have done. So, tomorrow, I think it starts the same.
Nico?
NR: Yeah, we're still battling out there. It's just a small modification to how – but that's it.
Q: (Jonathan McEvoy – Daily Mail) To both the Mercedes drivers. Just following on from that, can you give an assurance that there won't be a collision between the two Mercedes tomorrow?
NR: What do you want me to say to that? We never want to collide and never intend to collide. We're going to be battling and continuing to avoid collisions.
Anything to add Lewis?
LH: Same.
Q: (Peter Windsor – F1 Racing) Lewis, you were saying that between those two runs you felt you had a margin, you knew you had a margin I think and you didn't want to let the fans down but I just wonder if you could just go into a bit more detail of what it was like sitting in the car because from the outside, it looked like massive pressure on you and whether you did feel that pressure at all, how you dealt with it?
LH: Yeah, well you were saying it was small pressure. It was huge but at the end of the day it doesn't matter how big or small it is, I've got to do a job. Yeah, definitely being at my home Grand Prix, seeing everyone's come out and wanting that result, for sure, but honestly, it just energises me. I don't know why, just in those moments it's when I am the most excited and.. You know, being under pressure is something not to be shied away from, it's something to attack full on and that's generally what I've tried to do and it doesn't always work but yeah, I was coming down the pit lane I was thinking, jeez, what happens if I lock up at turn one, but you can't let those words small little voices get inside your head, you just bat it away and I won't lock up in turn one. Honestly, every single lap I go out and every single corner and I see the crowd and they wave, there's nowhere in the world that I can never ever experience that and I wish that people could feel what I feel. Obviously it's a different feeling when you're outside watching but I wish people could feel what I feel when I look and see the flags waving. It's very reminiscent of when I was watching Nigel growing up. Just who would have thought? I appreciate it more than anything and it's why I did the lap.
Q: (Agris Lauzinieks  – Kapitals) Lewis, how would you describe the decision of 52 percent of Brits to leave the European Union as the pound already has lost ten percent of its value against the euro? Is it sensible in any way and beneficial in the longer term for everyone? And was there any impact already on Formula One and your team?
LH: Wow, that was a good question. I don't really have all the facts to give you the best answer but honestly I've been asking friends and family and business colleagues what effect is this. I mean this is the biggest thing that I think I've experienced or at least I remember experiencing and that I've seen in England in terms of a change. Whilst sometimes change is frowned upon or some change is not always welcome, I think sometimes change is a good thing. The fact is that it has happened, whether or not everyone that voted exactly knew what they were voting for. Now it's the job of the government to make the right steps forward, it's kind of a new... maybe it's a new fresh page for them, who knows? With the pound going down? I have no doubt it's going to come back. I think it's just during that period of time when we're losing Cameron. It's the fastest growing economy in Europe so it will continue to be, I think. That's all I have to say, really. I don't think it's affected... I don't so far believe it's affected the Grand Prix. We shall see tomorrow, but for sure it's affected people but we all have these dips and maybe the next high will be higher.
Q: (Michael Schmidt – Auto Motor und Sport) Lewis, the Q1 time was in line with P3. Where did 1.5s come from between Q1 and Q2 and why couldn't you improve any more in Q3?
LH: Yeah, the track ramps up a little bit. I don't know if the wind had improved or lowered. Sometimes you arrive in a corner and you have a bigger headwind as I mentioned before. I think we're more on the limit in Q2 and it's closest to the best. In Q1, it's generally not closest to the best, the overall package is not as strong as it is in Q2. And in Q3, you've got two shots at it. I think I should have been a little bit quicker but maybe by a tenth, it was not a huge difference. I don't really have much of an answer of why it's similar but Q2 is pretty much everything and Q3 is the same.
Q: (Frank Woestenburg – De Telegraaf) Max, it's the first time you've outqualified Daniel. Can you say what it means to you and is it kind of a mental boost? When you signed with Red Bull, you said that you needed time to learn, learn to get to know the car. How far are you with that? Is there still a lot to learn, to improve?
MV: Ah, it's OK, it's good to be in front, I think. I think every teammate wants that but in terms of mental boost I don't see the mental side in it, I just try to do my best and that's it. Then we go to the race and we try to score a lot of points and try to get on the podium.
And about learning the car, I'm definitely still improving but I think everybody is doing that, even though when you jump in during the season it's not the easiest but I think I've shown that I can handle it quite well.
Q: (Sean McGreevy – CSMA) Lewis and Nico, both of you have known each other for a long time but how difficult is it to be friends with your teammate when you're fighting each other for race wins and the championship?
LH: It's not that difficult because we're not trying to be. It's not something you're... we're here to do a job, it's our career, it's our future, it's not something we're trying to force. When we're at home, it's very easy. Not too long ago I was swimming in the pool downstairs and Nico came down and we had a chat. It was just normal, there was no racing, there was no agenda, it was just a chat and then when we're racing, it's fierce competition. That's how it's been since we were 13 years old.
NR: Same.