This page contains archived information and may not display perfectly
Event preview: FIA WTCR Race of Hungary
Life moves fast in the WTCR − FIA World Touring Car Cup. With the brake dust still settling on a thrilling Slovakia triple-header, the series heads to the Hungaroring this weekend for three more all-action races when all drivers will use the single specification Goodyear Eagle F1 SuperSport tyre.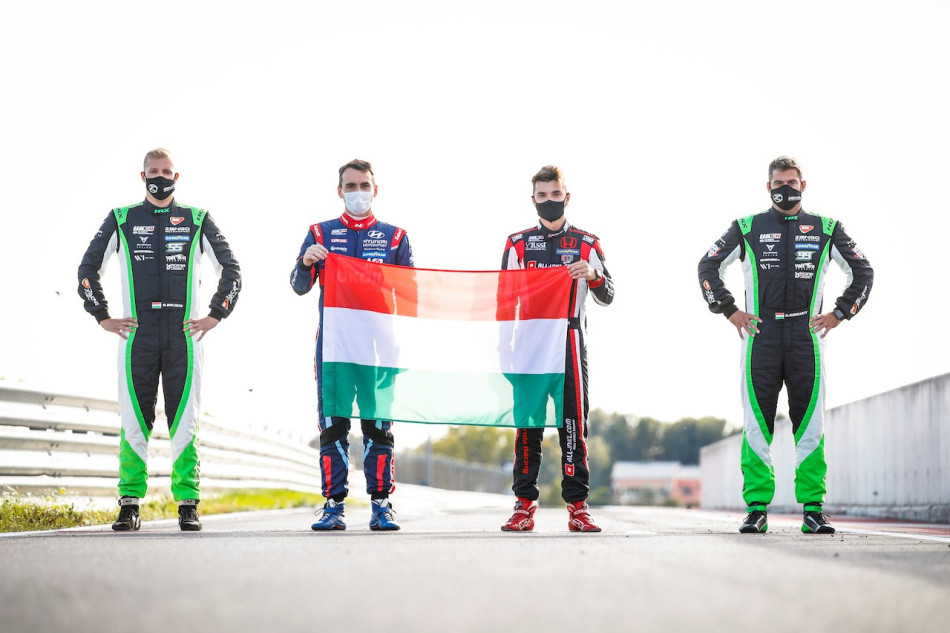 Cyan Racing Lynk & Co's Yann Ehrlacher starts the WTCR Race of Hungary event as the Goodyear #FollowTheLeader with a 21-point margin over the chasing pack, which is now led by Tom Coronel following his Race 2 triumph in Slovakia for Comtoyou DHL Team Audi Sport.
WTCR Rookie Driver Gilles Magnus holds an impressive third in the standings following his podium double in Slovakia in a Comtoyou Audi, further evidence of the RACB National Team-backed driver's rapid progression.
Nathanaël Berthon, who like Comtoyou team-mate and WTCR Trophy rival Coronel won in the WTCR for the first time on Sunday, is fourth in the table 14 points behind Coronel after he completed the Slovakia Ring weekend as the TAG Heuer Most Valuable Driver.
While Berthon, Coronel and Ehrlacher have all won in the WTCR this season, King of WTCR and home hero Norbert Michelisz is still chasing his first triumph of the current campaign in his BRC Hyundai N LUKOIL Squadra Corse entry. Although he won't be roared on by the thousands of vocal fans that traditionally descend on the Hungaroring due to the event being held behind closed doors amid COVID-19 restrictions, the home hero will be count on a huge virtual following.
After netting breakthrough podiums in Belgium and Germany Attila Tassi will use his home event to hit back from a frustrating trip to Slovakia for ALL-INKL.DE Münnich Motorsport. Bence Boldizs and Gábor Kismarty-Lechner complete the local driver contingent in CUPRA Leon Competición TCRs run by Hungarian team Zengő Motorsport, which can also count on the services of WTCR race winner Mikel Azcona from Spain.
Tassi's fellow Honda-powered driver Néstor Girolami won twice in Hungary last year and has ground to make up in the points chase following his high-speed accident in Race 2 at WTCR Race of Slovakia. The severity of the crash has required his ALL-INKL.COM Münnich Motorsport team to ready a replacement Honda Civic Type R TCR to ensure the Argentine will be back on the grid in Hungary, where team-mate Esteban Guerrieri will be looking to bolster his own title ambitions.
Other drivers in the top 10 prior to WTCR Race of Hungary include Thed Björk, Yvan Muller, Jean-Karl Vernay and Dutchman Nicky Catsburg, who won for the first time in the WTCR in Slovakia but will miss the Hungary weekend during to a previous racing commitment. As a result, Austrian youngster and WTCR newcomer Nico Gruber has been drafted in to replace him at Engstler Hyundai N Liqui Moly Racing Team where he will link up with WTCR Rookie Driver contender Luca Engstler.
Inaugural WTCR title winner Gabriele Tarquini has won twice at WTCR Race of Hungary, while Santiago Urrutia raced at the Hungaroring in TCR Europe last season. Tiago Monteiro has extensive track knowledge and race-winning pedigree, while Aurélien Comte will be expected to build on his WTCR points-scoring return in Slovakia in Vuković Motorsport's Renault Mégane RS TCR.
WTCR Race of Hungary is the second event to feature the three-race format after double-headers in Belgium and Germany with all three races taking place on Sunday (October 18).
As well as the 20 all-season racers, two wildcard drivers will join the battle for WTCR glory in Hungary. They are Argentine Súper TC2000 driver Jose Manuel Sapag (Target Competition Hyundai i30 N TCR) and Italian Luca Filippi. The vastly successful single-seater racer with Formula One testing experience continues his race-by-race programme in a Team Mulsanne, Alfa Romeo Giulietta Veloce TCR by Romeo Ferraris. Hungaroring is the first WTCR track that he's raced on before.
Fans unable to attend in person can count on extensive live broadcasting − including on Sport TV in Hungary − as well fresh and fun content across the WTCR's social channels. The live broadcasting package covers six continents as part of the WTCR's biggest broadcast distribution ever.  
EVENT ESSENTIALS
What? 2020 WTCR − FIA World Touring Car Cup, Rounds 8, 9 and 10 of 16
When? October 16-18, 2020
Where? Hungaroring, near Budapest, Hungary
Track length: 4.381 kilometres
Race 1 distance: 12 laps (52.532 kilometres)
Race 2 distance: 12 laps (52.532 kilometres)
Race 3 distance: 15 laps (65.675 kilometres)
WTCR qualifying lap record:
Norbert Michelisz (Hyundai i30 N TCR) 1m52.176s (140.50kph), 28/04/18
WTCR race lap record:
Yann Ehrlacher (Honda Civic Type R TCR) 1m54.129s (138.10kph), 29/04/18
HOW THEY STAND
Yann Ehrlacher continues to wear the yellow jacket as the Goodyear #FollowTheLeader and will carry the yellow windscreen strip at the start of the WTCR Race of Hungary weekend. Here's a reminder of how he and the chasing pack stand following WTCR Race of Slovakia:
1 Yann Ehrlacher (FRA) 113 points
2 Tom Coronel (NLD) 92
3 Gilles Magnus (BEL) 82
4 Nathanaël Berthon (FRA) 78
5 Esteban Guerrieri (ARG) 78
6 Yvan Muller (FRA) 74
7 Néstor Girolami (ARG) 72
8 Jean-Karl Vernay (FRA) 72
9 Thed Björk (SWE) 64
10 Nicky Catsburg (NLD) 53
Click HERE for full standings including Teams' and Rookie Driver classifications
WEEKEND DIARY
Saturday October 17
Free Practice 1: 09h30-10h15
Free Practice 2: 12h30-13h00
Qualifying Q1: 15h30-15h50
Qualifying Q2: 15h55-16h05
Qualifying Q3: 16h15 (first car starts DHL Pole Position top five shootout)
Sunday October 18
Race 1: 09h15 (12 laps)
Race 2: 12h15 (12 laps)
Race 3: 16h15 (15 laps)
All timings are shown in CET, are provisional and subject to change
KEY NUMBERS
100,000: The WTCR's #RaceToCare programme in support of the FIA's #PurposeDriven movement aims to raise €100,000 by the end of the season in the fight against COVID-19
16: For WTCR Race of Hungary, each car is allocated 16 new Goodyear Eagle F1 SuperSport tyres
113: WTCR points scored by Yann Ehrlacher to make him the Goodyear #FollowTheLeader
21: Gilles Magnus, 21, from Belgium, heads the WTCR Rookie Driver standings after four races
6: Six drivers representing four different customer racing brands have won WTCR races in 2020
DID YOU KNOW?
So good was Norbert Michelisz racing online that he was invited to a test at the Hungaroring in 2005. He impressed so much that Zengő Motorsport offered him a drive in the one-make Suzuki Swift Cup the following season and he's never looked back since, becoming Hungary's first motor racing world title holder by winning the WTCR − FIA World Touring Car Cup in 2019.
WTCR QUALIFYING: HOW IT WORKS?
WTCR Race of Hungary features a three-phase single qualifying session split into Qualifying Q1, Qualifying Q2 and Qualifying Q3:
QUALIFYING Q1
How long? 20 minutes
Who scores what? Fastest 5 score points (5-4-3-2-1)
Who gets to Q2? Top 12
Anything else? Quickest driver claims the DHL Pole Position for Race 1
QUALIFYING Q2
How long? 10 minutes
Who scores what? No points scored
Who gets to Q3? Top 5
QUALIFYING Q3
How long? Each driver gets one out lap, one flying lap and one in lap
Who goes first in the shootout? The driver who is P1 in Q2 chooses when they run followed by the driver in P2, P3 etc.
Who scores what? Fastest 5 score points (5-4-3-2-1)
Anything else? Quickest driver claims the DHL Pole Position for Race 3
WTCR GRIDS: HOW ARE THEY FORMED?
Race 1: Final order of Qualifying Q1
Race 2: Positions 1-10 from the combined qualifying times line up in reverse order, positions 11-12 occupied by the cars from Q2 that are not in reverse order. All other cars line up behind from P13 downwards (according to their Q1 time)
Race 3: Top 5 positions occupied by order of Q3, positions 6-12 occupied by cars eliminated during Q2 (according to their Q2 time). Remaining positions occupied by cars eliminated in Q1.
HOW THEY SCORE?
The fastest 5 drivers in Qualifying Q1 and Qualifying Q3 score points as follows:
5-4-3-2-1
The top 15 classified finishers score points in each race as follows*:
25-20-16-13-11-10-9-8-7-6-5-4-3-2-1
*The same scoring system apples to the WTCR − FIA World Touring Car Cup for Teams and the WTCR Rookie Driver classification. WTCR Trophy drivers score as follows: 10-8-5-3-1, 1 point for the fastest qualifying lap, 1 point for the fastest lap in each race
WTCR RACE OF HUNGARY: RECENT WINNERS
2019:
Race 1: Néstor Girolami (ARG) Honda Civic Type R TCR
Race 2: Néstor Girolami (ARG) Honda Civic Type R TCR
Race 3: Gabriele Tarquini (ITA) Hyundai i30 N TCR
2018:
Race 1: Yann Ehrlacher (FRA) Honda Civic Type R TCR
Race 2: Rob Huff (GBR) Volkswagen Polo GTI TCR
Race 3: Gabriele Tarquini (ITA) Hyundai i30 N TCR