This page contains archived information and may not display perfectly
Euro RX: 'Magic Weekend' for Anton Marklund on home soil in Höljes
Anton Marklund scored his second Euro RX1 victory in as many races to extend his lead at the top of the 2022 FIA European Rallycross Championship at his home 'Magic Weekend' round in Höljes.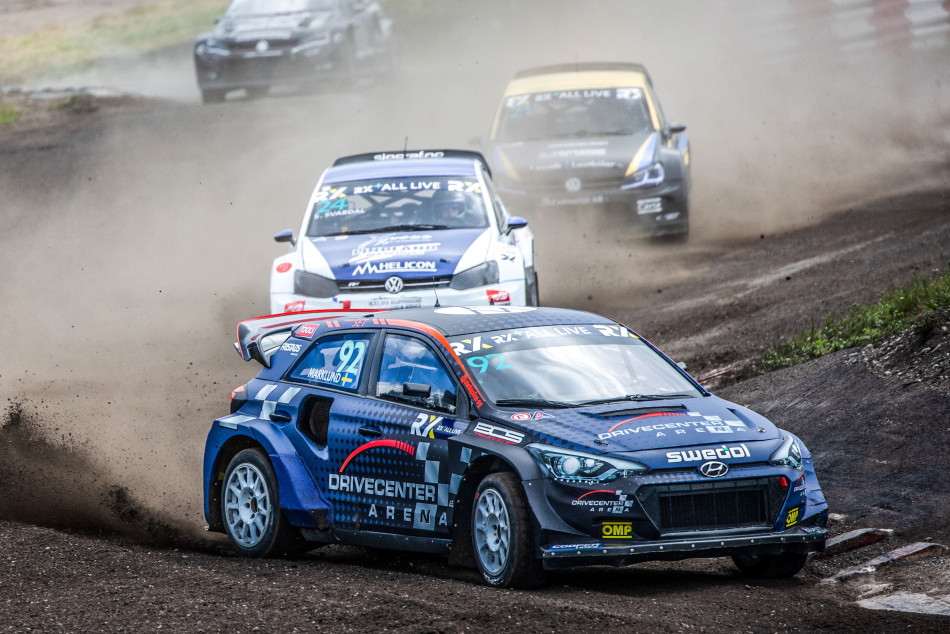 The Swedish driver claimed the top spot after Oliver Solberg was disqualified from the results after post-race scrutineering found that the underbody protection on his Hyundai i20 was overweight and in breach of the technical regulations.
"Obviously you never want to win this way, and I feel very sorry for Oliver because he drove amazingly all weekend," said Marklund.
"I know the heartache he is feeling right now, since I lost what would have been my first World RX win in Norway in 2017 due to a technical infringement, but that's the way it is and the result is obviously very positive for the championship for us.
"Here at Höljes, there's always a lot of drama. I hoped I wouldn't be struck by it, but in the Semi-Final I picked up a puncture and had to really fight to hang on for the last two laps.
"In the Final, I then completely overshot the jump on lap one and after that the front end of my car didn't really feel like it should. I couldn't keep up with Oliver's pace, but I got lucky with the other guys having issues and we ended up with the win.
"Hopefully we can now capitalise on this momentum over the rest of the year."
Marklund's second consecutive victory this season sees him stretch his margin at the top of the title table from four to 18 points.
Second place in the Final went the way of Jean Baptiste  Dubourg, who truly took the fight to his Scandinavian adversaries and, like the winner, survived a late Semi-Final puncture.
Despite his failure to finish the Final, Andreas Bakkerud was classified third.
Under the tutelage of last year's champion Guillaume De Ridder, Belgian prodigy Viktor Vranckx made a winning start to his FIA RX2e Championship career.
The 16-year-old hotshot was the pace-setter all weekend, and held off home hero Nils Andersson in the Final for a dazzling debut success in the all-electric single-spec series.
Isak Sjökvist made it two Swedes on the RX2e podium in third, while Patrick O'Donovan – the driver who looked most likely to challenge Vranckx for the top spot – saw his bid end at the Semi-Final stage when a miscommunication with his spotter caused him to miss the joker lap, ruling him out of the Final.
In Euro RX3, rising star Marius Solberg Hansen produced a sensational performance to defeat championship leader Kobe Pauwels for a hugely popular triumph in only his second outing in the series.
After pushing the Nyirád winner hard during the Heats, Solberg Hansen dominated his Progression race, withstood the threat of Damian Litwinowicz in the second Semi-Final and then led the all-important Final from lights-to-flag.
Pauwels, who felt that he was lacking pace on the opening day, came out fighting on Sunday and very nearly made it two victories from as many rounds this season, but the runner-up spoils nonetheless enabled him to pull further clear in the chase for the coveted crown. The Belgian's closest challenger is now João Ribeiro who reached the rostrum again in third, as Jan Černý found himself spat into the gravel and out of contention at the start of his Semi-Final.
FINAL RESULT: FIA EURO RX1
1. Anton MARKLUND (SWE) SET Promotion 5 laps
2. Jean Baptiste Dubourg (FRA) Jean Baptiste Dubourg + 2.019s
3. Andreas BAKKERUD (NOR) EKS + 1 lap
4. Johan KRISTOFFERSSON (SWE) Kristoffersson Motorsport + 3 laps
DSQ Oliver SOLBERG (SWE) Hedströms Motorsport
FINAL RESULT: FIA RX2e
1. Viktor VRANCKX (BEL) Bert Vranckx 5 laps
2. Nils ANDERSSON (SWE) Kristoffersson Motorsport + 0.616s
3. Isak SJÖKVIST (SWE) Hedströms Motorsport + 1.337s
4. Raul FERRE (AND) ACA Esport + 2.335s
5. Pablo SUÁREZ (ESP) QEV Motorsport +11.506s
FINAL RESULT: FIA EURO RX3
1. Marius SOLBERG HANSEN (NOR) MSH RX 5 laps
2. Kobe PAUWELS (BEL) Volland Racing + 0.383s
3. João RIBEIRO (PRT) João Ribeiro + 3.289s
4. Janno LIGUR (EST) Ligur Racing + 4 laps
DSQ Damian LITWINOWICZ (POL) Damian Litwinowicz
Copyright-free images are available for media download via the World RX News Room on the Red Bull Content Pool.