This page contains archived information and may not display perfectly
ETCC glory for Homola as Matĕjovský lands home TC2 double
Race review: 6 September 2015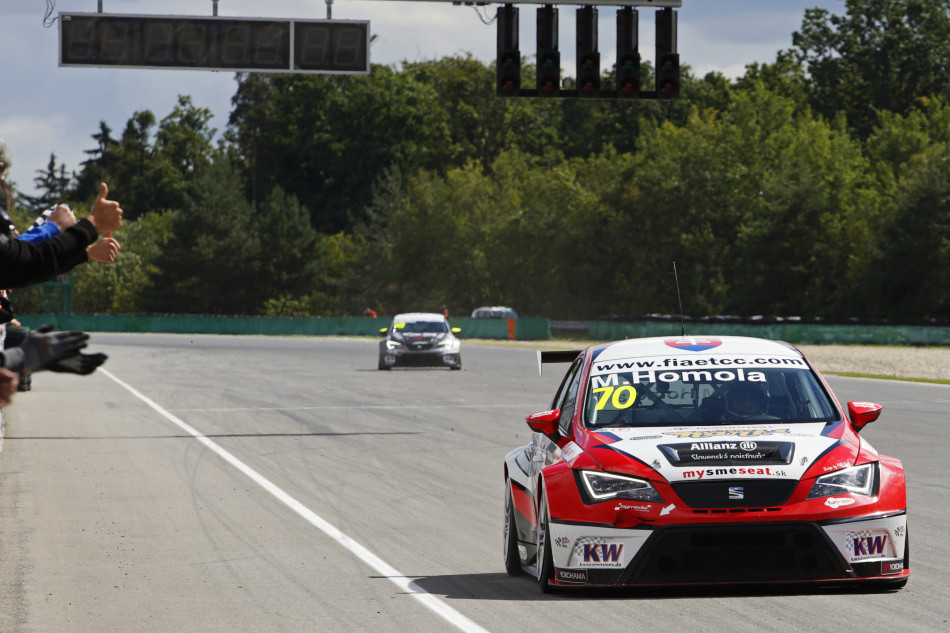 Mato Homola ended his victory drought in style by claiming Single Make Trophy glory in round seven of the FIA European Touring Car Cup at Brno today (Sunday) before coming within 0.306s of making it a double triumph in Czech Republic. Despite a determined late charge, Slovakian Homola was unable to prevent Dušan Borković from scoring his fourth SMT win of 2015, a result that gives the Serbian a 22-point lead over fellow SEAT runner Homola, who has demoted Petr Fulín to third in the standings. Home hero Fulín was the pre-event favourite but had to settle for third in race one before being prevented from starting race two when a replacement window, fitted between the two 10-lap contests, didn't conform to the regulations. Although it proved a frustrating afternoon for Fulín, his Křenek Motorsport team-mate and compatriot Michal Matĕjovský claimed two wins in TC2, while Georgian Davit Kajaia and Germany's Niklas Mackschin were double winners in TC2T and Super 1600 respectively. All drivers were using Yokohama tyres.
RACE 1 ROUND-UP: HOMOLA FLIES TO MAIDEN ETCC SUCCESS
Starting from pole position, Mato Homola beat fellow SEAT driver Dušan Borković in the headlining SMT category with home hero Petr Fulín completing the podium. Fulín, who demoted the slow-starting Dejan Bulatović on the run to the first corner, put Borković under early pressure, which allowed Homola to break clear out front and take a comfortable victory. BMW pilot Davit Kajaia continued his winning run in TC2T in a fine fourth overall with Michal Matĕjovský giving home fans reason to cheer by heading the TC2 class runners in his BMW. He dropped to eighth on the final lap behind Montenegro driver Bulatović and Swiss Ronny Jost to start the reverse-grid second race on pole. Aytaç Biter, from Turkey, finished second in TC2T in P10 behind Mladen Lalušić with Swiss Peter Rikli P11 in his Honda followed by Ümit Ülkü, Ibrahim Okyay, Daniel Conrad and Galip Atar. Niklas Mackschin won Super 1600 for a sixth time this season in his Ford Fiesta with Gilles Bruckner and Ulrike Krafft following him home. Florian Hildner was late starting due to a technical issue but recovered to take fourth in class.
RACE 2 ROUND-UP: BORKOVIĆ BOOSTS ETCC TITLE HOPES
After finishing runner-up in the opening event, Borković started sixth in the reverse grid race two. He took the lead from TC2T contender Kajaia on lap six and held off race one winner Homola for victory by a scant 0.306s margin. Behind Homola, who lost early ground with a sluggish start, Kajaia again won TC2T in third overall having led for a time. Afterwards, Kajaia revealed he could have held on out front in his LIQUI MOLY Team Engstler BMW had he remembered to switch his car to dry-weather mode. Jost took a season-best fourth in SMT with Matĕjovský fifth overall and Andreas Pfister sixth. Matĕjovský led initially in his slower normally-aspirated BMW before giving up the unequal struggle but still won TC2. Pfister was forced to start from the back of the grid after having to fix damage to his SEAT following race one outside of the allotted Repair Time. Lalušić and Lein Racing team-mate Bulatović were seventh and eighth with Okyay ninth following contact with Rikli, who finished P10 following a trip into the gravel. Biter, Conrad, S1600 winner Mackschin, Bruckner, Ülkü, Hildner and Atar completed the finishers as Krafft went off into the gravel at Turn 3 and retired.
Race press conference transcript available soon at: http://www.fiaetcc.com/media/
Results and standings: http://www.fiaetcc.com/calendar/
Next race: Zolder (Belgium), 18-20 September