This page contains archived information and may not display perfectly
ETCC - 2015 Race of Italy Preview
Titles up for grabs as ETCC heads to double-points showdown in Sicily*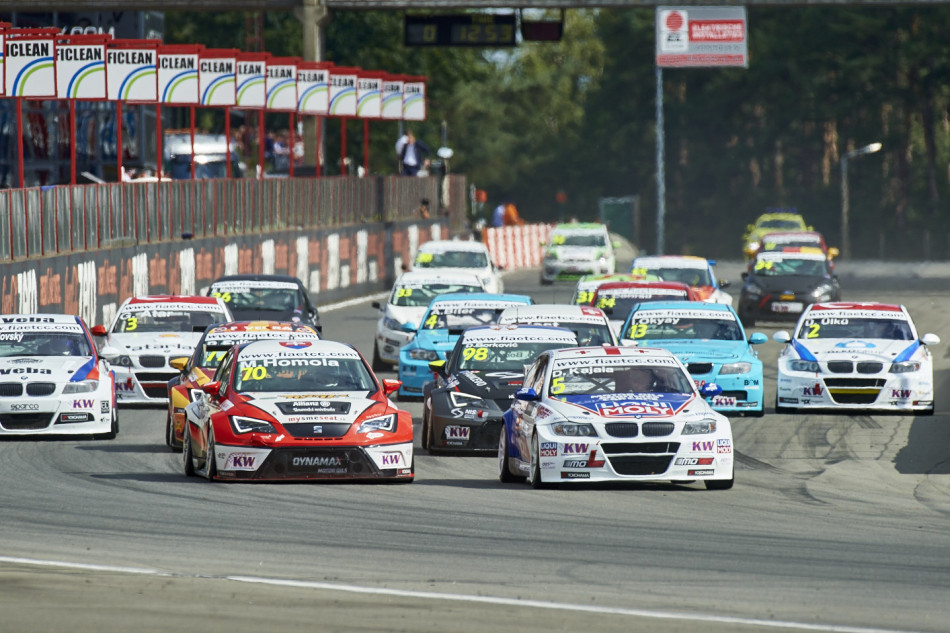 With 10 action-packed races already run, the battle for all four FIA European Touring Car Cup titles will go down to the wire live on Eurosport next week when Autodromo di Pergusa hosts FIA ETCC Race of Italy from 10-11 October.
Champions will be provisionally crowned in the TC2T, TC2, Super 1600 and Single Make Trophy categories, while the ETCC Nations' Cup will also be settled at the high-speed venue, which runs around Lake Pergusa in central Sicily, 10 kilometres south of the town of Enna.
For added intrigue, double points will be awarded for Qualifying and Races 1 and 2 meaning the winners of the various titles are unlikely to be known until the chequered flag waves at the completion of Sunday's second 11-lap counter. 
It will be a rapid-fire finale to the 2015 ETCC season in Sicily with Qualifying, Warm Up and both  races scheduled for Sunday 11 October. This will follow three testing sessions plus Free Practice on Saturday. Eurosport will broadcast live coverage of the two races at 11h00 and 13h00 local time. 
TC2T: Can Kajaia hit back? BMW-mounted Davit Kajaia had been the form driver in the category for turbocharged Super 2000 cars by winning his class in all eight races prior to the Zolder double-header last month. But all that changed when the Georgian endured a winless weekend in Belgium as  Turkish BMW drivers Aytaç Biter and Ümit Ülkü took their first victories of the season. However, with a 33-point advantage ahead of the Pergusa finale, Kajaia is certainly not hitting the panic button just yet. Turk Galip Atar, meanwhile, will also be looking to round out the season on a high note.
TC2: Matĕjovský gets a confidence boost Unlike Kajaia, TC2 class dominator Michal Matĕjovský enjoyed a winning double at Zolder, which the Czech said had given him a big confidence boost for Sicily. The BMW driver leads Honda ETCC stalwart Peter Rikli (Switzerland) by 27 points with Turkey's Ibrahim Okyay and Rikli's Swiss protégé Daniel Conrad currently third and fourth in the table.
S1600: Why 10 is the magic number for Mackschin Ten points will be enough for Niklas Mackschin to secure the Super 1600 title laurels, such has been the young German driver's dominance in 2015. Ulrike Krafft, who trails her compatriot by 36 points, and last year's champion, Gilles Bruckner (Luxembourg) are set to fight it out for the runner-up spot. German duo Florian Hildner and Erwin Lukas will also be in action on the Mediterranean island.
SMT: Four fight to be the top SEAT racer Three drivers can beat Dušan Borković to the Single Make Trophy crown. Slovakia's Mato Homola is best-placed to pounce should his Serbian SEAT rival falter but he still has a 21-point deficit to overcome. Petr Fulín (Czech Republic) and Andreas Pfister (Germany) remain in the hunt although Pfister's hopes depend on Borković – a five-time SMT and outright winner in 2015 – non-scoring in Sicily. After claiming a season-best second in class in Zolder, young Swiss Ronny Jost will be hoping to end his SMT campaign with a flourish.
"With one weekend to go and double points it was very important to have a good lead before then," said Borković. "I am satisfied with a 21-point lead."
"I wanted to be closer to [Dušan] Borković before [the final rounds] in Pergusa but that's racing," Homola added. "There is always a chance. When there is a mathematical chance I will always fight  for it. I believe it will still happen but we will see." 
OVERVIEW: Eighteen drivers will contest the two season-closing ETCC races at Pergusa, which measures 4.950 kilometres in length and is located close to the town of Enna in central Sicily. Following testing and Free Practice on Saturday, Qualifying, Warm Up and two 11-lap races will take place on Sunday with both races shown live on Eurosport. A proportion of the huge season-long prize fund of 250,000 euros, which has been established in conjunction with the ETCC's tyre partner Yokohama, will be shared out to the successful drivers.
PROVISIONAL KEY TIMINGS: Provisional key timings: Saturday 10 October: 09h00-09h45: Testing 1; 10h30-11h15: Testing 2; 12h00-12h45: Testing 3; 16h30-17h00: Free Practice. Sunday 11 October: 08h00-08h30: Qualifying; 08h35 (approx.): Post-qualifying press conference (Media Centre); 10h00-10h15: Warm-up; 11h00-11h30 (est.): Race 1 (11 laps, rolling start); 13h00-13h30 (est.): Race 2 (11 laps, standing start); 13h45: combined podium; 14h05 (approx.): Post-race press conference (Media Centre).
STANDINGS AFTER ROUND 10/12: TC2T: 1 Davit Kajaia (109pts); 2 Aytaç Biter (76); 3 Ümit Ülkü (68); 4 Galip Atar (57). TC2: 1 Michal Matĕjovský (111); 2 Peter Rikli (84); 3 Ibrahim Okyay (60); 4
Daniel Conrad (44); S1600: 1 Niklas Mackschin (112); 2 Ulrike Krafft (76); 3 Gilles Bruckner (65); 4
Florian Hildner (40); 5 Erwin Lukas (23); 6 Christian Kranenberg (5); 7 Ben Lintgen (0). Single  Make
Trophy: 1 Dušan Borković (94); 2 Mato Homola (73); 3 Petr Fulín (65); 3 Andreas Pfister (50); 5
Ronny Jost (47); 6 Dejan Bulatović (20); 7 Ferenc Ficza (18); 8 Mladen Lalusic (15); 9 Alexandr Artemyez (6); 10 Norbert Toth (5). Go to www.fiaetcc.com/standings/ to view the full standings
STATISTICS AFTER ROUND 10/12: TC2T: Race wins: Davit Kajaia 8; Aytaç Biter and Ümit Ülkü 1; Pole positions: Davit Kajaia 5; Fastest laps: Davit Kajaia 10. TC2: Race wins: Michal Matĕjovský 8; Peter Rikli 2; Pole positions: Michal Matĕjovský 5; Fastest laps: Michal Matĕjovský 10. S1600: Race wins: Niklas Mackschin 9; Ulrike Krafft 1; Pole positions: Niklas Mackschin 4; Ulrike Krafft 1; Fastest laps: Niklas Mackschin 8; Ulrike Krafft 2. Single Make Trophy: Race wins: Dušan Borković 5; Mato Homola 2; Ferenc Ficza, Petr Fulín and Andreas Pfister 1; Pole positions: Dušan Borković and Mato Homola 2; Petr Fulín 1 Fastest laps: Dušan Borković 4; Mato Homola 3; Dejan Bulatović, Ferenc Ficza and Petr Fulín 1 
ETCC points allocation for rounds 11 and 12: Fastest three drivers in each class in qualifying: 6-4-
2. Top eight finishers in each class in each race: 20-16-12-10-8-6-4-2.
PERGUSA IN SHORT: Autodromo di Pergusa gets its name from the lake it circulates although its close proximity of the Sicilian town of Enna often led to the circuit being referred to as Enna-Pergusa. A regular ETCC host venue, Pergusa has staged other major FIA championship races in the past including the FIA Formula 3000, GT and Sportscar championships. Once a rapid blast around the lake, a handful of chicanes were introduced from 1970 onwards to cut overall speeds and improve safety, although their addition also contributed to an improved spectacle – and drama – as drivers battled to slow down for the tight turns.
Press enquiries: Richard Rodgers, +44 7833470541, media@fiawtcc.com
Television/radio enquiries: Antonios Argyropoulos, antonios@eurosport.com
Web: www.fiaetcc.com
Rights-free images: www.fiaetcc.com