This page contains archived information and may not display perfectly
ETCC 2015 Race of Czech Republic - Post-Race Press Conference
Race press conference: 6 September 2015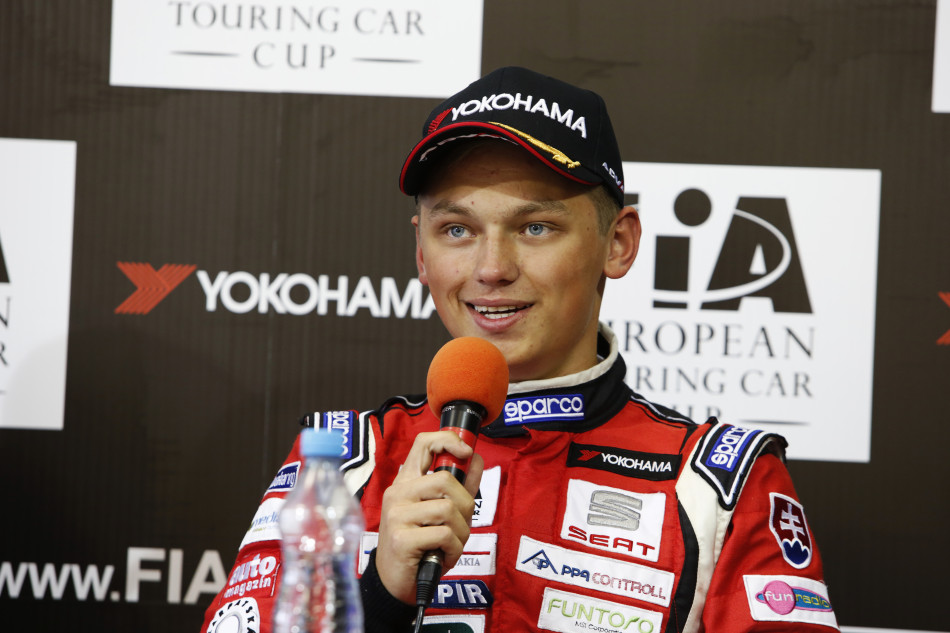 Present:
David Kajaia, TC2T highest-scoring driver
Michal Matĕjovský, TC2 highest-scoring driver
Niklas Mackschin, Super 1600 highest-scoring driver
Mato Homola, Single Make Trophy highest-scoring driver
Q:
Before yesterday you hadn't qualified on pole in the ETCC and before today you hadn't claimed a victory. Now all that's changed how are you feeling and how pleased are you?
MH:
First of all I would like to thank my team because they prepared a great car. As I told you yesterday we were struggling with the set-up but then in Free Practice it was awesome and I was on the pole and everything was really great. I knew the drivers behind me would be really fast so I wanted, from the beginning, to make a good pace. I made my best lap of the race, opened up a good gap and drove to the end. Maybe it looked really easy but from the beginning it was really tough to keep the distance to the drivers behind. It's really great to win in Czech Republic. It's close to Slovakia and there are many Slovak fans here and hopefully some Czech fans were cheering me. I would also like to thank my sponsors, my family and my whole team.
Q:
Race two was a bit more eventful given the fact you had to make your way through the field from P7 to almost win. What was that like for you?
MH:
I had quite a bad start, wheelspinning and because of that I was overtaken by one car. I tried to make my way pass the slower drivers and they didn't want to be overtaken so I was risking a lot. I wanted to overtake Dušan [Borković] but he was driving defensively and he didn't leave me the space to overtake him. I didn't want to risk but gain some points for the championship. I think what happened in the end was really great.
Q:
Given all the points you scored this weekend, would you say you're back into title contention?
MH:
I am second in the championship now so it's very great to go from fourth to second. It's still a big gap to Dušan but I will try. We have Zolder and then Pergusa with double points. I think we have found a good set-up and are getting more used to the car. I think we can have the possibility but the championship will be very difficult.
Q:
Two more TC2T wins to add to your unbeaten tally but can you describe that second race when you were leading outright for quite some time?
DK:
For the second race I made a good start and I was really enjoying the experience. But I had one problem. I forgot to switch on the right settings and I was using the rain mapping, which is why I was half a second per lap slower than I should have been. If I had switched on the right map maybe I would have kept my first pace overall. But for me it's really good to win my class again, I am first in my championship and I am happy.
Q:
With the advantage you've now got in the championship how confident are you for the remaining races of the season?
DK:
I want to keep getting maximum points and to become champion of the TC2T class.
Q:
Two wins in TC2 for you and, like Davit, you also had your turn to be leading outright in race two. Can you talk us through your two races please?
MM:
The first race the start was good and overall the race everything was fine. I overtook some cars in front of me when they were fighting but in the end I tried not to overtake any more people because I was seventh and I really wanted to be in eighth for the pole position for race two. I didn't let him by but he [Ronny Jost] was faster than me and there was no point to try and keep the place. The tactics worked good for the second race.
Q:
A good start from you from pole position in the second race, what was it like to be leading your home round of the ETCC? How long did you think you could keep the other drivers behind in your normallyaspirated car?
MM:
I knew I could get a good start because with the rear-wheel drive car and the manual gearbox. I proved it before in Hungary. We were in front, it was very nice, and I was trying to be first for as long as I could. I was hoping for three laps but in the end it was two laps. But to be first in the overall classification even for two laps is a very nice feeling. Afterwards I finished fifth overall and I couldn't have imagined that before.
Q:
Now you've had a great weekend but it hasn't been so good for your team-mate Petr Fulín, particularly in race two. Do you know what happened and have you managed to speak to him yet?
MM:
I haven't spoken to him but I heard it was something to do with the front-right window. He didn't have the window and couldn't start the race but I don't know what happened. It's a pity, that's racing and a lot of things can happen.
Q:
Two more wins in Super 1600 for you Niklas, can you talk us through your two races?
NM:
They were really perfect, unbelievable. The car was perfect but the races were hard. I am really happy.
Q:
We saw your class rival Ulrike Krafft crashing out. Did you see her car and what do you think of the lead you've got in the championship as a result?
NM:
I saw her car but there's still a long way to go in the championship and anything can happen. It was really good for me this weekend but we have two more races and Zolder is only two weeks away.