This page contains archived information and may not display perfectly
ERC - Zero to ERC hero : Lukyanuk fights back to lead in Greece
EKO Acropolis Rally: Leg one report, 1 June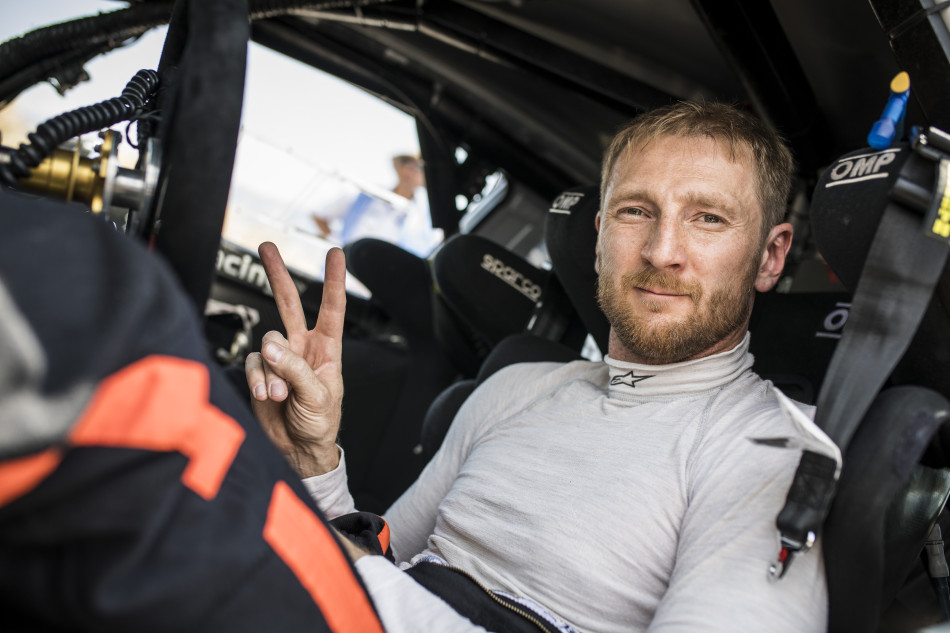 *Russian storms to overnight top spot after early puncture drops him to P20
*Athens hosts ceremonial start under the historic Acropolis citadel
*Érdi Jr heads ERC2 standings, Muradian in front in ERC3 battle
Alexey Lukyanuk has gone from zero to hero with a blitzing drive in the FIA European Rally Championship today (Friday). The title leader dropped to P20 with an opening-stage puncture on the EKO Acropolis Rally but hit back in style with the fastest time through the 30-kilometre Thiva blast to take the overnight lead – and set the ultimate target for those chasing behind.
They include second-placed Eyvind Brynildsen from Norway, young Finn Juuso Nordgren, who is third on his ERC debut, Portugal's Bruno Magahlães in fourth, Cypriot Alexandros Tsouloftas in fifth and Ukrianian Yuriy Protasov in sixth. Defending ERC2 champion Tibor Érdi Jr heads the showroom category with Artur Muradian in front in ERC3.
How leg one unfolded: Lukyanuk's evening fever in Thiva
Having suffered a puncture on SS1, the superspecial stage at the Markopoulo Olympic Equestrian Centre, Alexey Lukyanuk had lost 12 seconds to early leader Norbert Herczig (Hungary) heading into the day-closing Thiva test. But the Russian bounced back with a stage win in SS2, 44.5 seconds quicker than Brynildsen to move into first place in his Pirelli-equipped Ford Fiesta R5. "It's a big surprise, I did some mistakes" Lukyanuk said at the end of Thiva. "The road was really clean for us, better than for the guys in front. I was in stage mode as we lost a lot of seconds and we needed to get some time back."
Though road sweeping made little difference in the Hippodrome superspecial – if anything lingering dust made it easier for those starting first – it became an issue for early runners during Thiva. As Herczig dropped to seventh in his MOL Racing Team entry, Eyvind Brynildsen moved into second overall, benefitting from starting P11 in the road order.
The Autotek Motorsport driver's pace came despite overshooting a junction and dropping more than 10 seconds, as did ŠKODA-supported Juuso Nordgren in third. Driving for Wevers Sport, Nordgren had won yesterday's Qualifying Stage close to Lamia, but went third quickest in SS2 after his own overshoot to hold the final podium place heading into Saturday's Leg Two.
Bruno Magalhães, ERC runner-up in 2017, found the slippery, dusty conditions challenging too, admitting he nearly crashed two or three times before backing off to bring his SEAJETS-supported home in fourth place overall, and crucially in one piece.
Alexandros Tsouloftas rounded out the top five aboard his Citroën DS3 R5, even after a minor altercation with a bank at a hairpin caused damage to his car's. Combined with a gear shift issue, it was an encouraing end to his day.
Yuiry Protsaov was the last car within a minute of rally leader Lukyanuk, 53.1s off the front after two stages and 8.7s ahead of early pacesetter Herczig. Rufa Sport driver Grzegorz Grzyb, fellow Pole Hubert Ptasezk and Simos Galatariotis (Cyprus) completed the top 10 overall.
Drama befell Łukasz Habaj who retired after going off the road midway through SS2 due to a brake issue, damaging his Fiesta's intercooler in the process. Brazil's Paulo Nobre, running first on the road, damaged the front of his Fabia R5 when returning to the road following an off.
ERC2: Champion Érdi Jr heads showroom division 
Hungarian Tibor Érdi Jr turned in a clean performance through Thiva's slippery roads to lead the FIA European Rally Championship's ERC2 category, going 19.2s faster than his class rivals through SS2. Juan Carlos Alonso (Argentina) had been within 0.3s of Érdi after the Hippodrome superspecial but now sits 21.7s behind him in second. Sergei Remennik holds the final ERC2 podium position despite a puncture on SS1, which cost him 12.4s relative to stage winner Zelindo Melegari. His time in the podium places was short-lived, demoted to fourth place after going over a minute slower through Thiva than stage winner Érdi. Q8 Oils Rally Team's Cypriot entrant Petros Panteli completes the top five in ERC2, while local privateer Vassilis Drymoussis retired his Subaru Impreza STI late in SS2.
ERC3: Muradian makes amends with overnight class lead
Russian Artur Muradian holds first place in the ERC3 category, his car patched up after a dramatic roll in yesterday's Qualifying Stage. Muradian tore the front bumper from his PEUGEOT 208 R2 during SS2 but this was a blessing in disguise, curing overheating issues which threatened to derail his battle for first. Chrysostomos Karellis was fastest through the Hippodrome superspecial in ERC3, but struggled to stay within the lines on the slippery and sandy roads of Thiva, he fell to second overall, 10.3s behind Muradian. Indian Amittrajit Ghosh, driving in ERC for the first time aboard his Prospeed-prepared Ford Fiesta R2, finished Friday third in class, focusing in learning how to better prepare his car and improve its handling. He holds a 59.7s advantage over Emma Falcón, who leads ERC Ladies' Trophy on top of fourth place in ERC3 on only her third start on gravel.
What's next? Saturday's second leg is made up of six all-gravel stages over a competitive distance of 123.76 kilometres. The 14.28-kilometre EKO New Amfissa stage southwest of host city Lamia is up first 10h48. Click here for results.