ERC young stars for voyage of discovery on Tarmac showcase
Some of international rallying's most promising young drivers will head to Northern Ireland next week for one of the oldest rallies in the world.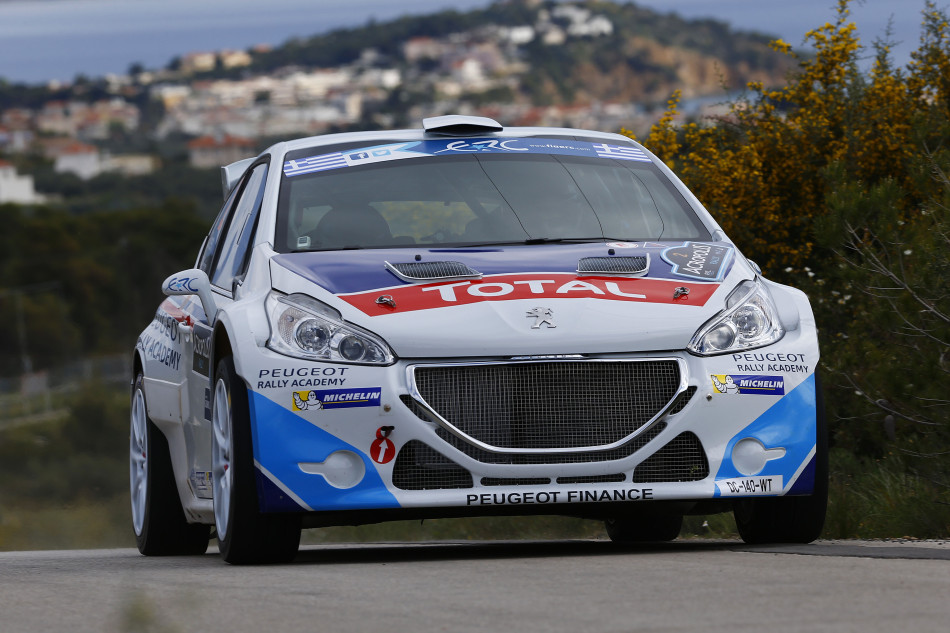 The Discover Northern Ireland Circuit of Ireland Rally, which was first run in 1931, forms round four of the all-action FIA European Rally Championship and the second event of the exciting new-for-2014 ERC Junior Championship.
Based in Belfast's Titanic Quarter from 17-19 April, the event uses all-asphalt stages on closed roads through stunning countryside and bustling town centres. While some stages feature narrow and bumpy sections, the bulk of this year's revamped route uses wide and smooth roads, albeit no less challenging for the drivers and co-drivers.
Following the Qualifying Stage at the Ulster Folk and Transport Museum and the Ceremonial Start outside Belfast City Hall on Thursday 17 April, the action proper begins when the first of 18 special stages gets underway at 09:13hrs local time on Good Friday 18 April.
The day's itinerary features a total of 10 timed tests including the Newtownards TT stage, which takes in part of the famous Ards Tourist Trophy Circuit where legends such as Tazio Nuvolari and Rudi Caracciola raced in the 1920s and '30s.
Day two (Saturday 18 April) consists of a further eight stages, including the 29.02-kilometre Bronte Homeland test, which runs through the area where Patrick Bronte, the father of celebrated novelists Emily, Charlotte and Anne, grew up. Another highlight will be the purpose-built stage through the streets of Lisburn, which is used twice in quick succession. It proved decisive in the outcome of the 2012 Circuit when Andreas Mikkelsen momentarily knocked himself out when he crashed while battling Juho Hänninen for the lead.
With the Easter holidays in full swing during Circuit of Ireland week, thousands of spectators are expected to watch the battle for ERC glory unfold and many fans will flock to service halts at the Titanic Quarter, where the passenger ship was constructed more than 100 years ago, plus the regroups in Banbridge and Downpatrick, the resting place of Saint Patrick. The podium finish will start at 17:28hrs on Saturday 18 April at the Titanic Quarter.
ERC Juniors out in force in Northern Ireland
Following the thrilling inaugural event on the ice and snow of Latvia in early February, the ERC Junior Championship switches to asphalt for round two.
Eight of the 19 registered drivers have selected the Circuit of Ireland as one of their four scoring events with current title leader Jan Černý heading the entry in his Peugeot 208 R2, followed by Norway's Petter Kristiansen (ŠKODA Fabia R2) and Andrea Crugnola from Italy in another 208. It's been a busy period for Czech driver Černý. As well as a test on Tarmac, the 24-year-old tackled Portugal's round of the world championship and also made a guest appearance on Óčko, his country's version of MTV.
London-born Pole Aleks Zawada (208), British teenager Chris Ingram (Renault Twingo), Motorsport Ireland's Young Rally Driver of the Year Stephen Wright (208), English university student Alex Parpottas (Ford Fiesta R2) and Belgian Gino Bux (208) complete the list. Dutchman Kevin van Deijne was due to take part but he's been unable to ready his Fiesta in time. Meanwhile, Wright, Parpottas and Bux are all making their first appearances in ERC Junior in Northern Ireland.
Bux, for whom the Circuit will be only his fourth ever rally, won a scholarship from his country's motorsport federation to contest five rounds of the ERC in 2014. The RACB also helped to launch current WRC star Thierry Neuville's early career. To take part, drivers must be born on or after 1 January 1989 and use an R2-specification car and Michelin tyres.
Friendly ERC rivalry at Peugeot Rally Academy
Craig Breen, the 24-year-old Irish sensation, tops the entry in his Peugeot Rally Academy 208T16, which he drove to his maiden ERC victory and the first in the championship for the new-generation car on last month's Acropolis Rally in Greece. Victory on home soil is the ultimate goal for the European championship pacesetter but he'll face strong opposition from close friend and team-mate Kevin Abbring, who was leading in Greece until a technical problem forced his retirement.
Youth and experience for ŠKODA in the ERC
After claiming a dominant 1-2-3 finish when the Circuit of Ireland last ran in 2012, ŠKODA Motorsport will rely on its two young guns Esapekka Lappi from Finland and Germany's Sepp Wiegand. Lappi is already a three-time winner in the ERC, while Wiegand switched to rallying from motocross three years ago and continues to impress. British veteran Neil Simpson, a former works driver, will pilot an ex-factory Fabia S2000 on his first season back in competition after a 12-year sabbatical.
Barrable is back
Dubliner Robert Barrable was determined not to miss out on a fourth Circuit of Ireland appearance, so much so that he was the first to enter the event. The ex-circuit racer is taking a break from his World Rally Championship commitments to drive his Tunnock's Ford Fiesta R5 in Northern Ireland and should be in the fight for the podium places. Irishman Sam Moffett could also be in the thick of the podium battle in his Fiesta RRC, while Frenchman Robert Consani has previous Circuit experience to call on and cannot be discounted in his Peugeot 207 S2000. László Vizin will also be driving a 207 on his first ERC appearance of 2014.
Serious competition ahead in the ERC support categories
In addition to the chase for overall success on the Circuit, the ERC Production Car Cup and ERC 2WD Championship have both attracted strong entries. Josh Moffett, younger brother of Sam, Aaron MacHale, the son of former winner Austin, and Robert Woodside are three to watch out for. The ERC 2WD category includes the eight ERC Juniors, reigning champion Zoltán Bessenyey (Honda Civic Type R), current British title holder Jukka Korhonen from Finland and Pirelli UK Star Driver Andrew McKenna. Portuguese ERC regular Renato Pita and former British championship frontrunner Jonny Greer will also be in contention.
ERC aces gun for Qualifying best
Following two runs of Free Practice from 10:30hrs local time on Thursday 17 April, nine priority drivers will face off in Qualifying for the right to select their starting position first for leg one. While the running order is less significant on Tarmac as it is on gravel, the preference is to avoid starting at the head of the pack or taking to the stages further down the field due to the practice of 'cutting' corners, resulting in gravel and other debris being dragged onto the road. The fastest driver in Qualifying will earn the right to select their starting position first, followed by the next quickest driver and so on until all priority drivers have chosen.
Q&A: CRAIG BREEN
The 24-year-old Waterford hero is finally a winner in the FIA European Rally Championship following his maiden success in Greece last month. And the Irishman is targeting a repeat win this time on home soil in Peugeot's all-new 208T16.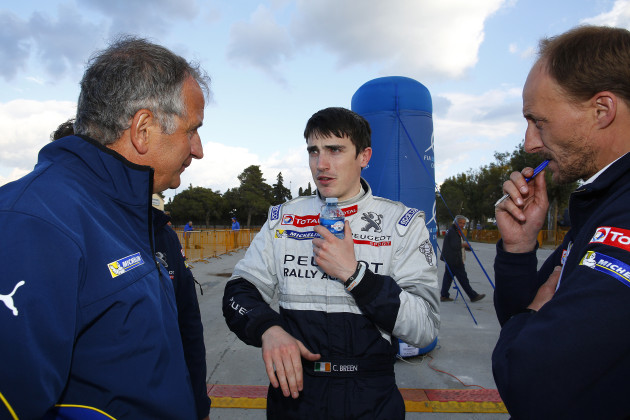 How will you prepare for the Circuit of Ireland Rally?
"We have a test near Monaghan on Monday so I'll be heading up there on Sunday night to prepare and be in the best possible frame of mind. After the test the week will unfold like normal but now I'm trying to treat it like any other rally, just like I did on the Acropolis. That will mean going back over the tests, looking at all the set-up sheets, see what we've changed and just try to pick out some interesting points that we can try on Monday's test."
Do you feel winning the Acropolis has lifted the weight off your shoulders?
"I tried so hard last year to get a victory. If I hadn't won the Acropolis and if all eyes were on me to try to get my first victory on the Circuit, then it would have been a whole lot more difficult. But getting one under my belt I'm feeling more relaxed knowing I have both the speed and consistency you need. But I'd do anything to win this rally."
Your outing on the Circuit of Kerry last week didn't go entirely to plan when you went off the road, but was it still a useful exercise?
"Our test was fantastic, definitely the upside of the week. We'd driven on the best road I'd ever seen in my life. Everything went perfectly in the test but in the rally it was a simple mistake. We just got stuck but we'd probably learned everything we needed to learn by the time we finished the test, although I was a little bit embarrassed."
So what about the battle for victory on the Circuit – will it be another close fight?
"I'd love to think I'll be able to run away with it but I know it's going to be a tough fight. Kevin Abbring, my team-mate, was leading in Greece on Tarmac and will definitely be a thorn in my side. Then you've got Esapekka Lappi and Sepp Wiegand from ŠKODA. The last time the Circuit ran there was a big fight at the front and when you're pushing at ten-tenths on narrow, bumpy lanes with big jumps you can only look forward to it."
What can first-time visitors to Northern Ireland expect when they arrive for the rally?
"We're a rally-made country. Okay, we're going through a financial crisis, but Ireland in the boom had more World Rally Cars than anywhere else in the world, which speaks volumes for such a small place. We're very proud of our roads and the Circuit takes up a massive chunk of history in our country and people from all over come to watch it. The roads are amazing, some of the best in the world. Everybody talks about the jumps in Finland and flying in the forests, but when you are flying on Tarmac you have to be that much more sharp, that much more precise – there's no better feeling than that. The stages will be close to Belfast, a beautiful city and you'll have service in the Titanic Quarter. It will be a real flagship event."
Food and drink-wise what would you recommend?
"A pint of Guinness and steak and chips. Obviously you won't be drinking before you drive but my Peugeot Rally Academy mechanics had this after the test and they seemed happy."
FIVE FACTS
*When it comes to being successful on the Circuit, Jimmy McRae is the man at the top of the all-time list of winners with seven victories to his name. He'll be making a guest appearance this year as a course car driver and will present the Colin McRae ERC Flat Out Trophy.
*The ERC is one big, happy family. Brothers Josh and Sam Moffett are both contenders for a top-10 finish on the Circuit of Ireland, while ERC Junior newcomer Stephen Wright is co-driven by his sister Susanne.
*Circuit of Ireland base Belfast, the capital of Northern Ireland, can boast a number of exports from the Titanic ocean liner – built at the Harland and Wolff shipyard in the city's docks – to the DeLorean sportscar, which was manufactured in Dunmurry.
*This year marks the 83rd anniversary of what would become the Circuit of Ireland in 1936. It was known as the Ulster Motor Rally when it first ran in 1931.
*The Circuit of Ireland has hosted the ERC before. In 1991, the year of Colin McRae's victory, the Circuit was a coefficient 5 event under the old classification system.
EVENT ESSENTIALS (all timings local)
Starts: 19:00hrs, Thursday 17 April, Belfast City Hall
Finishes: 17:30hrs, Saturday 19 April, Titanic Quarter, Belfast
Headquarters: Titanic House, 6 Queens Road, Belfast BT3 9DT
Service park: Titanic Quarter, Belfast
ERC appearances: None since restructuring of the ERC in 2004
Stages: 18
Stage distance: 230.62 kilometres (113.48 kilometres leg one, 117.14 kilometres leg two)
Liaison: 481.96 kilometres
Total: 712.58 kilometres
Surface: Asphalt
MEDIA EVENTS AND INFORMATION (all timings local)
Media accreditation and media centre:
Titanic House, Belfast
Opening times:
07:00hrs-22:00hrs, Thursday 17 April
07:00hrs-00:00hrs, Friday 18 April
07:00hrs-22:00hrs, Saturday 19 April
Free Practice (for FIA/ERC priority drivers): 10:30hrs-12:00hrs, Thursday 17 April, on the 4.10-kilometre Whinney Hill special stage, 10.87 kilometres from the service park
Qualifying Stage (for FIA/ERC priority drivers): 13:38hrs, Thursday 17 April, see above
Shakedown (for all other drivers): 13:50hrs-16:00hrs, Thursday 17 April, see above
Start order selection: 18:00hrs, Thursday 17 April, Belfast City Hall
FIA Action for Road Safety photocall: 12:45hrs approx, Thursday 17 April, Ulster Folk and Transport Museum (featuring the ERC Junior Championship drivers)
Pre-event press conference: 14:30hrs, Thursday 17 April, Media Centre. The following drivers will attend: Robert Barrable, Craig Breen, Esapekka Lappi and Kris Meeke
Ceremonial start: From 19:00hrs, Thursday 17 April, Belfast City Hall
Post-event press conference: 18:30hrs, Saturday 19 April, Media Centre. Top-three drivers and co-drivers in attendance
Colin McRae ERC Flat Out Trophy presentation: Immediately following the post-event press conference in the Media Centre
Event media contact: Christel Patterson, christel@circuitofireland.net
Television coverage: Daily highlights will be broadcast on Eurosport. Go to the Watch it on TV section of www.fiaerc.com for more information
ERC Rally Radio: Live throughout the event at www.fiaerc.com or through the ERC app
Results, standings, live timing and text commentary: www.fiaerc.com
Rights-free images: Register at the media lounge section of www.fiaerc.com
Follow the ERC on Facebook and Twitter