ERC Super September continues in Poland
LOTOS 70 Rally Poland, round nine of twelve, 13-15 September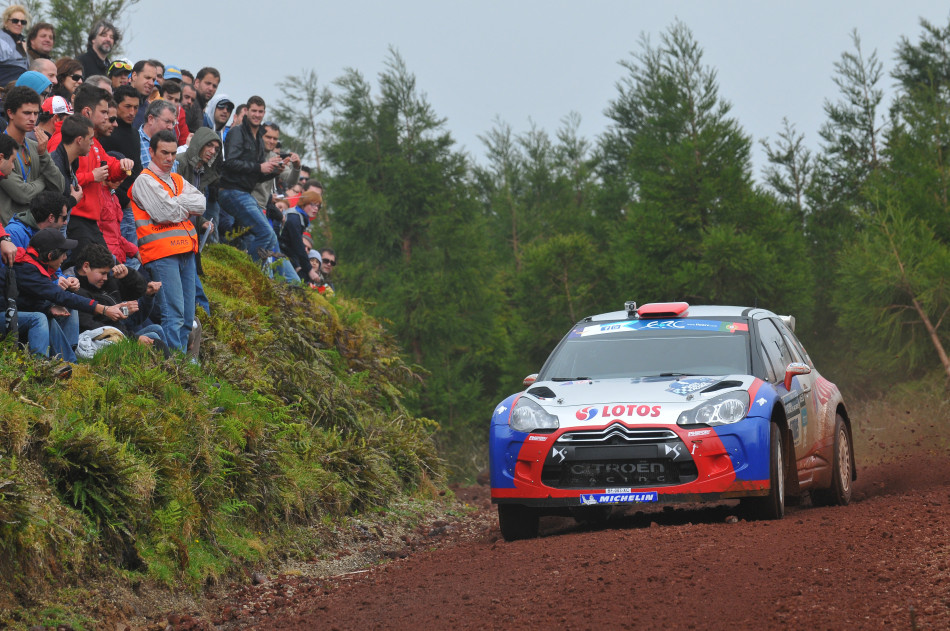 There's no rest in the FIA European Rally Championship. Less than a fortnight after title leader Jan Kopecký stormed to glory in the Czech Republic to signal the start of ERC Super September, there will be more serious competition ahead when Poland hosts round nine. 
Based in Mikołajki in the northeast of the country from 13-15 September, LOTOS 70 Rally Poland is one of the oldest international rallies still in existence.
Homecoming for Kubica
Formula One race winner Robert Kubica is back on ERC duty for a rare appearance in his homeland. The 28-year-old, who hails from Kraków to the far south of Poland, has led all three ERC events he has contested this season, clocking the fastest stage time on 16 occasions in his turbocharged Citroën DS3 Regional Rally Car. Kubica has never competed on Rally Poland before so will be relying on the experience of his co-driver Maciej Baran, who has tackled the event on seven occasions since its relocation to Mikołajki.
Serious competition ahead
With as many as eight drivers tipped as genuine contenders for victory, there will be serious competition ahead on LOTOS 70 Rally Poland. Of the bulging 85-car entry, 15 drivers will be in Super 2000 or Regional Rally Cars with four competing in new-generation R5 machines. The ERC Production Car Cup and ERC 2WD Championship both feature entries full of quality and quantity, while three drivers will chase success in the ERC Ladies' Trophy including newcomer Joana Survilaitė from Lithuania.
Polish champion steps up
Kajetan Kajetanowicz, who is on course to make it four Polish titles in succession this season, will not only be making his 60th start on a Polish championship rally and his second in this year's ERC, he'll be doing so in a new-generation Ford Fiesta R5, which he's using in competition for the first time. Running under the LOTOS Rally Team banner, Kajetanowicz, a two-time Rally Poland winner, is better known for his exploits in a Subaru Impreza R4 STI. Countryman Michał Kościuszko will also be competing in a Fiesta R5 with LOTOS backing, despite nursing a broken vertebra (see Q&A).
Legend on parade
When it comes to embracing all things European, Krzysztof Hołowczyc has done more than most. Not only is the 51-year-old legend a winner in the European Rally Championship, he's also a former champion, taking the title in 1997. Furthermore, Hołowczyc also held a seat in the European Parliament between 2007 and 2009. And further afield, the Olsztyn-born driver has contested 19 world championship rallies and taken part on the Dakar Rally on nine previous occasions although a crash on this year's event left him with back and rib injuries. He will form part of the three-strong M-Sport team on LOTOS 70 Rally Poland in a Ford Fiesta RRC.
Peugeot Rally Academy returns
The Peugeot Rally Academy will field three rising talents on LOTOS 70 Rally Poland with Jérémi Ancian and Craig Breen in 207 Super 2000s and Stéphane Lefebvre in a 208 R2. The French Saintéloc Racing concern, which oversees the Peugeot Rally Academy cars, will enter a second 208 R2 for young Corsican driver Jean-Mathieu Leandri. Bryan Bouffier will also be relying on Peugeot power in Poland. The Frenchman spent several seasons competing in Poland and won the title with Peugeot in 2007 and 2008 before making it a hat-trick in 2009 in a Mitsubishi Lancer. Victory on Rally Poland has so far eluded him but he's been rapid in this year's ERC with podiums in Austria and Poland and victory on May's Giru di Corsica-Tour de Corse.
High-speed challenge awaits
LOTOS 70 Rally Poland features six repeated stages plus a superspecial in host town Mikołajki on the opening afternoon, which has capacity for 15,000 spectators. High speeds are achieved on the all-gravel tests in Poland's stunning Masurian Lake District although this is no Rally Finland with few jumps and lots of wide open areas maximising viewing opportunities for fans. Tall grass lines sections of the route, which can limit visibility on the approach to corners. Corner cutting is best avoided due to hidden rocks. There are two new stages this year, Mrągowo, one of two televised live on Eurosport, and Biskupiec. The action begins with the Qualifying Stage on the 2.50-kilometre Mikołajki stage from 16:00hrs on Friday 13 September. The results will be used to help determine the starting order of the leading runners.
Teams aiming high in Poland
GPD Mit Metal Racing Team and Napoca Rally Academy will both be represented on LOTOS 70 Rally Poland. The former heads the European Rally Championship for Teams, while the latter is in front in the ERC Production Car Cup for Teams.
Five Facts
*The second oldest rally in the world, the first Rally Poland – or Rajd Polski – took place in 1921 with a route starting and finishing in the capital Warsaw
*A mainstay of the ERC for many years, the event has also featured in the WRC on a handful of occasions, including in 1973 when FIA President Jean Todt co-drove Achim Warmbold to victory
*In addition to sponsoring the event, oil company Grupa LOTOS is backing the cars of Kajetan Kajetanowicz, Michał Kościuszko and Robert Kubica. It is also supporting Eurosport's live coverage of four stages
*Frenchman Bryan Bouffier is a three-time Polish champion, while his co-driver Xavier Panseri lives in the country after meeting his partner during his time competing in Poland
*Not only is Poland big on rallying – at least 200,000 fans are expected to line the route next week – it's also big on heritage with 14 UNESCO World Heritage sites located within its borders
Event essentials
Starts: 20:00hrs, Friday 13 September, Mikołajki Main Square
Finishes: 19:40hrs, Sunday 15 September, Mikołajki Main Square
Headquarters: Hotel Gołębiewski, ul. Mrągowska 34, 11-730 Mikołajki
Service park: Rally Park, Mikołajki
Entries received: 85
ERC appearances: Eight (since restructuring of ERC in 2004)
Stages: 13
Stage distance: 230.40 kilometres (116.92 kilometres leg one, 113.48 kilometres leg two)
Liaison: 421.46 kilometres
Total: 651.86 kilometres
Surface: Gravel