ERC stars to Czech out asphalt pace in Zlin
2014 FIA European Rally Championship, round eight of 11 Barum Czech Rally Zlín, 29-31 August 2014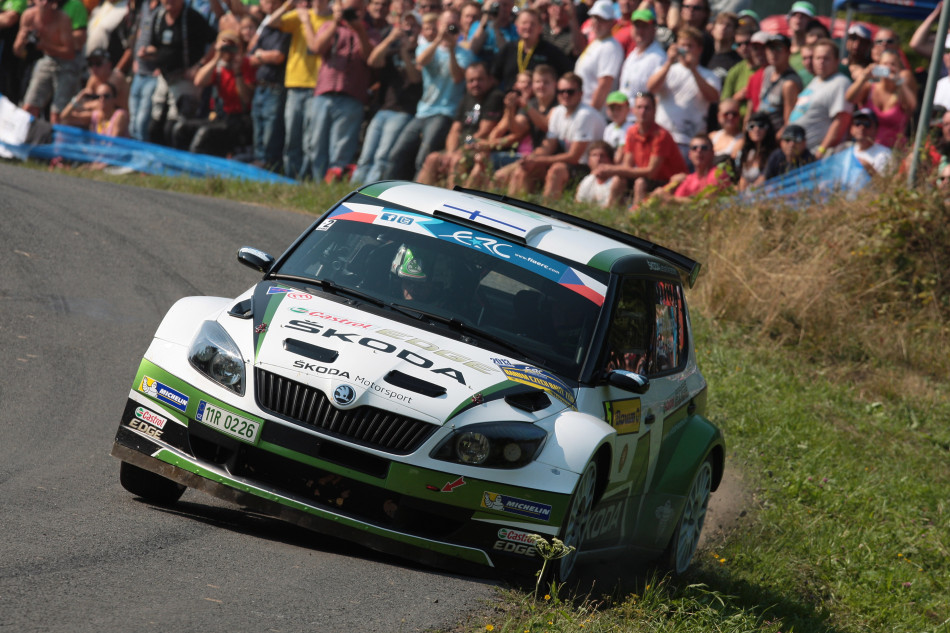 Back from its short summer break and back on asphalt, the all-action FIA European Rally Championship is heading east next week for Barum Czech Rally Zlín.
An ERC ever-present since the championship's streamlining in 2004, Barum Czech Rally Zlín turns 44 this season and takes place around the South Moravian university city, 300 kilometres south of the Czech capital Prague, from 29-31 August.
With 15 stages over a distance of 237.33 competitive kilometres, this is a Tarmac test like no other due to the bumpy and sometimes broken nature of the road surface. To add to the challenge, several stages feature high-speed blasts through forest areas and intermittent showers are always a possibility. While the weather might be hard to predict, huge numbers of enthusiastic fans are guaranteed to create a carnival atmosphere.
In keeping with Barum Czech Rally Zlín tradition, the competitive action begins with a superspecial stage through the streets of the event's host city on the night of Friday 29 August. It's followed by two days of high-speed action with four repeated stages on Saturday and a further three stages used twice on Sunday. The permanent service park is located in Otrokovice, 14 kilometres from Zlín with fans treated to seven visits during the course of the rally.
For the first time in Barum Czech Rally Zlín history, a Qualifying Stage will take place to help determine the starting order for Saturday's opening leg. Although there are no new stages for 2014, the event organisers haven't rested on their laurels by introducing several tweaks to the existing stage layouts. The most significant change is to the Troják test, which is used twice on Saturday's first leg. The rally's longest stage at 22.82 kilometres gets an all-new 1.6-kilometre section never previously used on the event before featuring many bends and a big jump.
As well as counting as round eight in the overall ERC title fight; the event is the fifth round of the new-for-2014 FIA ERC Junior Championship plus the sixth round of the Mediasport Czech International Rally Championship.
Quality and quantity as 121 sign up
A total of 121 crews have entered Barum Czech Rally Zlín to underline the popularity of the ERC and the all-asphalt showcase. Craig Breen is the top seed in a Peugeot Rally Academy 208T16 and is one of 24 drivers competing for honours in the headlining RC2 category. Ott Tänak, who like Breen is an ERC event winner in 2014, is the second seed at the wheel of a Ford Fiesta R5. Esapekka Lappi, whose two wins this season have propelled him to the top of the ERC standings, is seeded third for ŠKODA Motorsport. Elsewhere, Robert Consani makes his eighth ERC start of the year, while Neil Simpson enters his third event in his ex-factory ŠKODA Fabia Super 2000.
ERC Juniors set for Czech adventure
Thirteen of rallying's most promising young drivers will chase FIA ERC Junior Championship honours on Barum Czech Rally Zlín. They include local heroes Jan Černý and Tomáš Pospíšilík, Frenchman Stéphane Lefebvre, who like Černý is a two-time winner in ERC Junior, podium finishers Gino Bux, Andrea Crugnola, Chris Ingram and Alex Parpottas, stage winners Mattias Olsson and Aleks Zawada, ADAC OPEL Rallye Junior Team driver Marijan Griebel, Italian prospect Fabio Andolfi and Norwegian title contender Petter Kristiansen, the lone ŠKODA Fabia R2 representative in the Michelin-supported category.
With Barum Czech Rally Zlín also counting as a round of the Czech championship, several home heroes will be in action. Among the list are former Zlín winners Roman Kresta and Václav Pech, rising star Miroslav Jakeš, former Czech champion Pavel Valoušek and ex-circuit racer Tomáš Kostka. Meanwhile, Czech ERC regulars Jaroslav Orsák, Jaromír Tarabus and Antonín Tlusťák will also be competing on the asphalt spectacular.
R5 cars in battle for supremacy
All three R5 cars currently eligible for competition use – Citroën DS3 R5, Ford Fiesta R5 and Peugeot 208T16 – will be appearing on the Zlín stages. Kajetan Kajetanowicz, LOTOS Rally Team's four-time Polish champion, makes a welcome return to ERC action in a Fiesta R5, the car of choice for auto24 Rally Estonia winner Ott Tänak and ERC podium finisher Robert Barrable. Czech drivers Miroslav Jakeš and Tomáš Kostka are armed with DS3 R5s, while Bruno Magalhães will use a 208T16 in the ERC for the first time and will doubtless be cheered by the pace demonstrated by Kevin Abbring and Craig Breen in the new French machine in this season's ERC.
Support categories to thrill Czech fans
Vitaliy Pushkar heads a hugely competitive ERC Production Car Cup entry from local ace Martin Hudec, category frontrunner András Hadik and three-time British champion Mark Higgins. Polish title winner Sebastian Frycz will also be competing, as will Italian veteran Marco Cavigioli, who has taken the start in Zlín on 15 previous occasions. The ERC 2WD Championship, ERC Junior Championship and ERC Ladies' Trophy are also big on numbers with the respective title leaders –Zoltán Bessenyey, Jan Černý and Ekaterina Stratieva
–
all due to contest the 15-stage event. The ERC Ladies' Trophy is boosted by the return of Czech Republic's Martina Daňhelová and glamour model Inessa Tushkanova. Elsewhere, Alex Filip, Lukasz Kabaciński, Kristóf Klausz, Kornél Lukács, Renato Pita and Simone Tempestini are all back on ERC duty, while ERC tyre partners Michelin, Pirelli and Yokohama will all be represented on the event.
Who will be the Zlín ERC Asphalt Master?
The battle to be the ERC Asphalt Master on Barum Czech Rally Zlín is set to thrill with the current top four all competing. Along with the ERC Gravel Master and ERC Ice Master, the ERC Asphalt Master is a new initiative from European championship promoter Eurosport Events for 2014, to recognise surface specialists competing in the ERC. Points are awarded on a scale of 10-6-4-2-1 for each stage. After three scoring opportunities, Esapekka Lappi tops the table with 188 points from Peugeot Rally Academy duo Kevin Abbring (165) and Craig Breen (123). Lappi's ŠKODA team-mate, Sepp Wiegand, is next up with 108 points.
*Zlín might never have prospered had it not been for one Tomáš Bat'a, who founded a shoe factory there in 1894 and watched the town flourish into a university city. Bat'a's old office still exists in the city's Building 21, which houses rally HQ.
*Such is the global appeal of Barum Czech Rally Zlín that 25 nations are represented on this year's event.
*
When it comes to event loyalty, Italian Marco Cavigioli is right up there, with the 2013 edition of Barum Czech Rally Zlín marking his 15th appearance on the rally. He was handed the key to the city in recognition of his achievement.
*The event itself, which runs for a 44th time in 2014, has been part of the ERC since 1983 and ever-present since the ERC's restructuring in 2004.
*Fabio Villa is set for a busy trip to Zlín. As well as reporting on the ERC counter for TuttoRally+ magazine, the respected Italian journalist will co-drive compatriot Albano Frassineti in the supporting Star Rally in a Ford Escort RS Cosworth.
EVENT ESSENTIALS (all timings local)
Starts:
17:00hrs, Friday 29 August, Town Hall, Náměstí Míru square, Zlín
Finishes:
15:55hrs, Sunday 31 August, Náměstí Míru square, Zlín
Headquarters:
Building 21, Zlín
Service park:
Barum Factory, Otrokovice
ERC appearances (since the restructuring in 2004):
10
Stage distance:
236.84 kilometres (127.88 kilometres leg one, 108.96 kilometres leg two)
Liaison:
439.88 kilometres