ERC - Solberg holding on in high-speed Swedish ERC thriller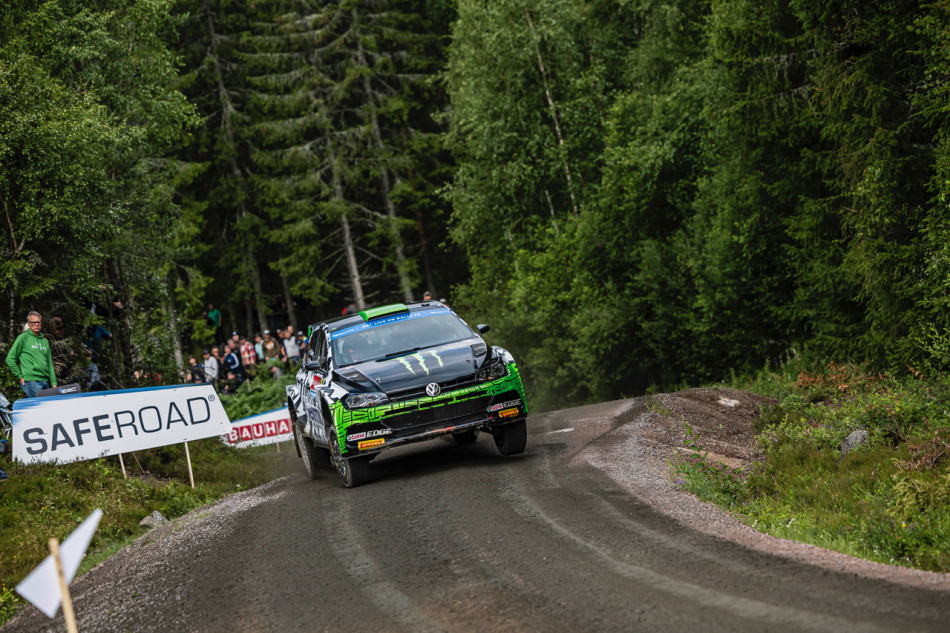 Oliver Solberg battled a steering issue to complete the opening leg of BAUHAUS Royal Rally of Scandinavia leading by 10.2sec following a thrilling day of high-speed action in the forests of Sweden's Värmland region.
The 21-year-old home hero, who spent the last two weeks preparing his Pirelli-equipped Volkswagen Polo GTI R5 along with two friends, demoted FIA European Rally Championship points leader Hayden Paddon for top spot by winning the third stage of the day.
Although Solberg remained in front through the afternoon, he did so with a steering rack issue that caused him considerable concern on the fast-paced stages, particularly when there was light rain.
"For sure the margin is very small but we're inside a good safe pace," Solberg said. "It's not been easy but it's fantastic roads and really fun to drive.
"Me and two of my best friends have been flat out in the workshop preparing the car so I've been a mechanic as well. It's been good fun but if it falls apart then it's my fault."
Driving for Italian squad BRC Racing Team, Paddon was fastest on the opening two stages but Solberg was second quickest on each occasion to reach SS3 just 2.5sec behind. A brace of fastest times on SS3 and SS4 put Solberg top with the leading pair 3.9sec apart at midday service in Karlstad.
New Zealander Paddon began the afternoon with the fastest time aboard his Pirelli-shod Hyundai i20 N Rally2 to cut his rival's advantage to 2.7sec before Solberg hit back on SS6, despite reporting that his car "doesn't want to turn", with his watching father Petter explaining that a faulty powersteering unit had been changed at service.
Undeterred Solberg went quickest again on SS7 to grow his margin over Paddon to 7.9sec before a third successive fastest run on SS8 gave him an overnight lead of 10.2sec.
"It's just stupid," Solberg said after his SS8 effort, his fifth quickest stage time of the day. "You come in the corner, turn in, but the front goes out. When it's so fast, it scares me."
Paddon, meanwhile, enjoyed a much less dramatic charge to second spot with Frank Tore Larsen 35.4sec adrift in third. "We've got a good gap behind and need to manage that," Paddon said. "But I don't want Oliver to run away with it so I need to keep the pressure on. We will come out fighting tomorrow to see what we can do."
Larsen, on his first ERC since start since 2018, credited his mechanics for keeping him in contention after they worked until 02:30 to fit a replacement fuel pump. "Big thanks to the mechanics and to GK Door Team Sweden who helped us," the Norwegian said.
A lack of grip caused by his ever-fading soft-compound tyres made for a frustrated Mikko Heikkilä through the mainly dry morning loop. But a strong start to the afternoon put The Racing Factory driver ahead of Printsport-run Nikolay Gryazin in fourth overall and he completed Friday's action just 0.8sec behind Larsen.
Gryazin is fifth, 4.1sec down on Michelin-shod Heikkilä, with Mārtiṇš Sesks (Team MRF Tyres), winner of the last two ERC events, in sixth just 0.1sec down on his fellow Škoda Fabia RS Rally2 driver.
Lauri Joona is a strong seventh on his ERC debut with Mathieu Franceschi eighth after he hit back from a dramatic moment on two wheels on SS1. Filip Mareš and Efrén Llarena hold ninth and 10th respectively with Mads Østberg reporting a lack of power aboard his Citroën C3 Rally2 in 11th, one place ahead of Andrea Mabellini.
After an off-road moment on SS3, Ole Christian Veiby finished leg one in 13th but not happy with his efforts on his first rally since March. "I struggled going back to gravel," the FIA World Rallycross Championship star said. "I know I can do a lot better than this. It's been a difficult day but we work with ourself and try to improve the car a little bit more."
Behind ERC newcomer Kalle Gustafsson, Jon Armstrong reported being able to learn and improve on each stage on first ERC outing in a Rally2 car. Although a damaged front-right tyre caused by hitting an anti-cut device on SS5 hampered his progress, he's in a points-scoring P15 overnight. 
Delayed by a high-speed spin on SS2, Josh McErlean was in 10th position when he ran wide on a left-hander 4.6ks from the start of SS5 and rolled, although the Motorsport Ireland Rally Academy driver is set to restart on Saturday.
Simone Campedelli dropped out of contention when he broke his Fabia's front-left steering arm striking an anti-cut 10 corners from the finish of SS1. The Italian managed to replace the broken part but the delay cost him 20 minutes. Damaged steering forced Dennis Rådström out after SS5.
Isak Reirsen produced a stunning display of flat-out gravel driving to lead the FIA Junior ERC Championship contenders. The 19-year-old, who is making his second start in the young driver category, holds an impressive advantage of 20.9sec aboard his Hankook-equipped Ford Fiesta Rally4.
Reirsen's fellow Swede Patrik Hallberg, who is competing in Junior ERC for the first time, is second overnight in another Fiesta and the only driver apart from Reirsen to have set a fastest stage time.
Mille Johansson moved into third place when the unfortunate Max McRae retired with broken steering on SS7 to make it an all-Swedish Fiesta-driving top three.
As well as leading FIA Junior ERC, Reirsen holds the initiative in the FIA ERC4 category in which Norman Kreuter is on course to continue his unbroken points-scoring run.
William Creighton and FIA ERC3 rival Dmitry Feofanov both failed to make it through Friday's route. Creighton stopped after SS3 with a double puncture, while Feofanov rolled into retirement on the same stage.
Saturday's route features eight stages over a competitive distance of 76.42 kilometres. Starting with the Tomtem test from 07:23 local time, the highlight will be the return of the famous Colin's Crest jump, part of the double-use Colins stage.