ERC - Royal appointment time as Solberg is crowned in ERC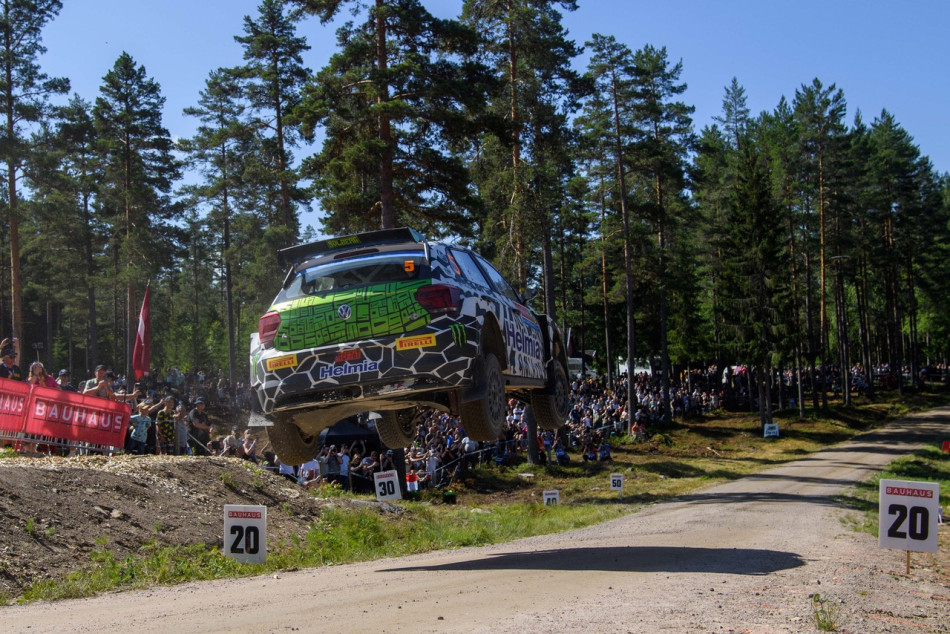 Swede Oliver Solberg has won the inaugural BAUHAUS Royal Rally of Scandinavia after a spectacular display of fast-paced driving in the FIA European Rally Championship today (Saturday).
Piloting a self-prepared Volkswagen Polo GTI R5 alongside co-driver Elliott Edmondson, the 21-year-old held off points leader Hayden Paddon for his third ERC victory to give Pirelli the Winning Tyre award – introduced ahead of round two of the season – for the first time.
Mārtiṇš Sesks, who'd won the previous rallies in Poland and Latvia, maintained his championship charge in third place closely followed by Nikolay Gryazin. Lauri Joona, who was making his ERC debut on the Karlstad-based event, completed the top five.
"I have to say the competition this weekend and the level of attack that's been needed to win against Hayden and the other guys has been incredible," said Solberg, who battled a steering rack issue on Friday afternoon. "Definitely this is one of the best wins. Okay, I won Rally Sweden on home turf but this is really, really home and only one hour from my house. It's amazing, so rough on the last stage, incredible. I tried to avoid every rock, an amazing feeling with the whole family driving. Almost my best friend [Isak Reiersen] won Junior ERC so it's a great, great time. We'll have a proper party tonight."
While it was Solberg who ultimately came out on top of the ERC order in Sweden, it was Paddon, at the wheel of a Pirelli-equipped Hyundai i20 N Rally2, who set the pace on Saturday's opening stage. The New Zealander was 2.8sec faster than Solberg to narrow his rival's overnight advantage to 7.4sec, before he closed to within 6.9sec after SS10.
Despite reporting a lack of confidence, Solberg fought back by 0.3sec on SS11 to start the first run through the Colins stage – complete with the legendary Colin's Crest jump – leading by 7.2sec.
With Paddon fighting bouts of understeer through SS12, which the BRC Racing Team driver said was "more sandy" than the previous stages, Solberg went 3.0sec quicker than his rival to lead by 10.2sec with just the afternoon loop of four stages to run.
Fastest on SS13 and SS14, Solberg's 10th best time on the penultimate stage gave him an advantage of 25.7sec ahead of the event-deciding Power Stage, which Paddon won to score five bonus points in his bid to become ERC champion for 2023..
Having dropped behind Mikko Heikkilä in the battle for third on SS9, Frank Tore Larsen's impressive ERC return ended in a huge crash 8.9 kilometres into the 9.52km Tolita test. Although Larsen and co-driver Torstein Eriksen were uninjured, their Polo was badly damaged after it rolled end over end following a brush with a hidden culvert.
Fifth overnight, Nikolay Gryazin slipped behind Mārtiṇš Sesks on SS9 but was ahead again at the completion of SS11. With fifth becoming fourth following Larsen's exit, Gryazin was on course to take third when the luckless Heikkilä was forced to stop to change a damaged left-rear tyre on SS14. However, Sesks had other ideas and leapfrogged his fellow Škoda Fabia RS Rally2 driver for the final spot by 3.3sec.
Filip Mareš said finishing sixth represented the "best gravel race I have done", as Mathieu Franceschi hit back from a spin on SS9 – and myriad pacenote issues – to finish seventh following a final-afternoon charge.
With an intercooler change after Friday's action curing Mads Østberg's power issue, the MRF-equipped Norwegian battled to the finish in eighth. The highlight of the Citroën C3 Rally2 driver's event was undoubtedly his 47-metre leap on Colin's Crest, a new record and two metres further than Eyvind Brynildsen's long-standing 45-metre benchmark.
Andrea Mabellini and Swedish ERC newcomer Kalle Gustafsson completed the top 10 in ninth and 10th respectively. Despite nudging a barrier on the Power Stage, Gustafsson finished 3.3sec in front of Jon Armstrong in the battle of the Ford Fiesta Rally2s.
Making his step up from the Rally3-based ERC3 category for the MRF Tyres Dealer Team, Armstrong finished 11th as Heikkilä settled for 12th followed by Alberto Battistolli. Martin László and Patrick O'Brien completed the list of ERC points scorers.
Josh McErlean returned to the action after rolling on Friday. Set to run first on the road, a "small issue" meant he was late starting SS9 and spent the remainder of the day experimenting with different set-ups on his Motorsport Ireland Rally Academy Hyundai.
European champion Efrén Llarena stopped two kilometres from the start of SS10 with suspected rear-left suspension damage after he ran slightly wide on a right-hander. Simone Campedelli, his fellow RaceSeven-run, MRF Tyres-equipped driver, ended his rally at the same section of SS10.
Ole Christian Veiby retired with damage picked up during a roll 7.1 kilometres into SS9.
Meanwhile, Isak Reiersen scored an impressive maiden FIA Junior ERC Championship victory ahead of fellow Swede Patrik Hallberg and Romania's Norbert Maior. Reirersen, who was delayed by a damaged tyre on SS11, also won the FIA ERC3 category as William Creighton took top FIA ERC3 points.
The 2023 ERC switches back to Tarmac for Rally di Roma Capitale from 28 - 30 July, round six of the eight-round season.