This page contains archived information and may not display perfectly
ERC - Rally Hungary pre-event virtual press conference
2020 ERC Rally Hungary - Pre-event press conference transcript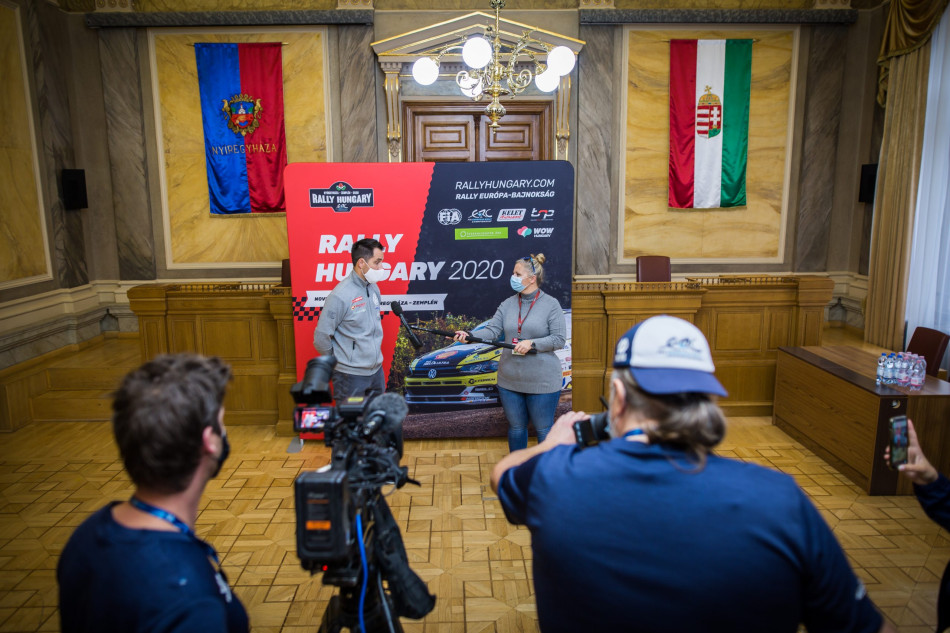 In attendance:
Craig Breen, Team MRF Tyres
Erik Cais, Yacco ACCR Team
Callum Devine, Motorsport Ireland Rally Academy
András Hadik, DVTK SE
Norbert Herczig, MOL Racing Team
Andreas Mikkelsen, Topp-Cars Rally Team
Frigyes Turán, Turán Motorsport SE
Ferenc Vincze, Pilis Racing Kft. / Dani Fischer Team

Q:
You've done the recce Craig so how big is the challenge you'll face on Rally Hungary?

CB:
It's a challenge definitely. I'm not really sure what we're going to find this weekend because the stages are something like I've never seen before. Some parts are really nice with a nice profile, nice roads and the weather has definitely been playing in a nice way so hopefully for the rest of the weekend we can have some nice feelings on those roads but the rest of the weekend is going to be more tricky.

Q:
Do any of the stages resemble what you have back home in Ireland and can you use that to your benefit?

CB:
Some of the roads back home are broken but at least it's Tarmac. Here it's full gravel in some places. We've some Tarmac sections in Valais but I've never done a Tarmac rally with so much gravel before. It was obviously like this last year, it's another challenge and we'll just have to see how it goes but compared to back home, to give some credit to the council people making the roads back home it is Tarmac most of the time in Ireland. But for sure the normal, wider roads are bumpy in places so we'll enjoy that.

Q:
We've seen on your social media that you've been doing a lot of karting in the run-up to this event. Is that your normal preparation for a Tarmac event?

CB:
Honestly the karting is something I finished incorrectly is the right way to put it. When I stopped karting about 10 years ago I did it in the wrong way and always felt I had some unfinished business there. Honestly my idea is to try to do something at European or world level again in the next while if I can squeeze it in. Every time I get back in the kart again it always comes really quickly and really naturally to me and I always enjoy it. I suppose it's good training and for me it's the most physically demanding thing I've done and I always use it to hone my skills on Tarmac and keep myself strong but honestly it's part of a long, long plan to give it a proper shot again.

Q:
From Alasdair Lindsay (DirtFish.com) by email: Which stage do you think will make the biggest difference to the outcome of the rally and why?

CB:
It depends on what the weather is doing. It's dried up a lot since we did the recce but the first two stages of the rally on the Saturday morning are the ones with the most amount of gravel on it, the most tricky ones, I suppose unknown because we've recced them in the worst conditions and I think that's where we'll see the most amount of difficulties. Sunday is a relatively 'easy' day compared to that but there are still some gravel parts, but the main part of the action should be on Saturday.

Q:
Turning to Erik Cais, two wins on national rallies since we last saw you on Rally Fafe Montelongo in Portugal. How have they helped you and how much confidence have they given you?

EC:
It was my first overall win and it was twice in Italy and in Poland and it was a really good feeling before Hungary. But it was for testing and the big battle will be here.

Q:
Given your mountain bike racing background you've commented before that you quite enjoy the slippery conditions. Is it the same with a roof over your head and can you enjoy those conditions?

EC:
I like mostly when the weather is changing a lot but I feel like a gentleman because I am not dirty and I am in a car inside. But I also like the mud and the feeling of the car when it's going sideways at high speed. I hope for rain but the weather forecast is looking like it will be sunny but that will also be okay because in Hungary there is a lot of mud on the road.

Q:
There was obviously a lot of mud and water on the road last year when you won in ERC3. How can that help you move forward this year?

EC:
For sure the experience of the roads and what they look like with the mud on the road and everything is helping but the difference between the Fiesta R2 and R5 is really big. It will be something different compared to last year, some of the stages are similar but maybe even faster because there will not be so much mud and water on the road so for me it will also be about getting experience of driving this car in these conditions.

Q:
Your co-driver Jindřiška Žáková injured her finger on Rally Fafe Montelongo and had to take a rally off but how is she doing now?

EC:
She still has something on the finger but hopefully she will be okay. We tried to do some puncture training and it was a little bit different but I think she will be okay to do it.

Q:
From Alasdair Lindsay (DirtFish.com) by email: How did the conditions on the recce compared to last year's event – are they better or worse?

EC:
It seems to be better but last year in cuts were trees and if you cut you completely damaged the car. Now there are some things that if you cut you don't completely damage the car and many drivers will try to cut the corners and also the mud from these corners will be on the road so you need to be careful to see if the mud is coming or not. But from the recce it seems to be better than last year.

Q:
And which stage, from the recce, do you believe will be the key stage that we all need to look out for?

EC:
For everybody it will be the longest one because the conditions on that stage change every metre.

Q:
Turning to Callum Devine, you famously had a podium here last year so what are the memories from that weekend 12 months on?

CD:
It's a little than last year, that's for sure! It's quite similar but we're looking forward to it and the memories were picking up for me doing the recce.

Q:
Are the conditions we experienced last year something to be enjoyed or endured?

CD:
A bit of both. Last year was a bit of luck because of the punctures but I also like the slippery conditions from back home and it's very slippery here.

Q:
Can you summarise your season so far?

CD:
It's probably been the most challenging year for us. In Latvia we had our first big accident, we've also had a bit of bad luck. But we had a good result in Portugal and we hope we can kick off from there and get another good result this weekend.

Q:
You've got a team-mate at the Motorsport Ireland Rally Academy this weekend in Josh McErlean. How much can that help you when discussing strategy and how much can you help him with your experience of last year?

CD:
It's great and it's brilliant the Motorsport Ireland Rally Academy is bringing Josh here. They are doing so much for the young drivers back home. It's good to have Josh here and it will be good experience for him because he's probably hasn't tried anything like this before. I've been helping him as much as I can, showing him some onboards from last year, which is also helpful. It's nice to have him here, he's a quick driver himself and it will be good to see him progress this weekend.

Q:
From Alasdair Lindsay (DirtFish.com) by email: 12 months on from last year's recce, what can you tell us – better or worse from then to now?

CD:
The recce is still quite the same, some of the cuts are still there from last year. There was a lot of rain last year and that was actually cleaning the roads but now it's a lot more slippery because there's no rain cleaning the roads, a lot more greasy. It will be quite similar to last year with a lot of anti-cut devices in there too so it's going to be a tricky rally.

Q:
Which stage do you believe will be the one that fans and journalists should look out for?

CD:
Sunday should be good, it's a little bit more cleaner and everybody will have bedded into it a bit more and will be able to push on.

Q:
Turning to András Hadik, what does this event mean to you?

AH:
Two years ago I claimed my Hungarian title here at a very exciting race that was decided only on the last stage. It was a difficult race, dry, but foggy. Due to the pandemic situation we started the season very late this year. The focus is on the national championship, I think we have no chance at the ERC race because of the top drivers coming to Rally Hungary, but we try to benefit from our experiences on the stages. This morning we realised that almost all of the stages were fully dry, while we had wet test on Wednesday, but we do not worry, because we have the setup for dry weather as well. On the first day we try to focus on the Hungarian championship, and if we still stand on Sunday, we will keep going and push as we can.

Q:
Turning to Norbert Herczig, how have your preparations gone for the event and what's it like to be competing on the same event as your son, Patrik?

NH:
The recce went well, and fortunately, we have had some experience from last year, so we had to modify our notes only a bit and now we are ready for the race. Last year there were many punctures, but the organizers took some sections out of the stages to make our lives easier. We are far behind in the overall standing, so there is no sense to figure out any tactics, we have to simply push as we can and prepare for the 2021 season. A year ago, I never thought that I was going to compete at an ERC race with my own son, Patrik. I think he is much smarter, more relaxed than me, he is going step by step, so I do not worry about him, he is here to collect kilometres.

Q:
Turning to Andreas Mikkelsen, what's brought you back to the European Rally Championship and also to Rally Hungary?

AM:
Well obviously I'm very happy just to be competing again. It's such a great feeling to enter rally. I've been doing a lot of testing this year but when Topp-Cars Rally Team contacted me and asked me if I wanted to do Rally Hungary. Obviously I was very happy and really happy to be back competing and I'm very glad we made it happen. We had a great test this week and the team feels really good, nice people and we're ready to give it a go this weekend.

Q:
You've done the recce so what do you think? A big challenge ahead or can it be enjoyable?

AM:
It's a huge challenge that lies ahead of us. I don't think I've ever seen a Tarmac rally with this amount of mud and gravel on the stages. This is very particular for this rally. I remember doing a rally in Hungary almost 10 years ago now but it was in a different area in Pécs and this is very different type of nature, different types of stages. But it's a good challenge and the same for everyone. We tested on completely dry but some weeks ago I tested for Ypres when we also had a lot of mud and gravel on the road so I think I should be confident driving in these sections. It's really hard to know the grip levels and how hard you can push. Obviously when we did the recce it was some days before when we arrived and some of the places have dried up but to predict these kinds of surface change since the recce will be very difficult and I think day one will really tell the outcome of the rally.

Q:
From Alasdair Lindsay (DirtFish.com) by email: What's your aim here this weekend?

AM:
My aim is very clear, I come here to try to win. I know the competition will be really tough and it's a new rally for us, which adds to the difficulties of coming here. But I feel really good in the Škoda and I obviously have a long history with Škoda. Already on the test the car felt really, really nice, I felt comfortable and I was able to push straight away. If I can have this feeling during the rally then I will feel quite confident that I can fight at the top. If not I will be quite disappointed with myself. But we will give it a go and let's see where we are.

Q:
Which stage will be key to the rally?

AM:
If there is a big gap to the front before the last day, Sunday, it's really tough because the Sunday stages are a bit more easy. They're really fast and it's hard to make a big difference. I do believe Saturday's stages will be crucial and staying away from punctures will also be important when you look last year how much happened. But stages two and three are pretty different because you have a lot of muddy sections, especially stage three because it's quite a long stage as well. Stage four is new to everyone and there you can make a gap and do something different. Stage five I guess will be close between everyone so I will say stages two, three and four.

Q:
Finally, your old co-driver Ola Fløene is back in the car rather than Anders. Can you give us an update on why that is?

AM:
It's like going 10 years back to the ERC and IRC, back with Ola and back with the Škoda. Anders is having a kid or his wife is having a kid, luckily, not him! So he wants to stay at home which is very understandable and I'm sure that will be a special feeling. I'm very happy to have Ola back on board. We know each other very well from before. We know our systems and already on the first test it was like we'd never been away from each other. Things are working well and I'm confident we can deliver a good result together.

Q:
Turning to Frigyes Turán, the winner here last year. What were your memories of that day?

FT:
I think we could have deserved the second place last year, and finally, we won due to the others' problem on the last stage, which was a gift for us. It was an awesome feeling to win the race, we learnt a lot. Now we aim for getting a good result in the National Championship, and if we go well on Saturday, we will be happy on Sunday, too. The race is long, very complex, we must choose the speed very smartly. We have great tyres, we did not even have a puncture last year, so I am not really happy for the changes of the stages, because I love difficult conditions. Overall I think it will be a bit easier this year, but there are some critical sections. We have a good car, a good team, we are absolutely ready for the race. The field is strong, of World Rally Championship standard that gives extra motivation. I hope we can keep up with the top drivers and we can be in the top five.

Q:
Turning to Ferenc Vincze, you led here last year but what can you achieve this year?

FV:
We are leading the Hungarian national championship by a single point, certainly, it makes me happy, but last year's race was a bit more relaxed, because we had already won the title by Rally Hungary. We did not have any pressure back then, we pushed as we could. Now the Hungarian championship is the first priority, we focus on trying to defend our title. We try to go safe, but surely fast. Two years ago we did not have the speed, last year we had it, but we had technical problems and punctures, so I think we have to find the balance between speed and safety for this year. The race will be easier than it was last year as it will be dry, but we would love to have a wet race, because we found a good setup for wet surface during the test. We know the stages quite well, they are tight and difficult, so we must drive very accurately, otherwise, we can have a risk to retire at any corner.
ENDS