This page contains archived information and may not display perfectly
ERC - Post-event press conference transcript
2018 Acropolis Rally 3 June - Press conference transcript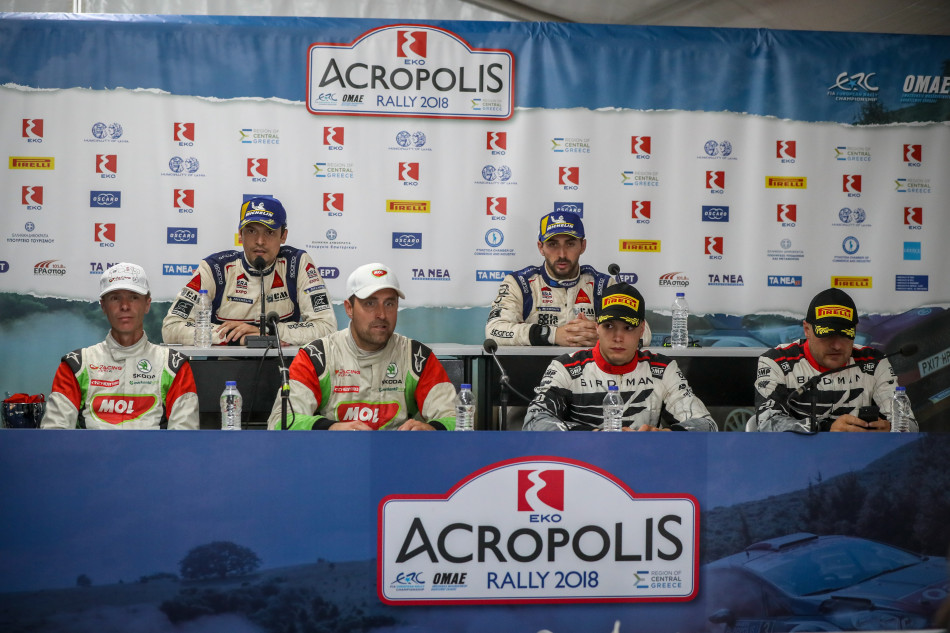 Present:
Bruno Magalhães/Hugo Magalhães, first position
Norbert Herczig/Ramón Ferencz, second position
Hubert Ptaszek/Maciej Szczepaniak, third position
Q:
Congratulations Bruno, your first win of the season and your first Acropolis Rally victory. How good does that feel?
BM:
Thanks a lot! Of course to win a rally like this, so mythical rally is a dream for every driver I think. To put my name in the album of the Acropolis Rally is just amazing so today was the day that the dream come true.
Q:
The dream came true and it was a great result for you and Hugo but what made this result possible?
BM:
For sure today was the most difficult day of my life because it was difficult to get all the pressure on my shoulders and I knew I could not make any mistake so sometimes it's much more easy when you need to fight and when you need to catch someone. Today was really, really difficult for me. The beginning of the rally was good and yesterday was a very good day for us. Yesterday we pushed on the first passage and made a good gap for the other drivers and avoiding all the stones and all the problems. For the second loop we used the hardest compound of Michelin to avoid some problem. We knew the tyre is less performance but you want to keep safe because you see the first loop that everybody was getting punctures so it's very difficult. Our strategy was perfect for the rally and we managed it very, very well, the tyres, the car, our job, me and Hugo.
Q:
How important is this for your championship challenge – will you continue your challenge in Cyprus?
BM:
Today was a difficult day because I was waiting an answer for Cyprus. The answer was depending on this result. So the telephone rings some minutes ago and the good news is I have the budget to go to Cyprus. Because of all these questions it was a very difficult day for us but of course I am happy to go there.
Q:
Turning next to your co-driver Hugo Magalhães, you've experienced some tough rallies during your career but just how tough was this event?
HM:
This year the rally was very tough because there were a lot of rocks on the road and the temperatures were quite hot and it made our life so hard. But, fortunately, we managed very well all the problems, all the race and we kept the car all the times in the safe side and we reached the finish line with the victory. I think and I'm pretty sure it's the boost we needed to keep going in the championship because we have the budget, like Bruno said, to do Cyprus and I hope to do a great job there to also keep going on the next one.
Q:
Turning next to Norbert Herczig, congratulations Norbi, your first podium in the ERC and quite possibly the best result of your career would you say?
NH:
The feeling is very, very good. Before the rally I didn't dare dream we would be able to reach this position. It was a very hard rally, I can say the same, but fortunately we didn't have any problem, nothing. We didn't get puncture, we could safe-drive the whole rally and we didn't make too big mistakes. Just today we had a little mistake but independently of this we didn't make a fault.
Q:
You won stages and kept out of trouble but just talk us through this morning's second stage when you went off and stalled?
NH:
It was a very good feeling to win the stages but we just drive, we don't care for this info. What happened was unbelievable but we kept going.
Q:
Your co-driver prefers not to answer in English so how has he helped you to get this result?
NH:
He helped me a lot. We could make quite good pacenotes and he could give the info back to me in good time. So we have worked together for three rallies and our working until this time has been perfect.
Q:
The youngest podium finisher in Greece this weekend Hubert so how did you make it through when many more experienced drivers had problems?
HP:
It was really hard but our strategy from the beginning was just to drive, to focus on our pacenotes and to make the cleanest runs possible because our position on the road wasn't so perfect. We were second car on the road and we were cleaning a lot but it was good for us. We tried to keep clean lines and avoid stupid mistakes on the junctions because yesterday it was a lot of junctions and you can easily lose the time when you go a few places too wide or maybe side of the corner. We avoid the punctures also but the problem is we don the 25-kilometre stage [yesterday] with balloons, without the structure on the tyres so it was a little bit surprising for us because it was a completely new tyre at the beginning of the stage. But we done the stage without the structure on the tyre so it was for sure something new for me. To be honest at first I thought it was something wrong with the suspension but it was finally not and we were also happy we could continue the rally. But we back off a little, we were still driving and we get to the finish line.
Q:
What's next for you Hubert – will you come to Cyprus?
HP:
Yeah, I hope so. And we will go there and for sure to try to keep the good rhythm also. But the fast drivers will still join into the game so for sure it won't be an easy challenge. But we are focusing on the next rally and we will do our best.
Q:
It's another promising performance by your driver. What do you think of his effort, a smart drive?
MS:
I think everyone could see clearly that Hubert showed big maturity. He drove all over the stages, he saved the car, he nursed the car. Basically we are on the Acropolis Rally. I did it in 2002 and it's like the 'Rally of Gods' again. We drove through all the stages where you need not to keep the throttle open all the time because no car will survive it. He did the perfect job, he had a very clean and good weekend and this is the prize for him now.
And finally a message from the FIA European Rally Championship to you Maciej and your other driver, the three-time ERC champion Kajetan Kajetanowicz, we want to wish you all the best next week in Sardinia because that's where you are off to very shortly isn't it?
MS:
Yeah, tomorrow I land in Olbia at 09h40 and at 11h00 I will be testing in the Fiesta for Sardinia [with Kajto]. And then the week later I am going to test for Cyprus so it's quite long.