This page contains archived information and may not display perfectly
ERC - Ostberg handed big win but Mikkelsen wins bigger
FIA European Rally Championship 2021, Round 7 - Rally Hungary - Leg 2 report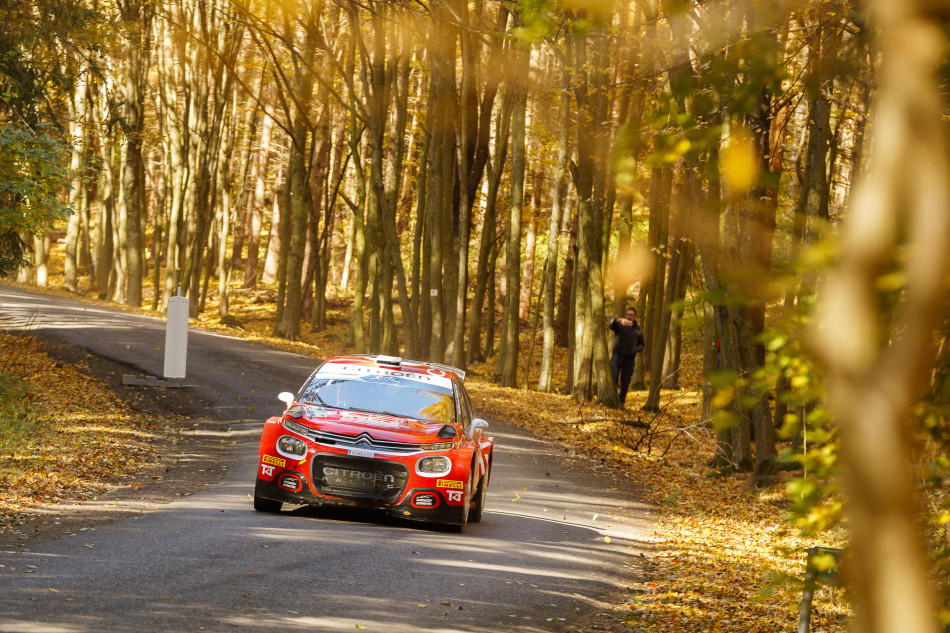 *Penalty demotes on-the-road winner Gryazin, hands first ERC victory to Østberg
*Mikkelsen secures maiden FIA European Rally Championship title**
*Marczyk snatches third following final-stage charge
*Hadik makes it a hat-trick of Hungarian titles in fourth ahead of Llarena
*Home hero Herczig suffers heartbreak in battle for podium place
*Pardo takes five in ERC2, Poloński holds on for Abarth Rally Cup success
*Pajari beats Armstrong to ERC3/ERC3 Junior glory
*Mabellini wins first Clio Trophy by Toksport WRT title
*Toksport WRT secures FIA European Rally Championship for Teams**

Mads Østberg was handed a maiden victory in the FIA European Rally Championship on a momentous day for Andreas Mikkelsen, who becomes provisional ERC champion** after he was classified sixth overall on Rally Hungary this evening.

Nikolay Gryazin had led almost from start to finish in his Sports Racing Technologies-run Volkswagen Polo GTI R5. But his celebrations were cut short after event stewards determined that he had not stopped at the scene of Norbert Herczig's accident on Sunday's opening stage.

After an impressive debut on the Nyíregyháza-based event alongside co-driver and fellow Russian Konstantin Aleksandrov, the 15-minute time penalty handed down to Gryazin dropped him to P22 and promoted Østberg into first, Miko Marczyk into second and András Hadik to third.

Gryazin explained that he misunderstood the warning signals from stage-side marshals, but he will ultimately leave Hungary empty handed, despite a dominant performance.

Little had troubled the Latvia-based driver on the demanding sealed-surface stages in northeast Hungary although there was mild concern this morning when his team was forced to change a clutch during the 15-minute service halt after a fault was identified. "We tried to control the pace," Gryazin said. "Thanks to the team, they did great job because I always wanted to make some changes and they did everything."

For Mikkelsen, winning the ERC title** was a case of mission accomplished and comes seven days after he became WRC2 champion**. His performance also helped to ensure that Toksport WRT wins the FIA European Rally Championship for Teams for the first time**.

"My goal before the season was to try to win the championship so I'm very happy," said the 32-year-old Norwegian, who was co-driven by Elliott Edmondson on Rally Hungary and on the previous rounds in Azores and Fafe. "I knew it was going to be very, very tough with all the drivers so it was not for certain. But we had a good season, driving very clever and always getting points when we needed to. Winning this championship is definitely one of the highlights of my career. The goal was really, really tough but I really believed in the team, Toksport WRT, and the car, the Škoda has been working so well and was the car to beat. The season has been amazing but I thought before the season it was probably going to be harder for me to win ERC rallies than WRC2 rallies in the world championship. Looking back at the season I stand behind that. The pace and the speed the guys are doing in the ERC is really high and you really need to push to the limit if you want to fight for the win."

Østberg (TRT Citroën Rally Team Hungary) fought back to second after two significant delays and would take the win following Gryazin's penalty. András Hadik clinched his third Hungarian title despite slipping behind Miko Marczyk on the final stage. ORLEN Team driver Marczyk dropped as low as ninth on day one following a driveshaft issue, but he celebrated his 26th birthday with three stage wins to snatch what would become second place on the closing test.

Efrén Llarena (Rallye Team Spain) was classified fourth followed by Simone Campedelli (Team MRF Tyres), Mikkelsen and Yacco ACCR Team's Erik Cais, who briefly led but dropped out of the lead fight due to a damaged tyre and a power issue. CHL Sport Auto's Yoann Bonato placed eighth with Miklós Csómos ninth. Italian youngster Alberto Battistolli took more points in P12 after he recovered from an off on Saturday morning.

Javier Pardo made it five ERC2 wins from five starts in his Suzuki Motor Ibérica Rally2 Kit-specification Swift. Sami Pajari got the better of M-Sport Poland team-mate Jon Armstrong to win ERC3/ERC3 Junior in a Ford Fiesta Rally4. Dariusz Poloński celebrated claiming the Abarth Rally Cup by winning for a fifth time in 2021. Paulo Soria took Clio Trophy by Toksport WRT honours as Andrea Mabellini secured the inaugural title in arrive-and-drive series for the MICHELIN-equipped Renault Clio Rally5.

Home hero Norbert Herczig held the runner-up spot heading into Sunday's opening stage but a heavy crash nearing the finish of the run ended his hopes of a fourth ERC podium. Although Herczig was largely unscathed following the heavy impact, co-driver Ramón Ferencz suffered rib injuries.

Despite completing the Qualifying Stage with a top-15 time, Nil Solans was a non-starter on his debut for Team MRF Tyres after a technical issue in his all-new Hyundai i20 N Rally2 could not be rectified. A spate of punctures led to Umberto Scandola's exclusion on leg one after he drove on a road section with only three inflated tyres on his Hyundai Rally Team Italia entry in his efforts to return to service. Frigyes Turán and Ádám Velenczei both stopped after seven stages. Ken Torn retired his Ford Fiesta Rally3 from the ERC Junior lead on SS8 with a broken alternator.

Østberg goes from spinning to winning on ERC return
But for a high-speed spin into a ditch on Saturday morning and a puncture on Sunday's opening test, Mads Østberg could have won Rally Hungary on the road. Nevertheless, his inherited first place, six fastest stage times and victory among the Hungarian championship contenders represented a strong return for the Norwegian. "We were fast and winning stages but had some problems," Østberg said. "This time it was my mistake and it was hard to get back."

Five from five in ERC2 for charging Pardo
Javier Pardo completed his comeback from a damaged tyre on Saturday morning to take a fifth win from as many starts to edge closer to the FIA ERC2 title. Driving a Suzuki Swift R4lly S for Suzuki Motor Ibérica, Pardo finished more than six minutes ahead of title rival Dmitry Feofanov with Victor Cartier overcoming brake issues and a water leak to complete the podium in his self-built Toyota Yaris Rally2 Kit. Dariusz Poloński celebrated capturing the Abarth Rally Cup in fourth place by winning for a fifth time in 2021 after Martin Rada retired from the category lead when he went off on SS9 and damaged his car's suspension. But it was a nervy finish for the Polish driver after the electrical problem that struck on Saturday resurfaced during the closing loop and robbed him of vital power as the finish approach. Csaba Juhász overcame a puncture to finish sixth behind Roberto Gobbin. Home hero Tibor Érdi Jr didn't restart after stopping after four stages on Saturday with a broken gearbox. Joan Vinyes, who retired after damaging his Suzuki's suspension on SS6 was another not to return to the action on Sunday.

Pajari powers to ERC3/ERC3 Junior triumph, Franceschi closes on ERC3 crown
Sami Pajari moved to the top of the provisional ERC3 Junior standings with victory over Jon Armstrong, who was competing in an identical Pirelli-equipped, M-Sport Poland-prepared Ford Fiesta Rally4. It was the Finn's second ERC3 Junior victory of the season and his first on Tarmac and came seven days after he took the FIA Junior WRC title on Spain's world championship counter. By finishing third, Toksport WRT's Jean-Baptiste Franceschi (Renault Clio Rally4) not only remained in the hunt for the ERC3 Junior title but he also moved a considerable step closer to the ERC3 crown after Pep Bassas crashed his Rallye Team Spain Peugeot 208 Rally4 as he fought back from a damaged tyre on Saturday afternoon. Alejandro Cachón finished fourth for Rallye Team Spain followed by newcomer Anthony Fotia (CHL Sport Auto Clio Rally4). Martin László was sixth with Amaury Molle seventh in ERC3 Junior following a catalogue of problems. Hungarian Peugeot-powered pair Bendegúz Hangodi and Gergö Szauer were seventh and eighth in ERC3 with Adrienn Vogel P12. Norbert Maior was third in ERC3/ERC3 Junior when a puncture on SS11 dropped him and co-driving sister Francesca down the order. "I made a mistake on one left corner and drove half the stage on the rim, I'm so sorry to my team," a devastated Maior said. It would get worse for the talented Romanian when a wheel failed on the final stage and he retired. Patrik Herczig was ninth in ERC3 at the overnight halt but he crashed out on the same right-hand corner nearing the finish of SS8 as his father Norbert did several minutes earlier. Poland's Łukasz Lewandowski retired his Opel Corsa Rally4 on Saturday morning due to illness.

Soria leads Clio Trophy by Toksport WRT but Mabellini is on course for title joy
Paulo Soria did all he could to win the inaugural Clio Trophy by Toksport WRT title. Although he took the victory in the arrive-and-drive category on Rally Hungary, it wasn't enough to prevent Andrea Mabellini from taking the crown on the double-points finale. With Bastien Bergounhe and Yigit Timur both retiring their MICHELIN-equipped Renault Clio Rally5s on leg one, Mabellini was safe in third starting the final day and a cautious drive ensured he would keep the position and secure the title ahead of Soria and Ghjuvanni Rossi, who finished second on the event and third in the standings.

P1 Racing Fuels Podium Challenge rewards ERC drivers
The 2021 P1 Racing Fuels Podium Challenge continued on Rally Hungary this weekend. It rewards the top three finishers in ERC1 and ERC2 on all rounds of the championship with fuel vouchers that can be exchanged for P1 XR5 race fuel at subsequent events, helping competitors to further reduce the cost of competing. Across both categories, the winning drivers received 150 litres of fuel, while the second and third placed drivers received 100L and 50L respectively. More information: www.p1racingfuels.com

LEG ONE REPORT:

https://www.fiaerc.com/press-release/erc-rally-hungary-leg-one-report-gryazin-going-for-gold-herczig-heading-for-home-podium/

Day two newsfeed available on request by emailing: paula_dequidt@discovery.com

PROVISIONAL TOP 15 ERC POSITIONS (after 14 stages, 182.01 kilometres)
1 Mads Østberg (NOR)/Torstein Eriksen (NOR) Citroën C3 Rally2 1h38m43.4s
2 Miko Marczyk (POL)/Szymon Gospodarczyk (POL) Škoda Fabia Rally2 Evo +21.8s
3 András Hadik (HUN)/Krisztián Ketrész (HUN) Ford Fiesta Rally2 +26.1s
4 Efrén Llarena (ESP)/Sara Fernández (ESP) Škoda Fabia Rally2 Evo +1m14.1s
5 Simone Campedelli (ITA)/Tania Canton (CHE) Škoda Fabia Rally2 Evo +1m21.8s
6 Andreas Mikkelsen (NOR)/Elliott Edmondson (GBR) Škoda Fabia Rally2 Evo +1m30.4s
7 Erik Cais (CZE)/Jindřiška Žáková (CZE) Ford Fiesta Rally2 +1m49.6s
8 Yoann Bonato (FRA)/Benjamin Boulloud (FRA) Citroën C3 Rally2 +2m06.8s
9 Miklós Csomós (HUN)/Attila Nagy (HUN) Škoda Fabia R5 +2m14.8s
10 Sami Pajari (FIN)/Marko Salminen (FIN) Ford Fiesta Rally4 +6m52.2s
11 Jon Armstrong (GBR)/Phil Hall (GBR) Ford Fiesta Rally4 +7m15.4s
12 Alberto Battistolli (ITA)/Simone Scattolin (ITA) Škoda Fabia Rally2 Evo +7m21.0s
13 Jean-Baptiste Franceschi (FRA)/Anthony Gorguilo (FRA) Renault Clio Rally4 +7m55.0s
14 Alejandro Cachón (ESP)/Alejandro López (ESP) Peugoet 208 Rally4 +8m08.6s
15 Anthony Fotia (FRA)/Arnaud Dunand (FRA) Renault Clio Rally4 +9m00.8s

FIA ERC2: Javier Pardo (ESP)/Adrián Pérez (ESP) Suzuki Swift R4lly S
FIA ERC3: Sami Pajari (FIN)/Marko Salminen (FIN) Ford Fiesta Rally4
FIA ERC3 Junior: Sami Pajari (FIN)/Marko Salminen (FIN) Ford Fiesta Rally4
Abarth Rally Cup: Dariusz Poloński (POL)/Łukasz Sitek (POL) Abarth 124 rally
Clio Trophy by Toksport WRT: Paulo Soria (ARG)/Marcelo Der Ohannesian (ARG) Renault Clio Rally5
Live timing and results: https://www.fiaerc.com/live-timing/

RALLY LEADERS
SS1-4: Gryazin/Aleksandrov
SS5: Cais/Žáková
SS6-14: Gryazin/Aleksandrov

STAGE WINNERS
A full list of stage winners appears in the attached .pdf file.

KEY STATISTICS:
ERC rally wins in 2021: Mikkelsen 2; Basso, Kopecký, Lukyanuk, Østberg 1
ERC stage wins in 2021: Mikkelsen 19; Gryazin 17; Sordo 9; Basso, Cais and Kopecký 7; Lukyanuk and Østberg 6; Crugnola 4; Breen and Marczyk 3; Herczig, Moura and Tempestini 2; Chuchała and Llarena 1

CHAMPIONSHIP POSITIONS: Click here for the provisional positions after 7/8.