This page contains archived information and may not display perfectly
ERC - Fortune favours Lukyanuk as ERC Junior U28 leader Kreim impresses
Rally Di Roma Capitale - Leg One report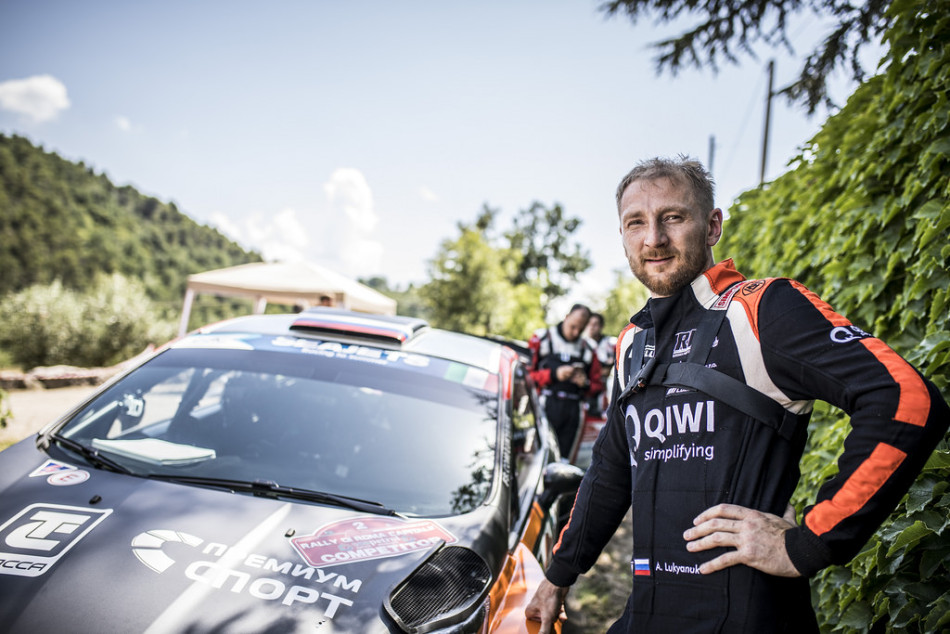 *Russian in front following a day of high drama on Rally di Roma Capitale
*Sesks heads rivals in Pirelli-equipped ERC Junior Under 27 
*Érdi Jr on top in ERC2 but there's frustration for Alonso, Remennik
Alexey Lukyanuk holds an 15.8 second advantage over double FIA European Rally Championship title winner Giandomenico Basso after Leg One of Rally di Roma Capitale, amidst an afternoon of high drama.
A two-time winner in 2018, Lukyanuk's quest for a third win this season was aided by major rivals losing time and retiring outright, though had to cope with a broken rear roll-bar of his own throughout Saturday afternoon.
Though his lead is barely any larger than at midday service, Lukyanuk's main chasers have changed multiple times throughout Saturday afternoon.
Giandomenico Basso is currently his main opposition despite a lack of familiarity with his ŠKODA Fabia R5 and a brand new co-driver in Moira Lucca.
He had been locked in a battle for second with fellow Italian championship competitor Simone Campedelli, until the Orange1 Racing driver's day came to an end when two punctures left him without spare tyres to complete Saturday's afternoon loop of stages.
Behind second placed Basso is ŠKODA AUTO Deutschland's Fabian Kreim, who leads the ERC Junior Under 28 Championship category after Leg One.
In a performance reminiscent of his Rally Islas Canarias podium, Kreim methodically worked his way up the order with a series of clean stages absent of drama or errors, climbing from eighth to third by Leg One's end.
He spent all of Saturday's seven stages battling hard with Grzegorz Grzyb, swapping fractions of a second from stage to stage before establishing a 1.4s lead by day's end.
Behind fourth placed Grzyb is 10 time Italian rally champion and spectator favourite Paolo Andreucci, turning in a mammoth performance after fracturing his lower vertebrae in a testing crash less than a week ago. He remains in the podium battle with Kreim and Grzyb, 7.6s behind Kreim in third.
A frustrated Bruno Magalhães finished Leg One sixth, his car's engine cutting out and requiring a master reset more than once in the final two Saturday stages. The SEAJETS-backed driver had set his sights squarely on Kreim's third place, but Magalhães' intermittent power issue left him 31.5s adrift of a podium place instead.
ŠKODA Motorsport protégé Juuso Nordgren took a deliberately cautious approach to guide his Wevers Sport-prepared Fabia to seventh place, ahead of second placed ERC Junior U28 contender Chris Ingram.
Fredrik Åhlin was one of several drivers to pick up a puncture in stage five but was keen to focus on the positives, happy with his learning progression on asphalt while finishing Leg One in ninth. Ingram's Toksport WRT team-mate Orhan Avcioğlu completed the Top 10.
Leg one recap: Lukyanuk and Kreim hold firm as rivals deflate
After two FIA European Rally Championship events in a row in which Alexey Lukyanuk crashed out, it was the turn of his rivals to experience misfortune on Rally di Roma Capitale, which also handed ERC Junior Under 28 leader Fabian Kreim a golden opportunity.
Fellow ERC Junior U28 pilot Nikolay Gryazin mounted a concerted challenge to Lukyanuk's early pace, running within five seconds of the rally leader until stage four. A small engine fire coupled with power steering failure forced him to pull over before resuming, dropping three minutes and out of podium contention.
Lukyanuk had pinpointed Gryazin and Bruno Magalhães has the two drivers he wanted to beat. As Magalhães struggled in the lower half of the top 10 with set-up issues which made his car feel "soft" on Saturday morning's loop, a quartet of Italian championship drivers circled close behind.
Umberto Scandola had won Rally di Roma Capitale twice in years past but was first to fall, a technical problem ending his rally while running fifth in stage three. Reigning Italian championship winner on this event Simone Campedelli was next of the front-running Italians to fall, retiring from third place when he ran out of spare tyres with two punctures in two consecutive afternoon stages.
This left Giandomenico Basso, twice a European Rally Champion in 2006 and 2009, as Lukyanuk's main challenger in second place. In only his second rally aboard a ŠKODA Fabia R5 and with a brand new co-driver, he progressively pushed harder in every test, winning stage seven by 2.8s despite a 360 degree spin.
Fabian Kreim showed what could be achieved with a calm, restrained approach. Keen to cover every kilometre and build his confidence and pace, Kreim belied his young age with a measured drive to third overall and a secure lead in ERC Junior U28.
He was locked in a close battle all day long, swapping places with his podium rival Grzegorz Grzyb all day long in a tit-for-tat battle over tenths of a second. Despite battling hard with one another both ascended through the overall standings to third and fourth respectively, split by only 1.4s after Leg One.
Italian rallying legend Paolo Andreucci, who had earned the loudest cheer of all in Friday's ACI Roma Arena superspecial, ran first on the road all day on his way to fifth place. It was a remarkable effort from Andreucci, who had fractured his lower vertebrae earlier this week in a testing crash which had sidelined his wife and regular co-driver Anna Andreussi.
Bruno Magalhães started Friday complaining his 'soft' car left him unable to push flat out, pointing out he had been lifting in corners which he had taken flat the year before. A new set of anti-roll bars at midday service made his Fabia come alive but it was all for naught, as an intermittent power issue cost him all progress. As his engine kept cutting out, his gap to Kreim, Grzyb and Andreucci ahead increased further, now in sixth place and 31.5s off a potential podium finish.
Those behind the top six were influenced greatly by a single stage, Pico-Greci's 19.46 kilometres. As gravel and stones were dragged onto the asphalt roads, tyres took a beating, leading to several punctures for those fighting over points.
In Saturday morning's pass there were warning signs of Pico-Greci's rally-changing ability. Magalhães' ARC Sport team-mate Aloísio Monteiro crashed out. while ERC Junior U28 competitor Rhys Yates and Italian driver Marco Pollara both sustained punctures.
Winding forward to Saturday afternoon re-run and the midfield order was shaken up massively. Campedelli, Ingram, Fredrik Åhlin, ACCR Czech Team's Jan Černý, Albert von Thurn und Taxis, Cyprus Rally winner Simos Galatariotis, Łukasz Habaj and even Yates for a second time all sustained punctures.
Juuso Nordgren was one to narrowly avoid a larger stone which had caught out others, moving up to seventh overall with clean, consistent driving. Behind him a recovering Ingram finished Leg One in eighth after being as high as fourth before his puncture, CA1 Sport's Åhlin in ninth and Orhan Avcioğlu in his Toksport WRT Fabia P10.
Qualifying Stage winner Gryazin's comeback had been going well, surging back to tenth after his morning drama. It was an ultimately futile comeback, as a clutch problem in stage six evolved into complete gearbox failure on the start line of stage nine, Saturday's final 2.46 kilometre blast through Pico.
ERC Junior U28: Kreim leads as young drivers battle for overall podium in Rome
A trio of FIA ERC Junior Under 28 Championship drivers battled their more experienced ERC1 rivals for podium places during Rally di Roma Capitale's opening leg, with Fabian Kreim leading while also holding third place overall. ŠKODA AUTO Deutschland driver Kreim felt his confidence increase stage by stage, moving his way through the overall order one by one while keeping his driving measured and tidy. It was initially Rally Islas Canarias category winner Nikolay Gryazin setting the ERC Junior U28 pace, battling closely with Alexey Lukyanuk for first place overall while holding a solid category lead of 15.3s over Toksport WRT's Chris Ingram. Come stage four a first in a series of unfortunate events beset Gryazin, as a corner-cutting impact broke his power steering and caused a minor engine fire. Forced to pull over to extinguish said fire and struggle home with heavy steering, he dropped three minutes to Ingram. It was a dream ERC Junior U28 return for Ingram after his early withdrawal from Rally Islas Canarias due to health reasons, leading at midday service. Unfortunately, that feeling would not last long, as a puncture in stage five cost him 1m35.2s to new leader Kreim. Kreim's 1m14.0s advantage over second placed Fredrik Åhlin after stage five grew to a 1m26.1s lead over the recovering Ingram by Leg One's end, as Åhlin dropped to third place. Jan Černý, driving the ACCR Czech Team Ford Fiesta R5 which M-Sport driver Bryan Bouffier won Rally di Roma Capitale in last season, ended Leg One in fourth place. Along with Ingram, Åhlin, and Rhys Yates, Černý suffered a puncture in stage five but was one of the worst affected. He dropped 3m33.2s while fifth placed Yates conceded 4m05s, already down on time after a puncture in the morning running of the same test. Both earned a position back when Gryazin's day of potential success went further awry. Despite a devastating three-minute loss in stage four, he put his head down and got back to work, climbing to fourth in ERC Under 28 and P10 overall. While pushing on with his recovery, Gryazin's clutch started to play up in stage six, evolving into a complete gearbox failure come stage eight. Unable to drive away off the start line, he was towed away into retirement only 2.54 kilometres from the end of Leg One's competitive action. PEUGEOT Rally Academy's Laurent Pellier was barely given an opportunity to shine after his ERC3 victory on the Cyprus Rally last month. Like Yates he picked up a puncture on stage two, putting him 57.7s off then-leader Gryazin immediately. Leg One came to a sudden halt one stage later, crashing into a tree and bouncing off down an embankment. Impact damage from Pellier's accident was sufficient that resulting engine damage could not be fixed in service, meaning he will not attempt to restart his rally on Sunday's second leg.
 
ERC Junior U27: ADAC Opel Rallye Junior 1-2 after Furuseth heartbreak
ADAC Opel Rallye Junior Team are holding a 1-2 formation in the FIA ERC Junior Under 27 category on Rally di Roma Capitale, albeit only due to a heartbreaking engine failure for category debutant Sindre Furuseth. Mārtiņš Sesks led Opel's charge heading into Saturday's seven stages, tied for first with Saintéloc Junior Team's Simon Wagner after Friday's short superspecial in Rome. As Wagner was quickly eliminated after crashing into a wall early in stage two, attentions turned to another pair of Opel ADAM R2s lurking behind. Sesks' own team-mate Tom Kristensson overshot a corner and had to reverse in stage two, complaining his set-up was troublesome and stopping him from accelerating properly out of corners. It was Furuseth that capitalised, jumping from seventh to second immediately and staying there throughout Saturday, even staying in touch with Sesks despite taking a wrong turn in stage three. Furuseth was unable to keep Sesks in his sights come the afternoon loop. His 4.3s gap to first after midday service became a 25.1s gap one stage later as he caught the ailing ERC2 category Mitsubishi Lancer of Juan Carlos Alonso mid-stage. Furuseth's situation soon turned from bad to worse, as his engine developed a misfire and dropped to three cylinders during stage seven. Though Furuseth tried to limp home to Leg One's final 2.54-kilometre Pico Superstage test, his engine expired in the proceeding road section, ending his hopes of what would have been a stunning debut podium. Kristensson inherited second in the Pico Superstage, also picking up his first stage win after a frustrating day of setup woe. His team-mate Sesks looks somewhat out of reach, with 1m12.8s in hand heading into Leg Two on Sunday. Rally Team Spain's Efrén Llarena had been hampered all day long with an underpowered engine, struggling for pull in uphill sections of stages. Despite his speed disadvantage he remains within touching distance of Kristensson, 19.6s behind. Mattia Vita's home ERC event did not go exactly to plan, overshooting a hairpin in stage two before an exhaust manifold problem hampered his progress in Leg One's afternoon loop. A close battle emerged late on over fourth place between current holder Vita and Saintéloc's highest placed driver Miika Hokkanen in fifth. The Finn had originally been ahead of both Llarena and Vita until a puncture in stage five – which had caught out the majority of ERC Junior U28 competitors – put him behind both. Hokkanen complained of power loss in stage six but then ramped up his efforts, slashing his deficit to Vita from 21.3s to 7.5s. His Saintéloc team-mate Catie Munnings is sixth, thanks in part to a dedicated performance from co-driver Anne Katharina Stein. Her pacenotes had been stolen on Friday, Stein working overnight to rewrite them from scratch. Stein developed a migraine during the afternoon loop yet pressed on, reading notes at her usual speed and intensity, which allowed Munnings to complete Leg One after a challenging 48 hours. All drivers bar Sesks are one place lower in ERC3, a category which runs in tandem with ERC Junior U27 but is open to drivers of all ages. Florian Bernardi holds second place, 1.4s ahead of Kristensson. Dominik Brož and Sebastian Johansson had barely begun their ERC Junior U27 adventure on Rally di Roma Capitale before it ended, both retiring in stage two. Brož clattered a wall and cracked a rim on his PEUGEOT 208 R2 and though his car sustained little other damage, was still unable to continue. Johansson meanwhile retired with a technical issue. Roland Stengg did not participate in Leg One's Saturday stages, feeling unwell and electing to withdraw after completing only Friday's Rome superspecial. ERC Junior U27 championship leader Diogo Gago had filed an entry but did not start.
 
ERC2: Érdi Jr all set for third consecutive win in Rome
Tibor Érdi Jr is on course for a third consecutive victory in the FIA European Rally Championship's ERC2 category for production cars, after chief rival Juan Carlos Alonso retired with a double puncture. Reigning ERC2 champion and current title leader Érdi struggled throughout Saturday with a lack of brake pressure, making driving tricky through the rally's tight and twisty hillside roads. This helped keep Juan Carlos Alonso within touching distance of Érdi, more than halving his 20.6s deficit after stage two by midday service. Alonso took first place on stage five but picked up two separate punctures during stage six. With only a single spare tyre on board his RMC Motorsport Mistubishi Lancer Evolution X, Alonso had no option but to retire afterwards. Csaba Juhász is second after Leg One on his ERC series debut, inspired to participate after years of watching the championship on Eurosport. Though he is 3m46.7s behind Érdi, his current podium position looks secure with third placed Sergei Remennik 4m41.6s further back. Remennik had gone through a mammoth effort to even participate this weekend, his team pulling off a 5,000-kilometre round-trip to Latvia in 30 hours straight to source a new car when his usual machine was damaged beyond economical repair in a testing crash on Monday. A new car sourced and switched from gravel to asphalt specification, his Lancer struggled to cope with such a tough itinerary so soon after completing Rally Estonia. Two punctures, accident damage, fading brakes throughout Saturday, an overheating engine in the afternoon loop and no light pod for a night stage meant the usually rapid Remennik was consigned to falling well off the pace, though remaining in good spirits regardless of his troubles.