This page contains archived information and may not display perfectly
ERC - ERC Liepaja post-event press conference
Oliver Solberg/Aaron Johnston, Alexey Lukyanuk/Alexey Arnautov, Mārtiņš Sesks/Krišjānis Caune attended the post-event press conference for Rally Liepāja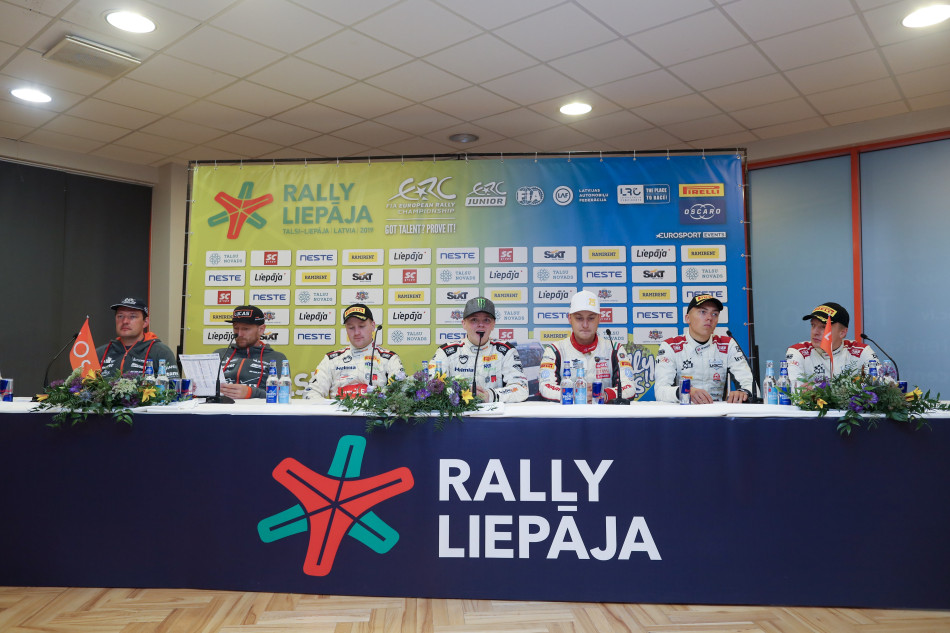 Q:
Oliver Solberg, huge congratulations for this victory. You are the youngest winner of an FIA European Rally Championship event. How good does that feel?

OS:
I have no words. It's absolutely amazing. I'm so happy, it's crazy.

Q:
Talk us through the rally itself, your first gravel event with the Volkswagen Polo GTI R5.

OS:
I was surprised I have to say on SS1 to be fastest by six seconds. I never expected that for sure. OK, it wasn't maybe the best plan on the long term but I always want to go hard from the beginning, so always flat out. Being fastest on the first stage was absolutely a dream.

Q:
You made winning look easy, winning 10 out of 13 stages this weekend. How does if feel to win against the Russian Rocket Alexey Lukyanuk?

OS:
He's always been my hero and before the race I watched every video of him from Estonia, from Latvia, with the Evo, everything. I told my father, 'how is it possible to go so fast?' 'I would never manage to do this,' I said. And then I come on SS1 and I win it by six seconds, I was like 'what just happened?'. It's crazy.

Petter Solberg:
I just have to say something to Lukyanuk. It's true what they say, it's not like bullshit. The thing is, that when he did the recce, he came to me, "I've done the recce now, I tried to write the pace-notes like Lukyanuk is pushing the car into the corner." So I think that for young kids, it's fantastic, because you have a spectacular, proper driving style that I think is correct, you know. When you hear that word coming, it was incredible. I told him, 'you can't think about Lukyanuk when you're writing your pacenotes, it's wrong, you have to focus on your own pace-notes'. It's fantastic to see.

AL:
Thank you, champ, thank you.

Q:
And this was one of the first rallies where you made your own pacenotes, right?

OS:
Yeah, OK, my father has helped me a lot with the pace-notes and now I'm ready to do it myself, and it shows that they are quite good. OK, they were a bit too tough on some stages, but it was OK. But back to the recce thing, I told my father, 'I think I can have flat here because Lukyanuk will definitely have flat so I have to try'. Always when I was driving, I was thinking 'how is Lukyanuk taking this corner?'.

Q:
Turning to Aaron Johnston. Congratulations to you as well. Your partnership with Oliver has gelled very quickly but just explain how good was your combined performance and what does it say about the future?

AJ:
For sure, we've done four rallies so far together and won three of them so it's not a bad record, and the one that we didn't win, unfortunately the bonnet opened on us and we dropped some time because we had to stop in the stage and close it. But as Petter says, we can't win them all, so we have to take a mature approach and for 17, Oliver drives with his head. OK, sometimes it's with his right foot too! But overall, this weekend to win 10 out of 13 stages, we never ever thought that it was going to be possible, but it's looking good for the future. We just have to keep working and move forward together. We're both still very young and we both have a lot of experience to gain. This is only my second ERC event also so to come here and set the times and get the result that we did, it's just a dream.

Q:
Let's come to Alexey Lukyanuk. Your ERC title defence is back on track with this podium, but how hard was it to follow the pace of Oliver this weekend?

AL:
Actually, I think I am an old rocket. Born in the USSR. So with each year, we're not going faster, I think. It was good for us. Without Oliver it would have been another drive probably without big stress. OK, Mārtiņš Sesks and Ingram pushed really hard, but still on a slightly different speed.

Q:
You kept your cool this weekend, and if we compare to the first two rounds of the season, this was a success for you, right?

AL:
Probably. Success is a win actually, I'm not happy being second of course. I know we have a lot of things that hold us back, but we cannot change these things and make some difference now, but at least we see that we need to work harder at least to stay at the same level as a few years before.

Q:
Turning to Alexey Arnautov, this year's Rally Liepāja featured stages around Talsi for the first time. What did you think of the stages in that region?

AA:
We like the stages around Talsi and around Liepāja. The only bad thing about it is that you have to drive for two hours and it's so slow and so dull and you think that you'll die before you reach those stages, and then you have to come back. Actually it was a very tough recce because you have to write down approximately 160 kilometres and that's definitely more than we were used to in our previous events. So it's really time-consuming and really exhausting. But we've done it. I think the stages are good and it's a really, really fast rally.

Q:
Coming to Mārtiņš Sesks, a fantastic debut in an R5. How different was it from the cars you've been used to driving before, and how was the weekend?

MS:
For sure, when it's high-speed then there's no big difference between the cars, but when it starts to be more rough and more twisty with a bunch of corners, you start to feel that the R5 is a real racecar and I'm enjoying the four-wheel drive a lot.

Q:
Before the rally, did you dream of being on the podium at the finish?

MS:
Well, we had not so much testing before and it was the prize drive and the start of my season wasn't so successful, so I'm very happy to be at the finish now, and for sure with the podium in the overall classification, it's a very good feeling.

Q:
This was the first of two prize drives for winning the ERC Junior title last year. What plans do you have to try to add more events to your schedule based on what you have achieved this weekend?

MS:
We'll have to see now. There is lots of thinking about this. But for sure, the rally has ended and after the rally we'll sit and think what we can do, what we have achieved and how much more performance we need to get to be more competitive, and then we will see what it brings us next.

Q:
Turning to Krišjānis Caune, it's been quite a tough period for you and Mārtiņš in the world championship so how much of a boost is this result and performance?

KC:
As Mārtiņš said, our season started not as we expected. We understood that we need to have hard work. That we actually did, because we didn't have any idea how it would be with an R5 car, so we understood that we're going to work. After this finish, yes we are on the podium, but we're last on the podium and we understood that we want to work even more. This is what we will do. No matter if it's ERC or WRC, we will train for sure and we want to get better.

Q:
Finally, let's come to Reinis Nitišs. Third place on your debut in the Abarth Rally Cup but what happened to you yesterday?

RN:
It was a tough race, I didn't expect that. I thought it would be easier. Yesterday we didn't match the pace of the top guys in our group, but then when we started to understand how it should be done, then technical issues came and the ECU just stopped working. The boys came and switched in the new one but that was too late. Today, I think the pace was much better and more equal with the other boys, and we were not only fighting with Abarth category guys but also in the Latvian championship I was following the BMWs. I would say now we are ready to go for races.

Q:
New co-driver and a new car for you. What was the Abarth 124 rally like and would you drive it again given the opportunity?

RN:
For sure I would love to drive it again. As I said, it was hard at the beginning. I've been driving many different cars in my lifetime but this car was something completely different. Rear-wheel drive, turbo engine and a lot of power on two wheels only. For sure, I didn't have any self-confidence to go flat-out and fast but it came, and as I said, I would like to try again and then we could talk more.