This page contains archived information and may not display perfectly
ERC - ERC Hungary post-event press conference transcript
Frigyes Turán/László Bagaméri, Alexey Lukyanuk/Alexey Arnautov, Callum Devine/Brian Hoy and Chris Ingram/Ross Whittock attended the post-event press conference for Rally Hungary, the final round of the 2019 FIA European Rally Championship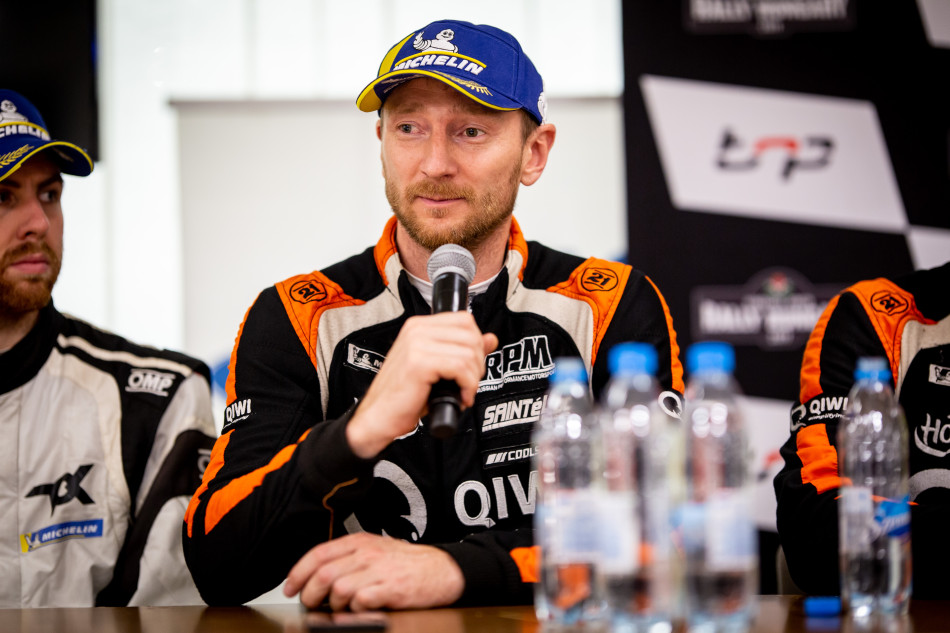 In attendance:
Frigyes Turán/László Bagaméri, Turán Motorsport SE, first position
Alexey Lukyanuk/Alexey Arnautov, Saintéloc Junior Team, second position
Callum Devine/Brian Hoy, Hyundai Motorsport N, third position
Chris Ingram/Ross Whittock, Toksport WRT, ERC champions 2019**

Q:
Frigyes, a home rally win in the ERC, a difficult weekend, how do you feel?

FT:
Thanks to being here. First of all, for us it was a great pleasure to be racing against these guys, this was a really good weekend for us. We started with a new car, so basically we started everything from zero and finally, we started to find a really good rhythm and on the last stage, okay I think we were lucky and we got the first place. The place which we never expected, so I think I can only say that we are very, very happy and proud for my team and my co-driver and it was something very, very special feeling, to be on the podium as a Hungarian driver in a Hungarian ERC event. So, it's fantastic.

Q:
For us in the ERC, this is the first time we have visited Hungary. Are these conditions normal, were they any more difficult than usual?

FT:
Last year this rally was a really, really nice rally. We had no rain, I think the rain was a little bit too much for these stages and I think it became really, really difficult. But anyway, the stages were for everybody the same. But, you know, from this position, what I see, this was also fantastic, no problem.

Q:
László Bagaméri, what have you made of this rally?

LB:
I think it was a fantastic weekend for us. It was difficult, incredibly difficult. That was absolutely different to last year. Last year, I just mentioned to Brian [Hoy], there was many [sic] fog, but this year was more wet. But these stages, if they are dry are fantastic stages, and Rally Hungary is a very good event for everyone. But for the co-drivers, for me it was also very difficult. We were using a lot of information for that, and I think it was mainly for the long stages, that was more difficult for us, or for me from a co-driver perspective.

Q:
Alexey, obviously everything was going well, you'd mastered the conditions, the puncture on the final stage robbing you of the win. You were disappointed – which was an understatement – a couple of hours later, what is the feeling?

AL:
(Exhales) Uh, actually it's hard to escape the feeling that, starting straight from the beginning of this rally, we had a clear understanding that it was a good organisation from the organisers and the country to make a good event, but it was clear straight away that it was going to be something strange. So yeah, we were fighting through the stages despite these terrible conditions and I am completely not agreeing with the locals that these are like amazing stages or something like that. Probably, they have never been somewhere around Europe or…I am speaking honestly you know, and I am speaking from my heart because we saw a lot of roads around the world, and I have a lot to compare with. Again, it's a great effort from the organisers, but they need to put it a bit in a different way. It's very bad luck that our good job in the beginning of the rally was terminated by this…you know by chance actually. But I must say that (maybe I have more questions? Because I can't…uh…keep on talking). So, I think that it's quite obvious that a lot of drivers suffered problems and punctures on the gravel parts. So, I have a question to I don't know who, maybe the universe, why do you have gravel parts, like seven or more kilometres in a Tarmac rally? Huh? Nothing happens, okay. To be honest, I saw gravel parts in Switzerland, or in Austria, but it's nothing to do with that. They should state not gravel, but mud, or s***, or I don't know what. But it's not a gravel in the way we see it. So, you see this banner behind me? No, a different one, the Action for Road Safety and so on, uh…I think everybody should ask the question: how does [sic] the safety features correspond to the conditions we faced today, and some people can say: 'well rain can happen and rallying is an unpredictable thing', okay…it's strange that we have sun in summer, snow in winter and rain in November. So, yeah, okay.

Q:
You came into this weekend third in the championship. It was always going to be a longshot, but you missed out. The pair alongside you are the new champions, have you got any words of congratulations? The four of you have gone at it hammer and tongs all season long.

AL:
I don't think it can be discussed in that way, because the championship for us unfolded in quite a specific way and…I can mention at least five or six occasions where we lost it. Most of it came by chance, okay, it was a really big challenge for us this season because we started with a new team, new car, new tyres, a lot of new things. And we were learning all the way and still learning of course, developing the car. And mistakes from each part of our mechanism were there. Me, co-driver, team, car, tyres, whatever. Every part failed at one time, so we fight as a team, we have a good team spirit. We win as a team, we lose as a team so, yeah, we were not that successful this year, but we knew that we had quite few chances to achieve first place in the championship heading to Hungary. We hoped that local drivers will be faster and it would be more challenging for Chris to get his place and, yeah, he showed quite good pace and was quite consistent. He also had punctures and so on, so without that, he would be much more high on the leaderboard for the rally. So, I believe this rally was more like a lottery and, the problem is that too much [sic] things were beyond our control, beyond the control of the driver and the crew. So, I believe that almost none of the drivers can tell you whether they get punctures for example. It's just covered in the mud, you can't see it in the recce, because it's full of leaves, of mud and of, puddles of you know what. So, it's almost impossible to avoid it because you don't know where the problem is. So, yeah, I strongly believe that the organisers have quite good potential to do a good event but they need to rethink their approach to the stages and make it a different way next year.

My congrats to Chris, yeah man, quite consistent through the year. I hope you will build your speed and with more budget you will attract more budget, and you are so young…you have everything in front of you, for me it's more behind. So…yeah for us it was not an easy end to the season, I was saying to Alexey when we finished the last stage that it was not the way I wanted to end up the season, for sure, we had a bad feeling with the car due to the brakes but it was many problems. But in the end, I think, I really think that everybody who would like to understand what I am talking about, take a car on these roads and see how it looks from a driver's perspective in these stages and especially for organisers who developed this road, try it. I'm not a chicken you know. I'm not a guy who is afraid of everything around me, but it's something different.

Q:
Turning to Alexey Arnautov, what have you thought of it, a tough event, the wet and the dark, one of the biggest challenges?

AA:
Just to continue some words from Alexey's speech, we counted in yesterday's stages that only 30 per cent of those could be called Tarmac. The rest were all gravel or mud or anything else. Again, to the organiser, you can do a wonderful gravel rally, maybe not in November because you have a lot of mud like this, sometime in June would be nice. As for my notes and for the driving at night, all I can say is our crew is known for very short pacenotes, I'm talking less than others, maybe twice. But this time half of my pacenotes were different words describing the consistency of mud because every corner was all greasy or muddy or whatever but only muddy words. There were at least three different grades of mud, almost every corner and almost every straight and that's a bit too much to believe.

Q:
Coming to Callum Devine, your first time in an R5 car in the ERC, you obviously dream about things like this but did you think it would become reality?

CD:
I didn't think coming to this rally because it was a last-minute plan put together between Hyundai Motorsport Customer Racing and Motorsport Ireland. To be here with this result is fantastic for us. From a rally point of view it was extremely challenging, probably the hardest rally I ever did for myself and Brian. I'm really pleased.

Q:
Turning to your co-driver Brian Hoy, what did you make of the rally and the challenge you faced?

BH:
Definitely it was very challenging, you go from reading the notes so fast in the Tarmac sections to reading them so slowly in the gravel sections. There was fog, there was dark, it was a very challenging weekend but we've learned so much. We thought we'd be on the hard tyre but it was full wets all weekend. We knew from the test it was going to be very hard but in the end it's been a bonus for us at the end of the year. We thought our year was over until Pirelli and Hyundai Motorsport Customer Racing came together with Motorsport Ireland to give us this chance. Callum definitely made the most of what he was given this weekend and definitely made a really good impression. We're happy with this.

Q:
What are the possibilities for a European campaign in 2020 looking like?

CD:
Yeah, that's probably our main plan for next year if we can get everything together. This was a good learning curve for us to see what we're up against next year. We'll re-plan before Christmas to see where we go from here.

Q:
Turning to Chris Ingram, 2019 ERC champion, a few hours a long, has it sunk in yet after all that final-stage drama?

CI:
It's not sunk in at all. I'm just so thankful and so happy we've done it. It's been an incredibly difficult season, every time I thought this could be my last rally and I'd never drive a rally car again. That's not easy to push when you're in that position all the time so I'm just so thankful to everyone who helped us get to these final rounds. It was bad luck today but in the end we got lucky. But those last moments when we didn't know whether we'd won was the most tense moment of our lives. I'm just so happy that we've done it. I'm sorry to these guys because they've just shown unbelievable pace, world class all the time. Hopefully we'll get the chance to compete again.

Q:
It's over 50 years since a Briton last won the ERC title, Vic Elford, and I believe you had a message from him. How much of an honour is that to win as a Brit again in the European championship?

CI:
It's not hit me but when you put it like that it's obviously a massive honour. I don't feel worthy of it but I hope it will sink in and just a massive thank you to everyone who helped make it happen. And congratulations to all these guys sat here because it was an unbelievably difficult rally. It could have gone in anyone's favour and Callum's time on the last stage showed just what a mental rally it was too be a minute quicker when Alexey and I had punctures and it was all kicking off. It was a hell of a rally, bit of a controversial one I guess but it was a great challenge.

Q:
Can you give us an insight into what Vic Elford said in his message?

CI:
He doesn't drink anymore but he's going to open a bottle of champagne so that's a real honour because he's an absolute legend.

Q:
Turning to your co-driver Ross Whittock, the man who's guided you for the last few years. Co-drivers are not often in the limelight, in fact they shun the limelight. You are one of those but you must feel pretty proud at the moment?

RW:
Yes, it's a good moment. All my life I've grown up with a father who has been a professional co-driver. He actually won an ERC rally, the old South Swedish Rally. But to actually win a championship and get one up on him is good.

Q:
The season had so many ups and downs but where was the turning point for you?

RW:
I think Barum, even though we lost the Junior championship there, the way we approached the rally and the way Chris drove the rally was just to level. We took that into Cyprus and improved upon it and we've come here with a positive attitude and we wanted to win the championship, we'd do anything to win it.

Questions from the floor:

Question to Chris Ingram from Anita Tóth (Nemzeti Sport, Hungary)
What did you feel after you got the puncture on the last stage?

CI:
I was so angry because we drove so slowly and we had no idea where we got it. I got to the end of the stage and saw that Callum had destroyed us and I thought 'oh my god, this is just typical'. But then a few minutes later there were some cameramen… me and Ross didn't know what to do next, we weren't in a good place. Then a cameraman came running down the road and said Alexey's had a puncture and changed it so we thought there was a chance here. It was just the most mental 20 minutes, it felt like a year that we'll never forget.