This page contains archived information and may not display perfectly
ERC - ERC Cyprus post-event press conference
Nasser Al-Attiyah/Matthieu Baumel, Simos Galatariotis/Antonios Ioannou and Chris Ingram/Ross Whittock attended the post-event press conference for the Cyprus Rally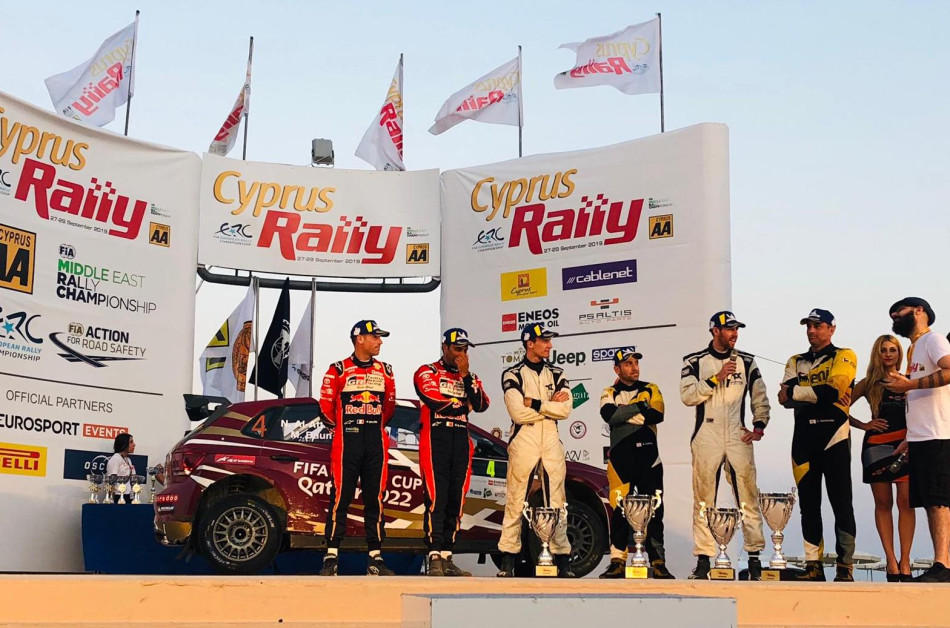 In attendance:
Nasser Al-Attiyah/Matthieu Baumel, first position
Simos Galatariotis/Antonios Ioannou, Petrolina Racing Team, second position
Chris Ingram/Ross Whittock, Toksport WRT, third position

Q:
Nasser, does this victory make up for last year's disappointment?

NA:
Yes. Last year, we had the lead of the rally before the last stage and on the last stage we got a puncture. But OK, this was the situation. This year, it exactly reminded me of the last stage but I was really careful! I am happy to win the race. Cyprus Rally was really great so thank you to the organisers, we always like to be here.

Q:
You reached midday service and there was some damage on the car. Did you have any concerns going into the second loop?

NA:
No, it's OK, the damage is normal you know, with the front bumper, because Cyprus Rally is one of the toughest races in the world, especially when we move to the mountain [stages]. I would like to thank the organisers as this was a really good idea to go back to Troodos mountains. We were really happy because you can show your skills there.

Q:
Matthieu, just how hard was this year's rally?

MB:
Every year it's very hard here in Cyprus but this year we came like always with the expectation of winning. When we saw the entry list, we were not scared. We did a really good recce and made good pace notes, and Nasser did a good job on driving. We managed to make a very good first day with a big gap at the end of the first day. Then the race today was a little bit different, a little bit more easy and less stress for sure when we saw Lukyanuk stopped on the road.

Q:
Simos, not quite last year's victory but still a podium. You're definitely happy, right?

SG:
Yes, for sure, as I mentioned earlier, we're very happy for the result. It was a tough rally back in the mountains. The competition was fierce: all the guys from Europe gave a big push, so we're happy with the result.

Q:
Antonis, when Alexey Lukyanuk had his problems, when did you realise and what did you feel when you heard?

AI:
Well, I really like Alexey, I was a bit disappointed because I really like him. He's super quick but on the other hand, here we are on the second place, so this is rally!

Q:
Chris, you've finished on the podium in your first Cyprus Rally but crucially you've extended the championship lead to 18 points. You've mentioned before that you're going to go for this, right?

CI:
Yeah, it's been an incredible rally, probably the most difficult one of my life. To be on the podium with these two guys is an honour. A massive thanks to all the fans and everyone who supported me and helped me get to this rally.

Q:
Ross, overall how good was this performance and the strategy you adopted for this rally?

RW:
We stuck to the plan. It was a bit conservative on the first day but really the outcome is what we wanted, to extend our lead and get a podium. That was the aim of the rally and we achieved it.
ENDS