This page contains archived information and may not display perfectly
ERC - ERC AZORES POST-EVENT PRESS CONFERENCE TRANSCRIPT
ERC - Azores Airlines Rallye - Press conference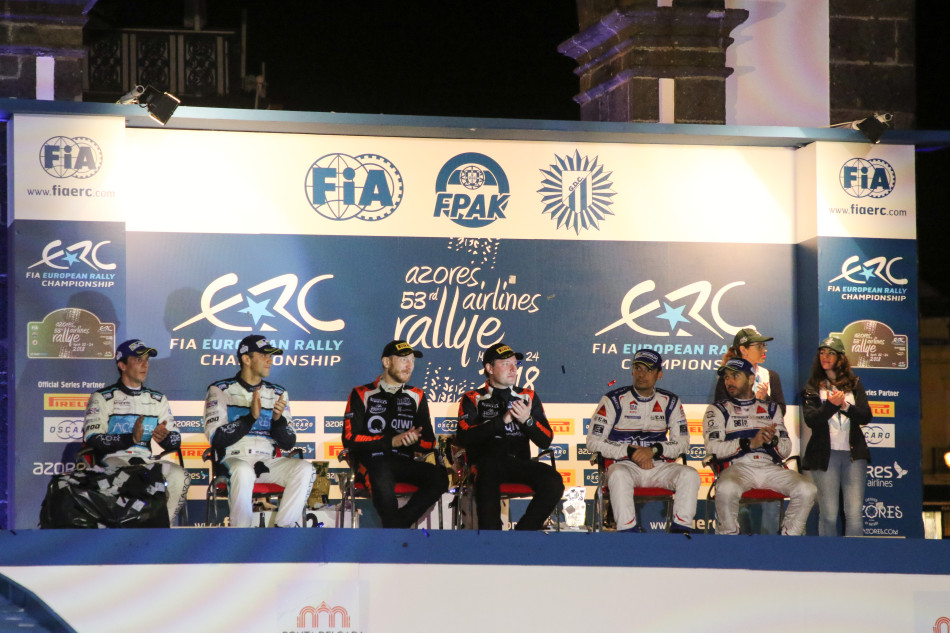 FIA European Rally Championship 2018: Round 1 of 8, Azores Airlines Rallye, 22-24 March
Praça Gonçalo Velho, Ponta Delgada, 20h00, Saturday 24 March

Present:
Alexey Lukyanuk/Alexey Arnautov, Russian Performance Motorsport, first position
Ricardo Moura/Antonío Costa, second position
Bruno Magalhães/Hugo Magalhães, third position
Q:
After such a disappointing retirement here last year you've come very, very good with an amazing victory. How happy are you right now?
AL:
Actually I am a bit uncomfortable because my pants are a bit wet with all the champagne. Actually I am absolutely happy because with these two guys it was a great battle. They won the two previous years so I am really proud to be in this company and happy to win in front of so many spectators who always support us and cheer us. Thank you very much for your support Azores!
Q:
This rally is ranked as one of the hardest in the world but you've just driven through with no mistakes, no problems. What was the difference with your approach this year?
AL:
I tried to suppress my open way to drive, my feelings and my intention to push harder all the time. It was a really tough rally for me having to control myself but close to the finish line everything just boiled over and I made some donuts and lost a few seconds. But it doesn't matter because I've waited so long for this victory. Everything worked and it paid off and thank you for the team and sponsors and everybody who supports us. We'll keep going like this I hope.
Q:
Turning to your co-driver Alexey Arnautov, now Alexey what was going through your mind when Alexey started doing those donuts? Did you think he was crazy?
AL:
Well I hadn't understood at that moment what was happening. At the end of the donut it was done so what could I do. I asked him 'what are you doing?' and he said 'I'm happy!' and I said 'okay, carry on!'.
Q:
Turning to Ricardo Moura, not quite the victory of 12 months ago but a very impressive second place on your first rally in your ŠKODA Fabia R5. Just talk us through your rally?
RM:
I am quite happy to be with these two super drivers. Alexey is definitely the fastest driver in the European championship and Bruno did a fantastic job as well as last year in the championship when he finished second overall. I am quite happy to be in this podium with a fantastic second position in front of my home crowd and my home town and the stages I love to do. This is quite nice. A big, big thanks to my sponsors, my team my family, my friends, my co-driver. We did a great job for only the first time with this car. We make no big mistakes, we had some issues like the other drivers had so I am pleased with second place after a tough weekend for everyone and I am quite happy to join these two super drivers on this podium.
Q:
Turning next to your co-driver Antonío Costa, there were a couple of moments that prevented the rally from being better for you such as the puncture on Friday morning. Please talk us through your rally?
AC:
We have some problems during the rally but it was a good rally for us, second place overall and first in the Portuguese championship. We look forward now to the next rally.
Q:
Turning to Bruno Magalhães, now Bruno a few months ago you were in Latvia battling for the European championship but a crash ended it for you and left you in a lot of pain. Now you're back on the podium you must be very pleased?
BM:
I am here in the podium and we are the last three winners of this rally and for sure we are the best drivers on this rally I think! It's a big pleasure and I think we have made a very good job. We had some issues and unfortunately today we lost some time on the first stage but I'm happy with my pace and I'm happy that I'm completely recovered with confidence again and I hope to go to the next rally.
Q:
Finally, turning to your co-driver Hugo Magalhães, another fantastic edition of the Azores Airlines Rallye with a record-breaking entry of 35 R5 cars. Just how good is this event and the organisation?
HM:
First of all, I would like to thank everyone for coming, you made it so special for us. It was a good rally, we had some issues over the rally but in the end we have to be happy with our performance and our result. We scored some good points for the championship and actually we are focused on the next rally. The organisers here are among the best organisers and it's a big pleasure for us to be here.