ERC - Andrea Crugnola rules for first ERC win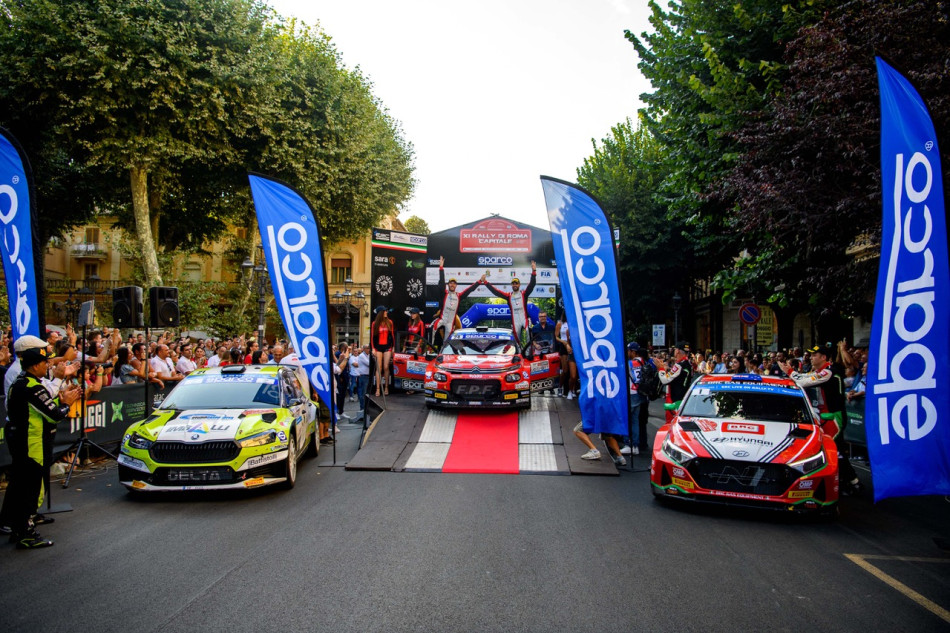 Andrea Crugnola has made it five different winners in this season's FIA European Rally Championship with a charging drive to victory on Rally di Roma Capitale on Sunday.
Crugnola had come agonisingly close to winning his home ERC round on two previous occasions only to be denied through no fault of his own.
But it all went right for the Pirelli-equipped Citroën C3 Rally2 driver following a dominant performance alongside co-driver Pietro Elia Ometto, the duo winning in the ERC for the first time as they additionally clinched a third Italian championship title.
Double European champion Giandomenico Basso placed second with Hayden Paddon strengthening his grip on a first ERC crown in third place following a dramatic penultimate stage in the scorching Italian sunshine.
The repeat of the 29.08km Santopadre test would prove costly for several drivers, including Yoann Bonato, who had been embroiled in a close battle with Basso for the runner-up spot, but was one of a number of stop to change a damaged wheel.
"Every year it is a pleasure to fight against the ERC drivers because, especially this year, the level is really crazy high so it's always a challenge," said Crugnola, who won by 23.1sec having claimed eight stage bests. "I said before the start my focus was to win the Italian the championship but to win the rally is very special, I am so happy and thank you to my team, to Citroën and Pirelli."
Crugnola, driving for F.P.F. Sport, started Sunday's deciding leg 20.2sec in front of Basso. He edged further ahead by outpacing Basso through the day's first two stages before he won 29.08km Santopadre 1 to build his overall advantage ahead of Yoann Bonato to 23.7sec after the Frenchman had snatched second from Basso on SS10.
But when Bouffier was delayed through the virtual chicane on Alatri 2, Basso retook second, a position he would hold to the finish following Bonato's unfortunate stop on SS12.
The rally's penultimate stage had a dramatic impact on the final order with Alberto Battistolli, Simone Campedelli, Andrea Mabellini, Filip Mareš and Simone Tempestini also stopping and losing strong points-paying finishes as a result. Mathieu Franceschi needed to push his all-new Škoda out of the stop control of SS12 with a reported fuel pump issue.
However, there were no such problems for Hyundai-powered BRC Racing Team driver Paddon, who made it through the drama-filled SS12 unscathed to finish third to complete a Pirelli podium lockout.
Paddon was sixth overnight after he dropped time damaging his i20 N Rally2's left-rear suspension running off line on SS6. But he fought up to fourth by winning Sunday's second test after Bonato had gone quickest on the opener. 
After making running repairs to his Škoda Fabia RS Rally2's radiator after he hit a rock in the middle of the road on SS10, Efrén Llarena finished fourth having been eighth at the completion of leg one, with Simon Wagner moving up from 12 overnight to fifth in his Michelin-equipped Fabia.
Grzegorz Grzyb took seventh with Miklós Csomós eighth on his comeback rally after 900 fans helped fund a replacement Fabia after his original was damaged beyond repair in a huge crash on Rally Islas Canarias in May.
A damaged front-right tyre on SS9 ruled out a top-five finish for Mareš before his SS12 stop added to his woes. However, the Czech battled back to finish ninth with Mabellini having to make do with P10 after his damaged wheel on SS12 dropped him back from sixth place.
Having won SS11, Campedelli was relegated to 11th spot following his delay, as Albert von Thurn und Taxis, FIA ERC3 winner Jon Armstrong, Lauri Joona and Tempestini completed the leading 15 runners.
Mikko Heikkilä finished leg one in 10th on his first outing in Škoda's latest-generation Fabia. But he went off the road 16 kilometres into SS10 and retired with rear-end damage.
A damaged tyre – his second of the event – on SS10 caused more frustration for double ERC champion Alexey Lukyanuk on his return to competition. He finished 20th in the final order.
Championship contender Mārtiṇš Sesks was a non-starter for Team MRF Tyres following his high-speed crash on SS4.
Jon Armstrong won FIA ERC3 in a Ford Fiesta Rally3 as ACI Team Italia driver Roberto Daprà landed an FIA ERC4 and FIA Junior ERC victory double aboard his Peugeot 208 Rally4.
The Tarmac-based Barum Czech Rally Zlín is up next on the ERC schedule from August 18-20.