ERC - Andrea Crugnola in Roma ERC cruise control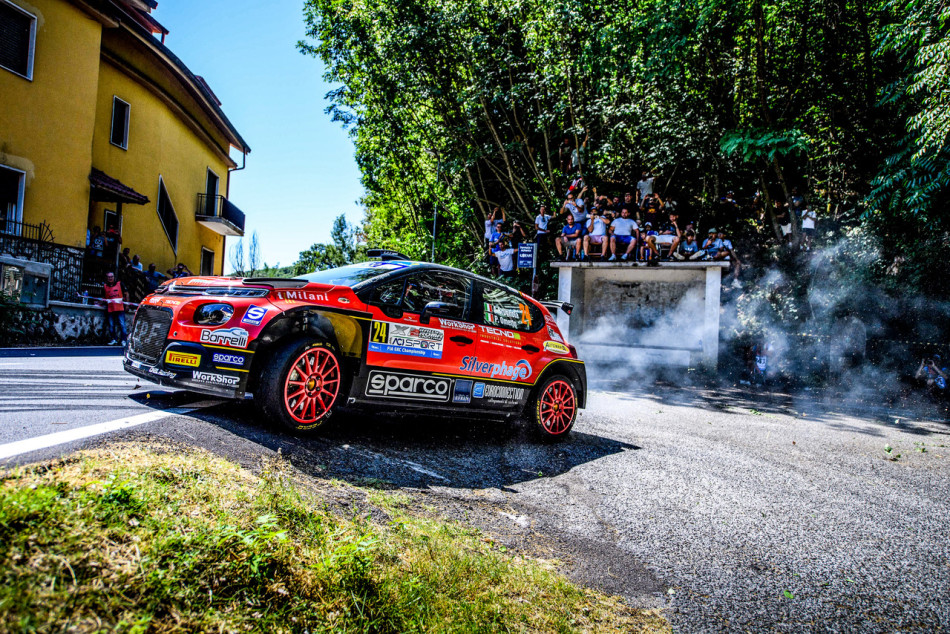 Andrea Crugnola is one day away from ending his long wait for Rally di Roma Capitale glory following a drama-filled FIA European Rally Championship Saturday in Italy.
After charging to the fastest time through Friday evening's Rome super special stage, which started and finished in front of the Colosseum, the 34-year-old continued his winning run with a stage-best triple on Saturday morning.
Driving a Pirelli-equipped Citroën C3 Rally2 for the F.P.F. Sport team, Crugnola reached the midday regroup in Fiuggi, southeast of Rome, 10.9sec ahead of Yoann Bonato and seemingly in control as ambient temperatures topped 30 degrees centigrade.
The double Italian champion would then maintain his formidable pace with two more stage wins in the afternoon to hold a margin of 19.2sec with just the repeat of Affile – Bellegra remaining.
By clocking the fastest time on the 7.32km test alongside co-driver Pietro Elia Ometto, Crugnola returned to Fiuggi for the end-of-day service halt leading Giandomenico Basso by 20.2sec after the double European champion overtook Yoann Bonato on the day's penultimate test.
"For sure I am satisfied because it wasn't easy," said Crugnola, who was unable to avoid striking a rock in the road on SS5. "We had a couple of surprises like everybody has but I have been in this position before, leading two times and everybody knows what happened. Everybody has been pushing and of course I have been pushing but, one more time, I need to stay focused and think also about the Italian championship."
Running first on the road in his CHL Sport Auto Citroën on Michelin tyres, Bonato shot from fifth overnight to second with the second-best time on Saturday's opener. But he dropped time after driving through the closing two kilometres of SS5 with a damaged right-rear tyre.
That allowed Basso to close to within 0.4sec of Bonato heading to SS6 where he moved ahead in his Škoda Fabia RS Rally2. "The rhythm of the first three cars are so high, it's only my second time competing with this car so everything is new because the first time was two months ago," said Basso. "We are happy with today and we did a good job. Tomorrow will be difficult but we will keep pushing."
ERC points leader Hayden Paddon was a relatively comfortable fourth when he ran wide on a high-speed left-hander on SS6. The impact damaged the right-rear of his BRC Racing Team Hyundai, forcing the New Zealander and his co-driver to make rapid repairs prior to SS7.
"We couldn't quite get the adjustment right on the tow arm, so it made it interesting," said Paddon. "I tried to limit the damage but we want to maximise the points now."
Paddon was making a reference to his championship rival Mārtiṇš Sesks. A two-time winner in 2023 and second in the standings after five rounds, the Team MRF Tyres driver was 10th when he crashed out at high speed 1.7km from the start of SS4. Sesks and co-driver Renars Francis were uninjured but their Škoda Fabia RS Rally2 was badly damaged after it rolled onto its roof following contact with a roadside kerb and signpost.
Paddon, meanwhile, slipped to sixth after his moment on SS6 with Filip Mareš snatching fourth from Andrea Mabellini on the day-closing test after the Qualifying Stage winner lost time sliding wide into a barrier. Mabellini fell to seventh following his moment but he's a mere 0.5sec behind Paddon, such is the close-nature of competition in the ERC.
After reporting a near miss with a road-side barrier on SS2, Simone Campedelli suffered a fourth-gear spin on SS3 but regrouped to complete leg one in fifth, 1.3sec behind Mareš.
Defending European champion Efrén Llarena is one place behind Mabellini in eighth with Grzegorz Grzyb in ninth and Mikko Heikkilä 10th. Like 11th-placed Mathieu Franceschi, Finnish champion Heikkilä has stepped up to Škoda's latest-generation Fabia for his Rally di Roma Capitale debut.
Simon Wagner, who reported a bout of understeer on SS2, is 12th after seven stages followed by Alberto Battistolli, Simone Tempestini and Miklós Csomós who was delayed by a damaged tyre on SS5.
Fifth following the morning loop, SS5 would also prove to be double ERC champion Alexey Lukyanuk's undoing after he was forced to change a tyre. He's dropped out of the points-paying positions as a result.
Following his action-halting SSS1 Colosseo ACI Roma crash on Friday evening, last year's winner Damiano De Tommaso was a non-starter today and won't take any further part on his home round of the ERC.
Jon Armstrong leads the FIA ERC3 division in his Ford Fiesta Rally3 ahead of Paolo Andreucci's Renault Clio Rally3. ACI Team Italia-supported Roberto Daprà tops the FIA ERC4 and FIA Junior ERC4 categories aboard his Hankook-equipprd Peugeot 208 Rally4 ahead of Norbert Maior and Timo Schulz.
Sunday's route consists of three stages each run twice over a competitive distance of 85.52 kilometres. The 6.72km Fiuggi test opens the action from 08:05 CET with the all-asphalt run also forming the rally-deciding Power Stage from 17:05 when bonus points will be up for grabs for the fastest five drivers.