This page contains archived information and may not display perfectly
ERC - 2015 Rally Estonia - Preview
Fastest round of the FIA European Rally Championship sees title rivals go head-to-head with the best drivers in Estonia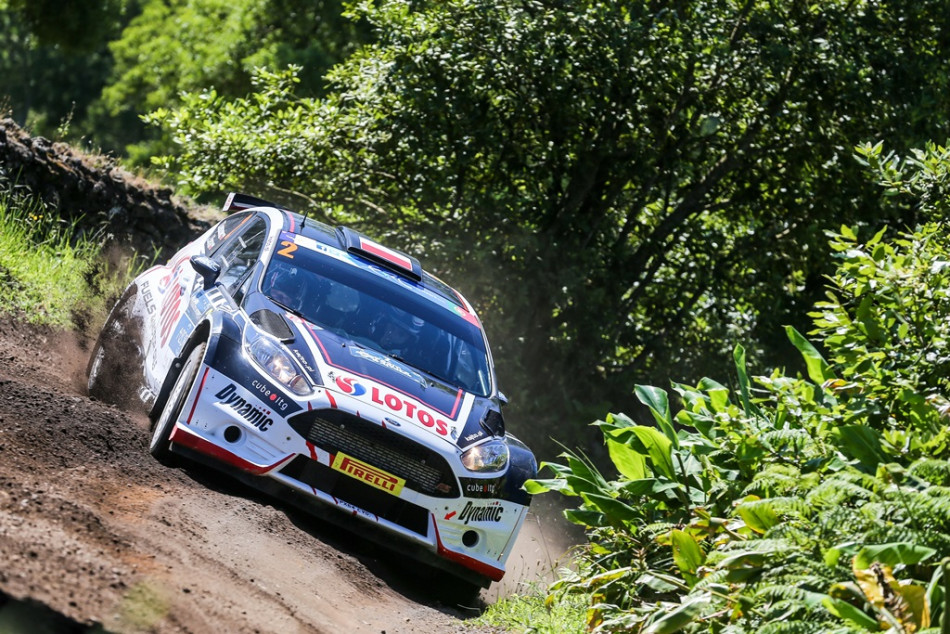 There is a magnificent 66-car entry for Rally Estonia – the fastest round of the 2015 FIA European Rally Championship – setting the scene for a high-speed battle over the fast and flowing gravel roads as the finely poised series enters the second half of the season.
Once again, the ERC has attracted a big field of R5 and Super 2000 cars with seven Ford Fiesta R5s, three Peugeot 208 T16s, two Citroën DS3 R5s and a ŠKODA Fabia S2000 all vying for overall victory. There is a strong eight-car ERC2 field and 16 crews in ERC3 – including 14 ERC Junior drivers.
Rally Estonia won the ERC Rally of the Year award on its first appearance in the calendar last year. It's a spectacular event with tens of thousands of fans lining the stages as the cars hit almost 215km/h. Last year's event was won by Ott Tänak (Ford Fiesta R5) at an average speed of 128.6km/h.
Based in the winter sports capital of Otepää, this year's event takes place over 16 incredibly fast gravel stages in the south east of Estonia, covering 202.86 kilometres. A 2.91km Qualifying Stage gets the action underway on Friday 17 July, before the ceremonial start and a 1.33km City Stage in Tartu (the second largest city in Estonia, behind Tallinn) later that day. Leg one continues the following day with nine stages totalling 137.71km. It includes two runs over the monster Ristimäe stage, which at 34.91km is not only the longest stage of the rally but the second longest in this year's ERC. And the stage is repeated straight after the first pass, with a service in Otepää in between. The day ends with another city stage – this time a 1.55km test held for the first time in Elva, a small town 25km south of Tartu. Leg two on Sunday (19 July) contains a further six stages totalling 63.82kms before the finish ceremony in Tartu at 16h00.
Estonia's top drivers out to prove their pace against ERC title contenders

Craig Breen, Kajetan Kajetanowicz and Robert Consani will go head-to-head as the top three placed drivers battle for ERC and ERC Gravel Master supremacy – but they face points-snatching opposition from five Estonian drivers and a multiple Finnish champion, who all have their sights firmly set on victory. Breen has contested the event once before, finishing 29th overall and second in class in a Fiesta R2 in 2011 – but this will almost be like a maiden run as he returns in his immeasurably more powerful Peugeot Rally Academy 208 T16. Rally Estonia is new to Kajetanowicz as he attempts to close the 21-point gap to Breen in his LOTOS Rally Team Ford Fiesta R5. Consani, who contested the event last year in a Peugeot 207 S2000, returns in a Citroën DS3 R5 eager to improve his third-place position. The local opposition is fierce and arguably the best of the 2015 season so far. Karl Kruuda (Citroën DS3 R5) says the event is "more than just a rally" as he aims for victory, Martin Kangur was fastest on the Qualifying Stage last year and will be super-fast again in his Fiesta R5, while Timmu Kõrge will be aiming to better his third-place finish in 2014 after swapping his Fiesta for a Saintéloc Junior Team Peugeot 208 T16. Sander Pärn, the winner of the ERC 2WD category 12 months ago, returns with a Fiesta R5, while the hard-charging Raul Jeets appears in a similar car. Multiple Finnish rally champion Juha Salo should be quick in his 208 T16 and Poland's Tomasz Kasperczyk swaps his ERC2 Subaru for a Tiger Rally Team Fiesta R5. The M-Sport-built R5 machine is also the car of choice for Poland's Jarosław Koltun and Radik Shaymiev, the Russian making his fourth Rally Estonia start. Czech driver Antonín Tlusťák appears in the sole ŠKODA Fabia S2000.
Lukyanuk eyes ERC2 prize on Mitsubishi return

Alexey Lukyanuk returns to the ERC in the car in which he finished second on Rally Estonia last year, making him hot favourite for ERC2 honours this time. Having rallied a Fiesta R5 on the first three rounds of the 2015 series, Lukyanuk is back in his Mitsubishi Lancer Evolution X – the car that carried him to ERC Production Car Cup success last year in a performance rewarded with the Colin McRae ERC Flat Out Trophy. It should be a fantastic battle with Siim Plangi, who finished second overall in his Evo X on this year's Rally Liepāja. Estonian driver Rainer Aus, who was second to Lukyanuk last year, is one of three ERC2 newcomers – the others being fellow countryman Egon Kaur and Finland's Roland Murakas. Inessa Tushkanova will be concentrating on scoring points in the ERC Ladies' Trophy, while the ERC2 title battle will be played out between Dávid Botka and the only driver not behind the wheel of a Mitsubishi, the super-quick Dominykas Butvilas (Subaru Poland Rally Team Impreza WRX STI). Series leader Vojtěch Štajf sits this one out as he plots a maximum points-scoring return on his home round of the series, Barum Czech Rally Zlín.
New names spice up zingy ERC Junior battle

There are five new names in the ERC Junior line-up at auto24 Rally Estonia – Sweden's Mattias Ledin/Erik Lindqvist make their first international rally start in a Peugeot, Estonia junior rally championship leaders Miko Niinemäe/Martin Valter are aiming for a podium in their 208, while Swedish co-driver Patrik Barth sits beside Steve Røkland in his 208 for the very first time as the rapid Norwegian driver attempts to move up from his strong fourth place in the series. Emil Bergkvist will, once again, lead the ERC Junior field into action. The ADAC Opel Rallye Junior Team driver is 26 points ahead of Peugeot UK's Chris Ingram and both will arrive brimming with skill, confidence and determination. Bergkvist's team-mate Marijan Griebel was cruelly denied victory last time out in Ypres and on only his third gravel rally he will be out to at least maintain his third spot in the points table. Likewise, a final stage crash in Belgium denied Diogo Gago a possible victory and, with the Peugeot Rally Academy driver's form getting stronger and stronger this season, he is likely to be super-quick in Estonia. Aleks Zawada arrives on a high after winning in Ypres. He is fearless over the fast stages so the roads will suit him and his Adam well. Sport Racing Technologies will be keen to avoid the bad luck that has dogged its most recent appearances and both its 208s driven by Ralfs Sirmacis and Vasily Gryazin should be quick – with Gryazin relaxed and sun-tanned after his honeymoon in Cuba. Napoca Rally Academy 208 driver Florin Tincescu is aiming to shake off the disappointment of retiring in the Azores by chasing a points finish and maximum experience on his first rally in Estonia, while the fast roads should also suit the spectacular Mattias Adielsson (208). Out of the 14 ERC Juniors entered there are two non-starters: Łukasz Pieniążek's new 208 engine hasn't arrived in time, while Ghislain de Mevius will not appear in his Peugeot.
Two ERC3 drivers to watch outside the ERC Junior battle

Ole Christian Veiby will be out to claim top spot in the battle for ERC3 honours outside the ERC Junior category as the young Norwegian contests Rally Estonia in a Printsport-run Citroën DS3 R3T. An EVEN Management stable-mate to Andreas Mikkelsen, Pontus Tidemand and 2014 ERC champion Esapekka Lappi, Veiby is making his second ERC appearance this year – although he wasn't registered when he contested the Jännerrallye. Defending ERC Ladies' Trophy champion Ekaterina Stratieva appears in her Citroën C2 R2 hoping to brush off the disappointment of an early exit in Ypres by taking the sole lead of the Ladies' category – a position she currently shares with Martina Danhelová and Inessa Tushkanova.
Rally Estonia ready to rock your socks off!

Next week's auto24 Rally Estonia is set to rock the towns of Tartu on Friday (17 July) and Elva on Saturday (18 July). Some 30,000 spectators came to watch the City Stage in Tartu last year, while the smaller town of Elva hosts a City Stage for the first time in 2015. In addition to the ERC main attraction, there will be lots of other things for fans to enjoy – with an even bigger EXPO area, dance-techno superstar Scooter performing live in Tartu and rock legend Suzi Quatro in concert in Elva.
ERC welcomes ŠKODA Motorsport

ŠKODA Motorsport has placed an official factory team entry into the 2015 FIA European Rally Championship, an exciting addition that brings the number of registrations for the Eurosport Events-promoted series up to 108 as the second half of the season begins on Rally Estonia next week. ŠKODA Motorsport's Esapekka Lappi and co-driver Janne Ferm are the reigning ERC champions, and this year the Czech team is focused on its new Fabia R5, which made a winning ERC debut in the hands of privateers Freddy Loix/Johan Gitsels on last month's Kenotek by CID LINES Ypres Rally. The 108 registrations far exceed the target set by Eurosport Events and highlight the rapidly growing popularity of the ERC. There are many benefits to registering for the ERC, including eligibility for privateer prize money (since the start of season no less than 26 privateer drivers have won ERC prize money), priority seeding, entry into the Qualifying Stage (which determines the all-important day one running order), priority status in the service area and global television coverage. In terms of class breakdown, 46 drivers are now registered for ERC1, 17 for ERC2 and 45 for ERC3 – 27 of which are ERC Junior entries.
Q&A: Kajetan Kajetanowicz
Poland's Kajetan Kajetanowicz enters his first Rally Estonia in second place in the ERC, having scored an impressive 103 points from his first four starts. With his sights firmly set on winning the title, fiaerc.com caught up with the Rally Team Ford Fiesta R5 driver ahead of this crucial event.
You are one of only three of the top 20 seeded drivers who have never done Rally Estonia before. What do you do to prepare for this event and how do you feel before it?

"The decision to compete in Estonia was made not so long before the event, so we had a lot of work to do. Before you go to the rally you have to believe in your abilities, you need to feel that you are well prepared. Hard work is the only way to build such a confidence. I have done many rallies before, but I feel that Rally Estonia is one of my greatest challenges."
Will the very fast gravel roads suit your driving style and your Ford Fiesta R5?

"I'll be in Estonia for the first time, so it will be very difficult to keep the pace I am used to without taking huge risks. Thanks to the organisers we will do a one day test before the event, so I hope we are going to be a bit wiser after that. In Estonia, courage and self-confidence must come together with experience to go flat-out between the trees on some of the fastest stages in the world. It is going to be an exciting event for me!"
How do you maintain concentration and keep pushing to the maximum on such a long stage like the 34.91 kilometre Ristimäe test?

"We had a great test of concentration on the Sete Cidades stage in the Azores. We did almost 30 kilometres in high temperatures, with grip changing from corner to corner and amazing views outside the car. This is a challenge – to focus in such conditions. Many weeks before Azores I have been training hard to keep myself physically fitted, although I know that you can always do more. All this training effort is done to keep my mind used to making instant and accurate decisions, even if it is extremely hot in the car and we are about to push on a 35 kilometre stage."
How physically demanding will it be to do the Ristimäe twice in two hours?

"I do not know. I have never done it before! Ask me after the first run! Rally drivers work mentally and physically at the same time, so there are many things which affect our fatigue and current form. Anyway our job is to handle this better than our rivals do. That's just a part of competition."
Who do you think will be our main rivals in Estonia?

"The entry list and the numbers of our rivals look impressive, I must admit. Beginning with Finnish rally legend Juha Salo. Than we have Karl Kruuda who is experienced in WRC2 and always fast Martin Kangur. ERC regulars Craig Breen and Robert Consani have already competed in Estonia. There are also talented youngsters like Sander Pärn. This rally is so fast that we can't forget about the drivers in the very fast ERC2 cars, I mean Dominykas Butvilas and Siim Plangi. Alexey Lukyanuk comes back to ERC and we all remember how competitive he was last year. For sure he will be the one to watch. I could give you even more names, but I don't want to make the pressure I feel even greater!"
Having missed, as planned, the Kenotek by CID LINES Ypres Rally, what were your feelings when your main ERC rival Craig Breen retired, having only scored seven points in Belgium?

"It is a shame that Craig did not make it to the finish. His performance and speed was great and he was on his way to win this demanding event. Such situations are extremely disappointing, but I think Craig has already forgotten about it. I met him during Rally Poland and he was in a pretty good mood. Before Estonia we focus on our job. We want to keep the concentration and the pedal to the metal until the very end of the weekend. I feel that the greatest strength of my team comes straight from the heart of people who work with me. I love them for being so determined. Therefore I want to do what seems impossible on Rally Estonia by doing my best in this event."
FIVE RALLY ESTONIA FACTS

* Current M-Sport WRC driver Ott Tänak won last year's Rally Estonia on its first appearance in the ERC. Local star Tänak shared a Ford Fiesta R5 with fellow countryman Raigo Mölder and was fastest on 10 of the 14 gravel stages.
* Considering it has a population of just 1.3 million, Estonia has produced more than its fair share of talented rally drivers, with the most notable arguably being former WRC ace Markko Märtin.
* Urmo Aava is the main man behind auto24 Rally Estonia. He was a frontrunner in the Junior WRC before he progressed to the World Rally Car class and claimed five outright stage wins.
* Technology-savvy Estonia is an e-country. You can vote online, and wireless internet is available almost everywhere and it's often free.
* For those who like challenging driving conditions, when the winter weather's cold enough in Estonia there are several ice roads open that can take you from the mainland to the islands.
ON THIS EVENT IN 2014…

Ott Tänak led from start to finish to win in a M-M Motorsport Ford Fiesta R5. Co-driven by fellow Estonian Raigo Mölder, Tänak was quickest on 10 of the 14 stages to win by 47.1 seconds. Alexey Lukyanuk was second and won the ERC Production Car Cup category in his Mitsubishi Lancer Evolution X – a performance that also earned him the Colin McRae ERC Flat Out Trophy. Timmu Kõrge was third in a Fiesta R5. Rainer Aus finished a strong fourth in a Lancer, while Esapekka Lappi extended his ERC lead after finishing fifth in a ŠKODA Fabia S2000. Karl Kruuda was sixth after power issues on leg one delayed his Peugeot 208 T16, while Sepp Wiegand struggled to match the pace of the turbo runners in his normally aspirated Fabia S2000 and came seventh. Siim Plangi made his debut in a Peugeot 208 T16 but rolled out on the final stage. Other retirements included Raul Jeets, who crashed his Fiesta R5 on the penultimate run, Robert Consani, who retired with engine failure in his Peugeot 207 S2000 and Qualifying Stage winner Martin Kangur, who crashed his Fiesta S2000 while lying second. Sander Pärn overcame illness to claim ERC 2WD glory on home soil after early leader Eli Evans dropped back when he twice went off the road on day one.
EVENT ESSENTIALS (all timings local)

Starts: 17h00, Friday 17 July, Podium, Town Hall Square, Tartu
Finishes: 16h00, Sunday 19 July, Podium, Town Hall Square, Tartu
Headquarters: Tehvandi Sport Center, Nüpli küla, 67408 Otepää, Estonia
Service park: Tehvandi Sport Center, Otepää
ERC appearances (since the restructuring in 2004): One
Stages: 16
Stage distance: 204.86 kilometres (141.04 kilometres leg one, 63.82 kilometres leg two)
Liaison: 451.52 kilometres
Total: 656.38 kilometres
Surface: All gravel apart from the Tartu City Stage (1.33 km) and Elva City Stage (1.55  km) on Tarmac.
MEDIA EVENTS AND INFORMATION (all timings local)

Media accreditation/media centre: Tehvandi Sport Center, Otepää
Opening times: 11h00-20h00, Thursday 16 July; 09h00-22h00, Friday 17 July; 08h00-22h00, Saturday 18 July; 08h00-18h00, Sunday 19 July
Satellite media centre: Atlantis Conference Centre, Narva mnt.2, Tartu
Opening times: 09:00hrs-22:00hrs, Friday 17 July; 14:00hrs-22:00hrs, Saturday 18 July; 12:00hrs-19:00hrs, Sunday 19 July
Friday 17 July

Free Practice (for priority drivers): 10h00-12h30, Vana-Otepää – Kintsli (2.95km), 4.05km from the Service Park
Qualifying Stage (for priority drivers): 13h00, see above
Optional Shakedown (for non-priority drivers): 15h30-16h30, see above
Start order selection: 18h00, Podium, Town Hall Square, Tartu
Autograph signing session: 18h30, Podium, Town Hall Square, Tartu
Ceremonial start: 19h00, Podium, Town Hall Square, Tartu
Saturday 18 July

Press conference after Leg 1: 20h15, Podium, Town Hall Square, Tartu
Sunday 19 July

Podium ceremony and prize-giving: 16h00, Podium, Town Hall Square, Tartu
Event media contact: Margus Kiiver, margus@rallyestonia.ee, +372 566 410 68
Television coverage: A preview show, daily highlights and the post-event Inside ERC magazine programme will be broadcast on Eurosport
ERC Rally Radio: Live throughout the event at Fiaerc.com or through the ERC app
Results, standings, live timing and text commentary: Fiaerc.com
Rights-free images: Register at the media lounge section of Fiaerc.com