This page contains archived information and may not display perfectly
ERC - 2015 Acropolis Rally Preview
ERC big six head to legendary Acropolis Rally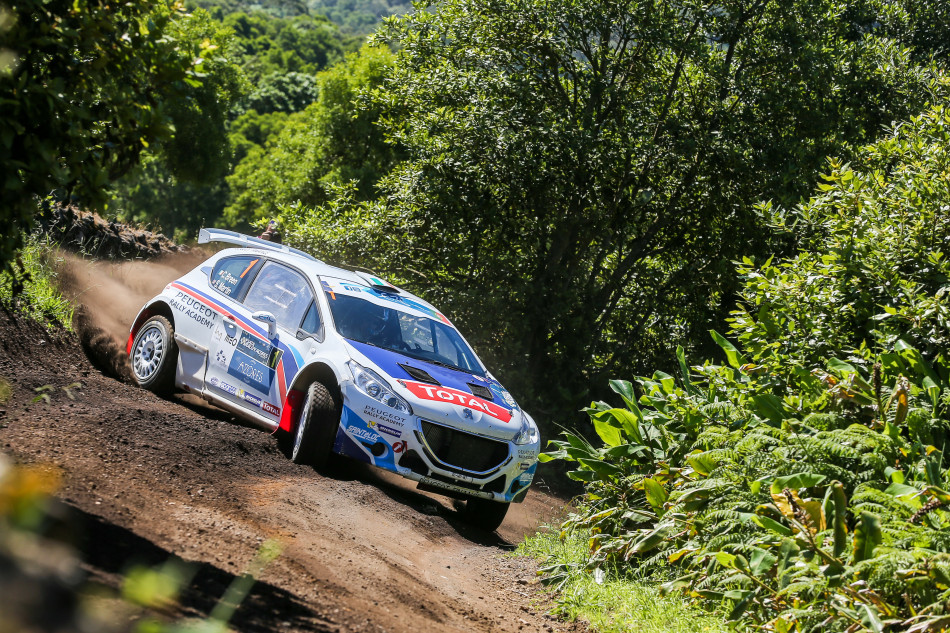 The top six drivers in the FIA European Rally Championship standings will contest next week's SEAJETS Acropolis Rally (10-11 October), with Kajetan Kajetanowicz and Craig Breen going head-to-head in their fight for the title.
Kajetanowicz arrives in Greece for the penultimate round of the ERC on a fantastic run of form. The Polish star won the recent CNP ASFALISTIKI Cyprus Rally in his Pirelli-shod LOTOS Rally Team Ford Fiesta R5 – claiming his second victory and sixth podium finish of the season, and adding the ERC Gravel Masters title to the ERC Ice Masters trophy he won earlier in the year. His 14 stage victories in Cyprus takes his season total to 42 out of the 99 stages run so far in 2015.
The multiple national champion has a healthy 62-point lead in the series, but with two rounds remaining, the destiny of the ERC title is still far from decided. Craig Breen will be aiming to repeat his Acropolis Rally win of last year in his Michelin-equipped Peugeot Rally Academy 208 T16, and will target nothing less than victory again. The Irishman had a wonderful run of form in the first half of the season, winning three events in a row and building up a 21-point lead heading to auto24 Rally Estonia. But bad luck, and his non-entry on the CNP ASFALISTIKI Cyprus Rally, has resulted in him slipping behind Kajetanowicz – but with 78 points still up for grabs, a good run in Greece could put Breen's title bid back on course.
Alexey Lukyanuk is enjoying a strong season, having led three rallies (Rally Liepāja, auto24 Rally Estonia and Cyprus), and won one (Estonia) and been awarded the Colin McRae ERC Flat Out Trophy three times (on the Jännerrallye, for coming from 22nd to third; in Estonia, for winning in an ERC2 Mitsubishi and for his never-give-up spirited run to fifth in Cyprus). He'll be a force to be reckoned with in his Pirelli-shod H-Racing Russian Performance Motorsport Ford Fiesta R5, despite his lack of experience of the event.
Robert Consani recorded a top 10 finish on the Acropolis Rally last year in a Peugeot 207 S2000, and that experience will do the Frenchman no harm as he returns in a Delta Racing Citroën DS3 R5. He is in a close battle with Lukyanuk for third in the ERC, and is a hot contender for a podium finish in Greece.
Likewise, Bruno Magalhães finished fifth last year in a Peugeot 207 S2000, and returns in a 208 T16. The Portuguese ace is delighted to be fifth in the ERC standings, after strong performances on all three rallies he's contested in 2015.
Jaromír Tarabus contested the Acropolis Rally for the first time last year, finishing ninth, despite receiving a three-minute penalty. The experienced Czech Republic pilot returns in his ŠKODA Fabia S2000 – as does his compatriot and ERC stalwart Antonín Tlusťák. The impressive line-up of international stars continues with France's Charles Martin (Peugeot Rally Academy 208 T16) and Estonia's Raul Jeets (MM-Motorsport Fiesta R5), both of whom are contesting the event for the first time.
Local driver Lambros Athanassoulas will be a strong contender for victory in his ŠKODA Fabia R5. He's fast, knows the roads and dominated the FIA Production World Rally Championship category on the Acropolis Rally in 2009.
Botka aims to make hay while ERC2 rival Štajf is away
Dávid Botka will be aiming to make amends for the tyre misunderstanding that cost him victory on the Cyprus Rally, and take the lead in ERC2. The Hungarian driver had provisionally won the class in Cyprus, but he'd used more than the 18 permitted tyres on his Mitsubishi Lancer Evolution IX – but only because he used old ones to test during Free Practice, believing the allocation only started from Qualifying onwards. A two-minute penalty cost him victory in Nicosia and instead of being ahead in the ERC2 standings, he arrives in Greece five-points behind Vojtěch Štajf. However, the Subaru Czech National Team driver is not contesting the Acropolis Rally, as he is driving on the La Carrera Panamericana instead. Dominykas Butvilas had to Rally2 in Cyprus after a brake problem led to his Subaru Poland Rally Team Impreza WRX STI going off the road on day one. The Lithuanian driver was mightily fast on his return on day two, and will be a hot contender this time out. Strong local opposition comes in the form of reigning Greek rally champion Lambros Kirkos, who could retain his title next week in his Team Greece Mitsubishi Lancer Evolution IX.
Another car swap, as ERC Ladies' Trophy hots up
First defending ERC Ladies' Trophy champion Ekaterina Stratieva swapped her Citroën C2 R2 for a Mitsubishi Lancer Evolution IX, and the Bulgarian star took the outright lead of the series after a fine drive on the Barum Czech Rally Zlín. Now Russia-based model Inessa Tushkanova is swapping her Mitsubishi for a Renault Clio RS for the Acropolis Rally, in an attempt to win back the lead.
Challenging two-day format starts with a 43.41km opening stage!
Free Practice, Qualifying, the ceremonial start, all nine stages and the finish ceremony are condensed into two days, making this year's Acropolis Rally a hugely challenging event. Action begins with a Qualifying Stage at 10h00 on Saturday 10 October, when the ERC registered crews race against the clock for a chance to select the most favourable starting road positions. A truly spectacular ceremonial start at the Acropolis in Athens follows at 15h00, before crews head straight into the opening stage – the massive 43.41-kilometre SEAJETS Kineta-Loutraki test. Following service in Loutraki, the second and final stage of leg one will be the 24.33km EKO Racing Kineta test. All cars must be in overnight parc ferme no later than midnight, after a non-stop day and 67.74kms of action. Leg two the following day promises to be as tough and demanding as any previous editions of the event. Starting at 07h00, the day contains seven stages, with two runs over SEAJETS Athikia (17.93kms), Klenia Mycenae (20.67kms) and Kefalari (18.66kms) and a single pass over EKO Racing Ziria (20.31kms). After all nine stages, totalling 202.57kms have been completed, the finish ceremony will be in Loutraki at 18h00 on Sunday 11 October. Seventy-three per cent of the event will be run on gravel, with 27 per cent on Tarmac.
Who is Lambros Athanassoulas?
Lambros Athanassoulas will contest his home round of the ERC in a ŠKODA Fabia R5. He was born on 10 November 1976, graduated as a Mechanical Engineer and has an MSc in Financial Economics. He started rallying in 2002, at the age of 26, when he won the 'Be A Champion' competition organised by 4TROXOI magazine and Toyota Hellas. The prize was a sponsored Greek rally championship programme in an A5 Toyota Yaris. Since then his performances have been outstanding, winning the Greek title, as well as the Tarmac Cup, in 2003, in a Ford Puma Kit Car. After rallying a Ford Puma S1600 and Fiesta S1600, he represented Greece in the 2006 Fiesta Sporting Trophy – winning the category on Rallye Deutschland. He made his Acropolis Rally debut in 2006, and was top Greek finisher on the event in 2008, after scoring impressive stage times in the PWRC category. He followed that up by winning PWRC category on the Acropolis the following year. Nikos Zakheos has co-driven for Athanassoulas for almost 10 years.
Q&A with Craig Breen 
Having missed the Cyprus Rally, Craig Breen is aiming to return to his ERC winning ways on the SEAJETS Acropolis Rally. The Peugeot Rally Academy driver arrives in Greece second in the standings, 62 points behind Kajetan Kajetanowicz, but won the Acropolis last year. Fiaerc.com caught up with the Irishman ahead of what will be a crucial event.
What do you think of this year's Acropolis Rally route, with over 200kms of stages, plus Free Practice and Qualifying all in two days?
"It's certainly a different itinerary to the norm this year, but I am looking forward to the challenge. Having the rally start a bit later works very well for us actually, as we will be participating in the Tour de Corse the weekend before, so like this, we get to have a day at home in between! But yes it is going to be a tough event, lots of things happening in a short space of time, but it should be good fun."
How difficult will it be to start this year's event with the 43.41-kilometre SEAJETS Kineta-Loutraki test, and what strategy will you take into the opening test?
"That will be tough! It means you will have no time to settle in, because if you can't get a good rhythm quickly in this stage, you could end up losing so much time. But I like it, it's different and it presents a new challenge to everybody."
How do the rough gravel and heat of the Acropolis Rally suit your driving style? After all, it couldn't be more different to rallying in Ireland!
"Of course rallying in Ireland is mainly on narrow bumpy Tarmac roads, and mostly in the cold and rain I might add! Greece is a rally that I like, the roads are much faster than you imagine, and have a really nice surface in most places. I'm not sure what the weather will be like in October, but I should think a little warmer to here in Ireland!"
Last year you gave the Peugeot 208 T16 a magnificent win on its ERC debut in Greece. How confident are you of repeating that victory?
"Last year was amazing. To go there with a brand new car and to win on its debut was a dream come true. Especially given that it was a mixed surface event, it really proved that the car was a winner. I head to Greece with a lot of confidence knowing our speed last year, and hopefully some of the stages will be the same. Being realistic, we need a win there to keep our championship hopes alive, so we will be doing all in our power to do that!"
Last year you followed your rallying idol Frank Meagher by winning an ERC event. How important is it that you continue the long tradition of Irish rally success abroad?
"It's vitally important to me. Irish rallying is incredibly close to my heart, and I will be always be proud of my roots. To be the first Irishman to win a round of the ERC since Frank Meagher was something that filled me with pride. Everyone knows how much I idolised him as a child, so again this year to win the Circuit of Ireland, 23 years after Frank won it, was something really special to me. We have a good history of producing fast rally drivers, so lets hope that we can try and carry forward this tradition!"
You're in a great battle with Kajetan Kajetanowicz for the ERC title. What can you do to regain the momentum you had in the first half of the ERC, winning three events in a row, and regaining the lead in the series?
"Try and find some luck again! Okay, our speed wasn't very good during some events, but generally speaking we have been right up there. If it wasn't for the retirements in Ypres and Estonia, the championship would be looking a lot different. We just need to dig deep, push hard and beat Kajto!"
FIVE ACROPOLIS RALLY FACTS
* Renowned as being one of the toughest rallies in the world due to being run on rocky mountain roads, as well as one of the longest-standing rallies, previous Acropolis winners include Walter Röhrl, Björn Waldegård, Ari Vatanen, Stig Blomqvist, Juha Kankkunen, Carlos Sainz and Colin McRae.
* Jari-Matti Latvala was the last driver to win the event when it counted as a round of the World Rally Championship in 2013. He and co-driver Miikka Anttila triumphed aboard a Volkswagen Polo R WRC.
* Prior to the Acropolis Rally's return to the ERC fold in 2014, British hero Roger Clark won the last event to count for the European championship when he took his Ford Escort to victory in 1968, one year after Paddy Hopkirk triumphed in a Mini Cooper S.
* This year's Acropolis Rally has secured important backing courtesy of a two-year agreement with the Seajets shipping company, whose name will now appear in the rally title. The deal was arranged by the Hellenic Motorsport federation (OMAE) in Greece.
* It's little wonder that the Acropolis Rally poses such a challenge when you consider that 80 per cent of Greece is made up of mountainous terrain, of which Mount Olympus is the highest peak at 2,917 metres.
ON THIS EVENT IN 2014…
Craig Breen became the first Irishman since his rallying idol, the late Frank Meagher, to win a round of the ERC, with victory on the 2014 Acropolis Rally. Breen was also awarded the prestigious Colin McRae ERC Flat Out Trophy, while it was a fantastic result for Peugeot, who scored victory first time out with its 208 T16. The event, which ran in March last year, saw Bryan Bouffier finish a close second in a Citroën DS3 RRC, just 8.1s behind Breen, while Kajetan Kajetanowicz was third in his Ford Fiesta R5. Esapekka Lappi finished fourth in his ŠKODA Motorsport Fabia S2000, with Bruno Magalhães overcoming a scare when his Peugeot 207 S2000 suffered a broken cross member on the final day to take fifth on his first international rally in two years. Vasily Gryazin had to settle for sixth after he stopped to change a left-rear puncture on his Fiesta S2000, while Jaroslav Orsák overcame suspension and steering dramas in his Fabia S2000 to take seventh. Jean-Michel Raoux (Peugeot 207 S2000) finished eighth, Jaromír Tarabus (Fabia S2000) ninth after a three-minute time penalty and Robert Consani (207 S2000) completed the top 10 after a myriad technical problems in his 207 S2000. Kevin Abbring retired from the lead on SS5 with a high water temperature on his 208 T16, and Sepp Wiegand retired his Fabia S2000 with broken suspension. Evgeny Sukhovenko won the ERC 2WD category in his Renault Clio R3, while Vitaliy Pushkar (Mitsubishi Lancer Evolution X) secured first place in the ERC Production Car Cup after Tibor Érdi retired on the road section heading to the finish. Ekaterina Stratieva took maximum ERC Ladies' Trophy points in her Subaru Impreza WRX STI.
EVENT ESSENTIALS (all timings local)
Starts: 15:00hrs, Saturday 10 October, Acropolis, Athens
Finishes: 17:40hrs, Sunday 11 October, Service Park, Loutraki
Headquarters: Club Hotel Casino Loutraki
Service park: Military Engineering School, Loutraki
ERC appearances: One since the 2004 restructuring of the ERC (in 2014)
Stages: 9
Stage distance: 202.57 kilometres (67.74 kilometres leg one, 134.83 kilometres leg two)
Liaison: 546.82 kilometres
Total: 749.39 kilometres
Surface: 73% gravel / 27% Tarmac
MEDIA EVENTS AND INFORMATION (all timings local)
Media accreditation and media centre: First Floor, Club Hotel Casino Loutraki, 48 Poseidonos Str, 20300 Loutraki
Opening times: 10:00hrs-20:00hrs, Thursday 8 October; 10:00hrs-20:00hrs, Friday 9 October; 07:00hrs-00:30hrs, Saturday 10 October; 07:00hrs-until the last journalist leaves, Sunday 11 October
Free Practice (for FIA/ERC priority drivers): 07:30hrs-09:30hrs, Saturday 10 October, on a 3.10-kilometre all-asphalt stage, 6.05 kilometres from the Service Park
Qualifying Stage (for FIA/ERC priority drivers): 10:03hrs, Saturday 10 October, as above
Shakedown (for all other drivers): 11:00hrs-12:00hrs, Saturday 10 October, as above
Start order selection: 11:30hrs, Saturday 10 October, Service Park, Loutraki
Pre-event press conference: 12:00hrs, Saturday 10 October, Service Park, Loutraki
Ceremonial start: 15:00hrs, Saturday 10 October, Acropolis, Athens
Post-event press conference: 18:30hrs, Sunday 11 October, Media Centre, Club Hotel Casino Loutraki. Top three drivers and co-drivers in attendance
Colin McRae ERC Flat Out Trophy presentation: Immediately following the post-event press conference in the Media Centre
Event media contact: Helen Xenakis, hxenakis@acropolisrally.gr, +30 6974362362
Television coverage: A preview show, daily highlights and the post-event Inside ERCmagazine programme will be broadcast on Eurosport
ERC Rally Radio: Live throughout the event at Fiaerc.com or through the ERC app
Results, standings, live timing and text commentary: Fiaerc.com
Rights-free images: Register at the media lounge section of Fiaerc.com