Empowering Members for Sustainable Growth 
Held online and broadcast from a studio in Paris, the FIA eConference 2022 brought together more than 700 participants from 137 Clubs in 120 countries from all around the world for two days of engaging, informative and interactive sessions focused around the theme 'A Global Voice – Empower Sustainable Growth'.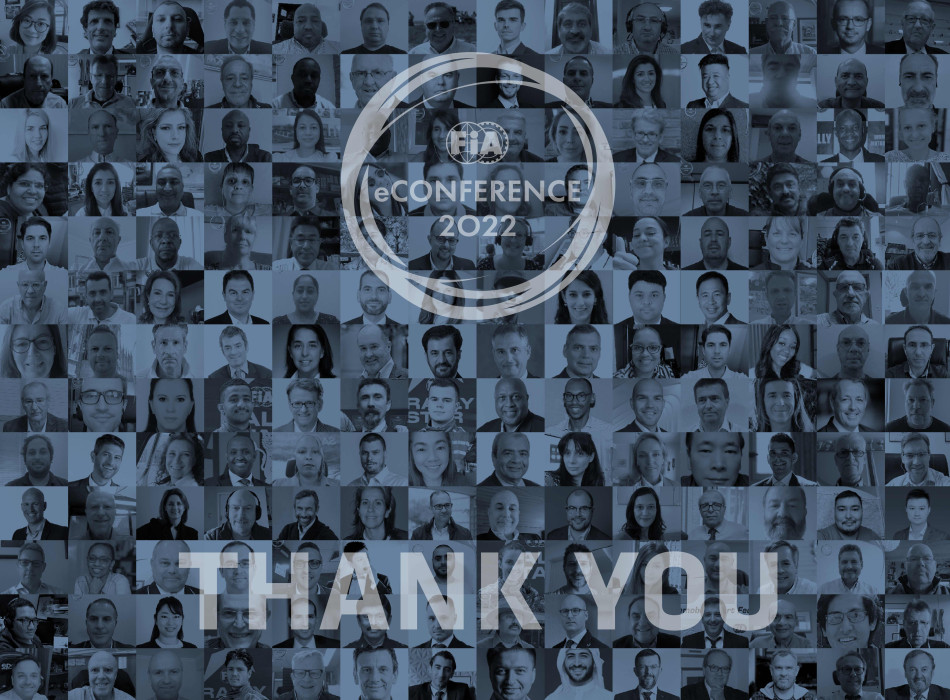 Day 1 
Presented in an all-new format, this year's eConference provided Delegates with shorter and more targeted sessions. The eConference got underway with a question and answer session with the FIA's leadership team outlining the learnings from their first six months in office and their vision for the future of the Federation. 
Opening the eConference, FIA President Mohammed Ben Sulayem said that the FIA must "focus on Clubs from Africa, Asia, the Americas, and some parts of Europe, where the potential for growth and development is the greatest. To do this, we need to empower the regions and promote the development of low cost, grassroots disciplines [in sport] to encourage a robust programme of equality, diversity, and inclusion." He added that the Federation needs to grow to become a thought leader in all matters of Mobility and Motor Sport. "We must have the knowledge and authority to engage with government and industry. We must be relevant, embrace innovation and invest in the understanding of future trends."
President of the FIA Senate Carmelo Sanz de Barros updated Delegates on the hiring of a CEO for the Federation. FIA Deputy President for Sport Robert Reid explained that his main focus since being elected has been on working in the regions with the FIA Vice-Presidents for Sport to understand Clubs' needs and create bespoke development plans with the aim to foster the sport growth in every region and achieve the target of doubling motor sport participation worldwide.
FIA Deputy President for Automobile Mobility and Tourism Tim Shearman told Delegates that the FIA is "on the right track and we need to continue to focus on advocacy, including road safety, as well as international documentation, Travel, Tourism and Member Services."
The first Mobility session of the eConference, entitled the 'Future of Mobility: Embracing the Green Transition & Addressing the Global Energy Crisis', saw Jamie Hamilton, a partner at Deloitte UK, guide Delegates through a potential near future mobility landscape in which the major concern for road users will be 'charge anxiety' related to electric vehicles due to inadequate charging infrastructure. 
Royal Automobile Club of Western Australia (RAC WA) CEO Rob Slocombe then told Delegates how the Australian Clubs have addressed this issue by collectively purchasing Chargefox, the country's largest charging company, which manages more than 3,000 chargers.
Koninklijke Nederlandse Toeristenbond (ANWB) Head of Energy Pierry Lievaart explained how the Dutch Club has started its own energy company, giving members the opportunity to switch their home energy contract to the Club. Finally, Automóvil Club del Ecuador (ANETA) Head of Sustainability Ana Gabriela Dávila told Delegates of the Ecuadorian Club's efforts to educate the local population about sustainable mobility through a simulation of a smart city in Quito featuring charging points powered by solar energy. 
The new leadership team has a clearly stated goal of doubling motor sport participation and in the first sport session, entitled 'Growth of Motor Sport: How to Create Development Opportunities' Motorsport Network President James Allen gave insights into the make-up of F1's growing audience, saying that the trends visible at the pinnacle, including increasing numbers of female fans as well as gamers, could be translated to motor sport engagement at every level. 
FIA Vice-President for Sport for Asia-Pacific Lung-Nien Lee then encouraged ASNs to boost engagement with fans and volunteers. "Motor sport is about involvement, immersing yourself. Be a marshal, be a steward, it doesn't matter what, but get involved," he said. 
Finally, Georgian Automobile Sport Federation President Alexander Lomadze commented on the construction of a drift facility in Tbilisi saying it was "a good way to show all Clubs that ASNs can work with the government to create good projects".
Looking to the future of transport, the final Mobility session of the day focused on Drone and Vertical Mobility and how they impact the way we move. Following a keynote address from Romain Erny from Choose Paris Region, TCS Head of Drone and Vertical Academy Nicolas Brieger explained how the Club, and the FIA, are helping Clubs to see the potential of drone technology, while Automobile Association of Kenya CEO Francis Theury shared how the African Club is exploiting those opportunities. 
The final session of day one took Delegates through 'New Sporting Pathways: Develop Motor Sport Participation in your Region' and in this session FIA Deputy President for Sport Robert Reid unveiled the FIA's new concept of locally-produced Cross Car, saying that "In order to double motor sport participation worldwide, we need an entry level vehicle that can be operated by the ASNs, that is safe in the hands of beginners, that is affordable, and that can be manufactured locally at a low cost." With 'level one' cars costing a maximum of US$5,000 the hope is to bring affordable motor sport to every region of the world. The panellists then shed light upon the Rallying Pathways and the main differences between the different Rally Pyramid entry categories (Rally 5, Rally 4 and Rally 3). The FIA Rally Star Continental Winners shared their experience as part of the programme that relies on the detection of young talents in Cross Cars with the aim to support them in taking a next step up the Rally Pyramid. Finally, M-Sport Ltd Owner and Managing Director Malcolm Wilson — involved in every level of the Rally Pyramid — wrapped up the session highlighting the importance of creating pathways: "For me the perfect thing is to get in Cross Car. It's a way to get absolutely valuable seat time on all sorts of different surfaces and then move up into Rally 5, Rally 4, Rally 3 and then into hopefully Rally 2".
Day 2
The second day of online sessions from the Paris studio featured two sessions devoted to travel and tourism. 
The first, entitled 'Tourism Trends & Business Opportunities', looked at newly evolving trends in the sector as it bounced back from the COVID-19 pandemic. 
TripAdvisor Global Director of Business Development Jun Kiat Lee revealed that that 42% of travellers are looking to travel more than in pre-COVID-19 times and that 50% are looking at taking road trips. This, he said, presents a clear opportunity to Clubs with tourism operations to "provide support for multi-location trips, such as transport insurance, logistic guidance".
Automóvil Club de Colombia Gerente General Alfredo Albornoz confirmed tourism is increasing rapidly in Colombia, with numbers up by 220% in 2021 and that there is space for Clubs to get involved. "We have 30 Clubs in North America with a great business opportunity," he said. "We have to lose our fear and take part in this large growing and profitable market."
That sentiment was echoed by FIA Region II President Greig Craft who said: "We've got to do more to have synergy and relations with all of the other regions and the FIA. It's a huge market, we've got 80 million members… and certainly focusing on the family first makes a lot of sense."
The second tourism-focused meeting of the day explored the digitisation of Carnets de Passages en Douane (CPDs). UNECE Sustainable Transport Division Economic Affairs Officer Artur Bouten told Delegates that the benefits of digitisation were clear in that digital CPDs offer "the additional security that electronic data provides for the purpose of risk management, increased international cooperation between actors, a reduction in administrative burdens, the availability of advance information and the reduction of paperwork and all types of handling costs, which unnecessarily burden trade and transport industry."
Killian Kavanagh, a senior consultant to the ACTAC sub-region, added that digitisation is a "matter of survival" for Clubs. "The whole area of digitisation is essentially about future proofing your Club or your business and the whole area of dematerialisation makes absolute sense," he said. 
The first Sport session of the day focused on capacity building within ASNs, exploring how upskilling can benefit Clubs. 
"Upskilling, quite simply, is increasing Clubs capacity to deliver," said FIA Deputy President for Sport Robert Reid. "The objective is to make Clubs autonomous, to give them the tools so they can go away, with our support, and develop their capability to deliver what they need."
He then introduced the Federation's new Plug and Play programme, a complete motor sport toolkit aimed at emerging ASNs by saying: "The aim is to build a resource to enable Clubs to engage in grassroots motor sport, often what is their initial motor sport activity."
Motorsport UK CEO Hugh Chambers then presented his Club's vision for grassroots engagement with Street Car, a programme that aims to encourage people to compete in their road cars in a specially designed format. "[Our Clubs] want to have a sport that's more accessible to all. They want a sport that the whole family can take part in, and they want something that really expresses equality, diversity and inclusion," he said. 
FIA Vice-President for Sport for South America Fabiana Ecclestone introduced another new programme, FIA Immersion, designed to bring capacity building to ASNs through staff having the chance to spend time working with the FIA, in Paris, Geneva and at its Valleiry facility, after which the knowledge gained would be implemented in their own region. "The FIA Immersion programme is a unique opportunity for ASN or ACN staff members or volunteers to learn from inside of the FIA and to take this experience back to their Clubs," she said. 
FIA Vice-President for Sport for North America Daniel Coen also outlined the benefit of the FIA steward training and FIA Rally Safety Delegate training programmes worldwide. 
Later in the day a second session on capacity building, centred on international organisations, began with a fascinating keynote address from FIFA Chief Member Associations Officer Kenny Jean-Marie. He gave Delegates an insight into a number of Member-focused programmes at the football body including FIFA Forward. 
"FIFA Forward is a programme where we take part of the revenue we generate with the FIFA World Cup and we redistribute it to all the Member Associations," he said. "The FIFA football 2.0 programme is a four-year programme and the total amount is US$1.7 plus billion."
International Road Transport Union (IRU) Secretary General Umberto de Pretto then highlighted the need for collaboration among international organisations. "With most global organisations, 90% of the challenges we face are identical. We might differ on 10% but let's put those aside and work together on the 90%," he said. "I think we can do our members a great service by working and partnering together."
FIA Region III President and Canadian Automobile Association (CAA) COO Frank Fotia, referred to the value of the FIA University in increasing capacity, saying: "Our participation in the FIA University has also provided many CAA participants with great insights as to what's happening in other organisations globally and has helped us evaluate what can be adapted to our unique market."
Finally, FIA Vice-President for Sport for Africa Rodrigo Rocha spoke about the new motor sport development plan for Africa saying it is aimed at "increasing the numbers of events, increasing the number of drivers participating in our events, and of course, making motor sport one of the prime sports in the region."
The day's final Sport session focused on 'Sustainability in Sport Development: How Business for Good is Good Business'. 
Amaury Sport Organisation (A.S.O.) C.S.R Director Jean-Baptiste Durier delivered a keynote on his organisation's approach to sustainable sport, which centres on "a roadmap, called the charter or the 15 commitments". 
"You don't have to live with sustainability as a constraint anymore. This is an amazing opportunity for you to create business. Once you've understood that your sponsors, that the brands are looking for that, then you create value for your events," he said. 
FIA Vice-President for Sport for Europe and General Secretary of the Svenska Bilsportförbundet Anna Nordkvist spoke about her Club's programme to promote biodiversity, saying that "it's quite unknown about biodiversity and how that affects the Earth and how motor sport affects it in a positive way. Biodiversity actually increases with our sport. The Swedish Motor Sport Federation is the national leader in Swedish sport regarding biodiversity. And we should work hard to get the rest of the motor sport world to understand and use these benefits."
ANETA Head of Sustainability Ana Gabriela Dávila explained how the Ecuadorian Club is a member of the UN Global Compact, an initiative by more than 13,000 companies and 4,000 organisations to work in human rights, labour standards, environment, and anti-corruption. 
Closing the eConference
The final session of the two days once again brought together the FIA's leadership team to review the new look eConference and to look forward. 
Commenting on the environmental aspirations outlined across the Mobility sessions, FIA Deputy President for Automobile Mobility and Tourism Tim Shearman said that "the FIA is well placed to continue to serve as an honest broker and a conveyor of information for Members on sustainability". He also pointed to greater collaboration with the FIA Foundation on road safety. "We're hoping in our mandate to further develop our relationship with the Foundation and further strengthen the bond between our two organisations," he said. 
FIA Deputy President for Sport Robert Reid pointed to the launch of new FIA grassroots and development programmes as a major step forward. "The locally-produced, low-cost accessible Cross Car project is going to be massive for our Clubs," he said. "FIA Immersion is about giving Clubs the opportunity to nominate staff members who can spend 10 days at the FIA. The knowledge they will gain during that time will really help these regions and Clubs grow."
FIA Senate President Carmelo Sanz de Barros added that his biggest takeaway had been the depth of expertise within the Federation and its Membership. "What I've been most impressed with is the amount of talent we have in this Federation and the amount of talent that we have in our Members and if we really focus on and analyse properly all this talent, I think that this Federation can really move forward on to the next step," he said.
The final word went to FIA President Mohammed Ben Sulayem who thanked the 700 participants for their involvement and insisted that he is optimistic for the Federation in the coming years. "The future is bright for us," he said. "And we cannot rely on the FIA alone, we must rely on the Members, together."