This page contains archived information and may not display perfectly
Electric start for top female racers
The inaugural FIA Formula E Championship kicks off with its first race in Beijing this weekend (13 September) and has captured the attention of two top female racers, Italy's Michela Cerruti and Britain's Katherine Legge, one of the FIA's Women in Motorsport Ambassadors.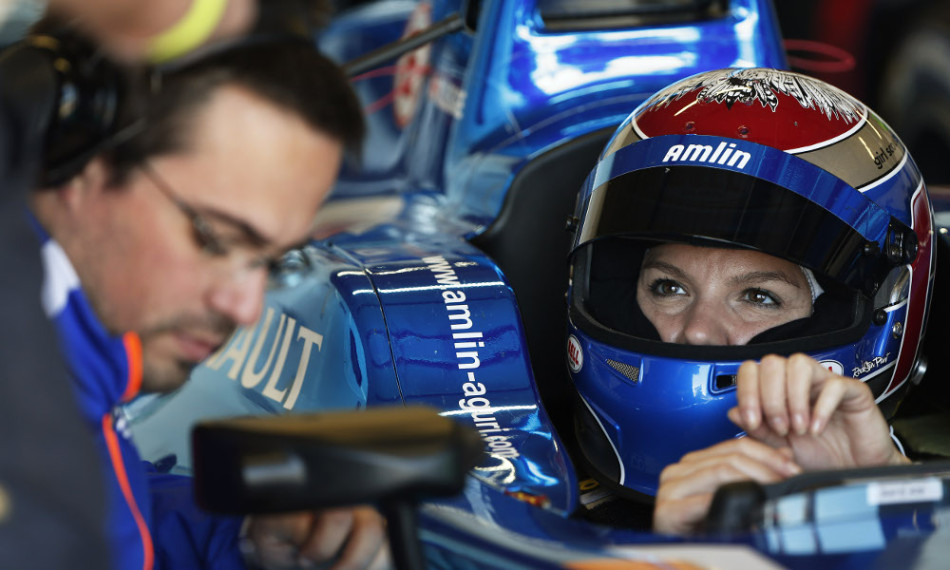 Both will line up on the grid of the purpose-built street circuit located around China's iconic 'Bird's Nest' Olympic Stadium, proud to be part of the FIA's new single-seater championship and the world's first fully electric racing series.
"I feel really excited about being part of this," said Michela, race winner in the Auto GP Series and podium finisher at Silverstone in this year's Blancpain GT Endurance series. "Everything is at the top level in the Championship, starting from the organisation, to the level of teams and drivers. It is an honour for me to compete in the Championship."
In this first season, 10 teams, each with two drivers, will go head-to-head in this unique and exciting racing series designed to appeal to a new generation of motorsport fans. "The car is quite different from all the cars I have driven before," added Michela, who will partner Jarno Trulli, co-founder of the Trulli Formula E Team and her team-mate. "It is a single-seater but it is heavy and that requires a particular driving style. They built a proper race car, but the sensation is a bit strange. The first time I approached the main straight at Donington I felt 'alone', I could hear the wind blowing. It is not easy to find the best way to save energy without losing too much performance, since the key is to make the braking space longer and to drive smoother. Overall it makes it more challenging because you have to improve a lot your body sensitivity."
The FIA Formula E Championship centres around three core values of energy, environment and entertainment and is a fusion of engineering, technology, sport, science, design, music and entertainment - all combining to drive the change towards an electric future. Uniquely, fans can also give their favourite driver an extra speed boost by voting for them prior to the race. The three drivers with the most votes will each receive a 5-second 'power boost' per car per driver, temporarily increasing their car's power from 150kw to 180kw.
Commenting on this particular innovation, Amlin Aguri Formula E Team driver Katherine Legge said: "I think this is a fun way to involve the fans in the race and outcome. Whether you love the idea or hate it, it is bringing Formula E attention, which is a good thing!
"It's very exciting to be part of something so new and ground-breaking and to be involved in the development of new technology," added the Women in Motorsport Ambassador. "The car is a lot of fun to drive. It is quite tricky to drive fast and you have to learn a lot about how to use the regen and the mapping, which adds another element. At first it was strange not to have an engine noise, but after a few laps you get used to it. Now I actually enjoy it!"
The FIA Formula E Beijing ePrix takes place on Saturday 13 September and in order to minimise disruption in all the host cities, fans will get to enjoy practice, qualifying and the race, together with music and off-track entertainment, in this one day.
The 3.44 kilometre Beijing circuit boasts an impressive cityscape backdrop taking in both the Beijing National Aquatics Centre and the Olympic Stadium itself. It will see the 20 Formula E drivers tackle a mix of tight left-hand turns - offering late braking and overtaking opportunities - together with twisty chicanes and two main straights. In addition, the track features a unique 'U-shaped' pit lane with spectator areas located inside giving fans an incredible close-up view of the action. "Street circuits are always challenging," commented Katherine. The fact that nobody has driven this one before will make it even more difficult to set up the car and learn. Because it is the first race, it's difficult to know how it will pan out. You usually base expectations on experience and improvement, but because this series is brand new, it's hard to judge that! We will go there and do the best job we can and our aim obviously is to be as fast as possible. But also a big part of our plan will be to gain experience and learn as much as we can."
Michèle Mouton, President of the FIA Women in Motorsport Commission, concluded: "This is an intriguing new series and I am very much looking forward to seeing the outcome of the first race. The cars and circuits are new to all the drivers and it will be interesting to see who manages the format and technology best. Naturally we all wish Michela and Katherine a successful first race in Beijing."