This page contains archived information and may not display perfectly
EHSRC – Entry List for Season Finale in Hungary Revealed
The entry list for the Mecsek Rallye in Hungary this weekend has been revealed, with 22 of the 42 entries eligible for Round 9 of the 2019 FIA European Historic Sporting Rally Championship.    With seven of the nine titles still to be won, all of the leading contenders for the unclaimed category titles will be in Pécs on the 10-12 October.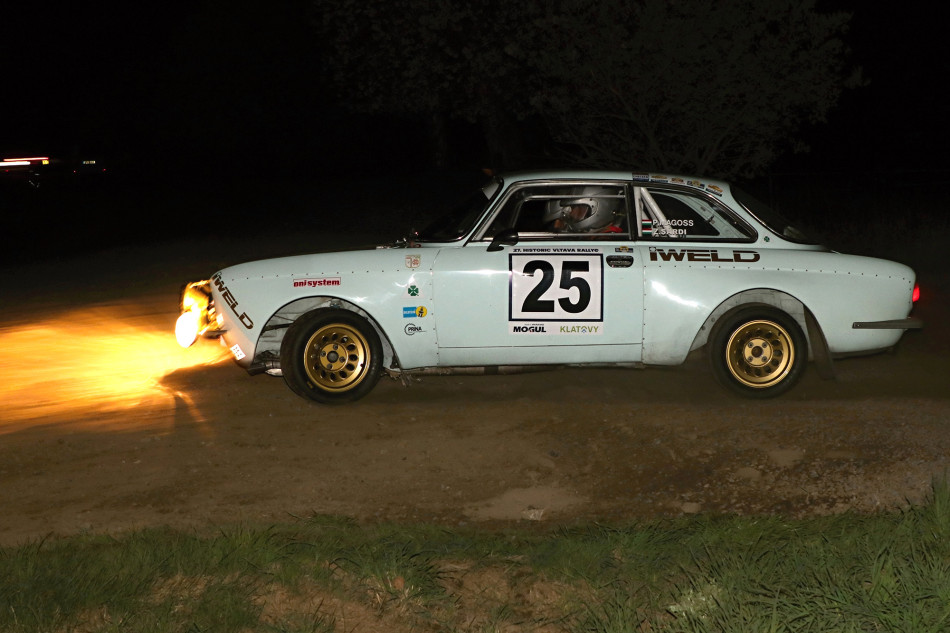 Category 4: Will Graham and 'Lucky' go Head-to-Head
There are four EHSRC entries in Category 4, but the title will be a straight fight between championship leader Will Graham (no11 BMW M3) and 'Lucky' (no1 Lancia Delta Integrale).  With just two points separating the two cars, whichever car finishes ahead of the other on Saturday evening, will be declared the 2019 Category 4 Champions.  The Co-Driver's championship race is led by 'Lucky's' teammate Fabrizia Pons, who is 12 points ahead of Will Graham's sometime co-driver Michael Johnston.
Former Category 4 champions Valter Jensen and Erik Pedersen will be competing in their no4 BMW M3, as will Jari Latvala and Jouni Saarijarvi in the no10 Toyota Celica GT-Four.
Category 3: Four Way Battle for the Title in Hungary
The Category 3 entry will see all four title contenders fighting it out in Hungary.  Reigning champions Karl Wagner and Gerda Zauner are leading the title chase on 100 points, the Austrians in the no5 Porsche 911 SC currently four points ahead of Finland's Esa Peltonen and Jyrki Saarto in the no24 Toyota Starlet 1300.  
Fellow Finns Pentti Veikkanen and Timo Jaakkola are third on 93 points in the no8 Porsche 911 SC, with the no2 Audi Quattro of Italian crew 'Zippo' and Denis Piceno one point behind on 92 points.
The Category 3 EHSRC entry is completed by the no25 Toyota Starlet of Teuvo Hamalainen and Pirjo Rosberg.
Category 2: Seven Points Separate Top Six Entries
There are eight EHSRC Category 2 entries for the 2019 Mecsek Rallye, with the six leading contenders for the title all in Hungary.  
Driver's Championship leader Carlo Mylle will be competing in the no9 Porsche 911 Carerra RSR, the Belgian being joined by Olivier Laporte.  Mylle is currently on 78 points, just two ahead of Paolo Pasutti and Giovanni Campeis in the no6 Porsche 911 Carrera RSR on 76 points.  Fellow Italians Maurizio Pagella and Roberto Brea are on 75 points and will be competing in Hungary in the no12 Porsche 911 RS.
Round 8 winners Anders and Ingrid Johnsen are in fourth spot in the no7 Porsche 911 on 74 points, just ahead of two Hungarian entries.  The no 15 Alfa Romeo 1750 GTam of Peter Magoss and Laszlo Ronay are on 73 points, two ahead of fellow Hungarian crew Laszlo and Edit Mekler in the no13 Alfa Romeo 1750 GTam.
With Olivier Laporte not competing in all of the 2019 events alongside Carlo Mylle, the Co-Driver's Championship is led by Giovanni Campeis.
Also competing in Category 2 is the distinctive no36 VW 1303S of Anglo-Irish crew James Calvert and James O'Brien, with the no38 VAZ 2101 of Estonian crew Villu Mattik and Arvo Maslenikov also making another welcome appearance on a round of the EHSRC.
Category 1: Competitors Go For Victory in Hungary
With the 2019 championship decided in favour of Antonio Parisi and Giuseppe D'Angelo on Elba last month, the five Category 1 entries will be going for victory in Hungary.  With champions elect Parisi and D'Angelo not competing on the 53rd Mecsek Rallye, all eyes will be on the no15 Ford Escort Twin Cam of Ernie Graham, who will be joined by Tim Sayer in the car.
Finland's Elias Kivitila and Timo Tuominen will be once again competing in the no27 BMW 2002Ti, with another BMW 2002Ti of Italian crew Carlo Fiorito and Angelo Pastorino also on the stages this weekend.  A third BMW will be competing in the hands of round 2 category winners Sverre Norrgard and Ari Koponen and the entry is completed by the no29 Volvo 122 S of Jari Hyvarinen and Jarno Ala-Turkia.
The 53rd Mecsek Rallye will get underway with Leg 1 on Friday 11 October, which will feature six special stages.  The rally will conclude on Saturday 12 October after a further six special stages are completed.
rd
 Mecsek Rallye
CLICK HERE for the championship standings after Round 8