This page contains archived information and may not display perfectly
EHRC - 'Zippo' and Wagner Go Head-to-Head in Austria
The overall lead of the Rallye Weiz, Round 5 of the 2022 FIA European Historic Rally Championship, was a close fought battle between the Category 3 Audi quattro of Italian crew 'Zippo' and Denis Piceno and Austrian's Karl Wagner and Gerda Zauner in the Porsche 911 SC.  At the end of the opening day of action, the Audi was just 12 seconds ahead.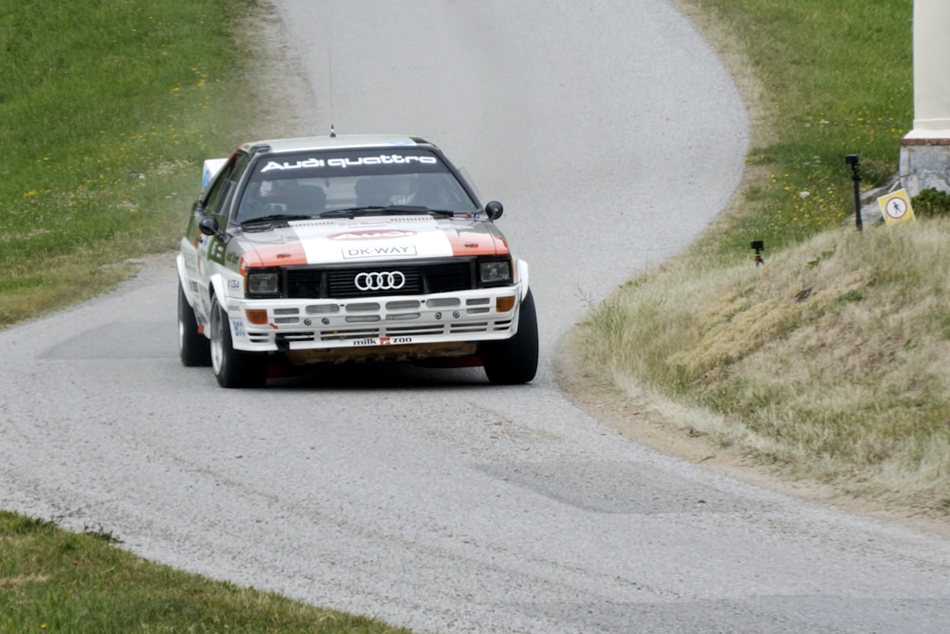 The Audi quattro set the pace on the first four stages of the day, with the Porsche keeping pace and keeping the gap to a manageable 15 seconds ahead of the fifth and final stage of the day.  The Porsche set the fastest overall time on SS5, closing the gap to the Audi by three seconds.  
Third overall was being fought over by the BMW M3 of Marc Valliccioni and Yoann Raffaelli, the Ford Sierra RS Cosworth 4x4 of Tibor Erdi Jnr and Zoltan Csoko and the BMW M3 of Marty McCormack and Barney Mitchell.
Erdi made the early pace on SS1 but was pushed back to second spot in Category 4 after Valliccioni was quickest on SS2.  Erdi fought back on SS3 and then McCormack vaulted into the lead on SS4, just 1.6s ahead of Erdi and 21s ahead of Valliccioni.  Tibor Erdi Jnr then posted the fastest Category 4 time on SS4 to head into the overnight stop 3.1 seconds ahead of Marty McCormack and 46 seconds ahead of Marc Valliccioni.
Championship leader Ville Silvasti and co-driver Risto Pietilainen finished the day 5th in Category 4 and 7thoverall after an early engine issue hampered the pace of the Lancia 037 Rally and finished the day 14.5s behind the Ford Sierra RS Cosworth of 4th placed Mats Myrsell and Esko Junttila.
In Category 2 two Italian crews are going head-to-head, with the Porsche 911 Carrera RS of Paolo Pasutti and Giovanni Campeis finishing the five stages 2m02.3s ahead of the BMW 2002 Tii of Round 4 winners Pietro Corredig and Sonia Borghese.
After missing the Mecsek Rallye in Hungary, Ernie and Karen Graham are back in the groove in the Category 1 Ford Escort Twin Cam, the British couple posting the fastest category times on all five stages to finish the day 2m16.7s ahead of their championship rivals Antonio Parisi and Giuseppe D'Angelo in the Porsche 911S.  The Ford Cortina 1600 GT of James Potter and Caroline McCormack were lying in second place after the first four stages, but lost time on the fifth and final stage of the day to finish 3rd in Category 1, 31.5s behind Parisi and D'Angelo.
The second and final day of the Rallye Weiz will feature eight special stages, beginning at 07h38 on Saturday morning.
CLICK HERE for the results from Day 1 of the Rallye Weiz