This page contains archived information and may not display perfectly
EHRC – Sainz Leads on Day 1 of 69th Rally Costa Brava
Antonio Sainz and David de La Puente finished the opening day of the Rally Costa Brava in the lead of the FIA European Historic Rally Championship competitors.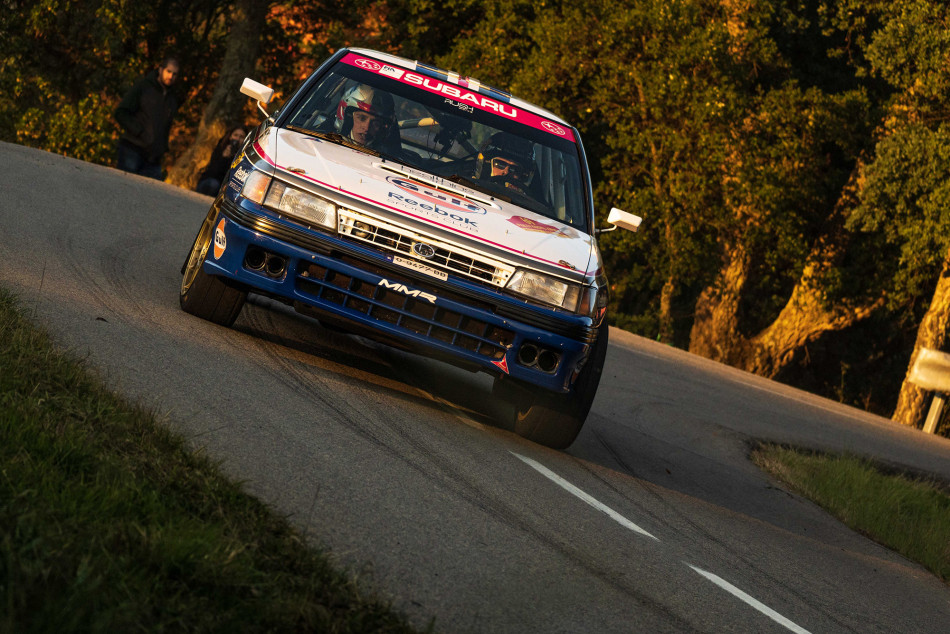 The Spanish duo in the no9 Subaru Legacy 4WD Turbo completed the six special stages in 47m38.0, 16.9 seconds ahead of the no5 BMW M3 E30 of Jean-Francois Mourgues and Stephane Prevot, with the no11 BMW M3 E30 of Gabriele Noberasco and Michele Ferrara a further 5.7 seconds back.
The battle for the Category 2 championship raged all day with the no21 Ford Escort RS1800 of Ernie and Karen Graham holding the advantage after three stages, but by just 4 seconds.  In the afternoon the Czech duo of Vojtech Stajf and Vladimir Zelinka clawed back the lost time and moved ahead of their British rivals.  
At the end of stage 6 Stajf and Zelinka hold an overnight 18.4 second lead, with the no24 Alfa Romeo 1750 GTam of Laszlo and Edit Mekler in third, 46.4 seconds behind the Escort.  Tomorrow the battle continues which will decide which crew will be crowned 2021 Category 2 Champions.
The Category 1 battle between the no32 Porsche 911S of Antonio Parisi and Giuseppe D'Angelo and the no33 BMW 2002 Ti of Carlo Fiorito and Marina Bertonasco ended the day with a4m41.7 advantage for the Porsche.
The Category 3 leader is the no25 Volvo 244 of Siegfried and Renate Mayr after the no7 Porsche 911 SC of Karl Wagner and Gerda Zauner failed to complete stage 6, the Porsche grinding to a halt at the end of stage 5.
There were several other retirements on the opening day.  The no1 Ford Sierra RS Cosworth 4x4 of Daniel Alonso and Jorge Henriques went out with a reported power steering failure, the Spanish crew unable to restart the rally tomorrow.
The no10 Lancia 037 Rally of Ville Silvasti and Risto Pietilainen failed to start the first stage this morning after the car suffered a mechanical failure before the start.  The Finns are hopeful of fixing the problem and restarting the rally in the morning.
The no6 Ford Sierra RS Cosworth 4x4 of Anders and Ingrid Johnsen also suffered mechanical woes, with a broken steering pump on SS4.
The second leg of the 69th Rally Costa Brava will feature a further seven special stages, beginning with SS7 at 09h00 in the morning.
CLICK HERE for the result from the first leg of the 69th Rally Costa Brava, round 9 of the 2021 FIA European Historic Rally Championship.
CLICK HERE to visit the Rally Costa Brava event website.