EHRC - Karl Wagner and Gerda Zauner Win In Elba
After struggling with fuel pump issues on the first leg, the no9 Porsche 911 SC of Karl Wagner and Gerda Zauner had a much better day on the final day of the rally, finishing as the top EHRC car and winning Category 3.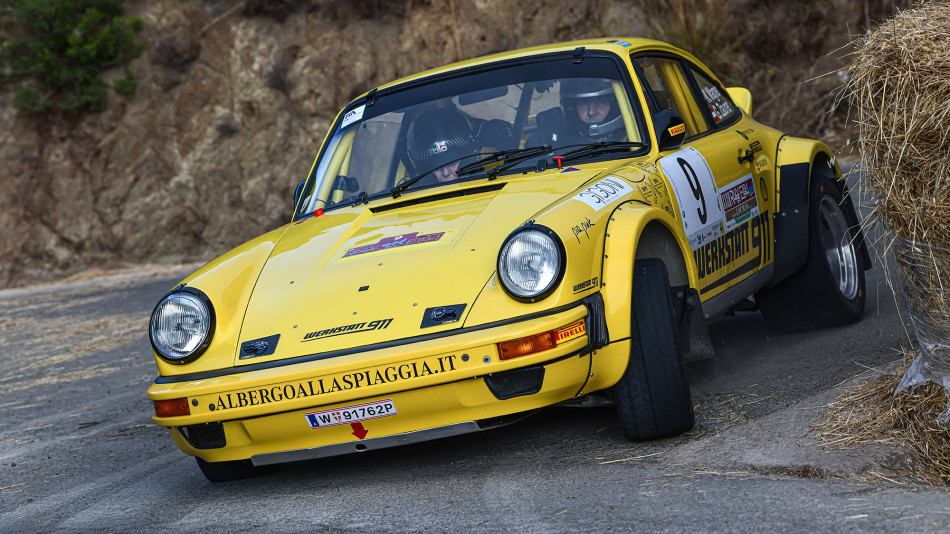 The second leg of the Rally Elba Storico would feature five stages, with the first seeing Wagner outpace the overnight EHRC leader Gabriele Noberasco in the no11 BMW M3, the Italian retiring on the next stage when the BMW suffered a head gasket failure.
The Austrians set the fastest EHRC time on all five stages, moving up the overall order and heading Category 3.
The battle of the rally was in Category 2 with the no23 Opel Kadett of Vojtech Stajf and Vladimir Zelinka, the no15 Porsche 911 of Paolo Pasutti and Giovanni Campeis and the no24 Ford Escort of Ernie and Karen Graham going head-to-head.  
Pasutti had been leading overnight but dropped down the order after SS5.  The Italians set the best EHRC Category 2 time on SS6, but Vojtech Stajf was on a charge, the Czech driver outpacing Pasutti on four of the five stages. Ernie Graham was able to keep in touch with the Opel and the Porsche but couldn't take the fight to them.  The Category 2 championship leader finished the day 50 seconds behind Stajf and 22.6s behind Pasutti at the end of SS9.
Valter Jensen and Eric Pedersen's no18 BMW M3 had sorted the fuel issues that had hampered their efforts on the first leg of the rally.  The Norwegians fighting with the Austrian-German duo of Alfons Nothdurfter and Juergen Nolte in the no22 Ford Sierra Cosworth for EHRC Category 4 honours.  By the end of the last stage the Ford was ahead of the BMW. 
Antonio Parisi and Giuseppe D'Angelo took another EHRC Category 1 victory in the no31 Porsche 911 S, finishing over 7 minutes ahead of the no77 BMW 2002 Ti of Carlo Fiorito and Marina Bertonasco.  
The next event on the FIA EHRC calendar is the Rallye International du Valais in Switzerland on the 21-23 October.
CLICK HERE for the results from the 33rd Rally Elba Storico, Round 7 of the 2021 FIA European Historic Rally Championship.