This page contains archived information and may not display perfectly
EHRC - Getting to Know: Pentti Veikkanen and Timo Jaakkola
Finnish duo Pentti Veikkanen and Timo Jaakkola have been a regular feature on the FIA EHRC for many years in their distinctive Category 3 Porsche 911 SC, which they have named 'The Red Devil'.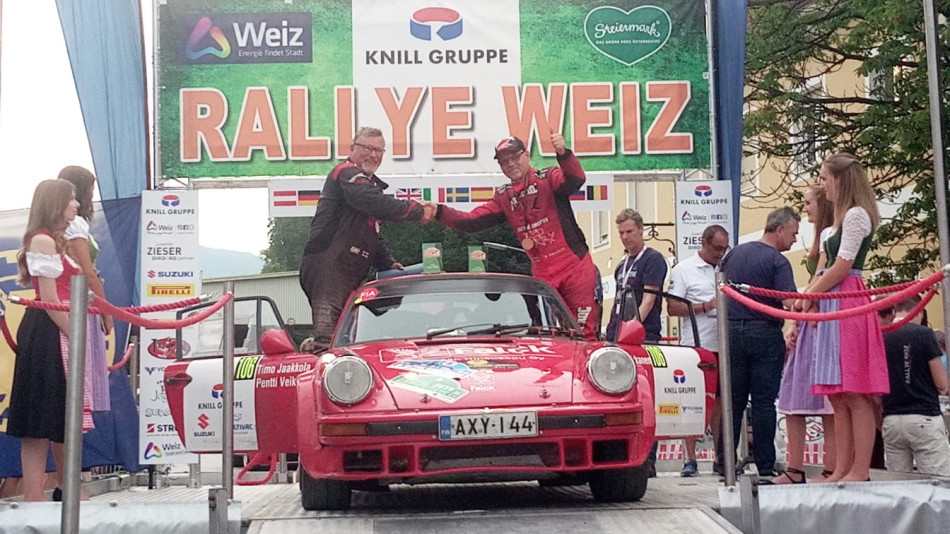 In 2019 Pentti and Timo finished 2nd in class on no less than five occasions, in Vltava, Asturias, Ypres, Alpi Orientali and Elba, finishing the season 3rd in Category 3 on 93 points, just 7 points behind the 2019 champions Karl Wagner and Gerda Zauner.
We caught up with them ahead of the new FIA European Historic Rally Championship season.
Q1: How have you and your family been during the Covid-19 Pandemic and have you been able to compete in any form of motor sport during the past year?
"Privately, our families are doing well, despite all the restrictions and lock downs, we had and still have here in Finland. We are lucky to live up in the north, and especially in Finland, where the illness rate has not yet been that high, as in many European countries, and we did not face that hard and strict restrictions, as in many other countries was the case. Pena has enjoyed his time with snow scootering and driving with his big motorcycle. This year, there has been new tasks for Timo, chairing the Finnish ASN Historic Board, and being nominated as a ASN representant to the FIA Historic Commission.
"In 2020, as the first news arrived from China, and then after that, as the terrible first news from Italy concerning the Covid 19 pandemic started on the TV screens, we realised that this will not be over in a few months. Our Red Devil Porsche had got a new, more powerful engine, and new, bigger brakes, so everything was well prepared, and the team was really motivated to travel to Costa Brava to start the 2020 season, with only one task, to take home the category overall first place. But we decided not to travel to Spain at all, and our plans was to start the Championship season from Asturias, later from the Lahti Historic, after following the pandemics progress. Unfortunately, it went as it did, and there were no FIA EHSRC rallies organised in 2020.
"During 2020 and 2021 there has been a possibility to race here in Finland under strict Corona related rules. No spectators allowed on the Special Stages, limited number of service crew members, special process for the Timecard etc. We have been rallying with our Mitsubishi EVO 9 4 WD in the Finnish Rally Championship and also in some smaller ones to keep up 'the touch and feeling'. It is also important to compete and drive, not only to keep the feeling for the driving and speed, but also for the pacenotes.
"This year, we had a really unforgettable possibility. End January, the Arctic Rally was driven in Rovaniemi, Lapland partially on the same roads, as later in March the Finnish Arctic WRC Rally. We will race in Finland with the Mitsu as long as we can start the 2021 EHRC series with the Red Devil Porsche."
Q2: How long have the two of you been rallying together?
"Pena has a long Motor sport history. He has been competing in many different motor sport classes during the past 40 years. He has more than 700 starts, of which over 300 in rallies, domestic as well international, with different cars starting from a Triumph Vitesse. He is a really 'all rounder', with great results.
"Timo has been co-driving since 1987. Only in rallies on domestic and on international level. Cars from a Skoda Felicia Kit Car up to different WRC cars, such as the Peugeot 207, Ford Focus WRC, VW WRC and different Toyota models. He was also acting as factory team test co-pilot and has some 170 starts.
"Together we have been driving since spring of the 2017 EHRC Season and after leading the category 3 that year, we lost the P1 position in the last rally. So, until now, a P2 and a P3 for the Co-Drivers, and a P1 for the Teams."
Q3: What is your favourite rally on the 2021 EHRC calendar?
"Coming from Finland, the answer is not Lahti. We like fast, demanding technical tarmac roads.  Not putting them in an order, but Sanremo, Vltava, Austria and now also the new Swiss Rally. 
"Lahti is a different story. Our home Rally, and, unfortunately, the only one on gravel. We would very much like to have one rally also on Ice and Snow, like the Artic Rally.  Lahti is absolutely the no 1, but cannot be compared with the other rallies, which are driven on tarmac, with a completely different set up and tyres. Not to forget the roads and driving 'flat out over the crests and jumps.'.
"We think, to have more races on different roads surface, would give more focus on the title
'European Championship'.  Now it is more like European Champion on Tarmac, but we do not have any hard feelings against that."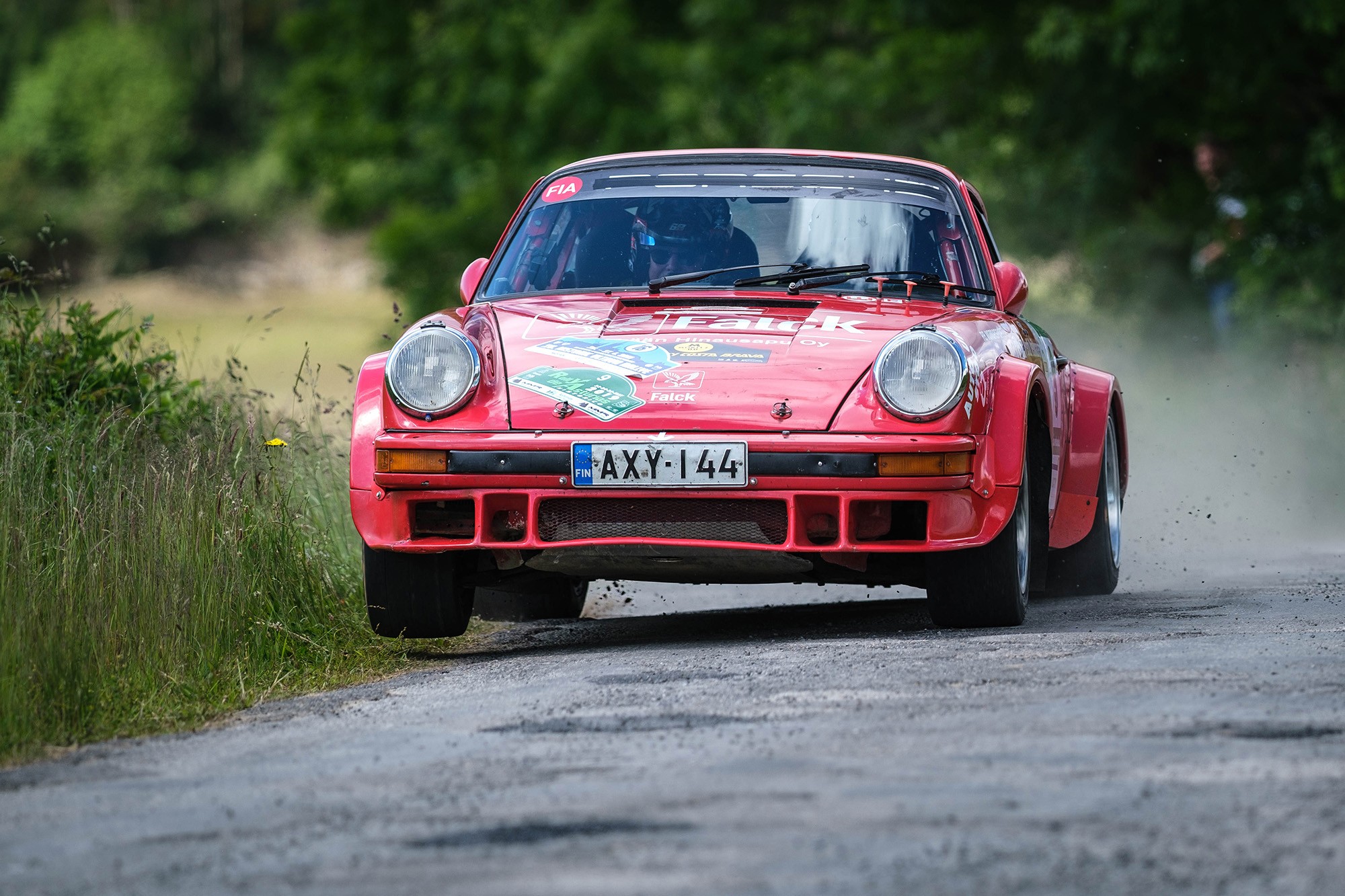 Q4: Tell us more about the Porsche 911 SC. When did you buy it and what is the history of the car?
"The Red Devil, the AXY – 144 was built 2009 from a civil car chassis after a really heavy accident with the previous Porsche in CZ / Vltava. The Red Devil has been built up by Pena, and his Team from zero.  Engine, gearbox, chassis, suspension.  Now, the Red Devil, with its chassis, has some 80 starts on it.
"We know, the Red Devil is a really fast car, but we were too often suffering on technical issues. We hope, this year will be a game changer."
Q5: Historic Rally Club Finland won the team title in 2019.  What was it like being part of the winning team? 
"We had 2019, and we are going to have in 2021, a fantastic Team. Great sportsmanship, fast and reliable drivers, well working service teams. A great mix of different cars in different categories, starting from a Volvo, 122 S, a tiny, but really fast, Toyota Starlet, BMWs and ending up in a more powerful Porsche. 
"We would also like to underline the excellent spirit among the different teams representing our Historic Rally Club Finland. We were unbeatable together and are going to be a really strong one also in 2021.  Let's drive for the white and blue national flag."