This page contains archived information and may not display perfectly
EHRC - 34 Cars Entered for the Rallye Weiz
Round 5 of the 2022 FIA European Historic Rally Championship will be the Rallye Weiz in Austria (14-16 July), which will feature 13 stages, covering 147km, in the foothills of the Styrian Alps. 34 cars will compete, with 26 eligible for championship points at the end of the event.  There are 9 cars entered in Category 4, 9 in Category 3, 10 in Category 2 and 6 in Category 1.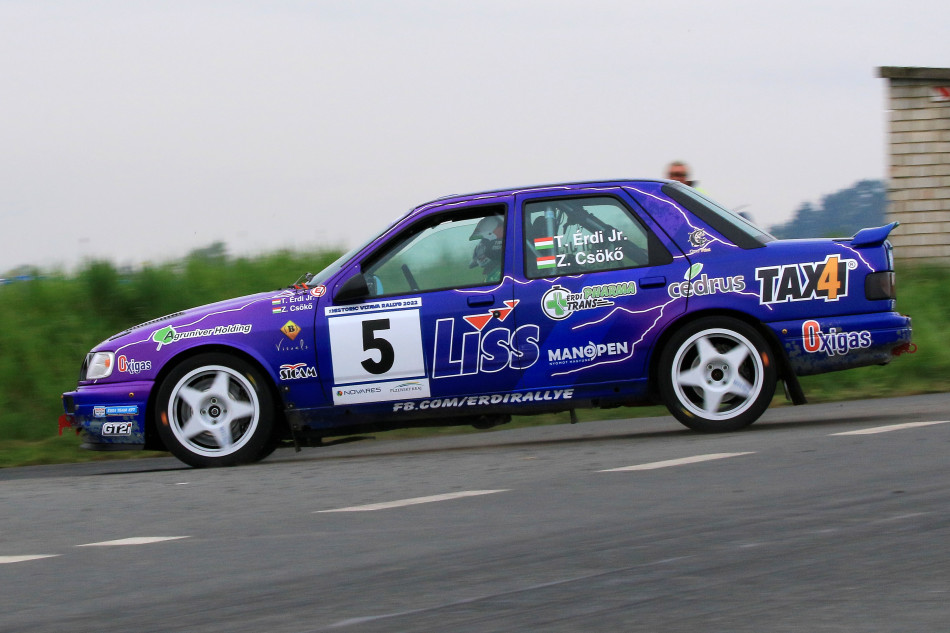 CATEGORY 4 (1982 - 1990)
Manufacturers in the category for cars homologated between 1982 and 1990 include BMW, Ford, Lancia, Opel, Skoda and Subaru. 
Ville Silvasti is currently leading the drivers' championship in the Lancia Rally 037, four points ahead of Mats Myrsell in the Ford Sierra RS Cosworth 4x4.  Round 4 winner Tibor Erdi Jnr moved up to third in the standings and is 15 points behind Silvasti in the Ford Sierra RS Cosworth 4x4.  
In the Co-drivers' championship Myrsell's teammate Esko Junttila is ahead of Risto Pietilainen in the Lancia 037 by 3 points, with Erdi's co-driver Zoltan Csoko moving into third place, 17 points behind Pietilainen. All three cars will be out on the stages in Austria.
Round 3 winners Marc Valliccioni and Yoann Raffaelli will be taking part in their second FIA EHRC event in Austria, with the Franco-Swiss team competing in their BMW M3 E30.
Jurgen Geist and Melanie Kalinke will be competing in their Opel Manta 400 after finishing third in the Czech Republic in May.  Hungary's Peter Magoss will be back out in his Subaru Legacy with a new co-driver Erika Kincses joining him in Austria.
Rallye du Chablais Category 2 winners Marty McCormack and Barney Mitchell are swapping their Ford Escort RS1800 for a BMW M3 E30 for the Rallye Weiz.  Czech duo Oldrich Kovarik and Marek Kapic will be competing in the EHRC for the second time this season in their Skoda Favorit 136L.
CATEGORY 3 (1976 – 1981)
Category 3 will see cars from Audi, Ferrari, Ford, Porsche, Volvo and VW competing in Austria.  
Despite retiring in Switzerland and finishing second in Hungary after a series of technical issues, 'Zippo' is still leading the drivers' championship by a healthy 21 points after four rounds in the Audi quattro.  The Italian will be joined by his 2021 co-champion Denis Piceno for the Rallye Weiz.
After taking the Category 3 win in Hungary and finishing third overall, Karl Wagner and Gerda Zauner will be looking for another category win on their home event in Weiz to close the gap in the championship. Fellow Austrians Michael and Elizabeth Putz are also competing in their Porsche 911 SC and hoping for another good run after finishing second in Spain in the opening round of the season.
The Volvo 244 of Germany's Siegfried and Renate Mayr will also be competing in Austria, as will the distinctive Ferrari 308 GTB and Andrew McAlpine and Andy Bull. 
Austria will have another representative in Category 3 as the red VW Golf 16S of Georg Reitsperger and Lana Sutlovic will be taking part in their home rally. Spain's Fernando Dameto and Guifre Pujol will be competing in their Porsche 911 SC.
While 'Zippo' is enjoying a healthy lead in the Drivers' Championship, the Co-Drivers' standings couldn't be closer, with the top four drivers split by three points.  Denis Piceno is leading on 37, with Gerda Zauner on 36, Renate Mayr on 35 and Elizabeth Putz on 34.  Andy Bull is also in the running, lying in 5th spot on 30 points.
CATEGORY 2 (1970 – 1975)
The Category for cars homologated in the early 1970s will see cars from BMW, Ford, Porsche, Volvo and VW entered for the Rallye Weiz.
Current Category 2 Championship leader Carlo Mylle will be back in action after electing to miss the rally in Hungary.  The Belgian driver will be joined by Olivier Laporte in the Porsche 911 RSR.  The winners of Category 2 on the 55th Mecsek Rallye, Pietro Corredig and Sonia Borghese will be in Austria with their BMW 2002 Tii.
Round 2 winners Paolo Pasutti and Giovanni Campeis will back on the championship trail in Austria in the Porsche 911 RS.
Austria will be represented on the Category 2 EHRC entry by the Ford Escort RS1800s of Richard and Lucie Ronay, while Will Graham will be joined by Michael Johnston in the Flexifly run Ford Escort RS1800 in Austria. 
CATGEORY 1 (1969 and earlier)
Category 1 will see an entry of six cars, which are all eligible for championship points in Austria.  The manufacturers represented for the category for cars homologated before the 1970s are Alfa Romeo, BMW, Ford, Porsche and Skoda.
Category 1 championship leaders Ernie and Karen Graham are back in the Ford Escort Twin Cam after missing Round 4 in Hungary.  The British couple are leading on 55 points, just one point ahead of the Porsche 911S of reigning champions Antonio Parisi and Giuseppe D'Angelo.
Carlo Fiorito and Marina Bertonasco are competing in Austria in their distinctive orange BMW 2002 Ti, while James Potter and Caroline McCormack are competing together for the second time this season in the Ford Cortina GT.
Czech teammates Oldrich Kovarik Snr and Josef Piza are back for the second time this season in the Class A2 Skoda Octavia Super and will be going head-to-Head with the 1961 Alfa Romeo Giulietta t.i. of Finland's Teuvo Hamalainen and Pirjo Rosberg.