EDRC - Tierp Arena and Alastaro next up
Rounds two and three of the FIA European Drag Racing Championship come in quick succession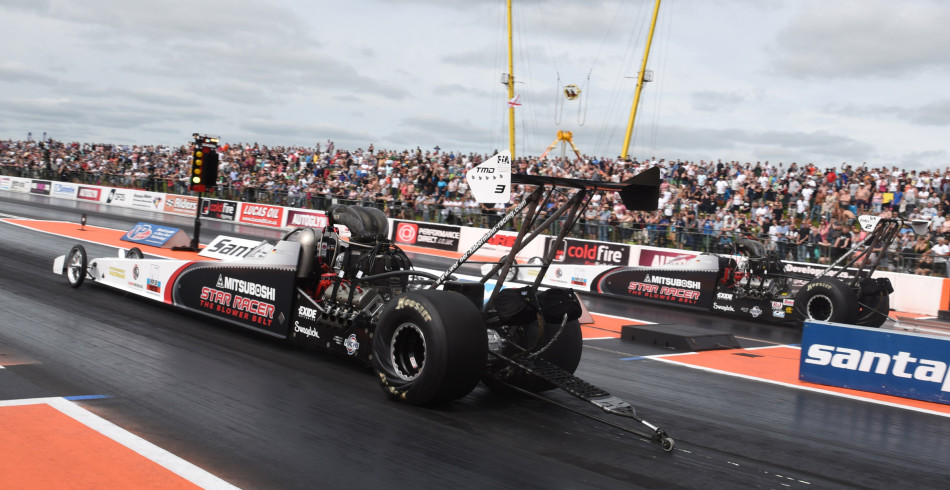 After the rain shortened start of the FIA European Drag Racing Championship at Santa Pod Raceway, the teams have a tight schedule ahead of them with Tierp and Alastaro coming in quick succession
The key players from Santa Pod will also be at Tierp and Alastaro, but will be joined by many new competitors who will start their season in northern Europe. With a great entry in all of the Pro classes, the FIA European Drag Racing Championship is set for an exciting few weeks.
Tierp Arena hosts the second round of the FIA European Drag Racing Championship. The state-of-the-art facility north of Stockholm has proved its quality and offered some of the best drag races ever seen in Europe.  The 2017 event promises to be no exception, and a spectacular, action packed programme can be expected. Qualifying for the Pro classes will start on Friday, June 16 and will continue on Saturday, June 17. Eliminations are scheduled for Sunday, June 18.
After a weekend without racing, and hopefully enough time to service their equipment, the FIA European Drag Racing Championship will have its third stop of the season at Alastaro Circuit, the dragstrip situated in the middle of the forest. The friendly atmosphere makes it a race that many teams are looking forward to, especially for the Finnish teams as it's the only race of the year they can meet their numerous fans and show them live what they are capable of. And with Finnish racers among the favourites in three classes, the fans have plenty to cheer for. Qualifying for the Alastaro event will start on Friday, June 30, and will continue on Saturday, July 1. Eliminations will start on Sunday, July 2.
Top Fuel
With seven entrants at the opening round, Top Fuel had a healthy entry at the opening round of the season. No fewer than ten combinations will try to qualify for an 8-car field over the coming events. The 'Santa Pod seven' are  on the entry list in Sweden too, and will be joined at Tierp by Stefan Gunnarsson, Björn Mårtensson and Timo Lehtimäki. Especially Gunnarsson surprised in August last year with stunning 3.9-second elapsed times. Urs/Jndia Erbacher are not entered at Alastaro, but at his home track Janne Ahonen will make a welcome return to the championship and the popular Finn will bring up the number of Top Fuelers to ten in Finland as well. Jndia Erbacher is on the Tierp entry list, and although Urs' 22-year-old daughter impressed during her licencing runs at Santa Pod, she couldn't complete the procedure, so it's likely that the multiple champion will drive the Erbacher Racing Top Fueler himself.
At Santa Pod Raceway the three Rune Fjeld Motorsport Top Fuelers impressed with quick 3.9-second runs, elapsed times which none of the other drivers were capable of. Liam Jones, Duncan Micallef and Antti Horto all advanced to the semi-finals and the three RFM drivers and crews will do everything they can to show that form again in Sweden and Finland. Jones enters the second race of the season as the leader in the championship and will do his very best to be in the lead at the half way point of the season too. Stig Neergaard was the only non-RFM driver in the semi-finals in England and is eager to win a race at Tierp. Anita Mäkelä will be out for revenge after her early exit at Santa Pod against Micallef. The Finnish fan favourite is always strong at Tierp, but has been less fortunate at her home race in Alastaro in recent years. Micke Kågered is the next driver who wants to improve on his Main Event performance, as the 2015 FIA European champion was also sidelined after the first round.
Top Methanol
With four Top Methanol Dragsters and five Top Methanol Funny Cars, the new combined FIA Top Methanol category will also have to qualify for an 8-car ladder at Tierp. The two Habermann brothers Dennis and Timo are the favourites, as the former FIA European champions both impressed with being both quick and consistent at Santa Pod. Reigning champion Jonny Lagg will try to bounce back after a difficult start of the season. Petteri Liimatainen, only 17 years old, impressed at Santa Pod with his licencing passes and the rookie brings the number of dragsters up to four. These four drivers will also be at Alastaro.
Sandro Bellio impressed and completed his licencing procedure at Santa Pod, so the 31-year-old son of Danny Bellio will have his first official FIA Top Methanol race at Tierp Arena. Ari Pietilä, last year's runner-up in the FIA TMFC championship, and Mikael Larsson will start their European tour at Tierp. The Finn has a new body on his Funny Car and the Swede updated his equipment as well, so both will try to reset their personal bests and score as many points as possible for the championship. From Germany, Jürgen Nagel is back at Tierp and will have his first outing of the season as well. Tierp Arena will also welcome Linn Engan Karlsen, as the young Norwegian racer will make her FIA championship debut behind the wheel of the ex-Arvid Grødem Ford Mustang. It's great to see three new young drivers entering this tough high level competition.
Nagel and Karlsen will not be at Alastaro and although Bellio is on the Finnish entry list, we are almost sure he will skip the Finnish race due to business commitments in the Bellio family shop at home. Johnny Oksa had the intention to do the Alastaro race, but the name of the reigning FIA TMFC champion is not on the entry list, so maybe the car (with a new body) is not ready and the popular Finn will only be at the track as a spectator.
Pro Stock
With the absence of 10-time and reigning champion Jimmy Ålund, Bengt Ljungdahl was the clear favourite at Santa Pod. Last year's runner-up lived up to that expectations with a number one qualifying position and a first round win at The Main Event. But the rest of the pack was not far behind and their mutual differences were marginal. Former champion Thomas Lindström, a surprising Stefan Ernryd, Michael Malmgren, Magnus Petersson and Simon Gustafsson were all closely matched. All five were separated by 0.11 seconds, and number seven qualifier and first time Santa Pod visitor Robin Norén was also not far behind. From the top four qualifiers, only Ernryd lost his first round at Santa Pod due to a poor reaction time. The Dico by Belgetti driver will be out for revenge. At Tierp, Hannu Kalliomäki, Tommy  Leindahl, Tommy Lundström, Jan Palmqvist, Sampsa Palos, Christian Sagelv and the extremely quick Richard  Sundblom will join the field, and with champion Jimmy Ålund also back in action, this will bring the number of cars up to fifteen. All fifteen combinations will also be at Alastaro, so we will probably be witness of the two best FIA Pro Stock races ever seen in Europe.
Pro Modified
As at Santa Pod, with 20 entrants from Sweden, Switzerland, Denmark, The Netherlands, Germany and Kuwait, Pro Modified will be the largest Pro class at Tierp, but also the category with the most significant changes compared to the entry list of round one. None on the British Pro Mods will be present at Tierp or Alastaro, but they will be replaced by a large number of extremely quick Swedish Pro Mods. With Jimmy Ålund (who will race in both Pro Mod and Pro Stock in Sweden and Finland), Bruno Bader and David Vegter the top three qualifiers from Santa Pod will be at Tierp, and the same can be said about Norbert Kuno, Fredrik Fagerström and all the way from Kuwait, Hussain Al Shammari. Michael Gullqvist had some problems in qualifying at Santa Pod, but the reigning champion bounced back with 5.9-second runs in eliminations and is always a favourite at Tierp. Håkan Persson and Michel Tooren will try to improve on their Santa Pod performance and will do the full FIA European Championship tour for the first time this season.
At Tierp there are some quick Swedish combinations that can challenge the championship dreams of above mentioned drivers. Åke Persson, for instance, is able to run 5.8 seconds with the Jonnie Lindberg tuned Camaro. Tierp will also see the welcome return of Roger Johansson with his brand new Mustang. From Denmark comes Kim Kristiansen with the ex-Marc Meihuizen Pontiac Firebird, a very competitive car. After the Dane had to cancel his Santa Pod entry, he will have his first FIA race of this season at Tierp. Roland Bolleter is the second Swiss driver at Tierp and Jan Bränvall, Jan Ericsson, Micke Johansson, Michael Joneskog, Matts Logren and Rolf Simonsson bring up the number of Swedish entrants to thirteen.
Kuno and Al Shammari will not travel to Alastaro and so far Jari Paren is the only Finnish driver at the Alastaro entry list that shows 16 names at the time of publication of this article.