This page contains archived information and may not display perfectly
EDRC - FIA European Drag Racing Championship heads to Kauhava for the first time
After events at Santa Pod Raceway and Tierp Arena, round three of the FIA European Drag Racing Championship is set to take place at a brand new dragstrip in Kauhava, Finland, this coming weekend.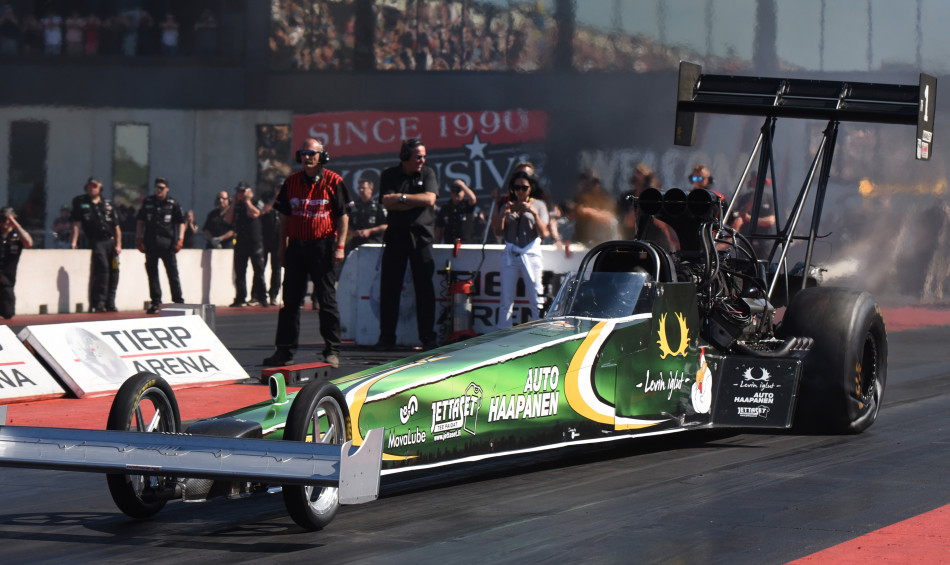 In Top Fuel, Anita Mäkelä won the first two race meetings of the season, while Jimmy Ålund took both victories in Pro Stock. Both enjoy a reasonable advantage in the standings in their respective categories.
Jonny Lagg and Jan Ericsson head to Finland leading in Top Methanol and Pro Modified respectively but in these two categories the pursuers are not far behind.
Ladies first again?
Anita Mäkelä is in a class of her own in the Top Fuel category. The reigning champion was victorious at both Santa Pod and Tierp. This, together with her two triumphs from the previous season, makes her unbeaten since August last year.
The local ace has never been lucky at her home race in Alastaro, but with the change of host venue for the Finnish round of the championship she will surely hope for a change of fortunes.
Maja Udtian, currently an excellent second in the points, is expected to be Mäkelä's closest competition in Finland. The 21-year-old finished a sensational second at Santa Pod and reached the semifinals at Tierp.
Third in the standings, Micke Kågeredhasn't entered the event and is expected to miss the Finnish round of the FIA EDRC.
This should play into the hand of Liam Jones, who's currently fourth overall. The British racer has been one of the quickest drivers so far this season. Jones claimed number one spot in qualifying at Tierp, but didn't have luck on his side in the eliminations. If his fortunes turn at Kauhava, he still can be a force to be reckoned within the title race.
Three against two in Top Methanol
With three Funny Cars and two dragsters on the entry list, for the first time this season there will be more Funny Cars than dragsters in the Top Methanol category.
Sandro Bellio won in England with his family-run Monte Carlo, while Jonny Lagg was victorious in his dragster at Tierp. The Belgian and the Swede are separated by only two points in the championship and all eyes will be on the fight between the two in Finland.
Daniel Jedborn, who impressed in his first-ever Top Methanol outing at Tierp, should also be in contention, while Finnish racers Johnny Oksa and Ari Pietilä, both competing for the first time this season, will try to give the home crowd something to cheer for.
Who can beat Jimmy Ålund?
Ten-time FIA European Pro Stock title-winner Jimmy Ålund started off his season with victories in England and Sweden and is leading the title race with a 49-point advantage over Michael Malmgren.
The number two driver in the championship has exceeded expectation so far this season, claiming first qualifying positions at Santa Pod and Tierp and finishing as a runner-up on both occasions, yet, a win has remained elusive so far.
Third in the points, Bengt Ljungdahl had an early exit in Tierp, but the reigning champion will be back fighting to keep his championship dream alive.
Another interesting battle should take place between fourth in the standings, Robin Norén, and fifth-placed Stefan Ernryd, who are separated by only a point.
A close fight in Pro Modified
Two race meeting held so far have shown how extremely competitive Pro Modified has been this season. With twelve entrants, the category doesn't have the numbers we saw at other events, but with ten drivers from the top twelve in the championship, it should once again be close in qualifying and eliminations.
Jan Ericsson, third in the championship last year, proved his speed and consistency with a semifinal finish in England and a win in Sweden. Ericsson leads the championship with a 31-point advantage over multiple champion Michael Gullqvist.
The Swede claimed the win at Santa Pod, but was defeated in the quarterfinals at his home track and will be out for revenge in Finland. Mats Eriksson in third is only seven points short of Gullqvist and is closely followed by David Vegter.
Reigning champion Jimmy Ålund, has been suffering from mechanical issues so far this season. In order to keep himself in the title race, Ålund will seek a win, trying to repeat his unique Pro Stock and Pro Modified double victory achieved in Alastaro last year.
After Kauhava the FIA European Drag Racing Championship will be the halfway point of the season. In August the title race will continue, visiting Hockenheim first and to then moving on to Tierp. The season will find its traditional conclusion with the European Finals held at Santa Pod.