This page contains archived information and may not display perfectly
Driven by passion and friendship
The winners of the 2015 FIA Historic Championships were celebrated on February 20th in Paris, just a stone's throw from the FIA Headquarters and the Champs-Elysées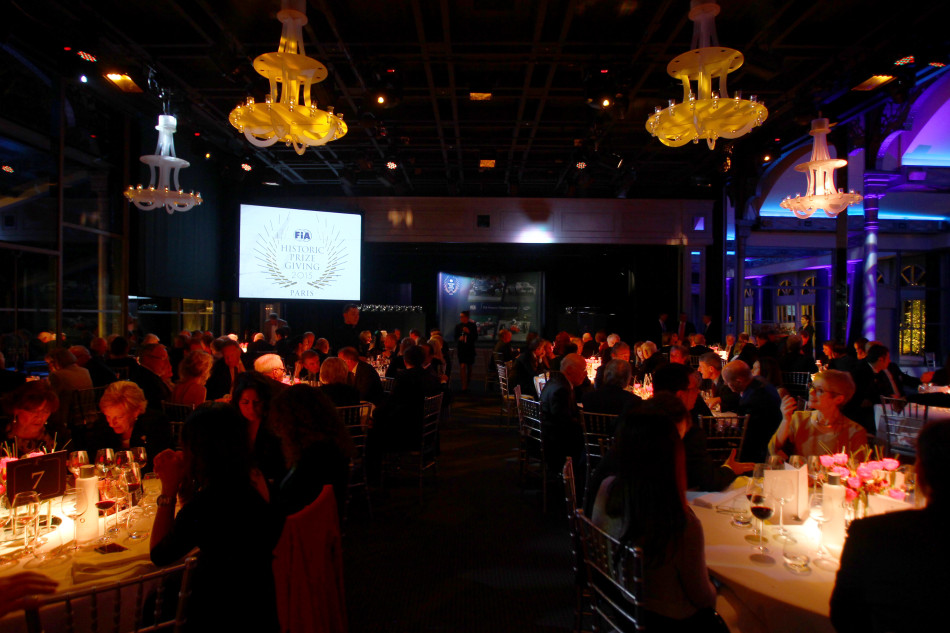 As is the custom, the winners of the FIA Historic Championships and Trophies, and the runners-up, have attended their very own prize-giving to crown their 2015 season, even though some of them – the winners of the Formula One Masters Historic Championship – had already been honoured in December last year, during the grand FIA Prize-Giving Gala.
200 people attended the historic competitions ceremony at the Pavillon Gabriel on Saturday, 20 February, where some 40 trophies were awarded to the top players from 2015. All the winners were – as we can imagine – delighted to be in Paris to receive this honour, but were equally pleased to meet up with friends and rivals from the past season and to share a pleasant moment in one another's company. Most of the FIA Historic Championships are such that friendship and shared passion are just as important as the competition itself, often even taking precedence over the final result. This mutual respect was particularly noticeable when the awards were presented for the FIA Trophy for Historic Regularity Rallies, where it was impossible to separate the two best co-drivers – Joseph Lambert from Luxemburg and Marco Maria Calegari from Monaco – who finished their 2015 season in a tie. On the drivers' side, the Italian Paolo Marcattilj (Porsche 911) won for the second year running, but only by a hair against Christian Crucifix (Ford Cortina Lotus) from Luxemburg. 
Often, the FIA Lurani Trophy for Formula Junior Cars also involves an almost family atmosphere and closely fought battles on the track. In addition to winning the D2 category at the wheel of his Lotus 20, formerly driven by Jo Siffert, Switzerland's Bruno Weibel came top of the general classification of the Lurani Trophy, all categories taken together. "This was my first season in historic racing," explained the Swiss, speaking at the gathering in Paris. "I competed in "modern" racing for a long time, but in 2015 I discovered a very different universe, very friendly and very competitive at the same time. In these circumstances, winning this title came as a huge surprise, which has made me very happy. And I'm eager to continue the adventure!" The other categories in the Lurani Trophy were won by Luc Denève from Belgium (C1), the Italian Manfredo Rossi di Montelera (E1), New Zealand's Tony Olisoff (B1), Daniele Salodini from Italy (A), and Great Britain's Malcolm Wishart (E2), John Lord (C2) and Duncan Rabagliati (B2). 
The three historic Championships run on Circuits were won by Nick Padmore (F1, classes Stewart & Fittipaldi), Andy Wolfe (F1, classes Head & Lauda) and Andy Newall (Sports Cars).
No overall Champion's title is awarded in the FIA European Championship for Historic Sporting Rallies, given the vast age range of the cars taking part. In this championship, the drivers and co-drivers are split into four different categories, each with its own classification. Finland's Sverre Norrgard threw everything he had into the battle in 2015, to the point of using two different cars (a BMW 2002 Ti and a Volvo 142) depending on the type of terrain concerned, and was rewarded with a first personal title, obtained in Category 1 (pre-1969 cars). In 2014, he had shared a title with his team mates from the Historic Rally Club Finland team in the Teams' Trophy. In 2015, this same trophy was won by the members of the Italian Rododendri Historic Rally team. In Category 2 (cars from 1970 to 1975), the Porsche Carrera RS and RSR cars took the leading roles. Already Champion in 2012 and 2013, Sweden's Mats Myrsell added a third FIA title to his record. A third personal title also crowned the 2015 campaign of the Italian "Pedro", who won in Category 4 (cars from 1982 to 1990) thanks to the points scored with both his Lancia Delta Integrale Gr.A and his Lancia Rally 037 Gr.B. As for Category 3, this was won by the Italian Carlo Marenzana. Five of the eleven co-drivers honoured during the prize-giving were women, namely Reeta Hämälainen (2nd in Category 1), Ingrid Johnsen (2nd in Category 2), Edit Mekler-Miko (3rd in Category 2), Pirjo Rosberg (3rd in Category 1) and Ildiko Bazso (3rd in Category 3).
The FIA Historic Hill Climb Championship saw certain drivers achieving their habitual victories, with Petr Tykal from the Czech Republic winning his 9th consecutive title in Category 5 and Uberto Bonucci from Italy his 4th in Category 4. Inversely, Italy's Guido Vivalda (Porsche 911, Category 2) and Austria's Christian Holzer (Steyer Puch 660cc, Category 1) scored their first FIA international title in 2015. Of all the categories, the most undecided was Category 3, in which the two main players – the Frenchman Jean-Marie Alméras (Porsche 935) and the Czech Jiri Kubicek (Skoda 130 RS) – ended their European campaign in a tie. The decision, explicitly provided for by the Championship regulations, went in favour of the Czech, as his car was older than that of his rival.
Finishing in a festive and good-humoured spirit, this 2015 prize-giving heralds a promising 2016 season, which will begin on 11 March for rallies (Costa Brava/ESP), on 10 April for circuits (Zolder/BEL) and on 24 April for hill climb (Rechbergrennen/AUT).