Deliberations underway for the FIA Girls on Track - Rising Stars drivers…
The four FIA Girls on Track - Rising Stars drivers taking part in the final and decisive Scouting Camp have now completed their five-day training and assessment at the world-famous Ferrari Driver Academy.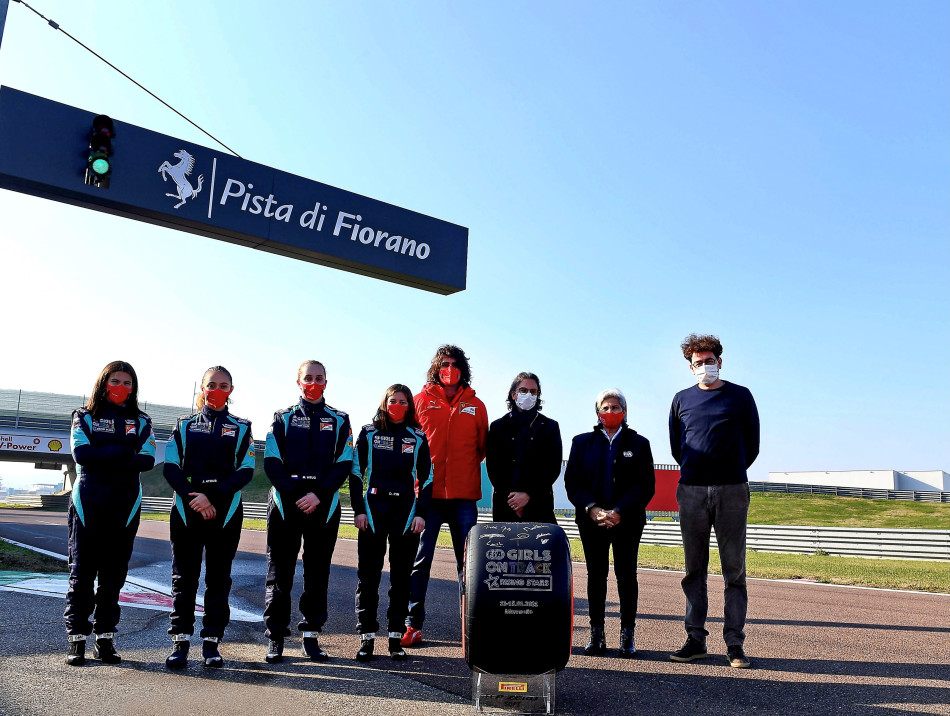 The crucial deliberations over who will potentially become the first-ever female student to secure a one-year contract at the Academy and a full season in a 2021 FIA Formula 4 Championship under the management of Scuderia Ferrari is now underway. Equipped with data and telemetry, the Ferrari Driver Academy experts will now analyse the performance and progression of each of the four drivers ahead of a final decision that will have a life-changing impact on the career of one young racer.
The announcement, jointly hosted by Michèle Mouton, and Ferrari's Laurent Mekies and Marco Matassa, and with all four drivers, will take place LIVE on 22 January at 16:30 CET here: https://www.facebook.com/FIAWomenInMotorsport/posts/778760536063282
"This has been an incredible week for the drivers and an experience they will remember for the rest of their lives," said Michèle Mouton, President of the FIA Women in Motorsport Commission. "All four have shown great motivation and progression over the recent months and should feel proud of their achievements. The knowledge they will take home is invaluable to further developing their careers, both on and off the track, and I wish them all much success."
After months of selection, assessment, karting and Formula 4 training camps, this final week has been another demanding one for the youngsters who have undergone a relentless programme of off-track tests, workshops and training sessions, rounded out today (January 15) with two days of Formula 4 track time on the Fiorano circuit. For all four drivers it has been a unique once-in-a-lifetime opportunity to immerse themselves in the Ferrari family and benefit from an immeasurable wealth of knowledge and tutoring from the most iconic team in the sport and its driver training academy.
The drivers also had an unexpected visit from Scuderia Ferrari's Formula One star, Carlos Sainz. The Spaniard, who was at the factory for his first meeting with his new car crew, was keen to meet the youngsters and took time to go to the Fiorano circuit  to lend his support and encouragement ahead of his own preparations for the forthcoming season.
To commemorate the first edition of FIA Girls on Track - Rising Stars, Scuderia Ferrari Team Principal, Mattia Binotto, was also presented with a unique full size, branded version of the Pirelli Pole Position Award, signed by Michèle Mouton and all four drivers, to mark the collaboration and commitment by the FIA, Ferrari and Pirelli to support young talent and equal opportunities.
"For Pirelli it's a great pleasure to back this initiative because it's absolutely aligned with our tradition of supporting young driver programmes, which is something we have been working on together with the FIA for many years," said Mario Isola, Head of F1 and Car Racing at tyre partner, Pirelli. "With the FIA Girls on Track - Rising Stars programme, we share a common goal and mission with the FIA and Ferrari: promoting the progression of young women in motor sport, to support equal rights and opportunities on track as well as in everyday life. To celebrate the start of this ground-breaking programme, we have created a dedicated full size version of our Pirelli Pole Position Award - the wind tunnel tyre given to the Formula 1 driver setting pole position at each grand prix - which has been signed by all the girls taking part."
By partnering with Scuderia Ferrari and its Academy for this four-year programme, the FIA Women in Motorsport Commission has been able to develop a strong and long-term pathway to support young females on their motor sport journey. Now, just one driver - selected from a global search among the FIA's 145 national sporting authorities - is set to make history by becoming the first-ever female student of the Academy following the first edition of the FIA Girls on Track - Rising Stars.