Daniil Kvyat scores his maiden F3 victory!
Daniil Kvyat converted his fifth pole position of the season into his maiden victory in the FIA Formula 3 European Championship. The Red Bull Junior Team driver saw the flag in front of Felix Rosenqvist and Alex Lynn.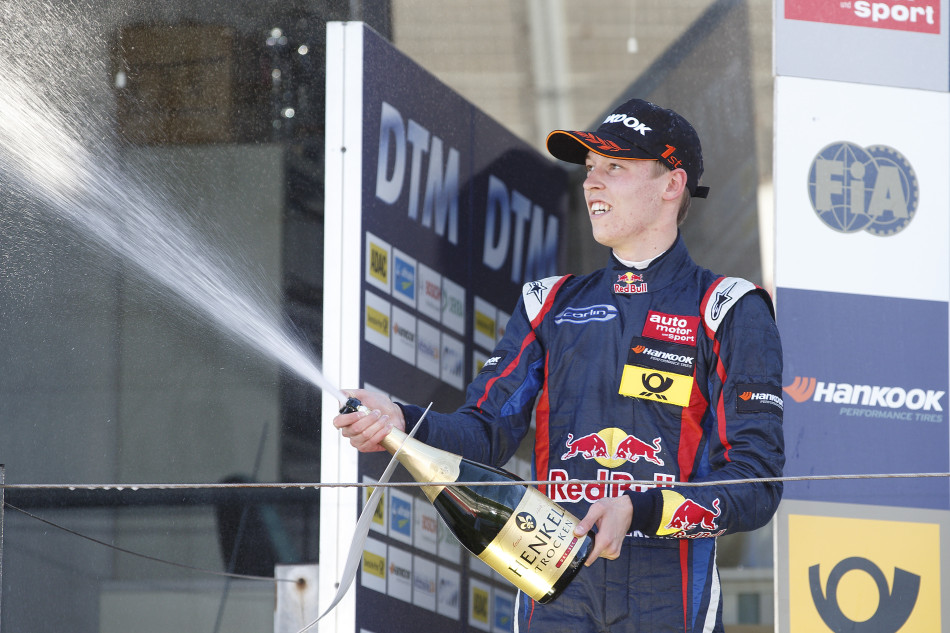 Since he arrived in the championship during the season Daniil Kvyat (Carlin) has always been among the front-runners. He has been very quick in qualifying setting five pole positions, and the young Russian driver who has just turned nineteen, was determined to win at least once in this year's FIA Formula 3 European Championship. 
At a sunny Zandvoort the Red Bull Junior Team driver made a perfect start and led the race from start to finish despite two safety car periods. The emotion on his face was palpable and said just how important this victory is to him. "Winning at least one race in the FIA Formula 3 European Championship was obviously one of my aims this season," Kvyat acknowledged. "It's a success that's even more crucial than it looks as a victory at this time of the year when the big decisions are being taken for next season falls at just the right moment."
"Winning a race in such a high-level championship represents a lot in my opinion and even more for the people following my career. I have to thank the Carlin team as I've learned a lot with them. Formula 3 is a branch of the sport in which we absorb very important information in the technical area, so it's great to be racing with such a team. Now I've become a member of the very select club of Red Bull drivers who've won a race in Formula 3 with Carlin, in particular Daniel Ricciardo and Jean-Eric Vergne. If I can follow in their footsteps one day that'll suit me down to the ground!" 
Behind the Russian Felix Rosenqvist (kftzeile24 Mücke Motorsport) impressed with a perfect overtaking move on Alex Lynn to take second place after the first safety car period. Kvyat is not eligible to score points as he hasn't been entered for the full season, so Rosenqvist pocketed twenty-five and pulled back 13 points on Raffaele Marciello (Prema Powerteam) who finished fifth. The two youngsters are now separated by 59.5 points and the rest of the weekend is looking good for the Swede. 
"I started on worn tyres this morning so I was expected to suffer a bit," explained Rosenqvist. "My first opportunity to overtake Alex Lynn was at the start, but he fought me off. After the first safety car period I came out of the last corner well placed, and I took advantage of the slipstreaming and it paid off. I've pulled back points on Marciello, which is very positive. What's even better is that I'm starting on pole for the next two races on new rubber!" 
Alex Lynn rounded out the first podium of the weekend from Jordan King (4th) Raffaele Marciello, Harry Tincknell (Carlin), Lucas Auer (Prema Powerteam), Nicholas Latifi (Carlin), Tom Blomqvist (Eurointernational) and Sven Müller (Van Amersfoort Racing).