This page contains archived information and may not display perfectly
Cross-Country - Overdrive Racing's Yazeed Al-Rajhi seals Baja World Cup Drivers' title in Dubai
- Polish rookie Eryk Goczal claims shock victory in Dubai International Baja
- Female driver Aliyyah Koloc wins FIA Middle East Cup Drivers' and T3 Championships
- Cristiano de Sousa Batista pips Meshari Al-Thefiri to FIA World Cup T4 title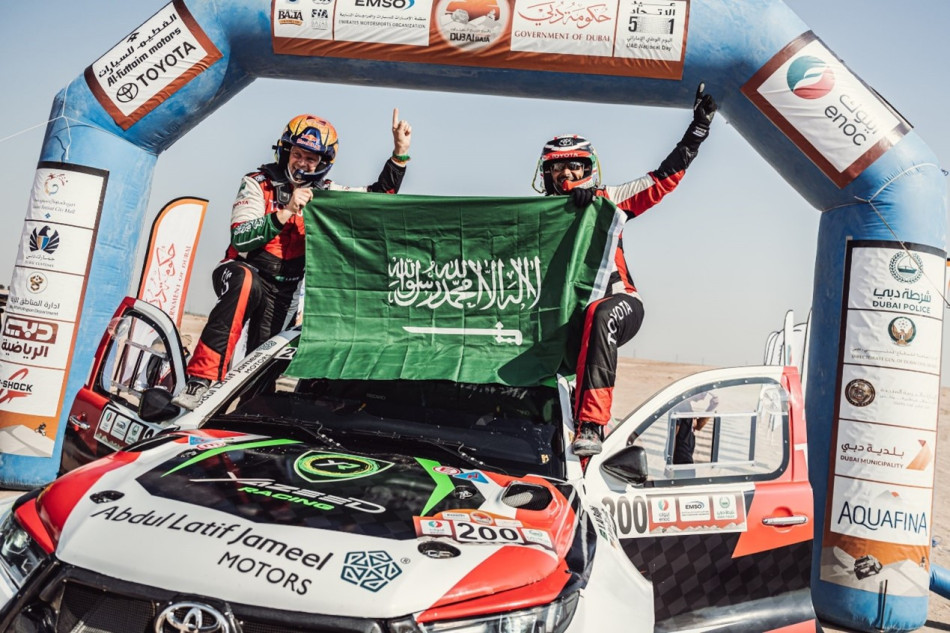 Saudi Arabia's Yazeed Al-Rajhi confirmed victory (subject to final FIA ratification) in the FIA World Cup for Cross-Country Bajas Drivers' Championship by finishing fourth in the two-day Dubai International Baja and first of the registered contenders.
The Saudi had arrived in the UAE with a 10-point cushion over Czech rival Miroslav Zapletal and he overcame first-day motion sickness in the myriads of small rolling sand dunes to seal the title with German navigator Dirk von Zitzewitz in an Overdrive Racing Toyota Hilux.
Al-Rajhi said: "Today, we recover some time and everything was going well. We are happy to win the FIA World Cup. That was the most important goal. This season, we had a lot of race unlucky but we are finally lucky."
The South Racing Can-Am operation built and ran three Maverick XRS Turbos for the Energylandia Rally Team, with the Polish trio of Marek, Michal and Eryk Goczal driving the cars alongside their respective navigators, Pole Maciej Marton, Frenchman François Cazalet and Spaniard Oriol Mena. 
Although they were not registered for FIA World or Middle East Cup points, the Poles dominated the overall results and the T4 category, with young Eryk finishing 49 seconds ahead on his desert debut to claim outright victory from Michal and Marek Goczal. Remarkably, the trio finished first, second and third in the overall classification. 
A triumphant Eryk Goczal said: "This was the first stages of my life. I must say I was a little bit scared to start. Everybody say it was going to be really difficult. Nobody said it would be so fun. We did a great job and no margin of mistake in the navigation. This is just preparation for the Dakar..."
Overdrive Racing ran a pair of non-registered Toyota Hiluxes for Brazil's Lucas Moraes and Dutchman Erik van Loon. Moraes finished fifth in the overall rankings, 1min 07sec behind Al-Rajhi, with his new former Dakar-winning German co-driver Timo Gottschalk. Van Loon was 24th after steering arm issues.
Moraes said: "This was my first time here and the first time for me racing in proper desert and dunes. It was a great experience. To be honest, I never thought that I would be fighting for the victory here. The idea was to come and learn, enjoy and get experience for Dakar. We managed to win the first stage and started to get going. Today was a little bit tricky for me. I got motion sickness twice and had to stop and recover a little for a couple of minutes. The goal was to finish and we did that and now we focus on Dakar."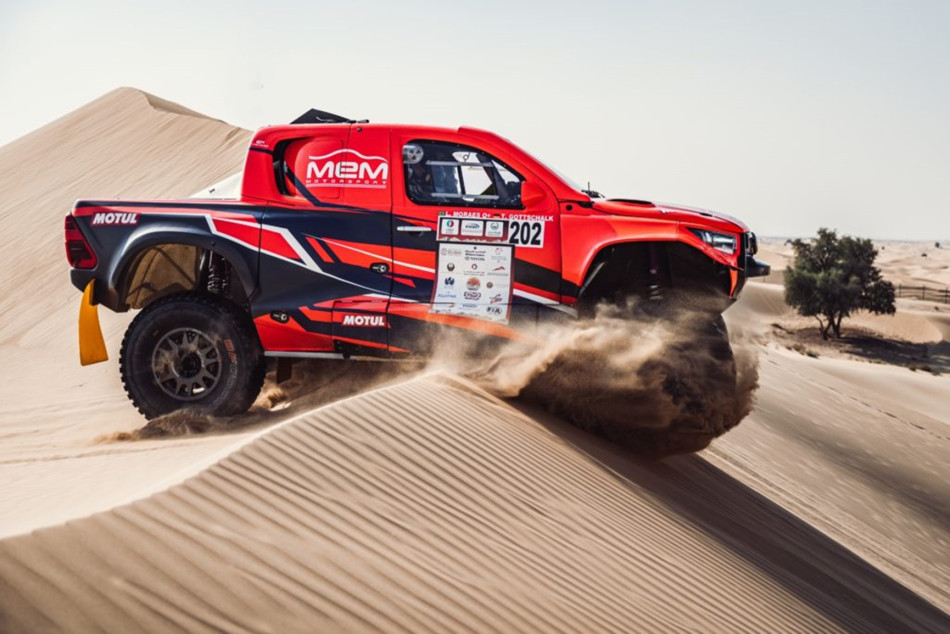 Zapletal guided his Ford F-150 Evo to sixth place and confirmed the runner-up spot in the championship. His Slovakian co-driver Marek Sykora had already been crowned Co-drivers' Champion.
Sykora said: "It was a difficult event with small dunes. Before Dubai, I was the World Champion. It was a nice year for me and the first success like this for Slovakia."
Spaniard Fernando Alvarez had already won the FIA T3 Championship title in Saudi Arabia and finishing seventh in the overall rankings also earned the Can-Am driver third in the Drivers' Championship behind Al-Rajhi and Zapletal.
He said: "It was a good final day without any problems and we are third overall in all the cars in the championship. We are really happy for this. Now we go back home and wait for the Dakar. I go back to Argentina and then all the way back to Bologna for the FIA ceremony to collect my trophy!"
Cristiano De Sousa Batista and Meshari Al-Thefiri were separated by just one point at the start of the final event. Subject to final FIA ratification, De Sousa claimed the title when dropped scores came into operation.  Al-Thefiri and his co-driver Oriol Vidal managed to finish fourth in T4 and claim additional points but were not able to displace their sixth-placed rival from the top of the standings.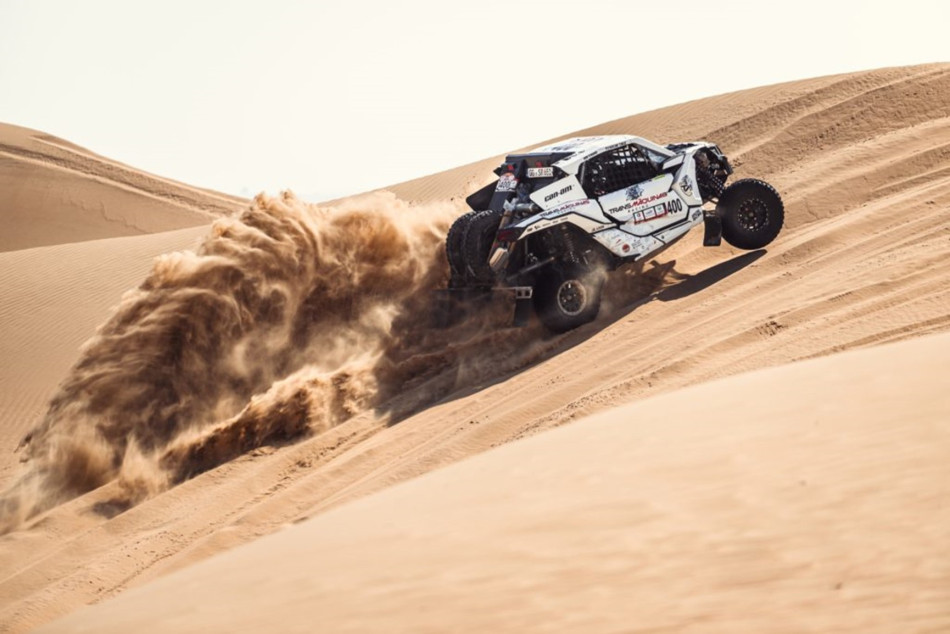 Dutchman Kees Koolen came home in fifth with fellow countryman Wouter Rosegaar reading the road book and secured third in the T4 Championship. Spanish team-mate Eduard Pons was plagued by technical issues on his Can-Am on the second day.
Saudi Arabian female driver Dania Akeel confirmed second in the T3 Championship with ninth overall and second in T3 in Dubai. South Racing team-mates, Mashael Al-Obaidan and Dutch female Anya Van Loon, also finished in their Can-Ams.
Aliyyah Koloc secured both the Drivers' and T3 Championships in the FIA Middle East Cup for Cross-Country Bajas (subject to FIA ratification) at the helm of her Buggyra Racing Can-Am DV21. The Emirati suffered her own fair share of problems in the UAE but serious delays for title rival Hamad Al-Harbi played into her hands and enabled her to win both titles. Koloc's French navigator Stéphane Duplé sealed the Co-drivers' Championship.
Koloc said: "A lot of dunes but we made it to the finish after a big crash on the first day. I managed to keep the lead in the championship to the end. The road book was not very clear and we crashed in some rocks on day one but we win the Middle East Cup."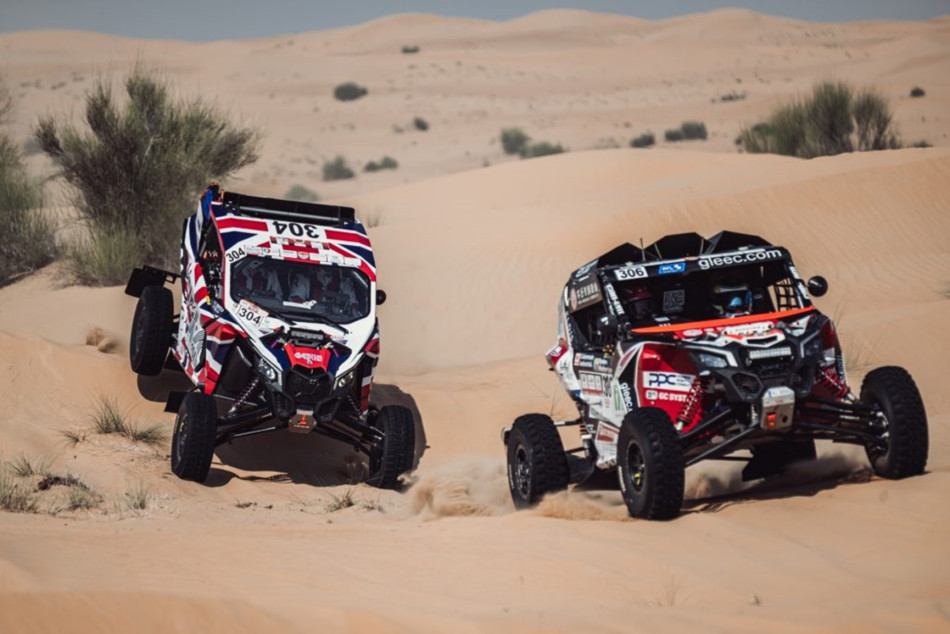 Dubai-based Briton Thomas Bell (Can-Am) came home 11th overall, third in T3 and claimed maximum FIA Middle East points on his home event.
Italian female racer Camelia Liparoti (Yamaha YXZ 1000R) secured the FIA Middle East Cup's T4 title (subject to FIA ratification) with a strong finish, her cause helped when Lithuanian rival Egidijus Valeiša (SRT Can-Am) retired with mechanical issues on day one.
A delighted Liparoti said: "We made it. After so many adventures this year I can say I am the T4 champion of the Middle East Cup with the stock Yamaha, not the prototype. I am super proud, not only to have finished the Middle East Cup, but to have won it."
2022 Dubai International Baja – final result:
| | |
| --- | --- |
| 1. Eryk Goczal (POL)/Oriol Mena (ESP) Can-Am Maverick XRS Turbo (T4) | 6hr 58min 44sec |
| 2. Michal Goczal (POL)/François Cazalet (FRA) Can-Am Maverick XRS Turbo (T4) | 6hr 59min 33sec |
| 3. Marek Goczal (POL)/Maciej Marton (POL) Can-Am Maverick XRS Turbo (T4) | 7hr 00min 13sec  |
| 4. Yazeed Al-Rajhi (SAU)/Dirk von Zitzewitz (DEU) Toyota Hilux Overdrive | 7hr 02min 32sec |
| 5. Lucas Moraes (BRA)/Timo Gottschalk (DEU) Toyota Hilux Overdrive | 7hr 03min 39sec |
| 6. Miroslav Zapletal (CZE)/Marek Sykora (SVK) Ford F150 Evo | 7hr 35min 08sec |
| 7. Fernando Alvarez (ESP)/Xavier Panseri (FRA) Can-Am Maverick X3 (T3) | 7hr 35min 30sec |
| 8. Meshari Al-Thefiri (KWT)/Oriol Vidal (ESP) Can-Am Maverick XRS Turbo (T4) | 7hr 35min 48sec |
| 9. Dania Akeel (SAU)/Sergio Lafuente (URY) Can-Am Maverick X3 (T3) | 7hr 45min 15sec |
| 10. Kees Koolen (NLD)/Wouter Rosegaar (NLD) Can-Am Maverick XRS Turbo (T4) | 7hr 45min 31sec |
| T1 unless stated |   |