Cross-Country - Local drivers dominate entry at Baja World Cup in Poland
2023 FIA World Cup for Cross-Country Bajas, round 5 of 8 - Columna Medica Baja Poland (August 24-27)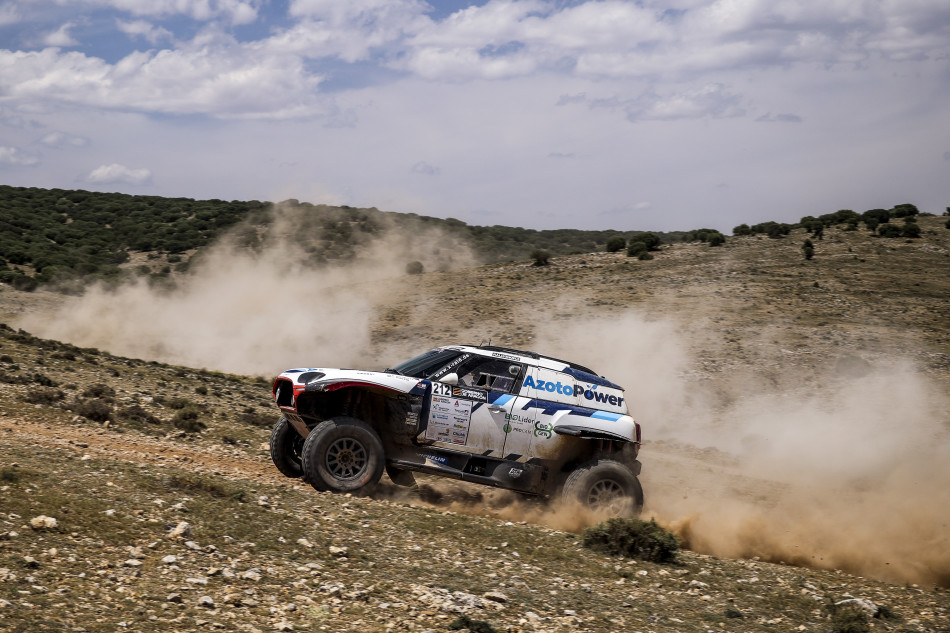 A 21-car FIA field will tackle the Columna Medica Baja Poland, round five of the FIA World Cup for Cross-Country Bajas, on August 25th-27th. 
Runaway series leader Nasser Saleh Al-Attiyah, Juan Cruz Yacopini, Yazeed Al-Rajhi and João Ferreira are all competing on Desafio Ruta 40, round four of the FIA World Rally-Raid Championship (W2RC) in Argentina this week and that has opened the door for the likes of Polish veteran Krzyzstof Holowczyc to close the gap at the top of the Drivers' Championship. 
Fresh from winning the recent Hungarian Baja round of the FIA European Cup, the record-breaking eight-time winner of his home Baja holds fifth in the Drivers' Championship and again teams up with co-driver Lukasz Kurzeja in one of two X-Raid Mini JCW Team cars.  Michal Maluszyński and Julita Maluszyńska crew the second Mini. 
The top seed on the demanding Polish event is the Czech veteran Miroslav Zapletal (Ford F-150 Evo), who finished second at Baja Poland in 2012 and third in 2009 and 2013. 
Additional competition in the nine-strong T1 group comes from the Toyota Hiluxes of Poland's Wlodimierz Grajek, Tomasz Baranowski and Magdalana Zajac, Czech driver František Brutovsky in his Ming Racing Sports Ford F150-Evo and the Dutch duo of Ronald Schooldermann (Mitsubishi) and Rik van den Brink (Borgward).
Al-Thefiri leads nail-biting T3 tussle
The battle for honours in the FIA World Cup's T3 category for lightweight prototype cross-country machines is much closer and the leading four title protagonists are among the six entrants in Poland.
Kuwait's Meshari Al-Thefiri currently holds a slender two-point cushion over Brazil's Otavio Sousa in the Drivers' Championship at the helm of his SRT Can-Am Maverick X3. 
Sousa is the first of three drivers inside the top four who are representing the South Racing Can-Am Team. He heads to Szczecin with a seven-point lead over team-mate Fernando Alvarez and a further nine-point advantage over Dania Akeel of Saudi Arabia in the third of the South Racing Can-Ams. 
The T3 field is completed by Piotr and Karolina Otko in their Marbet Lipsko Rally Team  Can-Am and Lithuania's Tomas Mickus and Darius Leskauskas. 
Leader Sousa Batista heads T4 field in Poland
Brazil's Cristiano de Sousa Batista arrives in northern Poland with a comfortable 31-point advantage in the FIA T4 category in his South Racing Can-Am Maverick XRS Turbo RR. He again teams up with Portuguese co-driver Fausto Moto.
Only two of his title rivals have made the trip to Baja Poland: Frenchman Jeremie Warnia is his closest rival in a Polaris RZR Pro R Sport and Spaniard Ricardo Ramilo Suarez holds fourth in the rankings and has entered the event in his Can-Am. 
Patrycja Brochocka and Krzysztof Wicentowicz have entered a pair of Can-Ams for the host nation and Spain's Francisco Rodriguez Hernandez rounds off the six-strong field in a Yamaha YXZ 1000 R. 
Competitive action gets underway with a Prologue of 5.80km in Szczecin on Friday afternoon and this precedes two demanding selective sections of 160.00km apiece through the demanding military proving grounds at Drawsko Pomorskie on Saturday.
Competition reaches a conclusion with two passes through a shorter 30.70km between Pilchowo and Dobra on Sunday morning. 
In a total route of 656.24km, competitors will tackle 387.20km against the clock. 
Columna Medica Baja Poland – leading entries:
| | |
| --- | --- |
| 200. Miroslav Zapletal (CZE)/Marek Sykora (SVK) | Ford F-150 Evo  |
| 201. Michal Maluszyński (POL)/Julita Maluszyńska (POL)         | Mini JCW Rally  |
| 202. Magdalena Zajac (POL)/Jakub Brzeziński (POL)         | Toyota Hilux  |
| 203. Krzysztof Holowczyc (POL)/Lukasz Kurzeja (POL)         | Mini JCW Rally |
| 204. Wlodzimierz Grajek (POL)/Dominik Jazic (POL)         | Toyota Hilux |
| 205. Tomasz Baronowski (POL)/Maciej Marton (POL)         | Toyota Hilux |
| 206. Ronald Schoolderman (NLD)/Markeren Salomons (NLD)     | Mitsubishi ASX |
| 207. Rik van der Brink (NLD)/Hendrik Heimans (NLD)         | Borgward BX7 DKR |
| 208. František Brutovsky (CZE)/Petr Hauptmann (CZE)         | Ford F150 Evo |
| 300. Fernando Alvarez (ESP)/Xavier Panseri (FRA)          | Can-Am Maverick X3 (T3) |
| 301. Dania Akeel (SAU)/Taye Perry (DEU)              | Can-Am Maverick X3 (T3) |
| 302. Meshari Al-Thefiri (KWT)/Oriol Vidal (ESP)             | Can-Am Maverick X3 (T3) |
| 303. Otavio Sousa (BRA)/João Ferreira (PRT)             | Can-Am Maverick X3 (T3) |
| 304. Piotr Otko (POL)/Karolina Otko (POL)             | Can-Am Maverick X3 (T3) |
| 305. Tomas Mickus (LTU)/Darius Leskauskas (LTU)         | Can-Am Maverick X3 (T3)         |
| 400. Cristiano Batista (BRA)/Fausto Mota (PRT)              | Can-Am Maverick XRS Turbo RR (T4)     |
| 401. Jeremie Warnia (FRA)/Loic Minaudier (FRA)             | Polaris RZR Pro R Sport (T4) |
| 402. Ricardo Ramilo Suarez (ESP)/TBA                 | Can-Am Maverick XRS Turbo RR (T4) |
| 403. Francisco Hernandez (ESP)/Luis Perez  Curbelo (ESP)         | Yamaha YXZ 1000 R (T4) |
| 404. Patrycja Brochocka (POL)/Karolina Zysnarska (POL)         | Can-Am Maverick XRS Turbo RR (T4) |
| 405. Krzysztof Wicentowicz (POL)/Grzegorz Komar (POL)         | Can-Am Maverick XRS Turbo RR (T4) |
| T1 or T1+ unless stated |   |
Timetable of events
| | |
| --- | --- |
| Thursday, August 24 |   |
| Administration checks, Rally HQ, Szczecin Arena         | 12.00-20.00 |
| Scrutineering checks, Szczecin Automotive School Complex     | 14.00-22.00 |
|   |   |
| Friday, August 25  |   |
| Administration checks, Rally HQ, Szczecin Netto Arena     | 07.00-09.00 |
| Scrutineering checks, Szczecin Automotive School Complex     | 08.00-10.00 |
| Shakedown, Dobra-Wolczkowo                 | 08.00-12.00 |
| Prologue – Szczecin (5.80km)                 | 16.30hrs onwards |
| Press conference, King Chrobry Embankment         | 19.00hrs  |
| Ceremonial start,    King Chrobry Embankment         | 19.00hrs onwards |
|   |   |
| Saturday, August 26 |   |
| SS2 – Drawsko Pomorskie (160.00km)             | First car – 09.00hrs |
| SS3 – Drawsko Pomorskie (160.00km)             | First car – 13.40hrs |
|   |   |
| Sunday, August 27 |   |
| SS4 – Dobra-Szczecin (30.70km)                 | First car – 09.10hrs |
| SS5 – Dobra-Szczecin (30.70km)                 | First car – 12.10hrs |
| Post-event press conference, King Chrobry Embankment     | 14.30hrs |
| Podium ceremony, King Chrobry Embankment         | 14.30hrs |