Cross-Country – Home win for Holowczyc and Kurzeja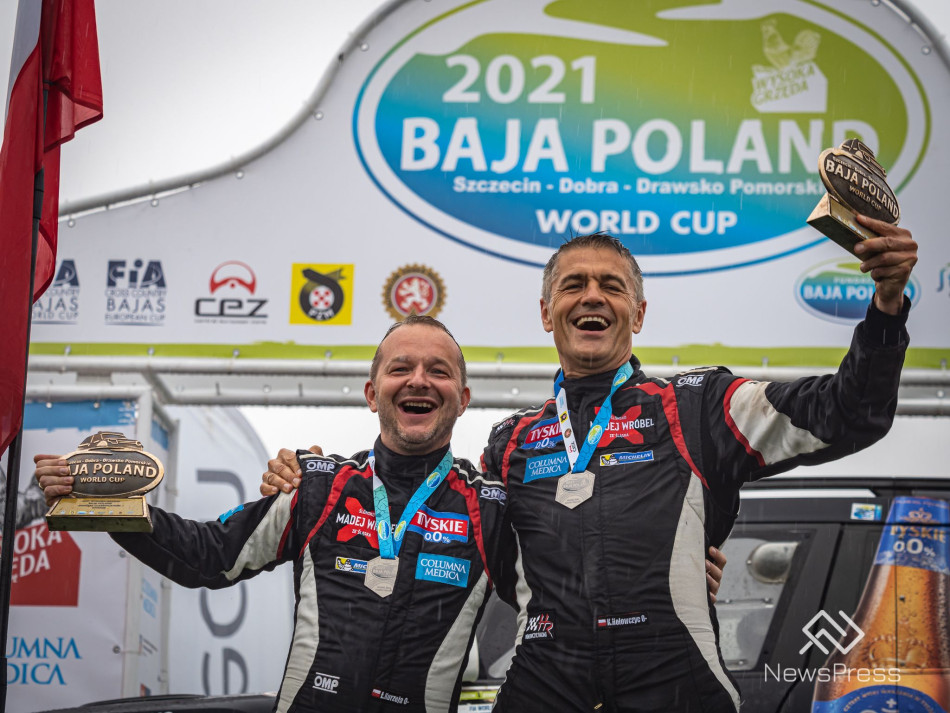 Krzysztof Hołowczyc and Łukasz Kurzeja claimed a home victory on Baja Poland, the seventh round of the FIA World Cup for Cross-Country Bajas and the third of five events in the newly-created European Cup. The Poles, in a MINI John Cooper Works Rally, had a winning margin of 10 minutes and 43 seconds over Yazeed Al Rajhi and Michael Orr while cross-country returnee, Benediktas Vanagas, co-driven by Filipe Palmeiro, rounded out the podium.
Hołowczyc and Kurzeja got off to a good start by winning the Qualifying Stage and the Poles went on to win a further four stages. They did however have power steering problems and an overheating engine at the end of leg one, as well as an intercom issue today due to the amount of rain and water coming into the car. Leading from start to finish, Hołowczyc notched up his seventh Baja Poland win and the duo claimed their second consecutive victory in this year's FIA World Cup.
Al Rajhi and Orr, competing in Poland for the first time, pushed hard from the outset and were second to Hołowczyc over the first three stages. Today's conditions were tricky with rain and mud making the route treacherous, especially for the leading crews, and the Saudi Arabian Toyota driver was unable to close the gap and was forced to settle for second.
Returning after a period of rehabilitation following a wrist and shoulder injury, Vanagas was back in action with Palmeiro alongside him in another Toyota Hilux. The Lithuanian/Portuguese pairing were on the pace throughout and Vanagas will be delighted to have finished Baja Poland for the first time in three attempts, and with a podium placing.
FIA World Cup leaders Yasir Seaidan and Alexey Kuzmich finished off the podium for the first time this season, just over a minute further adrift in fourth overall. The Saudi Arabian/Russian pairing pushed hard over the opening leg, with just a couple of small mistakes, but struggled in the muddy conditions today. Unused to such conditions, they also had an electronic problem in stage 5, resulting in poor visibility through a misted windscreen.
Miroslav Zapletal has been on the podium in Poland no fewer than three times in various different vehicles and he and Marek Sykora finished fifth in their Ford F150 Evo. The Czech/Slovak crew were just ahead of Marek Goczał and Michał Goleniewski, who brought their BRP Can-Am Maverick home in sixth overall and first in T4. The Poles also won four of the seven stages in their category, including one outright stage victory when the muddy conditions and their road position ran in their favour. After claiming the category victory on the previous two events, Alexandre and Pedro Re were seventh and second in T4, aiding their championship hopes. Rivals Saleh Abdullah Al Saif and Sébastien Delaunay were however hot on their heels, third in another Can-Am Maverick and eighth overall.
Kees Koolen took his first win in T3 this season with Mirjam Pol alongside him, the Dutch crew nearly three minutes ahead of Spaniards Santiago Navarro and Marc Sola, both crews in the Overdrive OT3. Dania Akeel finished third in the category to maintain her series lead.
The eighth round of the FIA World Cup for Cross-Country Bajas and the penultimate round of the European Cup takes the contenders to the Italian Baja (September 9-11).
Baja Poland – Final classification
| | | | |
| --- | --- | --- | --- |
| 1 | Krzysztof Hołowczyc/Łukasz Kurzeja | MINI John Cooper Works Rally | 4hr 53min 01sec |
| 2 | Yazeed Al Rajhi/Michael Orr | Toyota Hilux Overdrive | 5hr 03min 44sec |
| 3 | Benediktas Vanagas/Filipe Palmeiro | Toyota Hilux | 5hr 07min 49sec |
| 4 | Yasir Seaidan/Alexey Kuzmich | MINI John Cooper Works Rally | 5hr 08min 54sec |
| 5 | Miroslav Zapletal/Marek Sykora | Ford F150 Evo | 5hr 16min 40sec |
| 6 | Marek Goczał/Michał Goleniewski | BRP Can-Am Maverick (T4) | 5hr 17min 17sec |
| 7 | Alexandre Re/Pedro Re | BRP Can-Am Maverick (T4) | 5hr 26min 44sec |
| 8 | Saleh Abdullah Al Saif/Sébastien Delaunay | BRP Can-Am Maverick (T4) | 5hr 31min 17sec |
| 9 | Kees Koolen/Mirjam Pol | Overdrive OT3 (T3) | 5hr 33min 05sec |
| 10 | Denis Krotov/Konstantin Zhiltsov | MINI John Cooper Works Buggy | 5hr 35min 48sec |