Cross-Country – Chicherit and Winocq claim victory on the Silk Way Rally
Silk Way Rally - round three of the FIA World Cup for Cross-Country Rallies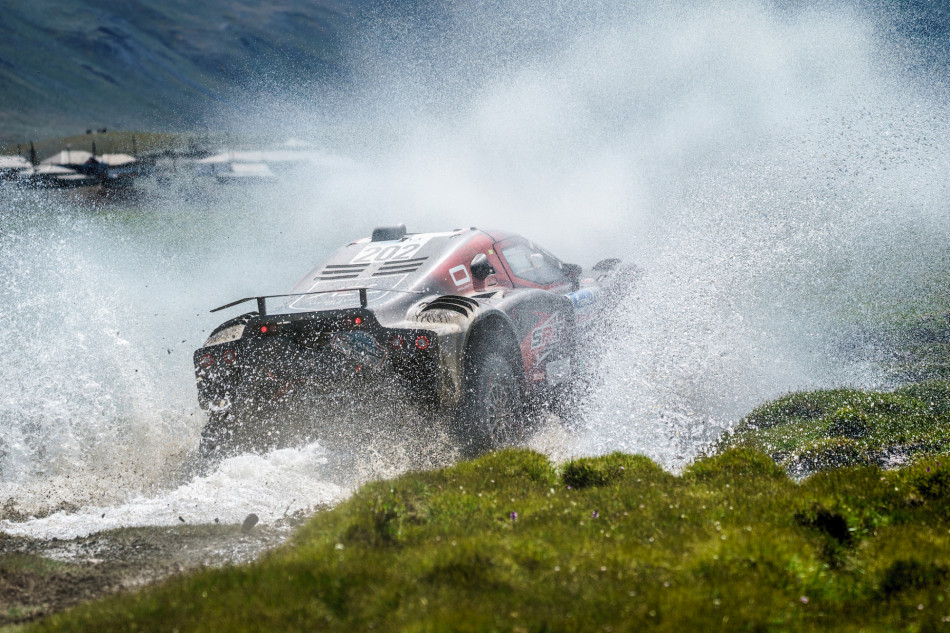 Guerlain Chicherit and Alexandre Winocq claimed honours on the Silk Way Rally today, the third round of the FIA World Cup for Cross-Country Rallies. The French duo took the win by over nine minutes ahead of Denis Krotov and Konstantin Zhiltsov in the MINI John Cooper Works Rally. Jérôme Pelichet and Pascal Larroque rounded out the podium positions.
Chicherit and Winocq were on the pace from the outset, never outside the top three on any of the stages. The Century CR6 crew dropped time on the leg 3 Marathon Stage, missing one navigation point, but then pushed hard to regain time. As they caught Vladimir Vasilyev in the section, they then got caught in the Russian's dust and hit a big rock, damaging the car they then had to repair themselves that evening. Yesterday, on the same slightly lengthened stage, run in reverse, the crew suffered one puncture but bounced back with the fastest time to take the overall lead of the rally. Today, on the final leg, they were again fastest to claim victory in fine style on Chicherit's first cross-country rally in five years.
Krotov and Zhiltsov were the early pacesetters and led after the opening stage. They dropped down the order to fourth, but fastest time on the Marathon Stage elevated them to third overall in the standings. Consistently front-runners, two second-fastest times yesterday and today cemented their position. Pelichet and Larroque had a fine run to take the final podium position, the MD Optimus crew gradually climbing the leaderboard from fifth to third.
Fourth overall was claimed by Sergei Kariakin and Anton Vlasiuk, the Russians also winning the T4 category in their BRP Can-Am Maverick. They struggled with high engine and intercooler temperatures midway through the event, water-crossings fortunately helping them keep the car cool, but a mistake-free performance also rewarded them with fastest time in the category on three stages.
Jean-Luc Pisson Ceccaldi and Jean Brucy were the lead T3 vehicle and the PH Zephyr crew finished fifth overall after setting fastest category times in three of the sections. They overhauled Pavel Lebedev and Kirill Shubin in the third leg and maintained position until the finish line. Matthieu Margaillan and Axelle Roux-Decima were second of the T4 contenders in seventh overall with Pavel Silnov and Evgenii Zagorodniuk just three minutes further adrift in their Can Am Maverick. The top 10 was rounded out by Jose Pena Campo/Rafael Tornabell Cordoba, and Anastasia Nifontova/Ekaterina Zhadanova, who took the T3 stage in SS2. Vladimir Vasilyev and Aleksei Kuzmich, leaders after the third leg, were blighted by punctures in the penultimate section and forced to retire from their home event.
Following amendments to the itinerary, resulting in a shortened route, reduced points will be awarded for this event.
The next round of the FIA World Cup for Cross-Country Rallies takes the contenders to Rallye du Maroc (October 8-13).
Silk Way Rally – Final Classification
| | | | |
| --- | --- | --- | --- |
| 1 | Guerlain Chicherit/Alexandre Winocq | Century CR6 | 7hr 03min 09sec |
| 2 | Denis Krotov/Konstantin Zhiltsov | MINI John Cooper Works Rally | 7hr 12min 21sec |
| 3 | Jérôme Pelichet/Pascal Larroque | MD Optimus | 7hr 25min 33sec |
| 4 | Sergei Kariakin/Anton Vlasiuk | BRP Can Am Maverick (T4) | 7hr 45min 00sec |
| 5 | Jean-Luc Pisson Ceccaldi/Jean Brucy | PH Sport Zephyr (T3) | 7hr 53min 06sec |
| 6 | Pavel Lebedev/Kirill Shubin | BRP Can Am Maverick X3 XRS (T3) | 8hr 04min 56sec |
| 7 | Matthieu Margaillan/Axelle Roux-Decima | BRP Can Am Maverick (T4) | 8hr 24min 38sec |
| 8 | Pavel Silnov/Evgenii Zagorodniuk | BRP Can Am Maverick X3 (T3) | 8hr 27min 42sec |
| 9 | José Pena Campo/Rafael Tornabell Cordoba | Polaris RZR PRO XP (T3) | 8hr 50min 56sec |
| 10 | Anastasia Nifontova/Ekaterina Zhadanova | BRP Can Am Maverick XRS (T3) | 8hr 52min 47sec |