Cross-Country Rallies – Al-Attiyah and Baumel claim FIA World Cup title with victory on Hail Rally
Hail Rally, the final round of the FIA World Cup for Cross-Country Rallies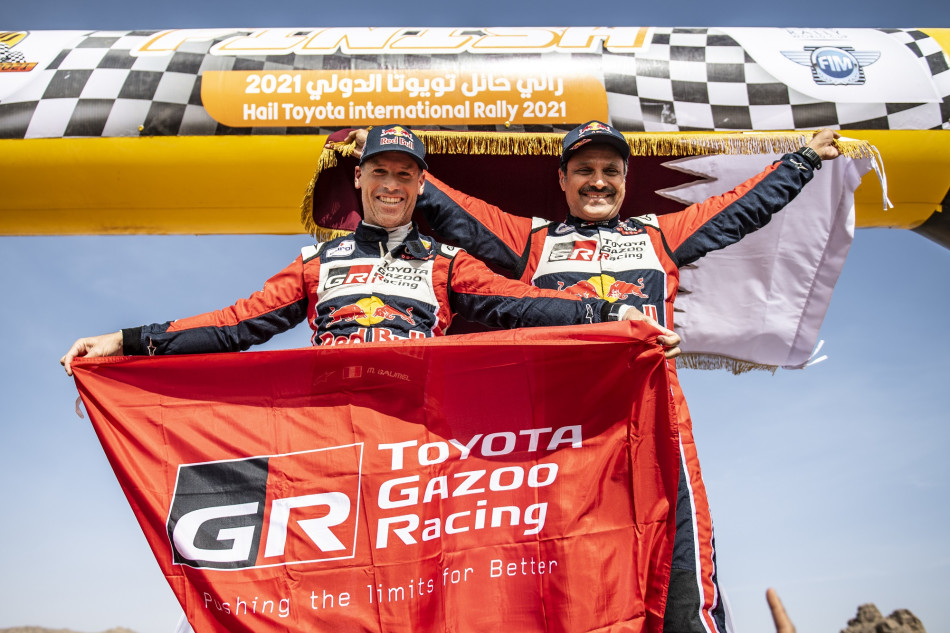 Nasser Al-Attiyah and Mathieu Baumel have won the FIA World Cup for Cross-Country Rallies* after another commanding drive saw them victorious at the Hail Rally, the final and decisive round of the series. Their fourth victory of the season came after winning three of the four selective sections in Saudi Arabia, clinching them a fifth and fourth FIA World Cup title respectively. Denis Krotov and Konstantin Zhiltsov finished a fine second overall on the rally with Sebastian Halpern and Bernardo Graue inching into third in a similar MINI John Cooper Works Buggy.
The Toyota Gazoo Racing crew of Al-Attiyah and Baumel went into the event heading the standings by 28 points over Lucio Alvarez and Armand Monleon, the Argentinean/Spanish crew needing a top haul of points to potentially overhaul the multiple champions. The Qatari/French pairing were however on fine form and were fastest on all but one selective section to win by 21 minutes and 51 seconds after another trouble-free event, their last in this generation of Toyota Hilux.
Krotov and Zhiltsov were on consistently good form throughout the event, notching up two second fastest times on route to second overall in the John Cooper Works Buggy and third in the series standings. Argentina's Halpern and Graue pushed hard and were rewarded with third, overhauling Vladimir Vasilyev and Oleg Uperenko for the final podium position today. The Russian crew went into today's shortest 148 kilometre section third, but a tight battle saw them lose the position by just 43 seconds.
Title contenders Alvarez and Monleon, in a Toyota Hilux Overdrive, had a steady run to fifth and second overall in the FIA World Cup standings. They finished ahead of Jakub Przygonski and Timo Gottschalk after the Polish/German Buggy crew lost time yesterday with a broken driveshaft.
Pole Marek Goczał, co-driven by fellow countryman Lukasz Laskawiec, finished a fine seventh and took his first honours in the T4 category, at the expense of brother Michal who dropped from the lead with a broken gearbox on the penultimate leg. Laia Sanz and Maurizio Gerini bounced back from delays earlier in the event to finish eighth overall in the MINI John Cooper Works Rally, and ninth was claimed by Miroslav Zapletal/Marek Sykora in their Ford F150 Evo. Molly Taylor and Dale Moscatt finished an impressive second in T4 and 10th overall in their Can-am Maverick despite some mechanical problems and a puncture today. T3 was won by the Saudi Arabian/Russian crew of Saleh Al-Saif and Egor Okhotnikov in another Can-Am with Saudi's Mashael Alobaidan second in the category.
The Hail Rally closes the 2021 FIA cross-country season, but just weeks away is the start of the new FIA World Rally-Raid Championship, which launches with the famous Dakar Rally (January 1-14).
Hail Rally – Final Classification
| | | | |
| --- | --- | --- | --- |
| 1 | Nasser Al-Attiyah/Mathieu Baumel | Toyota Hilux | 10hr 50min 23sec |
| 2 | Denis Krotov/Konstantin Zhiltsov | MINI John Cooper Works Buggy | 11hr 12min 14sec |
| 3 | Sebastian Halpern/Bernardo Graue | MINI John Cooper Works Buggy | 11hr 19min 07sec |
| 4 | Vladimir Vasilyev/Oleg Uperenko | BMW X5 | 11hr 19min 50sec |
| 5 | Lucio Alvarez/Armand Monleon | Toyota Hilux Overdrive | 11hr 25min 31sec |
| 6 | Jakub Przygonski/Timo Gottschalk | MINI John Cooper Works Buggy | 11hr 38min 38sec |
| 7 | Marek Goczał/Łukasz Laskawiec | BRP Can-Am Maverick (T4) | 12hr 11min 19sec |
| 8 | Laia Sanz/Maurizio Gerini | MINI John Cooper Works Rally | 12hr 14min 10sec |
| 9 | Miroslav Zapletal/Marek Sykora | Ford F150 Evo | 12hr 24min 27sec |
| 10 | Molly Taylor/Dale Moscatt | BPR Can-Am Maverick (T4) | 12hr 43min 14sec |

2021 FIA World Cup for Cross-Country Rallies - titles*
| | |
| --- | --- |
| Driver | Nasser Al-Attiyah (QAT) |
| Co-Driver | Mathieu Baumel (AND) |
| Team | Overdrive SA |
| T3 Driver | Cristina Gutierrez (ESP) |
| T4 Driver | Austin Jones (USA) |
| T4 Team | South Racing |

FIA World Cup for Cross-Country Rallies – Classifications:
https://www.fia.com/events/world-cup-cross-country-rallies/season-2021/classifications-2
* Subject to the official publication of the results by the FIA