This page contains archived information and may not display perfectly
Cross-Country - Al Rajhi claims World Cup honours and Holowczyc/Kurzeja scoop European title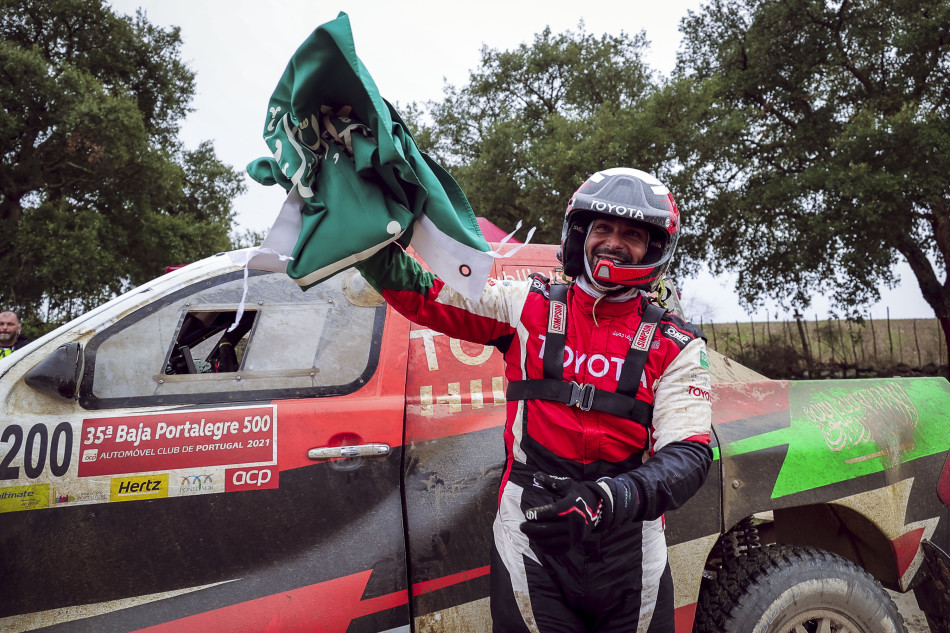 Yazeed Al Rajhi has claimed a maiden title in the FIA World Cup for Cross-Country Bajas with a calculated drive to 10th overall in Baja Portalegre 500, the final round of the series. Krzysztof Hołowczyc and Lukasz Kurzeja won the decisive round of the FIA European Cup for Cross-Country Bajas and, in doing so, the Poles clinched the inaugural title.
Hołowczyc and Kurzeja had another fine run in Portugal, notching up their third win of the season on route to the European title. The MINI John Cooper Works Rally crew won the Qualifying Stage and finished third on the second 62 kilometre section to overnight in the same position. On the final day, the Poles powered through the first 146 kilometre section, winning by nearly three minutes, and second position in the final 197 kilometre section was enough to secure the victory by one minute 14 seconds.
Al Rajhi, navigated by Michael Orr, was competing for the first time on Baja Portalegre 500 and the Saudi Arabian was focused on securing his first World Cup title. The Toyota duo had a clear mission, which ran to a trouble-free plan, ensuring a maiden win for Al Rajhi in the Hilux Overdrive. Orr, who has expertly guided his driver to two victories this season, missed out on the World Cup Co-drivers' title to Alexey Kuzmich, who claimed additional points on the opening round in Russia.
Baja Portalegre 500 once again delivered treacherously wet and muddy conditions and behind Hołowczyc in the overall event classification, Tiago Reis and Valter Cardoso upheld national honours. The Portuguese Toyota duo finished fifth on the Qualifying Stage after an engine problem following a water crossing, but romped to victory in SS2 to claim the overnight lead by 31 seconds. The newly-crowned national cross-country champions dropped time to Hołowczyc in SS3 but then a commanding final stage win secured their fine second position on their home round. Brazil's Lucas Moraes and Kaique Bentivoglio made steady progress up the leaderboard in another Hilux and from an overnight 16th after Leg 1, powered into fifth and then on to the podium in the final stage.
Three-time event winner Miguel Barbosa, who had Pedro Velosa alongside him, finished fourth after numerous years of participation on his home event. The Toyota crew dropped time with a puncture in SS3 but were one of five Portuguese crews in the top 10. The Brazilian crews of Cristian Baumgart/Beco Andreotti and Marcos Baumgart/Kleber Cincea rounded out the top six, giving the Hilux five of the top six positions.
Rallying brothers Alexandre and Pedro Ré claimed the T4 home honours in their BRP Can-Am Maverick after winning all four selective sections, despite intermittent intercom problems. After the penultimate round in Italy, Alexandre had provisionally sealed the T4 European Cup title, but their third category win of the season assured him the World Cup plaudits too.
The T3 World Cup title had already been clinched by Saudi Arabia's Dania Akeel, but European honours were at stake in Portugal. The homegrown talent of David Spranger and Sebastião Dominguez took the category event win, but second secured the T3 European Cup for Spain's Santi Navarro.
FIA World Cup for Cross-Country Bajas
Driver : Yazeed Al Rajhi (SAU)
Co-Driver : Alexey Kuzmich (RUS)
Team : Overdrive SA
T3 Driver : Dania Akeel (SAU)
T4 Driver : Alexandre Ré (PRT)
T4 Team : South Racing

FIA European Cup for Cross-Country Bajas
Driver : Krzysztof Hołowczyc (POL)
Co-Driver : Lukas Kurzeja (POL)
Team : Overdrive SA
T3 Driver : Santi Navarro (ESP)
T4 Driver  Alexandre Ré (PRT)
T4 Team : South Racing
Baja Portalegre 500 – Final Classification
| | | | |
| --- | --- | --- | --- |
| 1 | Krzysztof Hołowczyc/Łukasz Kurzeja | MINI John Cooper Works Rally | 5hr 09min 44sec |
| 2 | Tiago Reis/Valter Cardoso | Toyota Hilux | 5hr 10min 59sec |
| 3 | Lucas Moraes/Kaique Bentivoglio | Toyota Hilux Overdrive | 5hr 17min 18sec |
| 4 | Miguel Barbosa/Pedro Velosa | Toyota Hilux Overdrive | 5hr 18min 22sec |
| 5 | Christian Baumgart/Beco Andreotti | Toyota Hilux | 5hr 18min 29sec |
| 6 | Marcos Baumgart/Kleber Cincea | Toyota Hilux | 5hr 22min 34sec |
| 7 | Helder Oliveira/Carlos Mendes | Volkswagen Amarok | 5hr 22min 57sec |
| 8 | Nuno Matos/Joel Lutas | Fiat Fullback Proto | 5hr 23min 56sec |
| 9 | Alexandre Ré/Pedro Ré | BRP Can-Am Maverick (T4) | 5hr 24min 16sec |
| 10 | Yazeed Al-Rajhi/Michael Orr | Toyota Hilux Overdrive | 5hr 26min 02sec |
All results are subject to official confirmation by the FIA.
FIA World Cup for Cross-Country Bajas – Classifications:
https://www.fia.com/events/world-cup-cross-country-bajas/season-2021/classifications
FIA European Cup for Cross-Country Bajas – Classifications:
https://www.fia.com/events/fia-european-cup-cross-country-bajas/season-2021/classifications