This page contains archived information and may not display perfectly
Cross-Country – Al-Attiyah/Baumel claim first honours
Baja Hail I - Final Classification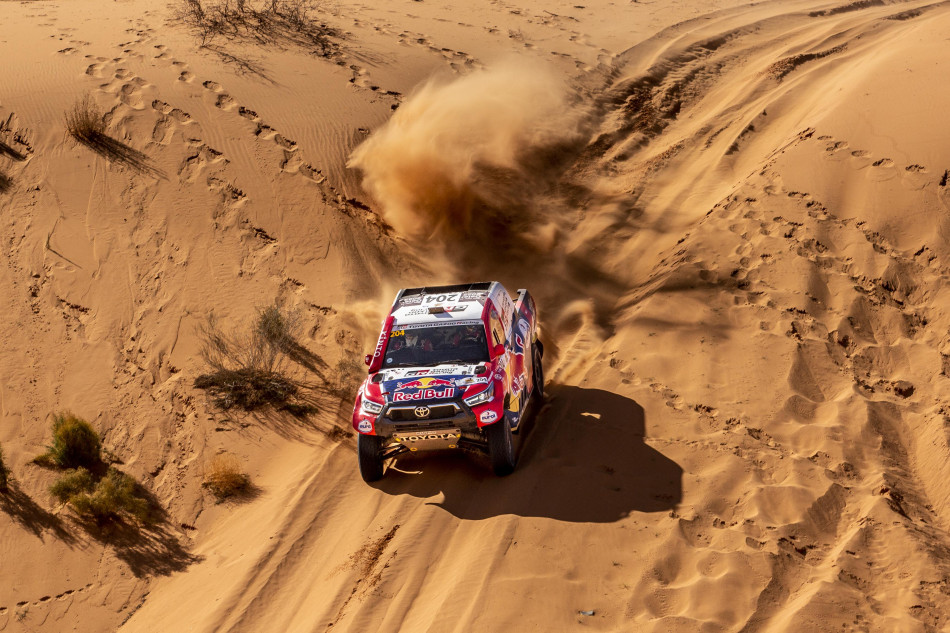 Nasser Al-Attiyah and Mathieu Baumel romped to victory in Baja Hail I today after winning both selective sections of the first of two consecutive back-to-back events closing the 2020 FIA World Cup for Cross-Country Bajas. Carlos Sainz and Lucas Cruz finished second, just over six minutes adrift with Stéphane Peterhansel and Edouard Boulanger taking the final podium position in the second of two MINI John Cooper Works Buggies.
The route for the first of the two Bajas in the Kingdom took the 28 contenders into the dunes on the west side of the city. Yesterday, Al-Attiyah put an early mark on his intentions and the Toyota driver powered to the stage victory, nearly three minutes faster than Sainz. Today, he and navigator Baumel had another clean run to notch up another fastest time and claim victory by six minutes and 10 seconds.
"Today was another good day for us, we believed in our speed and we had only one way, to push with good speed," said Al-Attiyah, who has now launched the crew into title contention. "We made an incredible stage today without any mistakes, any problems, and no punctures and our Toyota was working very well. I am happy to win Baja I; now we have two days rest and Baja II will be different and we try to do our best, like normal."
Sainz, a multiple champion across world rallying, cross-country rallying and the Dakar, finished second with regular navigator Cruz alongside him. The Spaniard was second fastest through yesterday's 251 kilometre section and third today was enough to secure the MINI crew the position after a trouble-free event.
Stéphane Peterhansel, the reigning champion of the FIA World Cup for Cross-Country Rallies, and Edouard Boulanger, finished third in yesterday's stage after picking up a puncture. They finished today's shorter 275.54 kilometre section just under three minutes adrift of Al-Attiyah to take the final podium position after a welcome opportunity to test ahead of the forthcoming Dakar Rally in the Kingdom.
Yazeed Al-Rajhi, co-driven by Dirk von Zitzewitz, claimed home honours with fourth in another Toyota Hilux Overdrive. The Saudi Arabian driver finished in the same position on both sections, yesterday suffering with low tyre pressures and a sensor issue.  Vladimir Vasilyev, co-driven by Dmytro Tsyro, went into the event trailing Bernhard Ten Brinke by just 1.5 points in the FIA World Cup for Cross-Country Bajas classification but the Russian's fifth position, ahead of his title rival, enabled him to inch ahead in the standings to take the lead going into the final event of the 2020 season. Ten Brinke finished just one position behind, in sixth, after some issues with engine management set-up and a slow puncture yesterday. The Dutchman is still fighting for the crown but needs a top result in Baja Hail II to take a maiden title. Jakub Przygoński and Tom Colsoul suffered misfortune yesterday, a misfire dashing hopes of a top result.
Honours in T3 were claimed by Saudi Arabian driver Saleh Abdullah Alsaif and his French navigator Laurent Lichtleuchter. The Can-Am X3 RR crew finished a fine eighth overall, ahead of Guillaume de Mévius and Martijn Wydaeghe in the category. The Belgian's need another top result in Baja Hail II to fight for the title.
The T4 category was won by Kees Koolen and Jurgen van den Goorbergh in a Can-Am Maverick. The Dutch crew was trailing Aron Domzala in the series standings going into this event but their chances have been bolstered by transmission issues for the Pole which side-lined him yesterday. T2 was won by the national crew of Youssef Oudah A Alshammari and Abdallah Alsuqairi in a Nissan Patrol.
After a rest day tomorrow, Sunday, the crews get set for Baja Hail II, the final and decisive round of the 2020 FIA World Cup for Cross-Country Bajas (December 14-16).
Baja Hail I – Final classification
| | | | |
| --- | --- | --- | --- |
| 1 | Nasser Al-Attiyah/Mathieu Baumel | Toyota Hilux | 6hr 14min 27sec |
| 2 | Carlos Sainz/Lucas Cruz | MINI John Cooper Works Buggy | 6hr 20min 37sec |
| 3 | Stéphane Peterhansel/Edouard Boulanger | MINI John Cooper Works Buggy | 6hr 23min 26sec |
| 4 | Yazeed Al Rajhi/Dirk Von Zitzewitz | Toyota Hilux Overdrive | 6hr 29min 15sec |
| 5 | Vladimir Vasilyev/Dmitro Tsyro | Mini Cooper Works Rally | 6hr 43min 02 sec |
| 6 | Bernhard Ten Brinke/Tom Colsoul | Toyota Hilux Overdrive | 6hr 49min 56sec |
| 7 | Denis Krotov/Konstantin Zhiltsov | MINI All 4 Racing | 7hr 07min 55sec |
| 8 | Saleh Abdullah Alsaif/Laurent Lichtleuchter | Can-Am X3 RR | 7hr 10min 19sec |
| 9 | Erik Van Loon/Sébastien Delaunay | Toyota Hilux Overdrive | 7hr 12min 07sec |
| 10 | Miroslav Zapletal/Marek Sykora | Ford F150 EVO | 7hr 13min 45sec |