Cross-Country - Al-Attiyah and Baumel cruise to comfortable victory in Saudi Baja Ha'il
Five-time Dakar Rally winner Nasser Saleh Al-Attiyah and his Andorra-based co-driver Mathieu Baumel maintained their terrific run of success to clinch a start-to-finish victory in the Saudi Baja-Hail, round one of the 2023 FIA World and Middle East Cups for Cross-Country Bajas.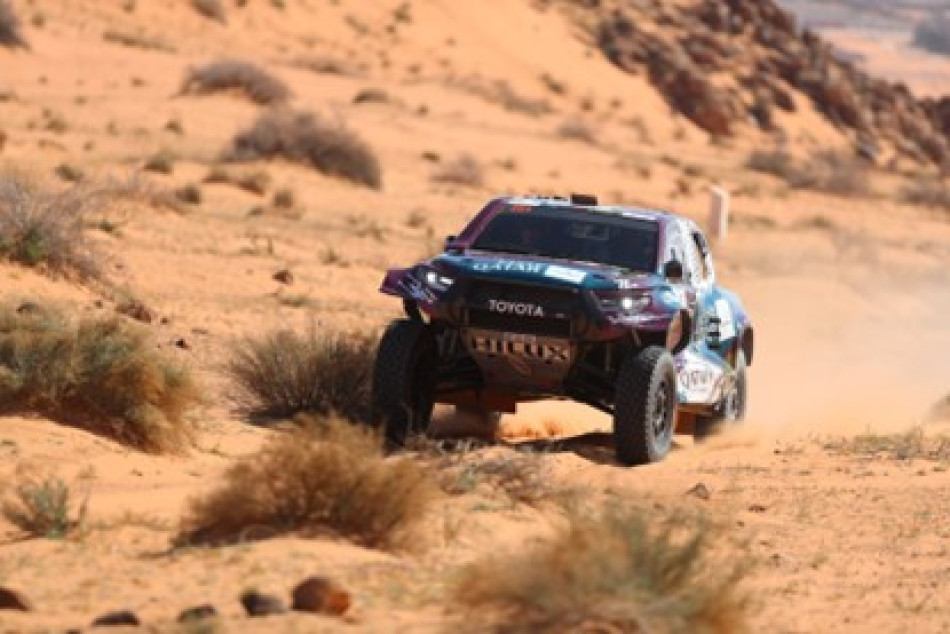 Al-Attiyah was fastest on the Prologue and both selective sections through the An Nafud desert to initially secure victory over Polish rival Krzysztof Holowczyc by 15min 19sec. The Toyota Hilux driver had taken a 7min 42sec lead into the final day, once a series of time penalties had been imposed on several of his rivals, and he won the second stage by 5min 27sec to continue his dominant start to the season in the cross-country rallying discipline.
Al-Attiyah said: "This is a good start. We were happy to compete here and to win here another time. The target now is Abu Dhabi, where we will face Loeb and the Audis. All good over the last two days, no problems."
Polish rival Krzysztof Holowczyc was second quickest on the last stage in his X-raid Mini John Cooper Works Rally Plus with co-driver Lukasz Kurzeja and did enough to finish as runner-up on his first desert rally for eight years. A five-minute time penalty for a speeding infringement was imposed on the Pole and later dropped but he was then handed a 15-minute time penalty and slipped to third overall.
Before the second penalty was handed out, Holowczyc said: "The beginning was not so easy. We were last on the Prologue and I am used to be fighting for the win. We finished second although it is not easy to understand the regulations sometimes. We were testing some new things on the car and that was important for us. The car is getting faster and we will find more in the next races. The suspension is unbelievable. I saw a big hole and the car was flying, perfect. This is the advantage of T1+. We have a good car for the next races."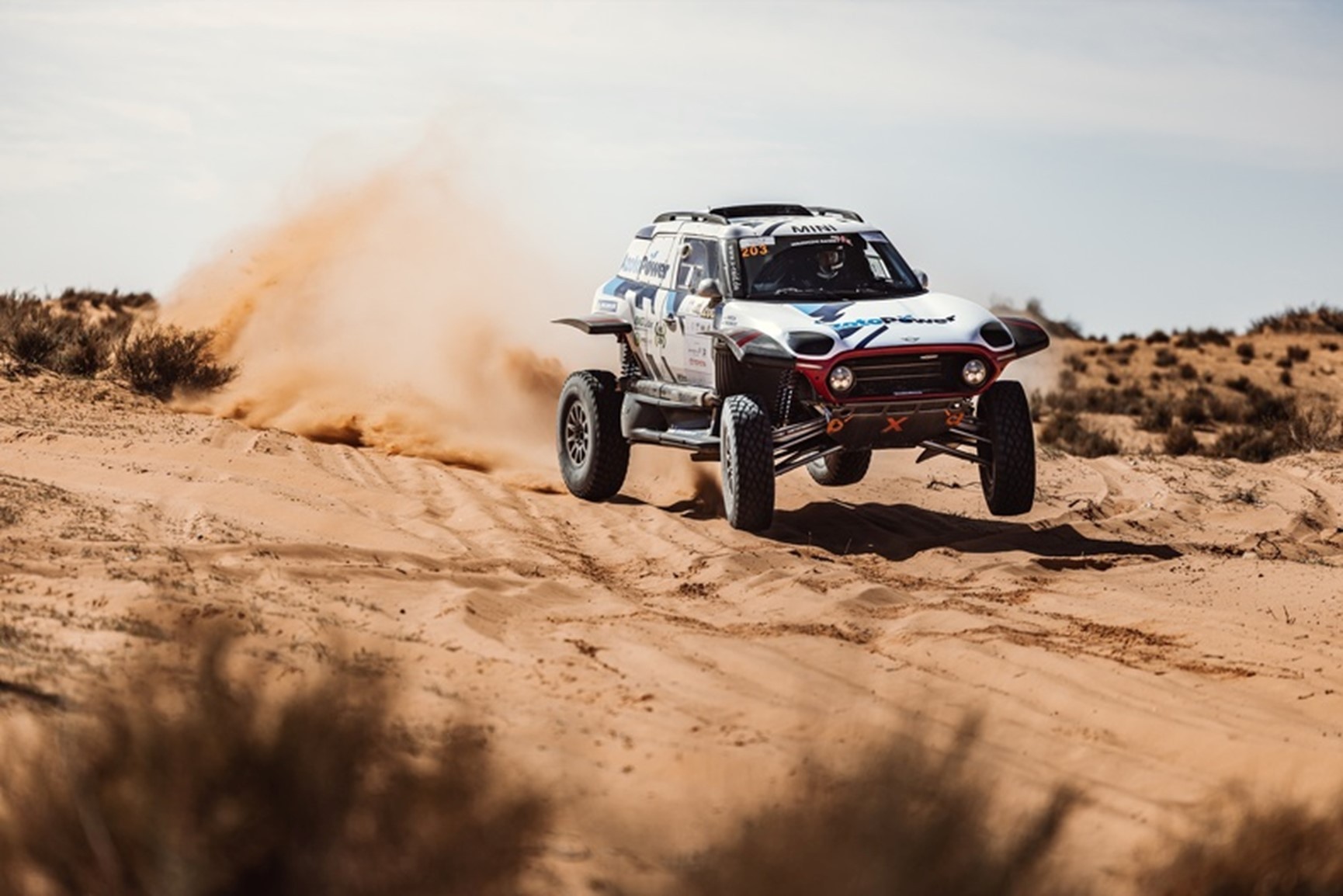 Al-Attiyah's Toyota team-mate Juan Cruz Yacopini recovered strongly from a collision with a spectator's car at the end of Friday's stage and was reinstated in third overall by rally officials before the start of the final day.
The Argentine took full advantage of the Stewards' decision to reimburse him 15 minutes of lost time and he and Spanish navigator Daniel Oliveras were third quickest on stage two to confirm a podium finish. He climbed from third to second when Holowczyc was penalised late on Saturday evening.
Yacopini said: "After what happened yesterday, today was a good stage. I feel really comfortable. The navigation was not easy but Dani made it perfectly. The car was perfect also and this is my first podium in the Bajas. Now I go to Abu Dhabi in the next two weeks. It is a perfect warm-up."
Top seed and defending champion Yazeed Al-Rajhi was forced to withdraw on the eve of technical checks and pre-event scrutineering. The Saudi sustained a minor chest injury after an accident on a recent skiing vacation at Courchevel in France and had been suffering from pain on the right side of his chest. The Riyadh driver later confirmed that he had sustained a hairline fracture in his right fifth rib and incurred minor cartilage damage in the fall. He hopes to be fit for the Abu Dhabi Desert Challenge at the end of the month.
FIA T3 success for Saleh Al-Saif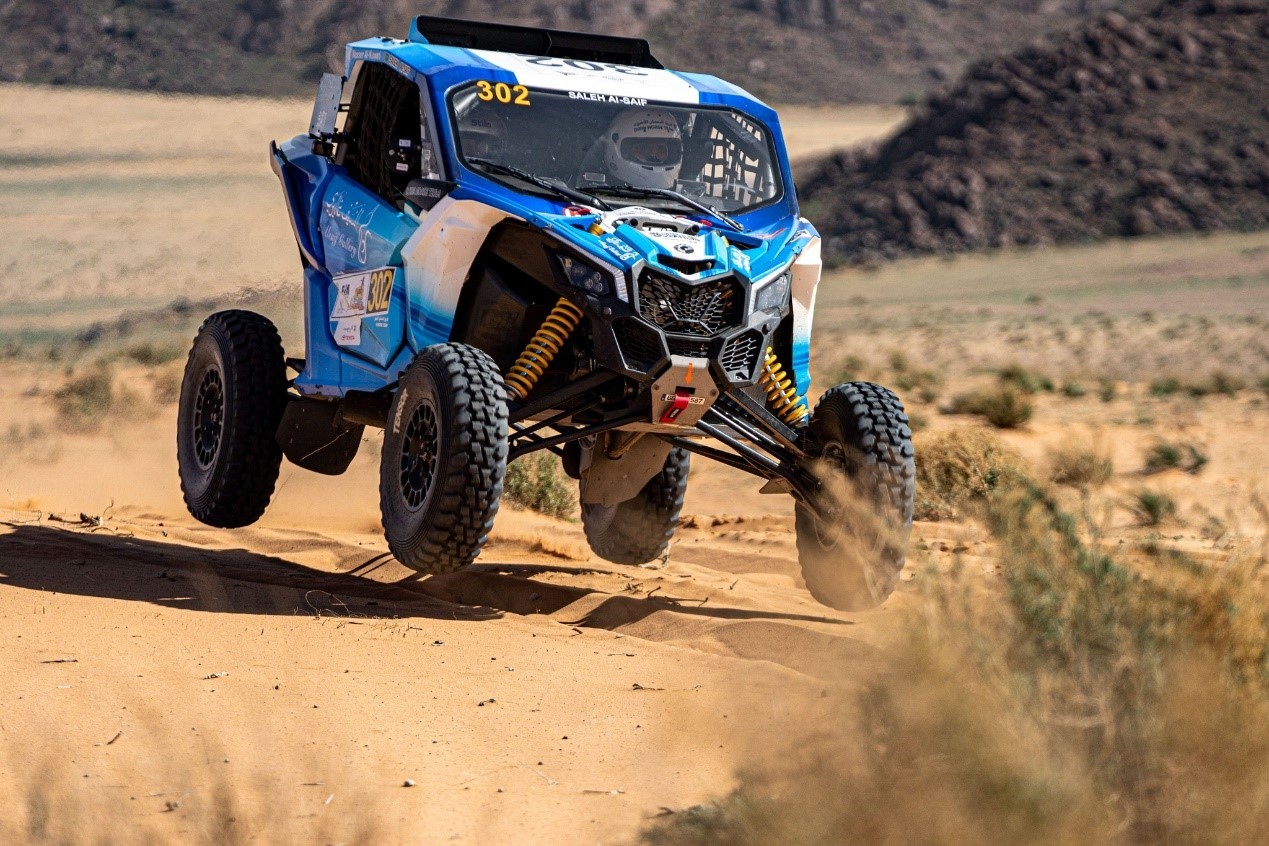 Navigational delays for rival Yasir Seaidan enabled Team Black Horse Can-Am driver Saleh Al-Saif to snatch fourth overall and the FIA T3 win from his fellow countryman by just nine seconds. Defending champion Fernando Alvarez came home in sixth overall and third in the lightweight prototype class in his Can-Am Maverick and second of the registered FIA World Cup drivers.
Al-Saif's co-driver Nasser Al-Kuwari was competing in Hail for the first time. The Qatari said: "I am proud of this result. I missed the people, the stages and the rally here in the past. After 40km, it was a tricky place and we saw Yasir coming from the opposite way, lost. We let him pass and we drive behind for about 100km. Then we stopped to change the belt, cut every corner to reach the finish and we won by nine seconds! It was really close."
Last year's T3 championship runner-up Dania Akeel was second quickest on the last 184km stage and climbed to fourth in the category and third of the drivers registered for the FIA World Cup. South Racing team-mate Otavio Sousa finished sixth behind the G Rally Team's Kees Koolen in his OT3 and the FN Speed Team's Santiago Navarro was seventh. Fuel pump problems side lined Kuwait's Meshari Al-Thefiri after the first stage.
Young Pau Navarro wins in T4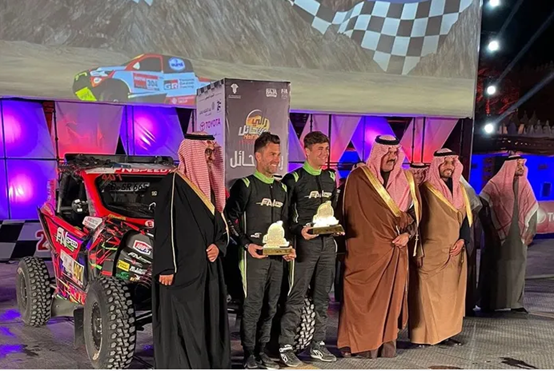 Young Spaniard Pau Navarro and his French co-driver Michael Metge overcame the threat of a late five-minute speeding penalty to claim the second quickest T4 time on the final day and clinch T4 success and seventh overall in their FN Speed Team Can-Am.
The French duo of Jeremie Warnier and Loic Minaudier finished second in the class in a Polaris RXR Pro R. Italy's Michele Cinotto and Maurizio Dominella earned third place in the second of the Xtremeplus Team Polaris RXRs.
Brazilian Cristiano Batista won the second stage but suffered massive time penalties after crashing and running his South Racing Can-Am on three wheels on Friday.
Yasir Seaidan leads FIA Middle East Cup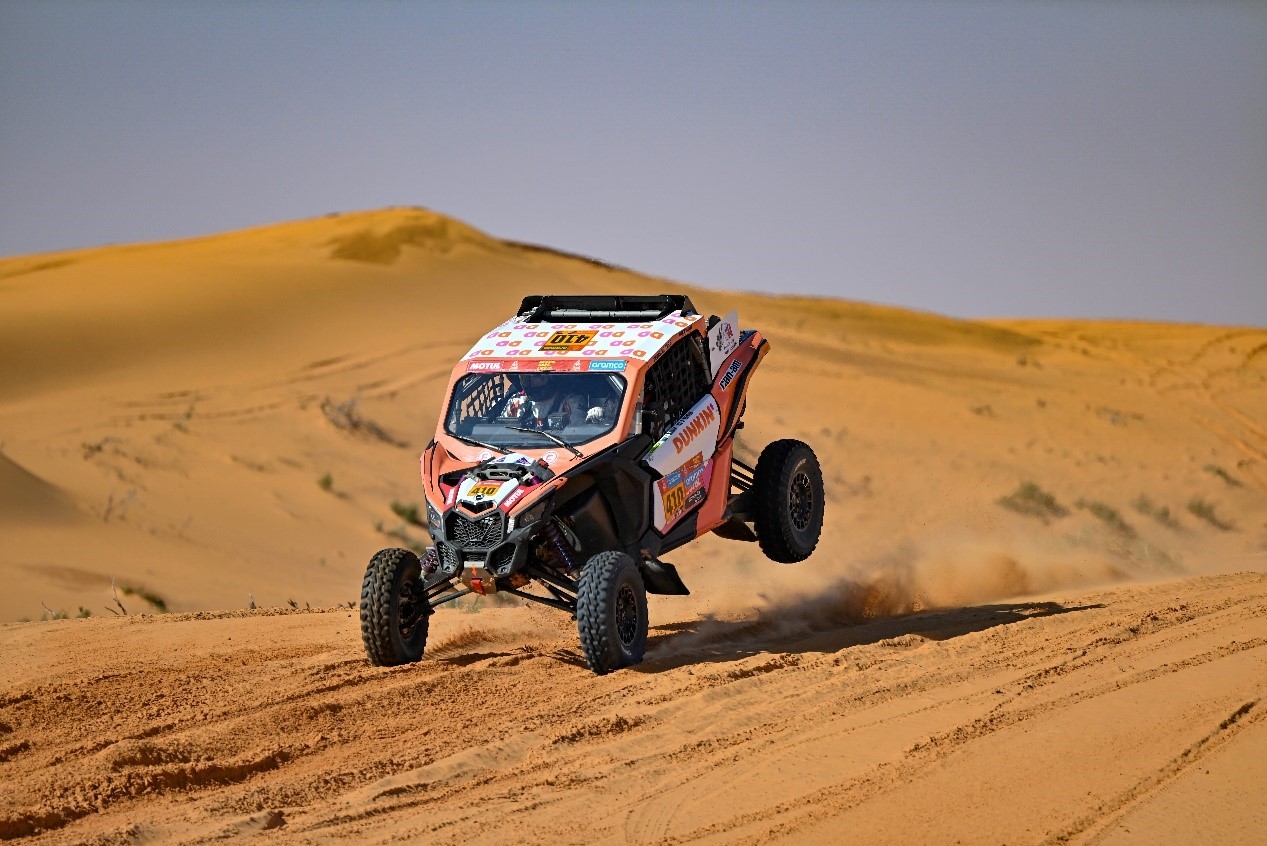 Yasir Seaidan missed out on overall T3 success by nine seconds in his South Racing Can-Am, but the Saudi had the consolation of finishing fifth overall and claiming maximum points in the FIA Middle East Cup for Cross-Country Bajas. He and co-driver Alexei Kuzmich lost their way on a couple of occasions on the final stage, but the first stage T3 winners achieved a good result nonetheless.
Seaidan said: "We were unlucky. We lost our way in one part and we lost three minutes and a half. Then we pushed and took two minutes but we finished second by nine seconds..."
Fellow countryman Hamad Al-Harbi was classified second of the FIA Middle East Baja Cup runners and also finished second in the regional series' T3 points with Ukrainian co-driver Dmytro Tsyro. Abdullah and Waleed Al-Shegawi were third.
Abdullah and Waleed Al-Shegawi came home in third, while T4 victory fell to Kuwait's Salem Al-Dhafeeri and his Emirati co-driver Arif Yousef Mohammed. Maha Al-Hameli and Swedish navigator Annie Seel finished second and Saeed Al-Mouri and Ata Al-Hmoud were third.
Local driver Khalid Al-Feraihi is registered in the FIA Middle East Cup for Cross Country Bajas but suffered long delays and time penalties on the opening day with alternator failure on his Nissan and finished at the rear of the field.
Ahmed Al-Shegawi and Spanish co-driver Marc Serra claimed the spoils in the T2 class for series production cross-country vehicles. They finished 19min 08sec ahead of Ibrahim Al-Muhanna and Osama Al-Sanad in a similar Nissan Patrol.
The second round of both the FIA World and Middle East Cups takes place in Qatar in mid-March.
2023 Saudi Baja-Ha'il – final results:
| | |
| --- | --- |
| 1. Nasser Saleh Al-Attiyah (QAT)/Mathieu Baumel (AND) Toyota Hilux Overdrive | 3hr 56min 17sec* |
| 2. Juan Cruz Yacopini (ARG)/Daniel Oliveras (ESP) Toyota Hilux Overdrive | 4hr 15min 19sec* |
| 3. Krzysztof Holowczyc (POL)/Lukasz Kurzeja (POL) Mini John Cooper Works Rally Plus | 4hr 26min 36sec* |
| 4. Saleh Al-Saif (SAU)/Nasser Al-Kuwari (QAT) Can-Am Maverick (T3) | 4hr 33min 28sec* |
| 5. Yasir Seaidan (SAU)/Alexei Kuzmich (ARE) Can-Am Maverick X3 (T3) | 4hr 33min 37sec+ |
| 6. Fernando Alvarez (ARG)/Xavier Panseri (FRA) Can-Am Maverick (T3) | 4hr 39min 59sec* |
| 7. Pau Navarro (ESP)/Michael Metge (FRA) Can-Am Maverick XRS Turbo (T4) | 4hr 42min 35sec* |
| 8. Dania Akeel (SAU)/Laurent Lichtleuchter (FRA) Can-Am Maverick (T3) | 4hr 42min 39sec* |
| 9. Kees Koolen (NLD)/Wouter Rosegaar (NLD) G Rally Team OT3 (T3) | 4hr 43min 30sec* |
| 10. Jeremie Warnia (FRA)/Loic Minaudier (FRA) Polaris RXR Pro R (T4) | 4hr 43min 32sec* |
| 11. Otavio Sousa (BRA)/João Ferreira (PRT) Can-Am Maverick X3 (T3) | 4hr 43min 47sec* |
| 12. Santiago Navarro (ESP)/Adrien Metge (FRA) Can-Am Maverick (T3) | 4hr 44min 13sec* |
| 13. Michele Cinotto (ITA)/Maurizio Dominella (ITA) Polaris RXR Pro R (T4) | 4hr 54min 53sec* |
| 14. Ricardo R. Suarez (ESP)/Andrei Rudnitskiy (ANA) Can-Am Maverick XRS Turbo (T4)  | 4hr 55min 45sec* |
| 15. Hamad Al-Harbi (SAU)/Dmytro Tsyro (UKR) Can-Am Maverick (T3) | 5hr 05min 06sec+ |
| 16. Abdullah Al-Shegawi (SAU)/W. Al-Shegawi (SAU) Can-Am Maverick XRS Turbo (T3)  | 5hr 17min 31sec+ |
| 17. Ahmed Al-Shegawi (SAU)/Marc Serra (ESP) Nissan Patrol (T2) | 5hr 49min 29sec+ |
| 18. Salem Al-Dhafeeri (KWT)/Arif Y. Mohammed (ARE) Can-Am Maverick XRS Turbo (T4) | 6hr 00min 06sec+ |
| T1 unless stated |   |
| *denotes registered for FIA World Cup |   |
| + denotes registered for FIA Middle East Cup |   |