This page contains archived information and may not display perfectly
Content and access key to the future success of motor sport
Motor sport must create more interesting content and provide better access to fans than rival sports in order to ensure it remains competitive in the current sports media environment.
That was the message from key motor sport identities at the FIA Sport Conference 2015 in Mexico City today.
In the opening session of the conference, a panel of racing experts featuring  Juan Pablo Montoya (Indy 500 Champion), Gene Haas (Haas F1), Alejandro Agag (Formula E), Mark Miles (IndyCar), Joie Chitwood (Daytona International Speedway) and Carlos Slim Domit (Telmex) discussed the future of fan engagement in the sport.
All were in agreement that motor sport has inherent qualities that should translate strongly to the social and digital media age, however most agreed that there was more the sport could do to embrace new media avenues.
While it was accepted that television access is still relevant, the consensus among those present was that focusing on TV alone is not enough.
"From a social aspect, and pushing out content, it's taking your sport and putting it on your lap wherever you're sitting, if you're in an airplane, if you're at home," said Joie Chitwood, President of Daytona International Speedway.
A number of the speakers referred to a "push" model  of media consumption being overtaken by a "pull" model – in that fans now appear resistant to the concept of having content pushed towards them and now prefer to choose when and where they engage with sport.
Embracing new content distribution channels is seen as central to any motor sport maintaining a strong fanbase, while the challenge in such a competitive marketplace is attracting new fans.
"When I think about how people are turned on to motor sport, it's usually a live experience as a fan," added Chitwood.
"If we can get you there, there's a good chance you will become a fan because you will never have seen anything like this; it's truly visceral. It's audio, it's visual, it's all of your senses. And that person turns into the fan that follows it socially, consumes it on TV, and maybe attends other events.
"When we get you to the venue, we have to make sure you're getting content that you don't get at home. It's creating a content-driven live experience.
"We have, I think, the best content of any sport; radio communications, in-car cameras, slow-mos, timing and scoring data.
"I do believe that the live experience will continue to be important, but when technology continues to evolve I think it could take away from the live experience. I hope that isn't the case, but you could have a fan out there in the future who never attends a live sporting event, who can consume it through so many different platforms and distribution channels that they can get everything they need… I think you might find yourself stuck regarding who is the next generation of fan, because there is a risk that they will miss out on what's special."
Two-time Indy 500 champion and former Formula One driver, Juan Pablo Montoya was one of many speakers who insisted that giving fans greater access will lead to a more engaged fanbase.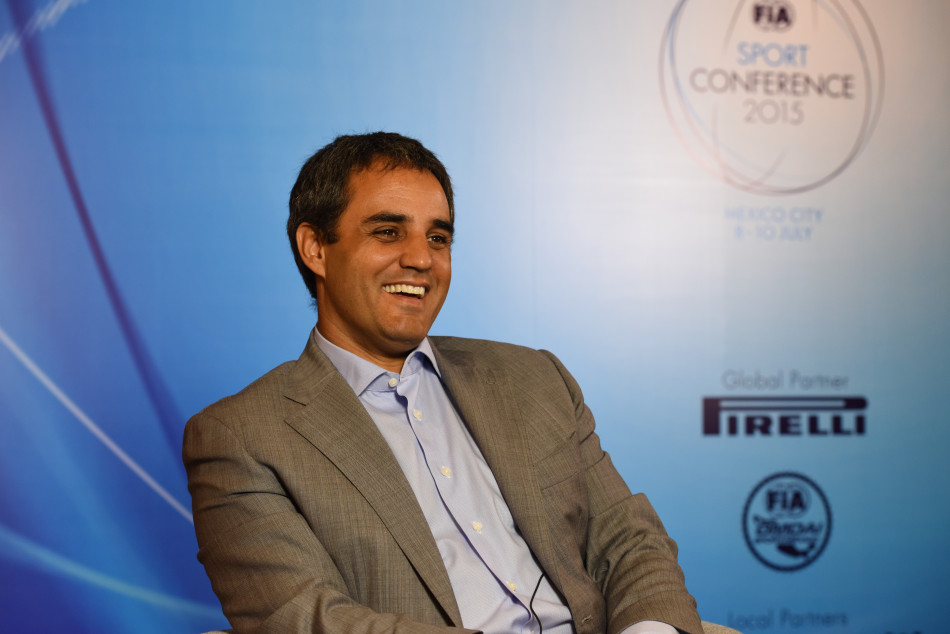 "Something that IndyCar does really well is, as a fan when you go to the race, you have access to the drivers," said Montoya.
"We do autograph sessions, they can go to the garages, you can see the cars, we can't cover anything. It's a completely different mentality [to other places] – it's designed for the fans."
One of the ways that drivers can establish a closer relationship with the fans is through social media platforms.
Montoya, as a former F1 and NASCAR driver as well as a past and present IndyCar star, has over one million Twitter followers. He says he uses the platform to give his fans a glimpse into his real life, hopefully creating stronger engagement and an interest in finding out about his next race.
"I use it not so much for the racing side, but to give people access to see who I am outside the races," he said. "At the race what you see is what you get.
"Outside I'm the guy who loves mountain bikes, wind surfing, my family, flying my radio-controlled planes – that's who I am.
"I think it separates the 'big star driver' from the normal human being."
The 2015 FIA Sport Conference continues until Friday 10th July.