Chevrolet drivers dominate race one in Brazil
Yvan Muller, Alain Menu and Rob Huff handed Chevrolet another 1-2-3 finish in the opening round of the WTCC weekend in Curitiba.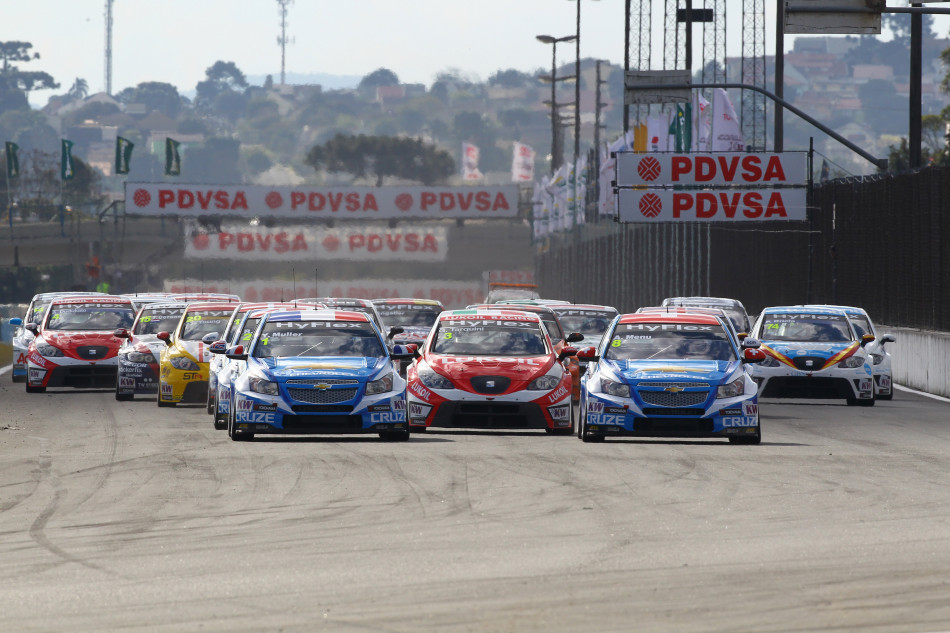 The three Chevrolet Cruze cars of Yvan Muller, Alain Menu and Rob Huff cruised for the whole race to claim another 1-2-3 finish. The seventh victory of the season for Muller who further stretched his championship leadership.
The trio of Chevrolet factory drivers finished in the same order as they had started. Only Huff, third on the grid, had to face a difficult moment at the start, when he rejected Gabriele Tarquini's attempt to spoil the Chevy party.
Afterwards, Muller, Menu and Huff paraded until the chequered flag, while Tarquini had to be contented with a fourth place ahead of two other Chevrolet cars, those run by bamboo-engineering.
Michel Nykjær celebrated his WTCC comeback with a fifth place that was also worth victory in the Yokohama Trophy, ahead of his team-mate Alex MacDowall.
Most of the action happened between the mid-fielders, with fierce battles involving the likes of Michelisz, Oriola, Boardman, Engstler, D'Aste and Bennani.
Key moments
Start – Muller takes a better start, in vain Tarquini tries to squeeze among the Chevrolet cars
Lap 2 – Monteiro and Cerqui make contact at Turn 6 and retire
Lap 4 – Oriola overtakes Michelisz for ninth
Lap 5 – Oriola and Michelisz clash at Turn 1
Lap 6 – Boardman, Bennani, D'Aste and Engstler have a fierce fight for 13th position
Lap 9 – Michelisz overtakes Oriola for ninth
Lap 10 – Boardman and Bennani make contact
Lap 11 – Engstler overtakes D'Aste for 15th
Lap 12 – Boardman is given a drive through for the incident with Bennani
Lap 14 – D'Aste and Engstler make contact, D'Aste moves up to 15th
Withdrawals
T. Monteiro: race incident; A. Cerqui: race incident