Chevrolet drivers are back on top
The Chevrolet team made up from a disappointing qualifying session last week at the Slovakia Ring, as their three drivers were back on top filling the first three spot on the grid for tomorrow's Race 1.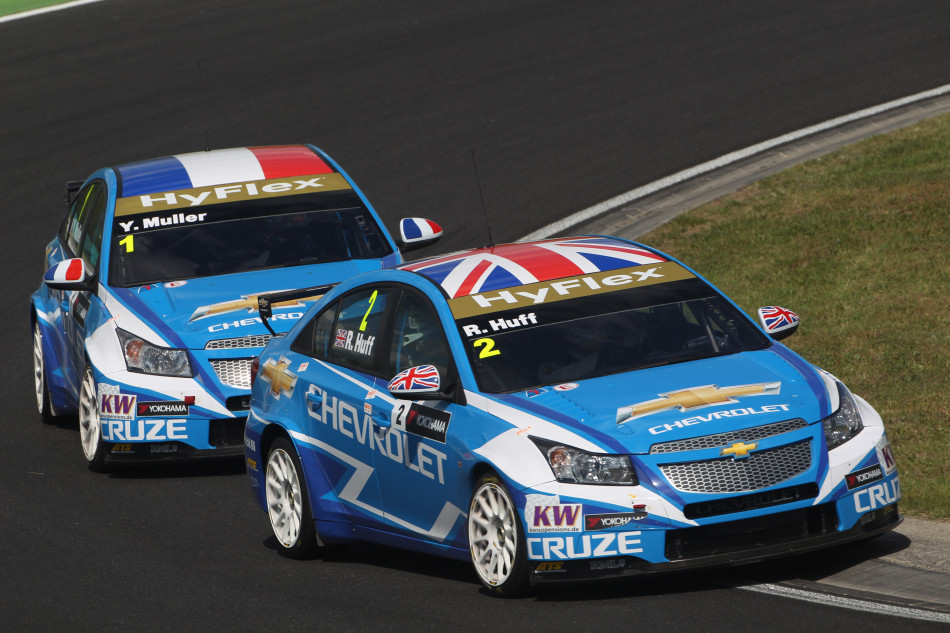 Yvan Muller pipped his team-mates Rob Huff and Alain Menu, beating them by a quarter and a half of a second respectively. Gabriele Tarquini confirmed to be their closest competitor, and qualified his SEAT León car in fourth position.
Proteam Racing's Mehdi Bennani won pole position in the Yokohama Trophy, while James Nash managed to cut himself a place in Q2 despite Team Aon's troubles in finding the best set up for their Ford Focus cars.
Franz Engstler qualified tenth, and therefore won pole position on the reversed grid for Race 2.
Qualifying 1
Chevrolet drivers set the pace from the beginning. Rob Huff was the first to post a significant quick lap of 1:55.571, with Tiago Monteiro (1:55.757) and Norbert Michelisz (1:55.779) just behind. Halfway through the session, Alain Menu moved the bar higher at 1:55.415, but he was soon ousted by Yvan Muller's 1:55.338. Gabriele Tarquini placed himself in a provisional second place with a lap of 1:55.357.
Just before Q1 expired, both Huff (1:55.201) and Muller (1:55.077) managed to improve further. Positions between sixth and twelfth were shuffled as usual, with Alberto Cerqui missing the cut, beaten by James Nash by only four thousandths of a second. Cerqui's team-mate at ROAL Motorsport, Tom Coronel, was even more disappointed as he never showed the pace to advance to Q2 and ended up in 19th position.
As for James Thompson and his LADA Granta, after posting a promising 1:56.527 on the first lap out, they stopped along the track with mechanical problems and did not rejoin. The following drivers went through to Q2: Huff, Muller, Tarquini, Menu, Monteiro, Michelisz, O'Young, Engstler, Oriola, Bennani, MacDowall and Nash.
Qualifying 2
With only 10 minutes to go and lap times of nearly two minutes, the drivers had only one shot to the pole. The fight was soon decided with Muller (1:54.503) and Huff (1:54.770) both capable to break the 1:55 wall. Tarquini posted a provisional third fastest lap of 1:55.074, but had not enough time to pit and rejoin. Eventually we was demoted to fourth by Menu's last gasp attempt (1:55.904). This after the Swiss driver had aborted his first lap.
Mehdi Bennani claimed his best ever qualifying result, placing his Proteam Racing BMW in fifth position overall and on pole for the Yokohama Trophy ahead of local hero Michelisz.
FLASH NEWS
QUALIFYING PENALTY FOR CORONEL AND CERQUI
Both ROAL Motorsport drivers Alberto Cerqui and Tom Coronel had their qualifying lap times disallowed by the Stewards for a parc fermé infringement.
The team plugged lap tops in both cars to download data during the parc fermé time after the end of Q1.
As a result, Cerqui and Coronel, who had qualified 13th and 19th respectively, will be demoted at the back of the grids for tomorrow's two races.
ALL ENGINE CHANGES TO BE PENALIZED
From the Hungarian event onwards all engine changes will result in grid penalties. The previous race meeting at the Slovakia Ring marked the end of the run-in period for the engines homologated in 2012: SEAT's and Ford's. As established by the Sporting Regulations, from May 1 all engine changes will be penalized by a drop on the grid for the following race.
The last driver to take benefit from the run-in period was Gabriele Tarquini, whose engine has been changed after the race day in the Slovak Republic.
THEY SAID, THEY SAID…
Yvan Muller – pole position
"I'm very pleased with this pole position, because this is a very difficult circuit, where it is complicated to complete a full lap without making mistakes. My fastest lap was not perfect, but not far from being perfect. I was comfortably among the fastest from the first session and I managed to improve my lap times every time I hit the track. It has been a good start for the weekend, but still tomorrow I have to fight with Rob and Alain. They want to win the races as well."
Rob Huff – 2nd
"I'm happy to be second, but I would be happier to be first. As Yvan said, it is easy to make mistakes here. You brake too late in one corner and it becomes very difficult to negotiate the following ones. The car has been very good and we have improved step by step."
Alain Menu – 3rd
"Of course I am a bit disappointed as I did not manage to claim pole like in 2011. After I aborted my first lap, I rejoined and my split time in the first sector was only a bit slower that Yvan's, Unfortunately I found Engstler and this cost me some time. Not enough to cost me the pole, but for sure the front row. People should look into the mirrors…"
Mehdi Bennani – 1st in Yokohama Trophy
"We have been working hard from the beginning of the season, as we had too many engine problems. Finally we changed the engine at the Slovakia Ring and this has also changed our performance for better. Being the fastest of the BMW cars today has been a great result and I wish to congratulate my team for the great job they have done."