Caterham capture tenth
Only two teams swapped places in the Constructors' Championship at Interlagos, though those were arguable the more significant places of all.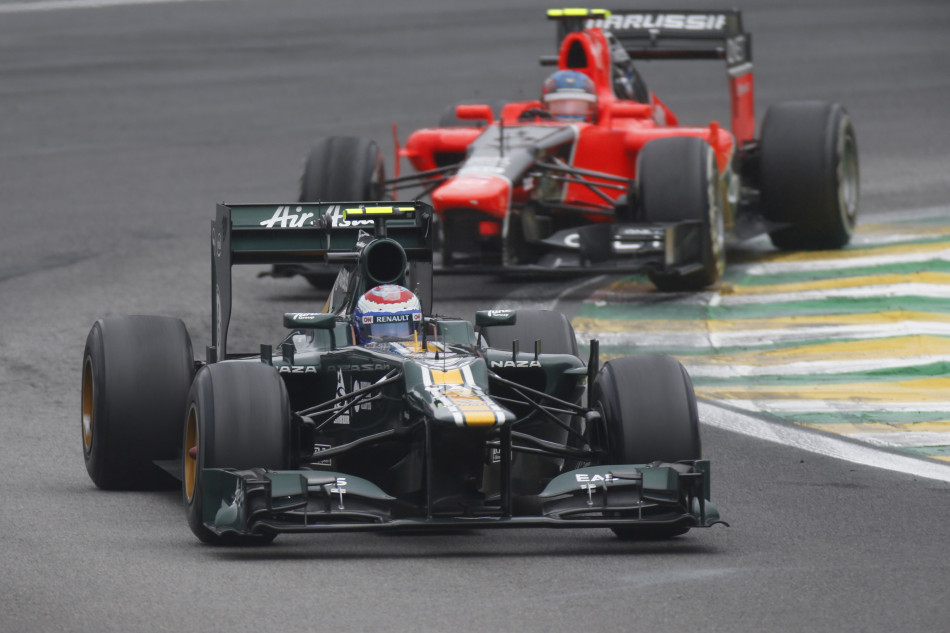 At the start of the day Marussia were lying tenth in the Constructors' Championship, ahead of Caterham and HRT. None had registered a point this year, and so Marussia were ahead by virtue of a superior record on countback: 12th place for Timo Glock in Singapore beating the three 13th places accrued by Caterham. Caterham snatched the place back with Vitaly Petrov recording an unlikely 11th place finish at Interlagos, crossing the line just ahead of Marussia's Charles Pic. It was the best result in the three-year history of the team. Caterham have finished tenth in all three seasons since the team entered F1, and with it have garnered the significant financial benefits that are attached specifically to finishing in the top ten.
"I think we deserve it after all the hard work we've put in throughout the whole year."
Vitaly Petrov
It was a remarkable result made more remarkable by the battle between Petrov and Pic that ran throughout the second half of a rain-sodden, chaotic race. Pic closed up behind Petrov on lap 32, when the pair were fighting for 13th position. They stayed that way until lap 46 when Petrov ran wide at Pineheirinho, allowing Pic and Nico Rosberg through. After pitstops for Inters, Petrov clawed his way back to the rear of the Marussia and wrestled back the place on lap 65. At that point it was for 12th, which could have been sufficient for Caterham – but Paul di Resta's crash elevated them to 11th.
"What an incredible race," said Petrov. "I'm so pleased for the whole team and I want to thank every single one of them for doing such a fantastic job in the conditions today. Seeing what regaining tenth place in the championship meant to everyone when I got back to the garage was really special and I think we deserve it after all the hard work we've put in throughout the whole year.
"We made the right calls today on the stops and every time I came in the boys were perfect. The change to inters on lap 54 is I think what made the difference today. I had a good battle with Pic until the last few laps but then got him into turn three and just pulled away. From there it was all about keeping it on track and when I heard the safety car was coming out and I knew I had one lap left to go it was such a great feeling. Now we can celebrate and everyone has earned it."
"10th place has eluded us after such a long fight and, naturally, 'disappointed' doesn't even come close."
John Booth
At Marussia, the mood was understandable bleak: "Today is an emotional day for everyone involved with the Marussia F1 Team," said team principal John Booth. "10th place has eluded us after such a long fight and, naturally, 'disappointed' doesn't even come close."
Pic – who will be leaving Marussia to join Caterham over the winter – drew some positives: "although the outcome is disappointing, I think today was one of my best races for the team. Our strategy was the right one and I pushed very hard the whole race. The conditions were not easy; it was very slippery but the car was quite well-balanced and we put up the best possible fight. In the end, we just lost out unfortunately. My thanks to everyone in the team for a fantastic debut season in F1. We have fought so hard all year and I wish the team the very best next season."