Bumper grid at Dijon
After it last played host to a Formula One Grand Prix in 1984, the French circuit of Dijon-Prenois will echo to the sound of Cosworth DFV engines once more as a fine field of cars contests round three of the FIA Masters Historic F1 Championship on June 14th – 16th.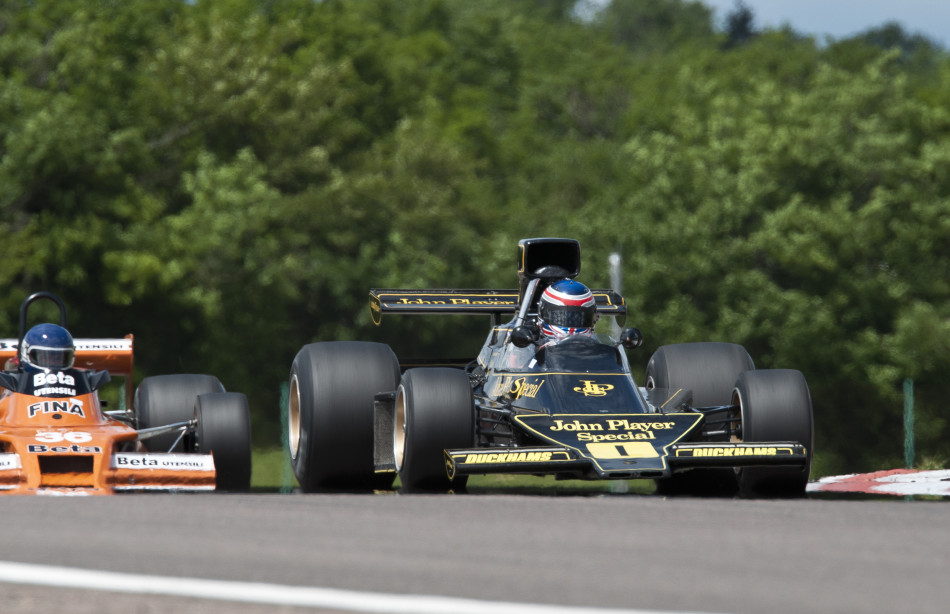 As part of the annual Grand Prix de l'Age d'Or, the FIA Masters Historic Formula One Championship has attracted a superb entry, headed by Andrew Beaumont in his ex-Ronnie Peterson Lotus 76/1. Opposition in the Pre-78 category comes from Larry Kinch in the ex-Alan Jones Williams FW06 and American Charles Nearburg in his newly-acquired ex-James Hunt McLaren M23. In an entry rich in variety, Michel Baudoin runs his Olympus liveried Hesketh 308E, Ensign is represented in the hands of James Hagan and also by Simon Fish in the later MN180.  The rare Trojan T103-1 is in the hands of Philippe Bonny and Frank Lyons will be competitive in the Penthouse-liveried Hesketh. 
The post-1978 category is headed by Nathan Kinch (McLaren MP4/1B) but he will face tough opposition from Christophe D'Ansembourg (Williams FW07C), Ian Simmonds (ex-Michele Alboreto Tyrrell 012) and French aces Christian Perrier (Shadow DN9) and David Ferrer (McLaren M28). The charismatic Lotus 80 of Manfredo Rossi di Montelera will be competitive, as should the Ligier JS11/15 of Champagne magnate Hugues Taittinger. 
Masters Historic Racing event manager Rachel Bailey said: "We are very pleased to see such a strong entry coming to Dijon to recreate the glory days of its time as a Grand Prix venue. We are also pleased to see a large number of French drivers coming to race with Masters and look forward to seeing them at future FIA Masters Historic Formula One Championship events." 
Along with the FIA Masters Historic Formula One Championship, the Dijon weekend will play host to round three of the FIA Masters Historic Sports Car Championship and also races for the Masters Pre-66 Touring Car and the Pre-66 Gentlemen Drivers GT Series.